Comfortable square.
After I had lunch, I went to National Chiang Kai-shek Memorial Hall.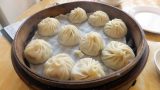 黃龍荘 in Taipei
I visited 黃龍荘 at lunchtime close to Chiang Kai Shek Memorial station.Their former name was 勝香品點心總匯 and located along Yon
The square is vast. I was exhausted because of my sore foot. So I had break for a while there.
With tapioca milk tea that I bought at 50嵐. Of course, I didn't gave up enjoying my trip. Just had a break. I gained energy 🙂
Memorial hall.
Taipei 101 could be seen from this square.
Gate
The garden was comfortable.
I know this is a historical place of Taiwan, but many people who visit there enjoy this place as comfortable park 🙂
I spent quite time at this square. But thanks to that, I felt better. So, I went to Shuanglian by MRT.