Today, I post about one of the best ramen shop in Osaka. The ramen shop's name is Jouroku (麺屋 丈六). They are located in Namba.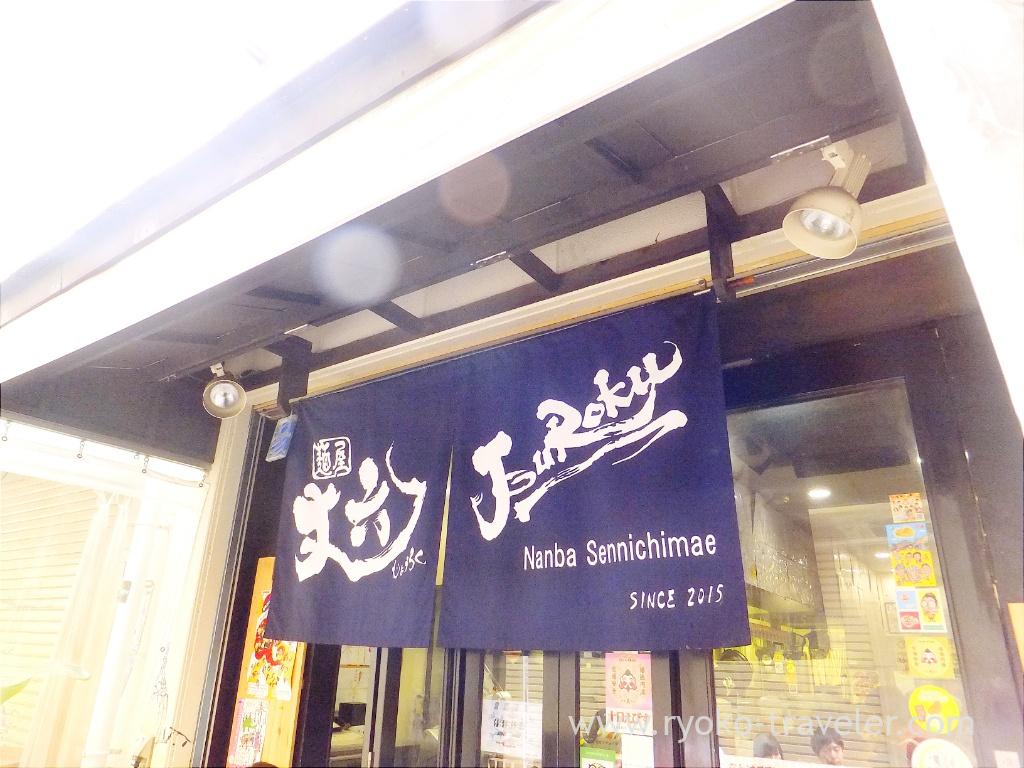 Their former name is "Marujou (○丈)". There are only 8 seats along the counter table. It's narrow shop. There're some chairs in front of the shop for waiting, but a large number of people gather. Another person wait in line on the other side of the road.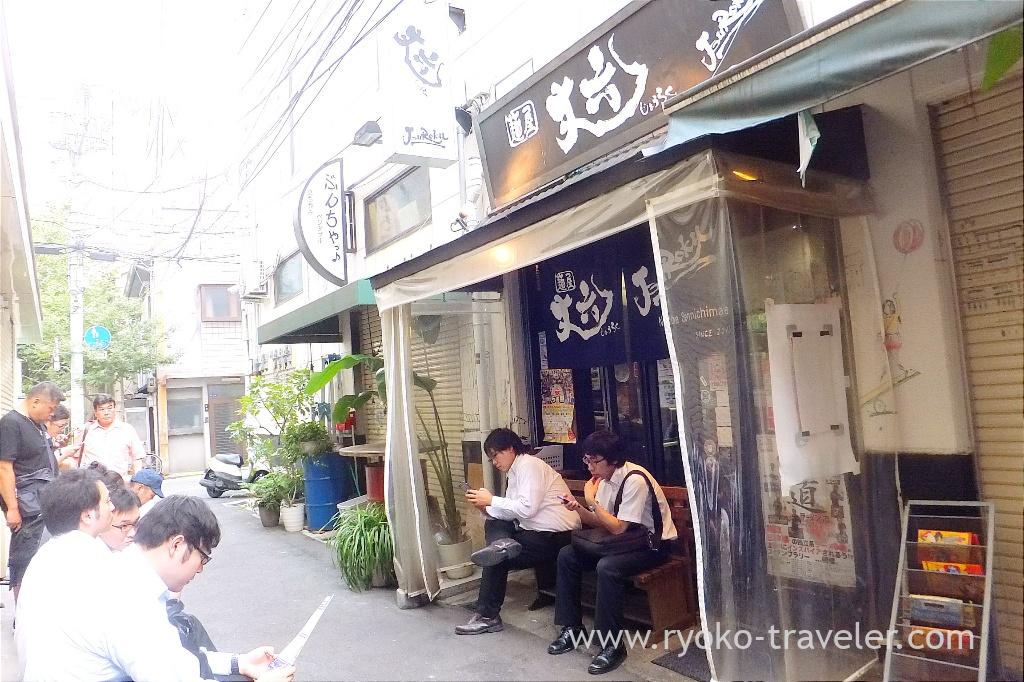 They have two species of ramen. Higashi Osaka Takaido style ramen that have dark soy sauce soup, and Wakayama style ramen having creamy tonkotsu soup. This is the menus. They don't accept our noodles firmer or softer.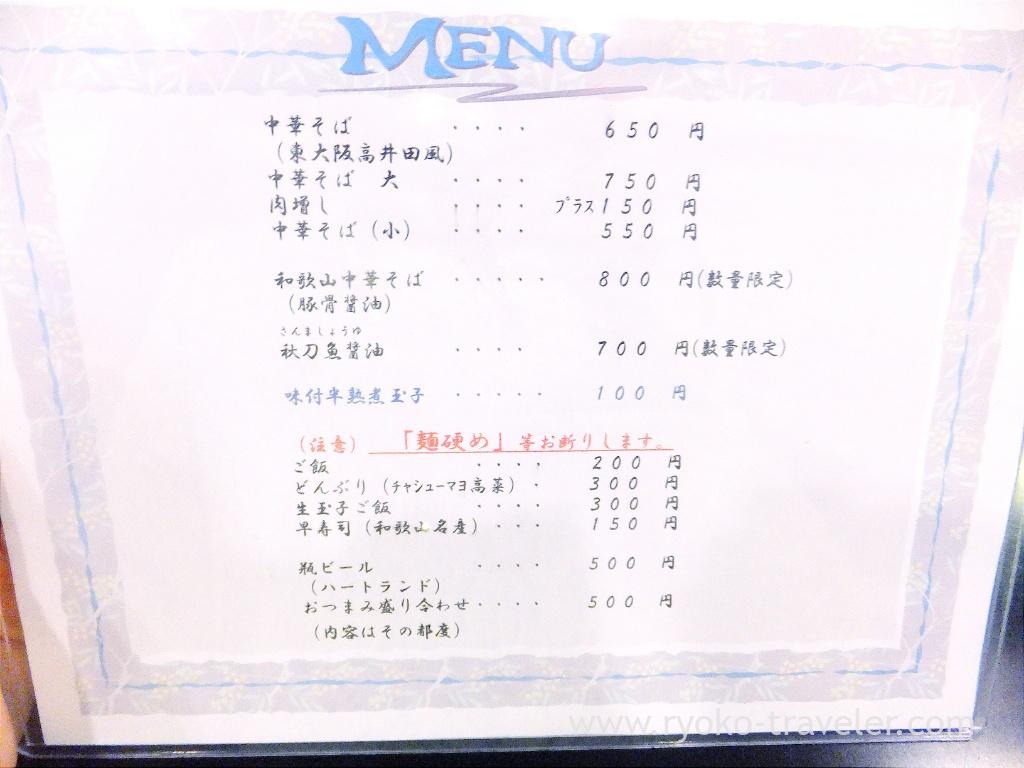 This is the Chuka soba that is Higashi Osaka Takaido style. Kujo Negi (a species of green onion) was on the black soup. Another bamboo shoot and roast pork on it. We can add roast pork with 150 yen, but I'm enough satisfied with the aount of the meat.
This soup looks salty and thick, but it wasn't. It was sour a bit. It's easy to drink ! Because of its sourness, it had refreshing tastes.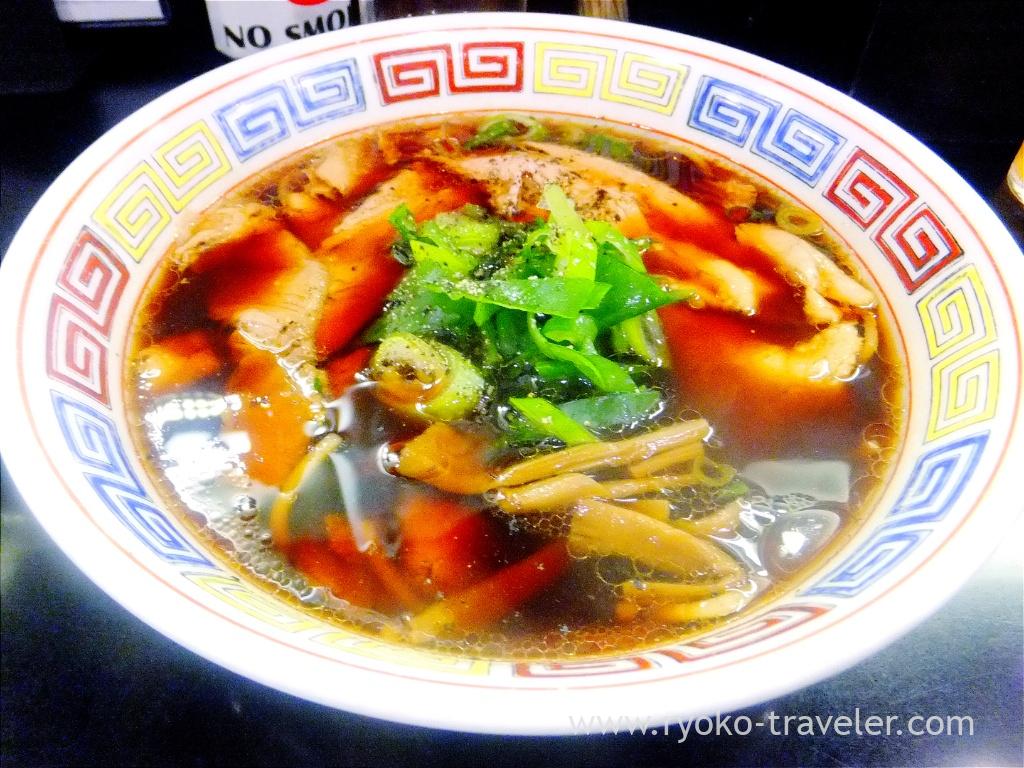 This is Wakayama style ramen. It's limited. Wakayama-style Chuka soba. Contrary to Takaido style, it's creamy and had rich tastes of tonkotsu and soy sauce. Its roast pork is differ from Takaido style. Those are fatty pork.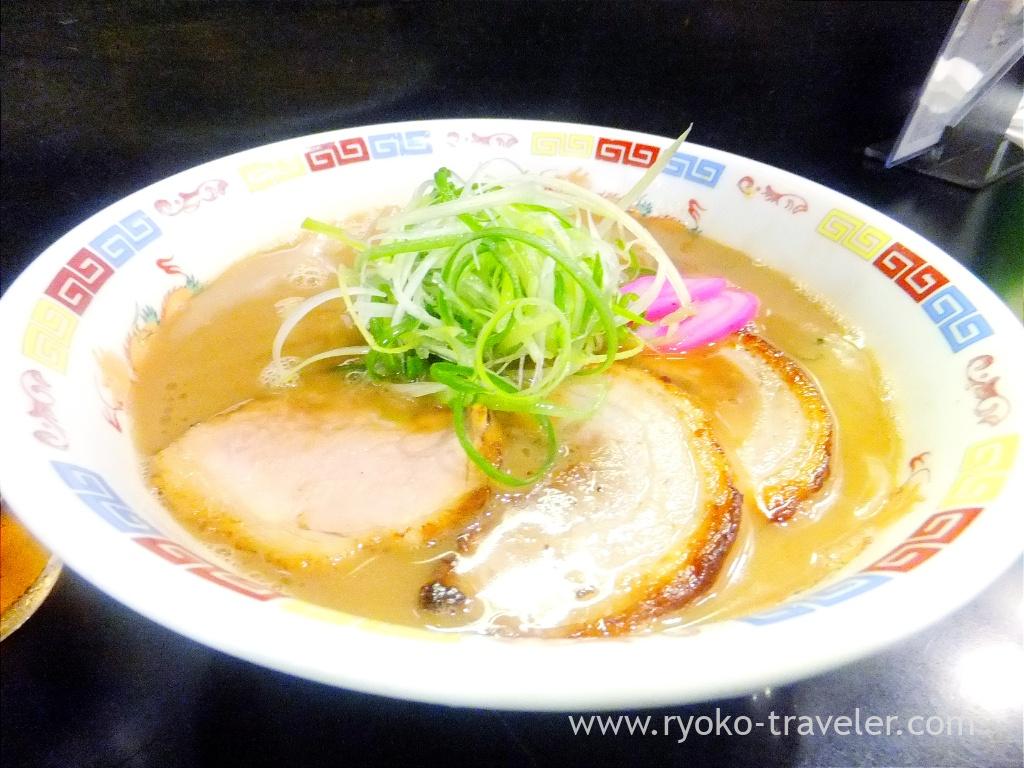 Because they serve Wakayama style ramen, they also serve Hayazushi. I heard most of ramen shop in Wakayama sell it. Hayazushi is sushi with vinegared mackerel. Pressed sushi. It's served as soon as you order, so if you are hungry, it help you.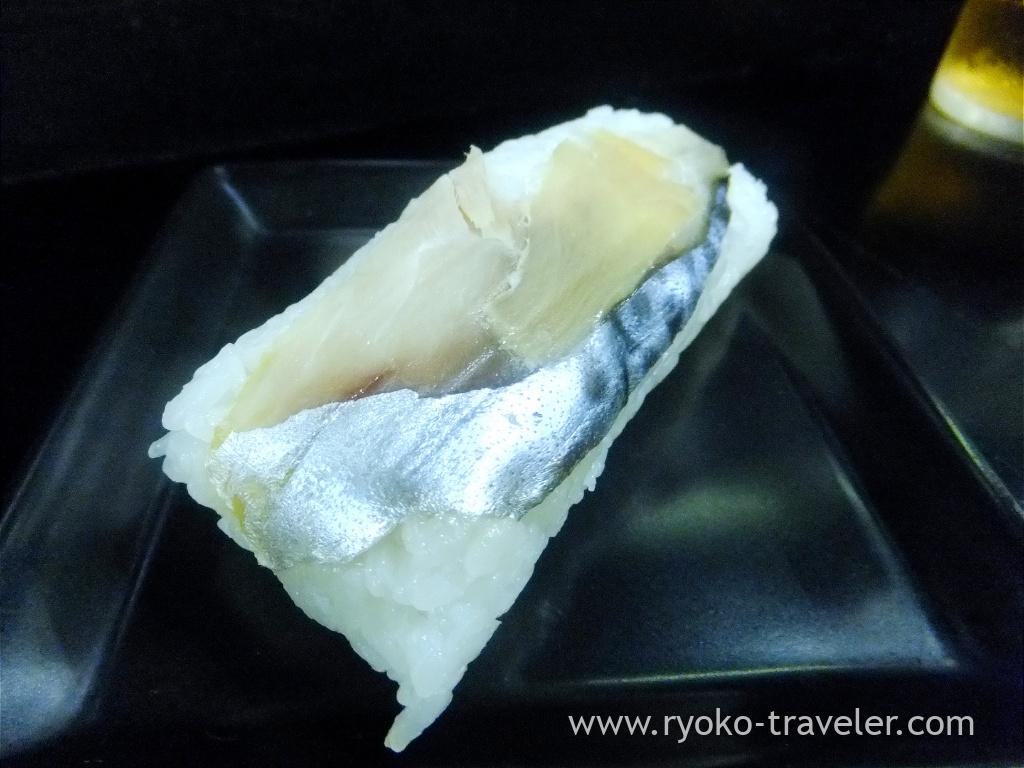 By the way, Jouroku is open in the morning of the 1st Sunday of each month only in special (7 a.m. – 10 a.m.).
When I got to there around 9 a.m. and I found there were many people in line. It was morning of Sunday. There were few people in the street except in front of the shop ! Just in front of Jouroku !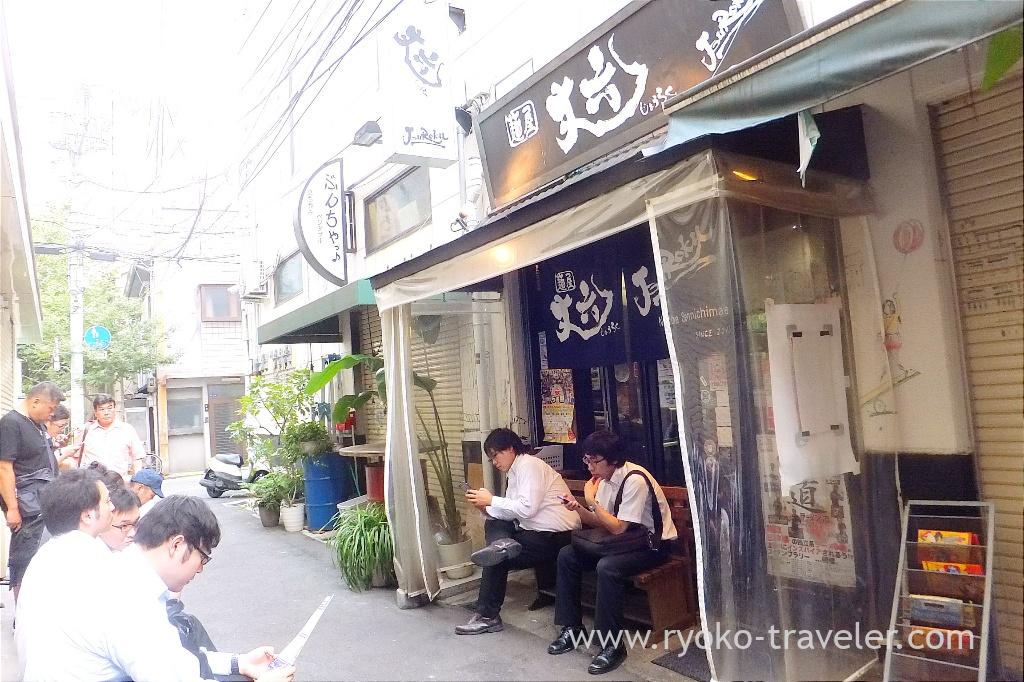 Though there were many people waiting, I could enter the shop in 20 minutes. This is the special morning menu. They only serve Higashi Osaka Takaido style ramen only in the morning.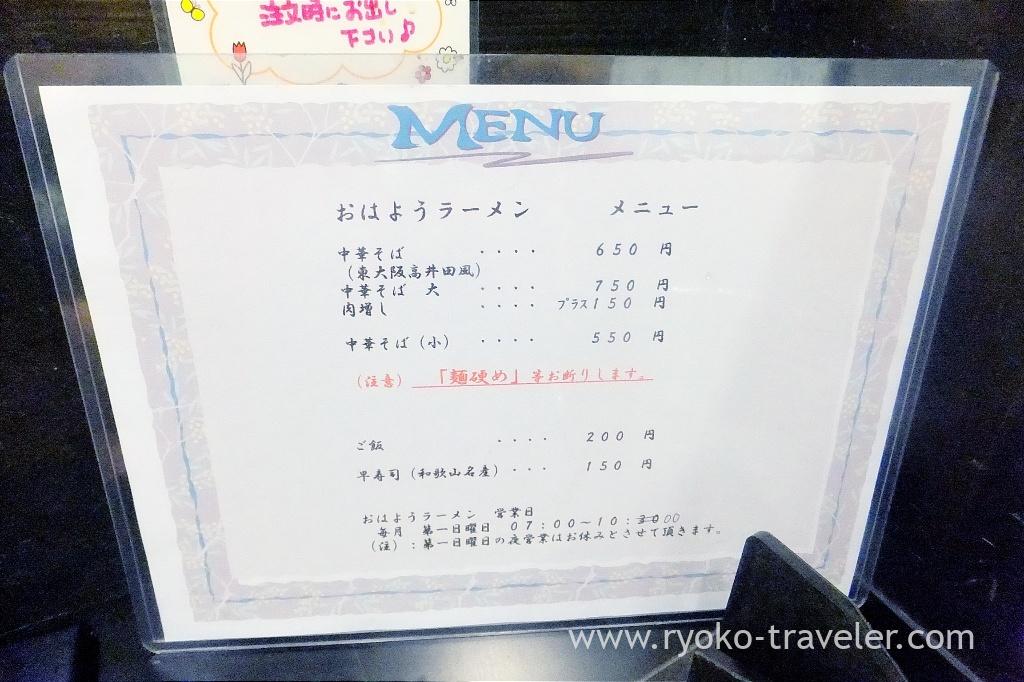 I ordered Chuka soba. Nothing has changed as ordinary their ramen. Its tastes, too. Delicious.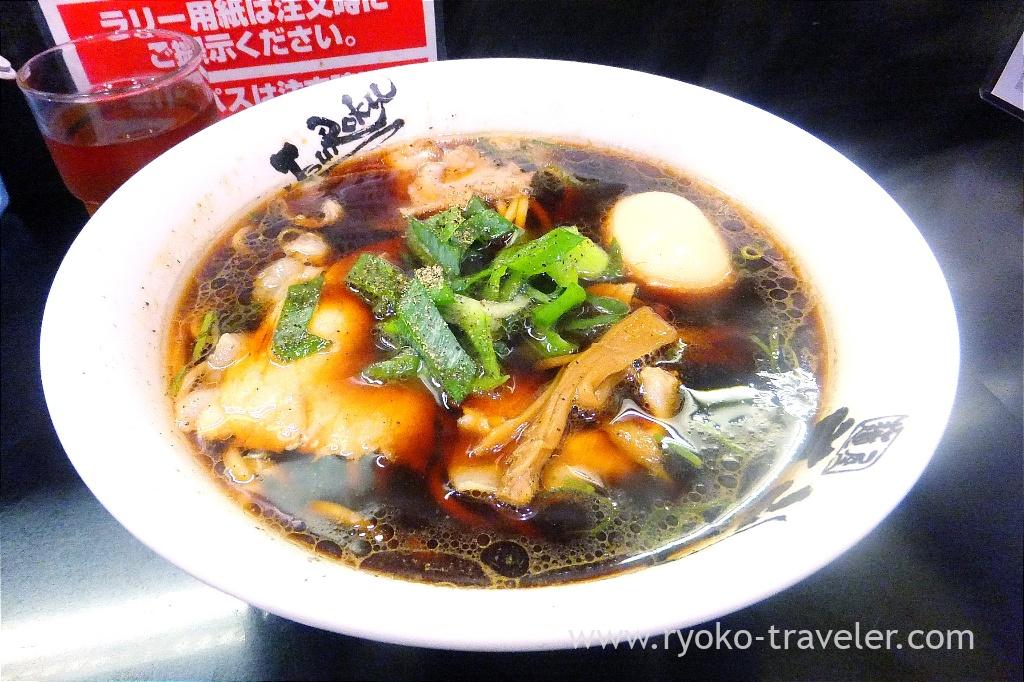 Though it was morning, I could eat it up ! Morning (delicious) ramen is great !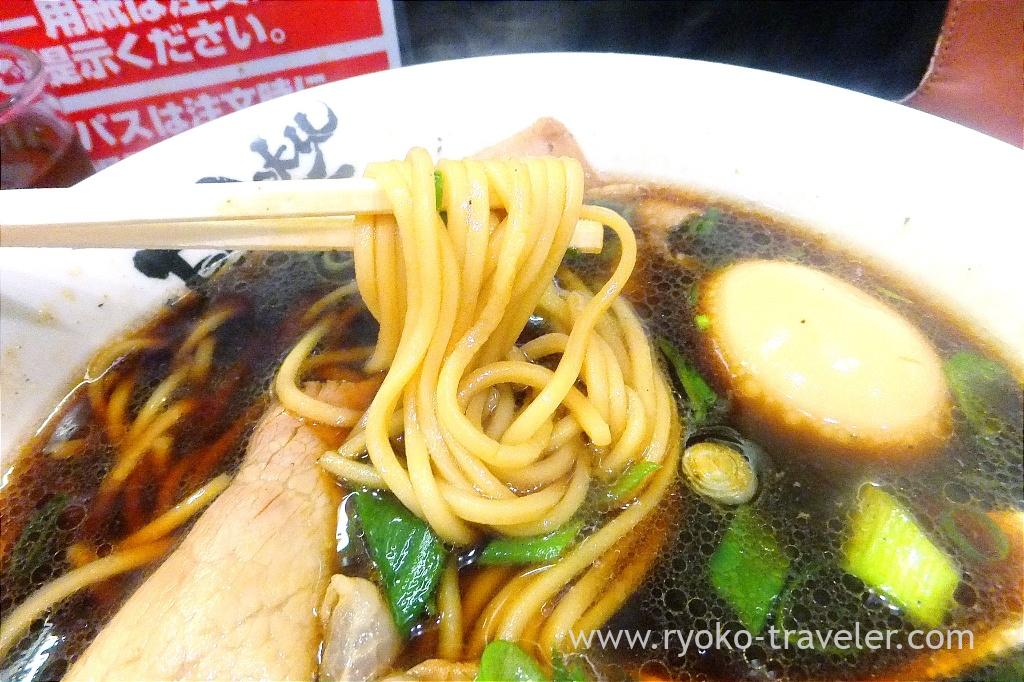 If you are in Osaka at the 1st Sunday of month, you are lucky and I recommend you have breakfast at Jouroku. Or you aren't in Osaka at the 1st Sunday of month, you can enjoy Jouroku's ramen at lunch time or dinner time ! Anyway, you have no choice but visit Jouroku !
About

Name Menya Jouroku (Menya Joroku / 麺屋 丈六)
Open (Breakfast), Lunch, Dinner
Reservation Unavailable
Credit card Unavailable
Website Website, Twitter, Facebook

Google Map