Matsuzaki Senbei Ginza branch moved because of reconstruction and they quit cafe. They only sell senbei now.
If you want to have their Japanese sweets in cafe, there's only their cafe in Setagaya area. (Open hours 11:30 a.m. – 7 p.m. / Closed – Wednesdays)
---
I visited Matsuzaki Senbei after years interval.
Matsuzaki Senbei is, as its name, they are senbei shop. They sell senbei on the 1st floor.
And also they run kanmidokoro (Japanese confectionery cafe) on the 2nd floor.
There's an elevator besides the stairs.
Matsuzaki Senbei started their business in 1804 as senbei shop.
They are so popular shop and their kakigori have high popularity, but somehow they don't have much people whenever I go to there. That day, too.
Matsuzaki Senbei serve kakigori (shave ice) from start of May to end of September.
Yes. Only two days left.
Where?
They are located near Ginza Wako building and face to main street. So they are striking.
Interior
They have such a fancy atmosphere. It was calm and I couldn't believe it stand along such a noisy street.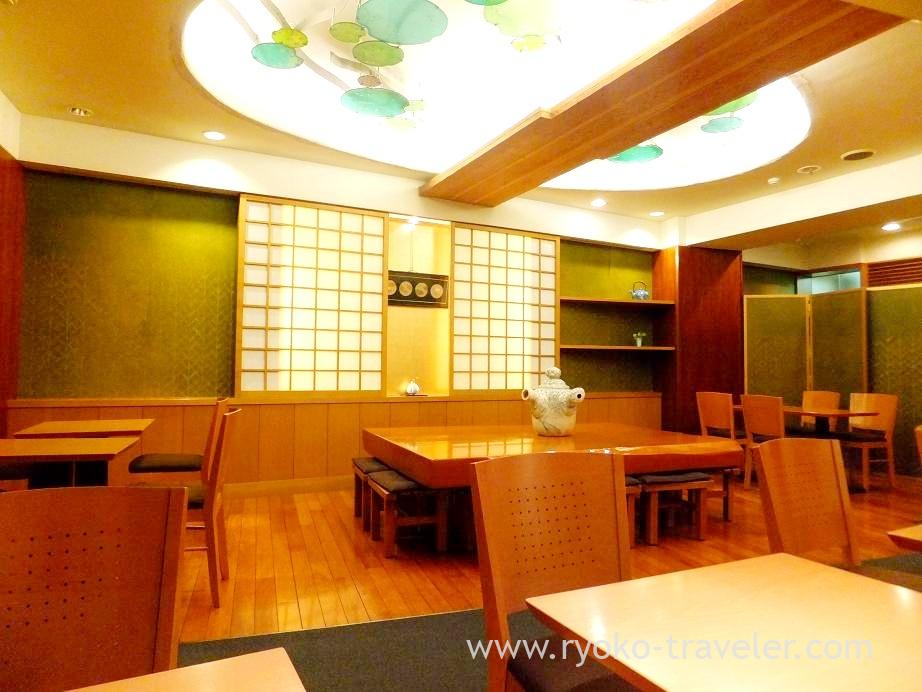 As soon as I was seated hot hojicha was served.
Matcha azuki kakigori
This is their summer special ! Matcha azuki kakigori (抹茶あずきかき氷, 1080 yen) with ice cream (extra 104 yen)
From its looking and its tastes, the matcha syrup became much stronger than last time. It had much tastes of matcha.
Kakigori could be ordered with toppings like ice cream, shiratama and condense milk with extra charge (+104 yen each). I ordered shaved ice with shiratama last time. That was awesome, too. But it get tough unless you separate it from ice soon when it is served. I don't like with condense milk because its sweetness deprived the kakigori of maccha flavor and it was too sweet.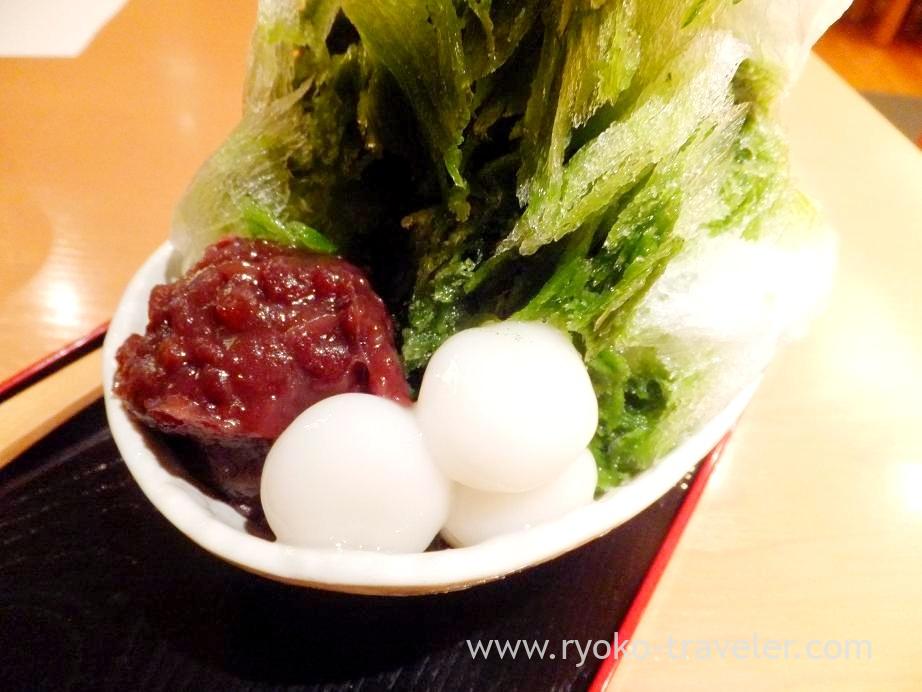 Cold oshiruko (Hiyashi Shiruko)
Not only shaved ice but also oshiruko and anmitsu is loved by people.
Cold oshiruko is summer-limitted sweets. It is served from May – September, too. (Warm oshiruko is could be eaten all year around)

Cold oshiruko (冷やししるこ, 1080 yen).
Oshiruko could be chosen one from two type of red bean paste. Strained red bean paste (koshian) and smashed red bean paste (tsubuan).
I chose strained red bean paste. Okaki (senbei) is served with it.
Five shiratama (rice flour dumplings) was in it. Smooth red bean pastes soup was not too cold. So, shiratama didn't get tough. It had springy texture and was soft. Delicious.
About Matsuzaki Senbei Tearoom (松崎煎餅 お茶席)
Address / Matsuzaki Bldg. 2F, 4-3-11 Ginza, Chuo-ku, Tokyo
Open / 11 a.m. – 7 p.m
Fridays and Saturdays / 11 a.m. – 8 p.m.
Closed / No scheduled
URL / Website, Twitter, Facebook