When I visited Kyoto, I saw light-up Autumn leaves at two temples. One was Tenjyuan temple that was posted the other day and another was Kiyomizu temple.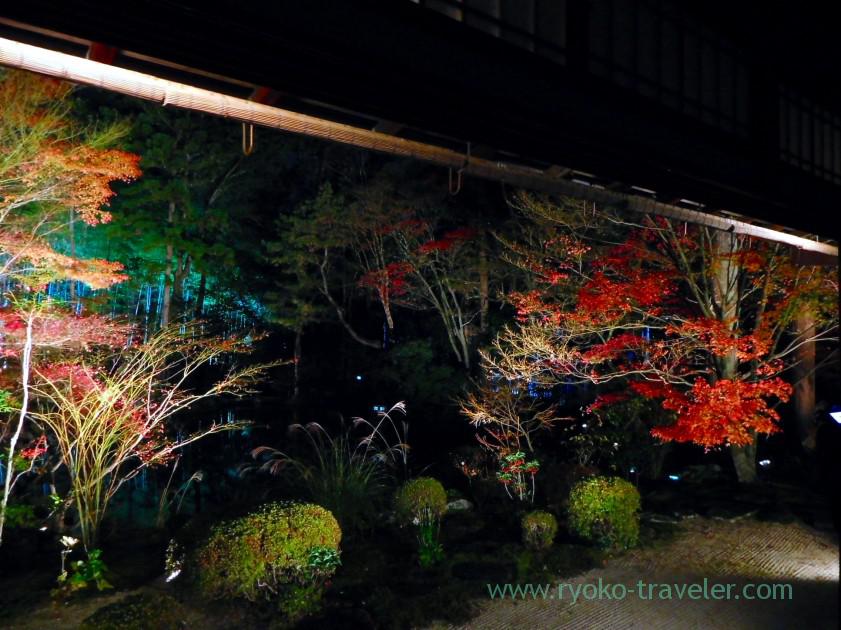 Kyoto : Light-up Autumn leaves at Tenjyuan temple (sub-temple of Nanzenji temple)
Beautiful garden with red leaves. I visited Kyoto for viewing autumn leaves last weekend. Though unfortunately it rain...
Kiyomizu temple is, almost all people who visit Kyoto for the first time might visit there. It is so popular viewing spot. So, there are always tremendous number of people from 6 a.m. from around 6:00 p.m.
And more, it was around best season of Autumn leaves when I visited there.
I was really anxious about busy temple. But fortunately, because of rainfall throughout the weekend, there wasn't packed. Of course,there were lots of people, but I could see and take photoes of beautiful sight with ease.
Light-up Autumn leaves show is held at Kiyomizu temple in November in special.
It is held every year.
It was held from November 12nd to December 4th this year (5:30 p.m. – 9:00 p.m.)
It is easy to go by bus from anywhere in Kyoto. "Kiyomizu-michi (清水道)" is the closest bus stop to Kiyomizu temple.
Many of people who get off at the bus stop might go to Kiyomizu temple. So, all you have to do is to follow them 🙂
Kiyomizu temple in the dark.
Temporary Ticket office. It's for special nights.
Fantastic.
Three-storied pagoda.
View from Kiyomizu stage (Kiyomizu-no-butai).
Strictly speaking, the best season of Autumn leaves was already past, still it was so beautiful because of the lights.
And view of Kiyomizu stage.
View at the bottom.
We went toward the exit.
Autumn leaves reflected on the surface of water.
When I got out of the temple, it was past 9 p.m. and most of shops were already closed. So, it was calm.
Light-up cherry blossoms show is held in Kiyomizu temple as well as autumn leaves. So, if you have a chance to visit Kyoto in April, visit there by all means 🙂
About Kiyomizu temple (清水寺)
Address / 1 Kiyomizu, Higashiyama-ku, Kyoto-shi, Kyoto
Bus stop / Kiyomizu-michi (清水道)
Open, Closed / See their websites
Website / https://www.kiyomizudera.or.jp/en/(in English, Chinese and Korean)
Admission fee / 400 yen for adults, 200 yen for under 15 years old.