I visited Karamenya En (からめんや えん) located at the back of Harumi street in Tsukiji.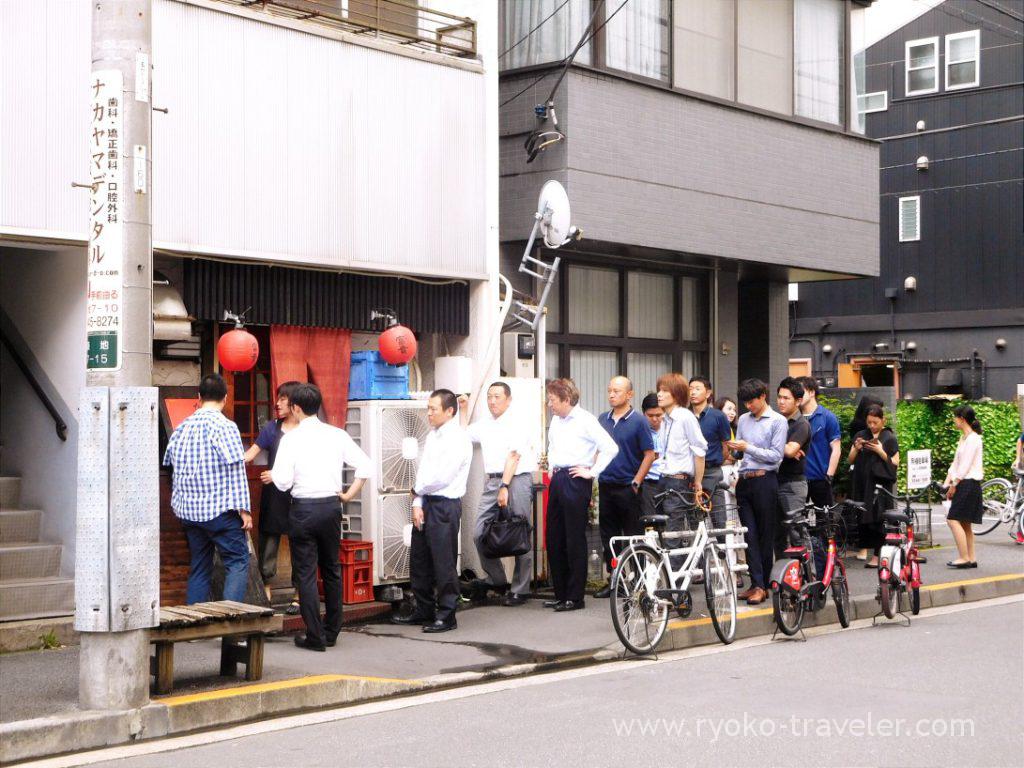 There's not any shops and restaurants that serve something spicy foods except curry in Tsukiji, so many people who love spicy foods gather this shop past 12 p.m.
Nothing has changed about their appearance and interior. But they changed some. But their spicy karamen hasn't changed at all.
Karamen's noodle is not similar to noodles that is used for ramen. It's springy noodles like Naengmyeon (Korean cold noodles). I heard Karamen is local food of Miyazaki prefecture.
Springy noodles are in such spicy soup. It have garlic. If you don't want, they serve it without garlic. Sometimes they ask about your garlic when they take order. But I think garlic is essential !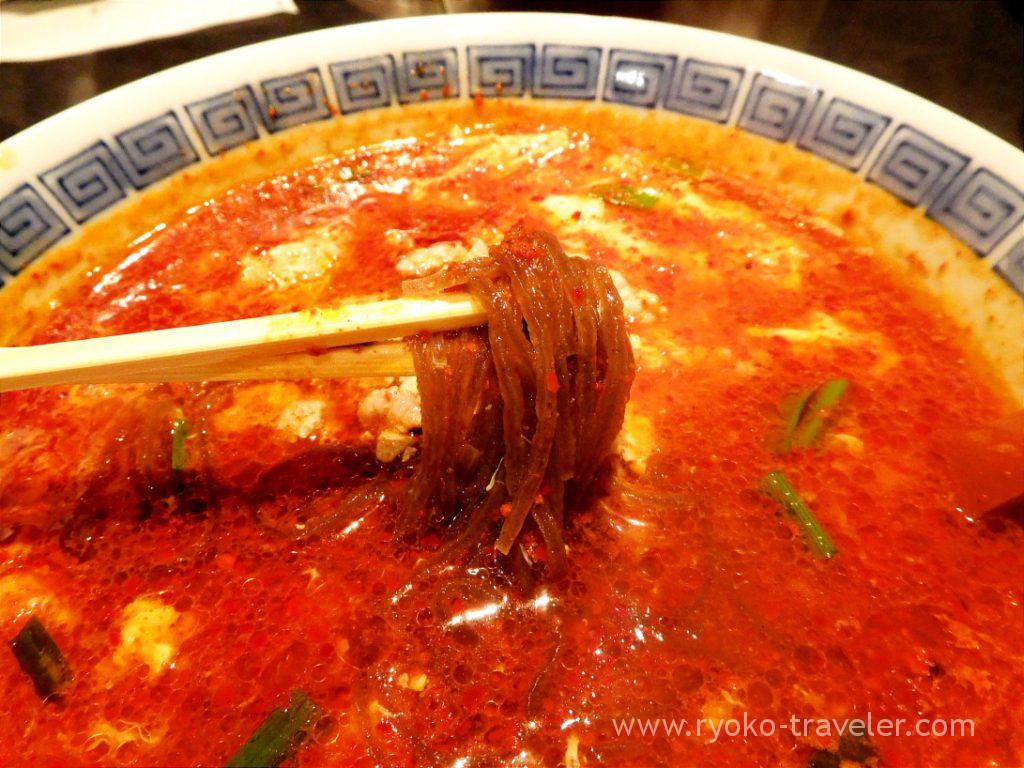 They are open as izakaya at dinner time, but at lunchtime, they serve karamen only. This is lunch menu. Karamen and rice (A) is 700 yen. With dashi and rice (dashimeshi), green onion and rice, and beef tendon and rice is 900 yen. Extra spiciness need extra charge.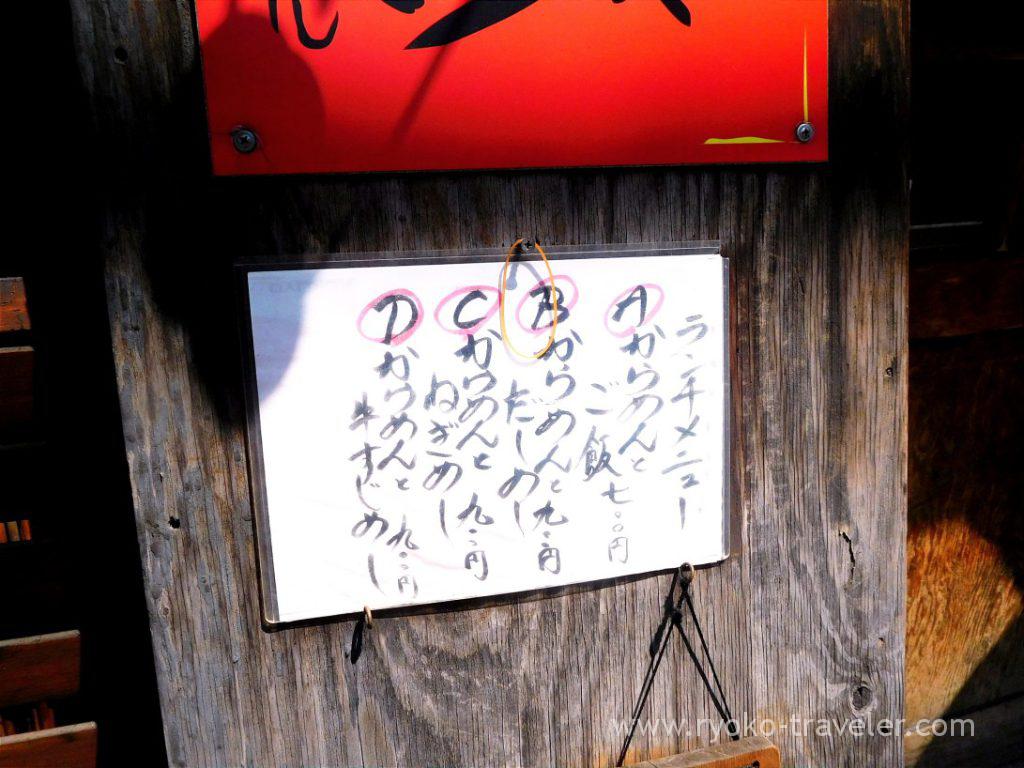 Spiciness 1, 2, 3 (normal), 5 is still.
9, 10 need extra 100 yen
15, 20, 25 need extra 200 yen
And another they accept toppings with extra charge. For example, ontama (onsen tamago) is 100 yen. They have some tables having four seats each. We have to share tables during lunchtime. Each tables have four seats, but sometimes they add chair. Max 5 people each.
They used not to prepare paper apron. But now they prepare it. I was surprised when I knew it for the first time 🙂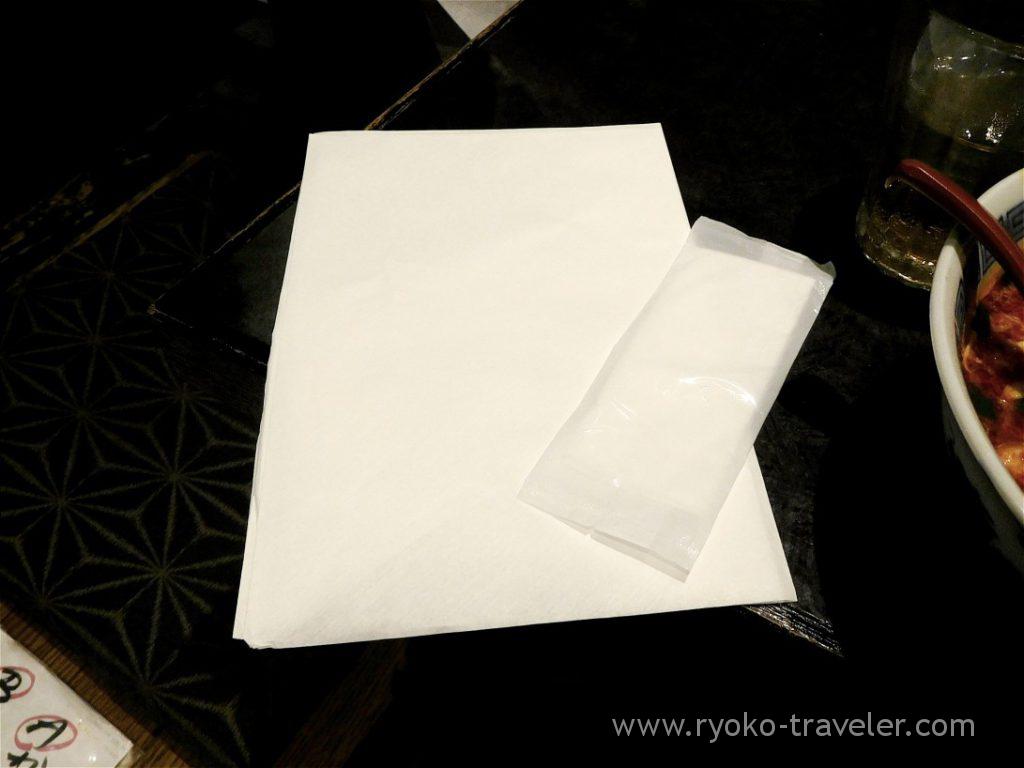 I always went to there in dark clothes, so, paper apron is useful all the same.
I ate Level 5 of spiciness before, but it wasn't spicy very much and the soup was weak. So, I tried Level 10. Level 10 have good degree of spiciness for me. And tasty. I recommend it.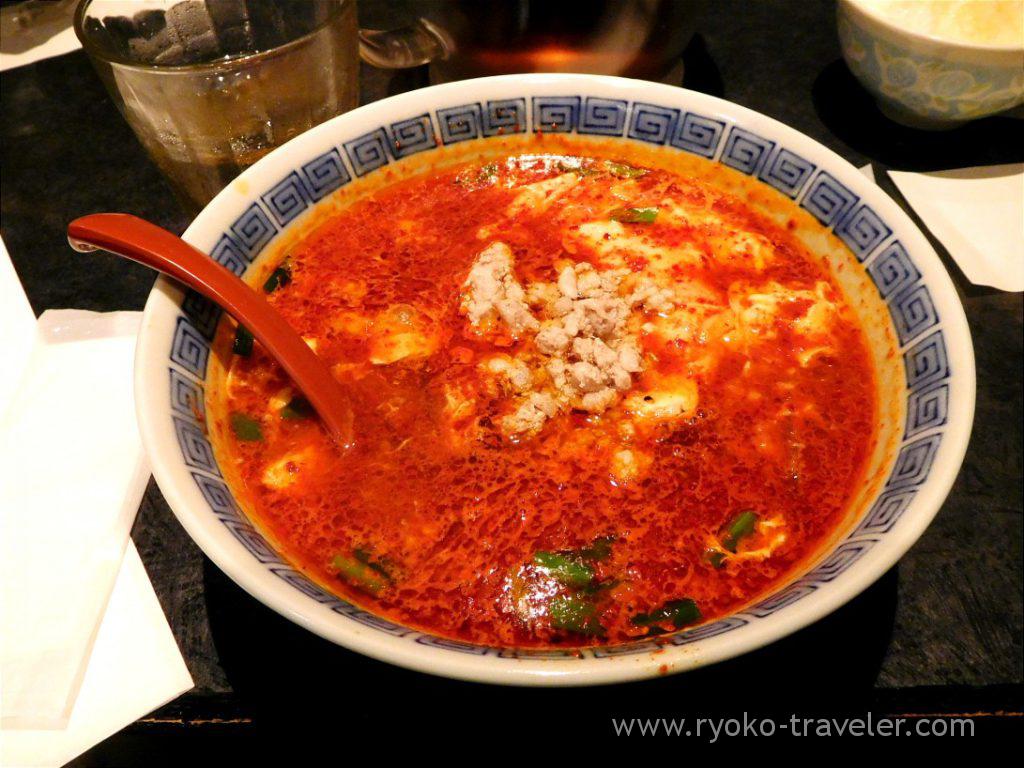 The soup of until level 5 is smooth. But level 10 have thick soup. The noodles dressed with this soup is good. Leek and egg is good, too.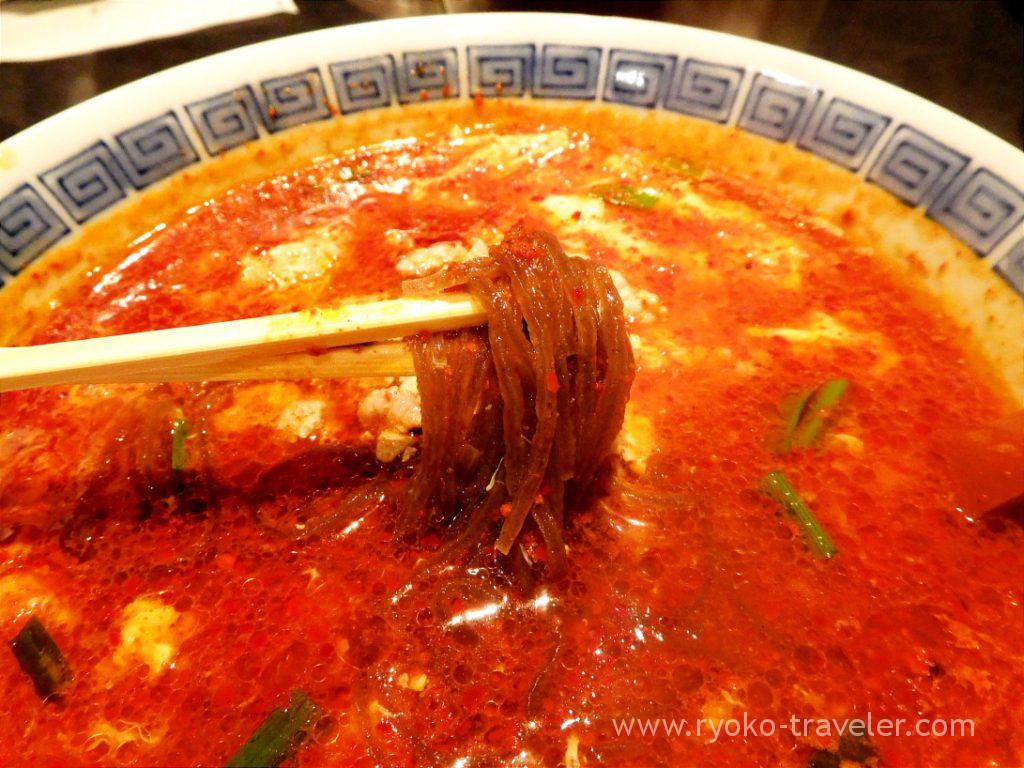 I recommend Level 10, but you'd better try from level 3. Especially 5 and 10 is quite differ.
When I eat Karamen and rice, I always eat rice and noodles alternately, but after I eat noodles up, I put rice into the soup and eat like risotto.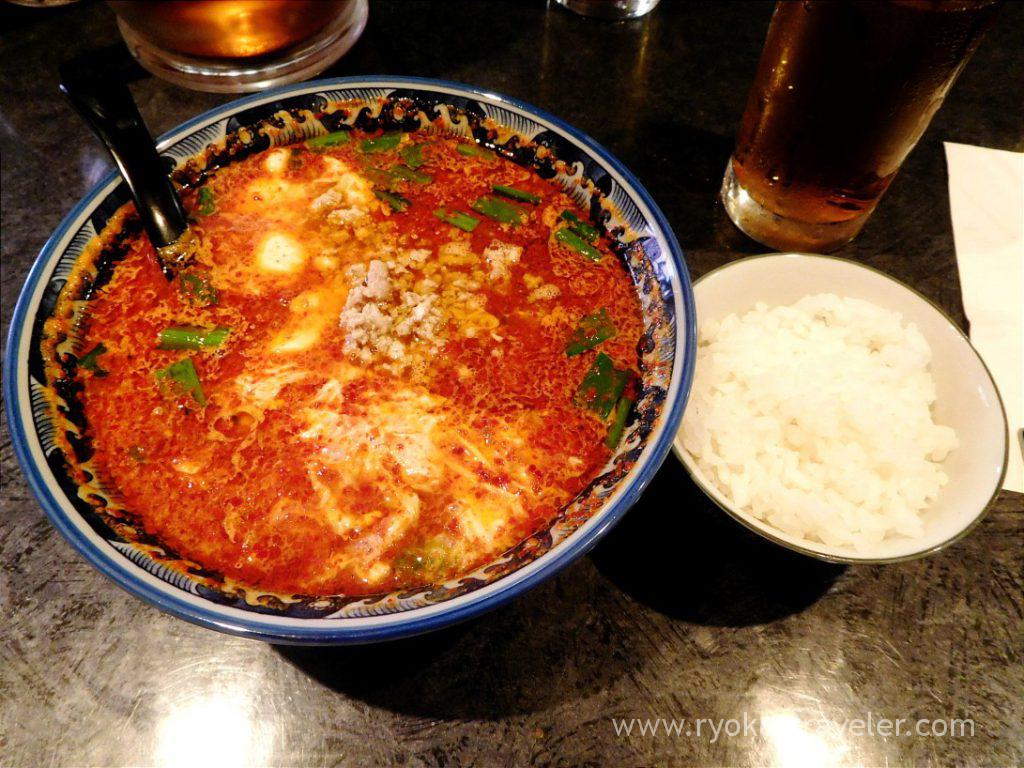 Karamen and Dashimeshi. Dashimeshi is Dashi + Meshi. Dashi is local pickles of Yamagata prefecture. It's sticky like okura and Mulukhiyah. But it's made from cucumber, konbu seaweed and so on. Meshi is rice. They put dashi onto rice.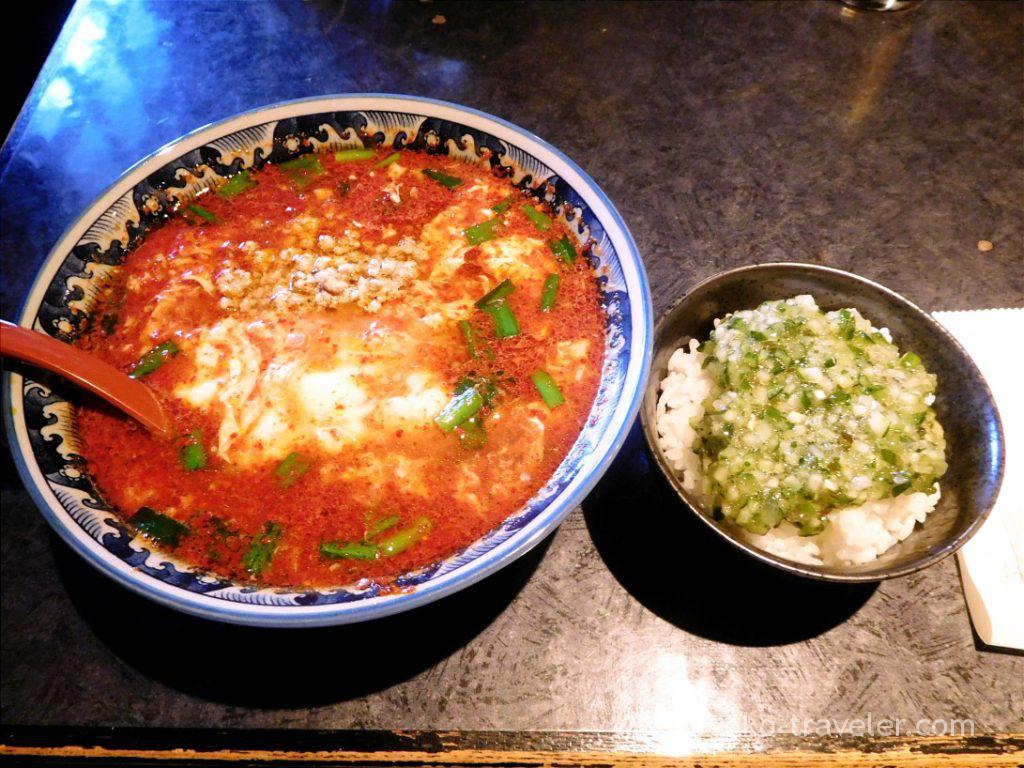 I like dashi, and it's good, but I also think white rice without anything is suitable for karamen.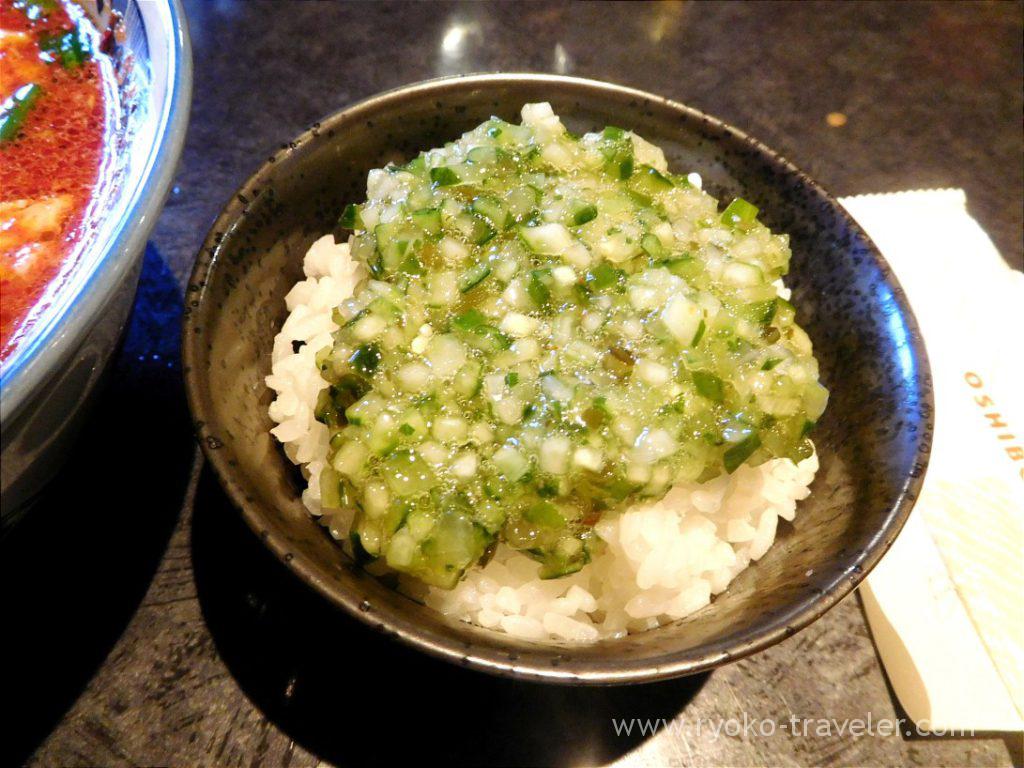 About

Name Karamenya EN (からめんや えん)
Open Lunch, Dinner
Reservation Available for dinner time only
Credit card Unavailable

Google Map