Hotate Biyori (ほたて日和) is a second shop of Menya 33 in Jinbosho. They have started their business in 2022 and already they are one of the most popular tsukemen shop. Hotate means scallop. As their name, their soup stock have abundant extract of scallop. We have to wait so much in line on weekdays. But on weekends, there's a waiting sheet in front of the shop and staff say our scheduled time. So, we don't have to wait much in front of the shop on weekends. If you want, you can eat another ramen somewhere while waiting. Akihabara have much good ramen shops. 🙂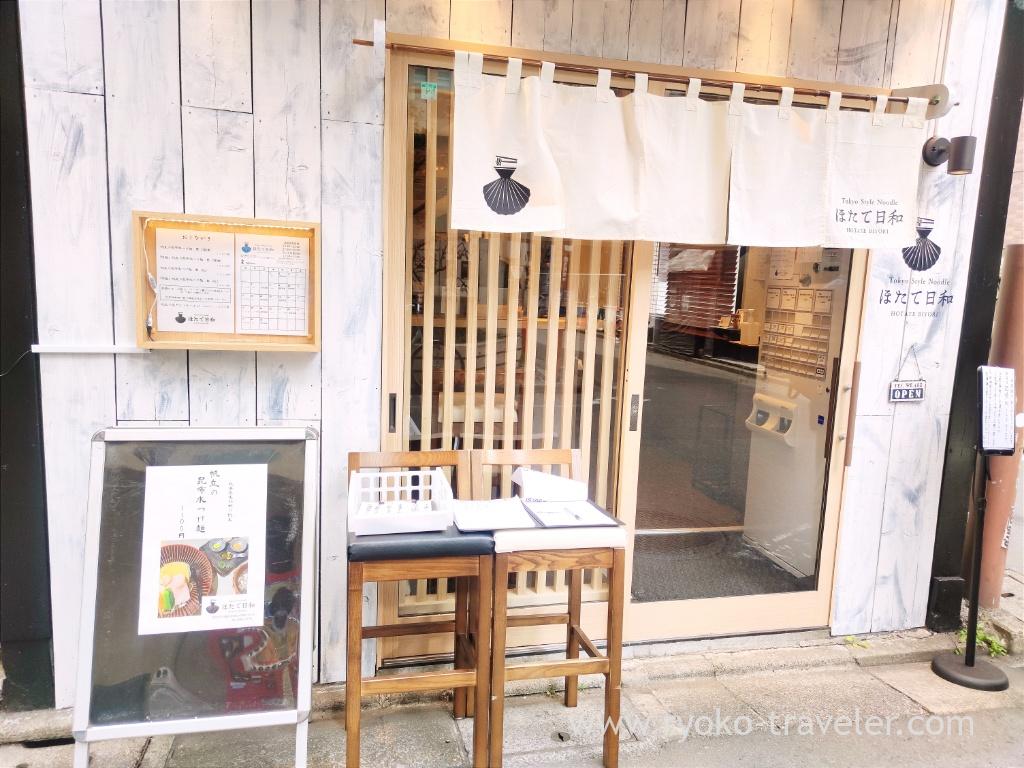 The waiting sheet is shown after 10:40 a.m.. The staff said to us our scheduled time is 12:30 p.m. They have counter seats only.

We have to buy tickets before waiting on weekdays, but on weekends, we buy ticket after staff say go. There's a ticket vending machine at the door inside. They have tsukemen and ramen.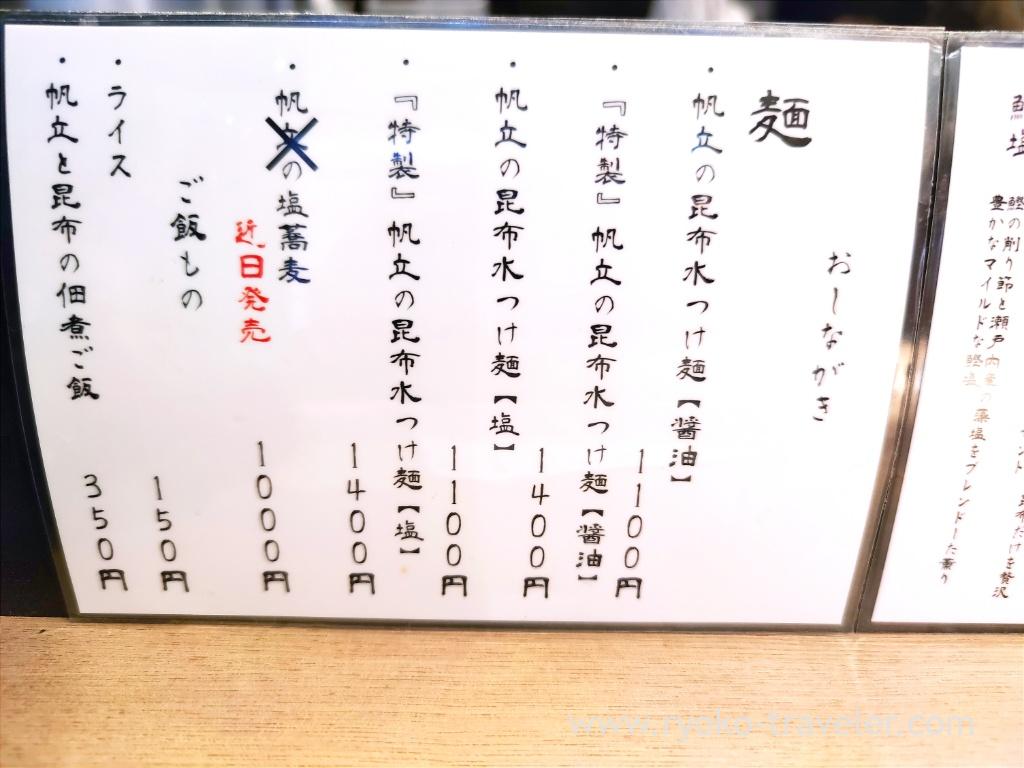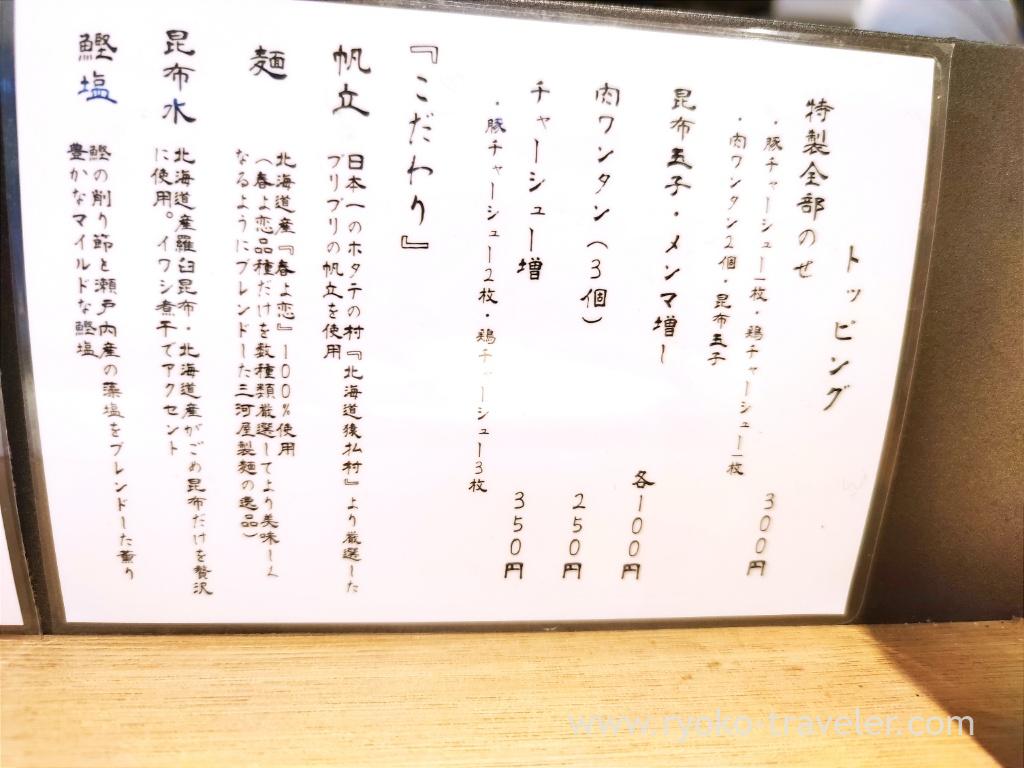 This is their specialty ! Tsukemen having plenty of extract of scallops ! They have two types of soup. Soy sauce and salt. I chose salt one. "Special" have additional roast pork and roast chicken, and konbu egg, and the soup have two wontons. Beautiful. It's not simple tsukemen ! Those roast pork and chicken is awesome.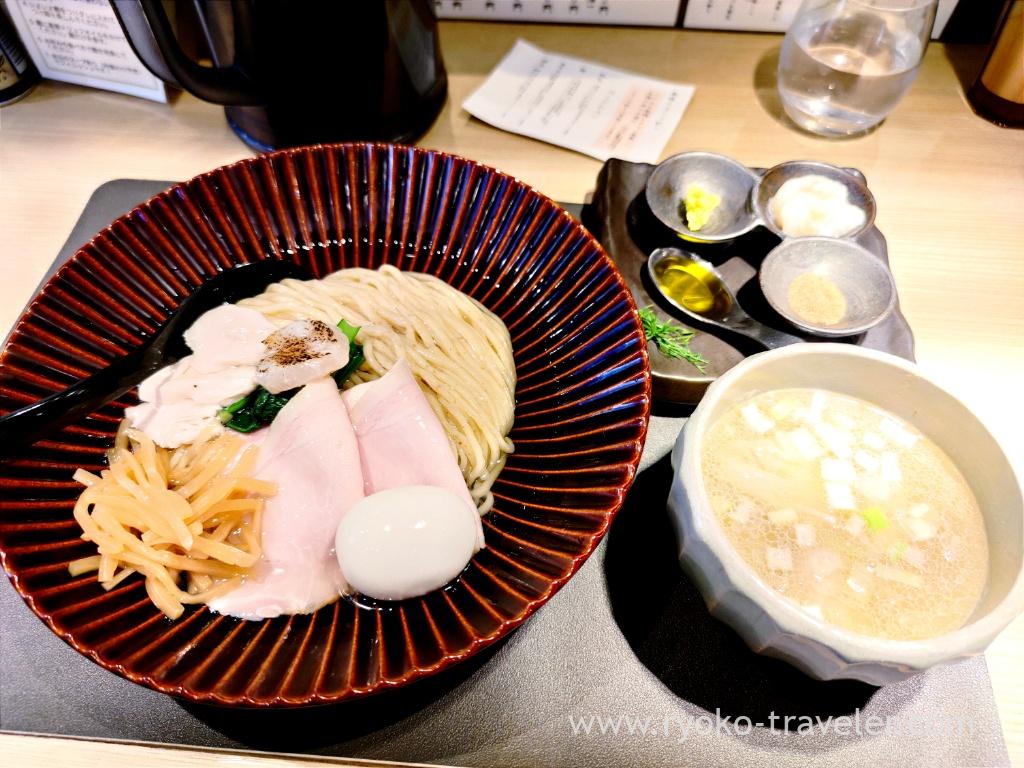 Their tsukemen is served in "Konbu-sui". Konbu-sui is as its name, konbu (seaweed) and water. It had sticky texture deprived from seaweed. This konbu-sui itself is delicious. So, This tsukemen is enough awesome without soup.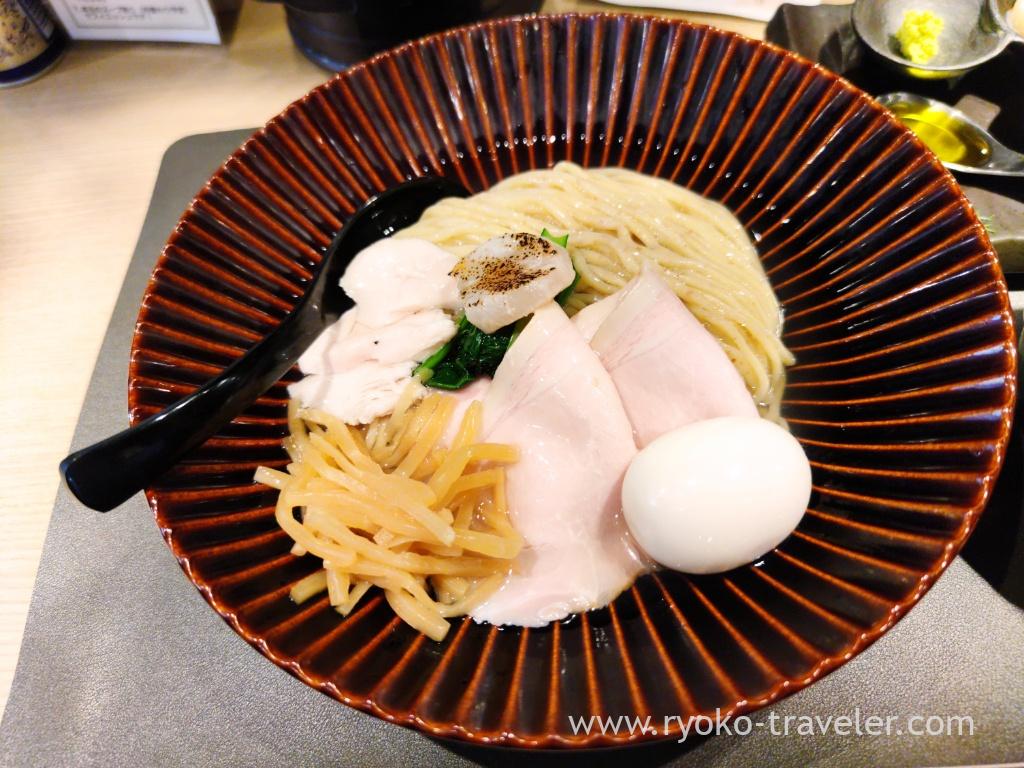 Those four things are for tsukemen to enjoy various flavor. They recommend us to eat this scallop carpaccio at first. And another wasabi, salt with dried bonito, truffle oil and dill. I tried from weak to strong. Salt, wasabi, dill and last, truffle oil. Truffle oil is great.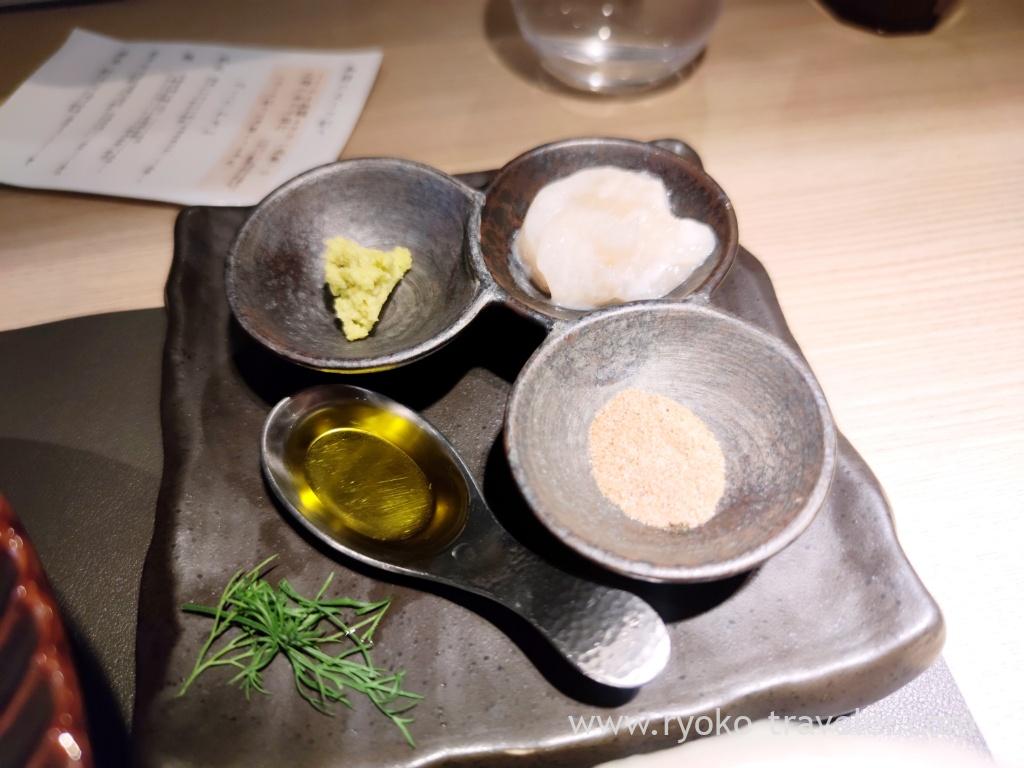 After enjoying noodles, I put noodles into the soup. It had wontons and two scallops. Unexpectedly flavor of scallops were not too strong. Scallop, chicken, bonito, konbu,,, many extracts mixed perfectly. This soup is not strong. So, I think I can drink it up without additional soup (soup-wari)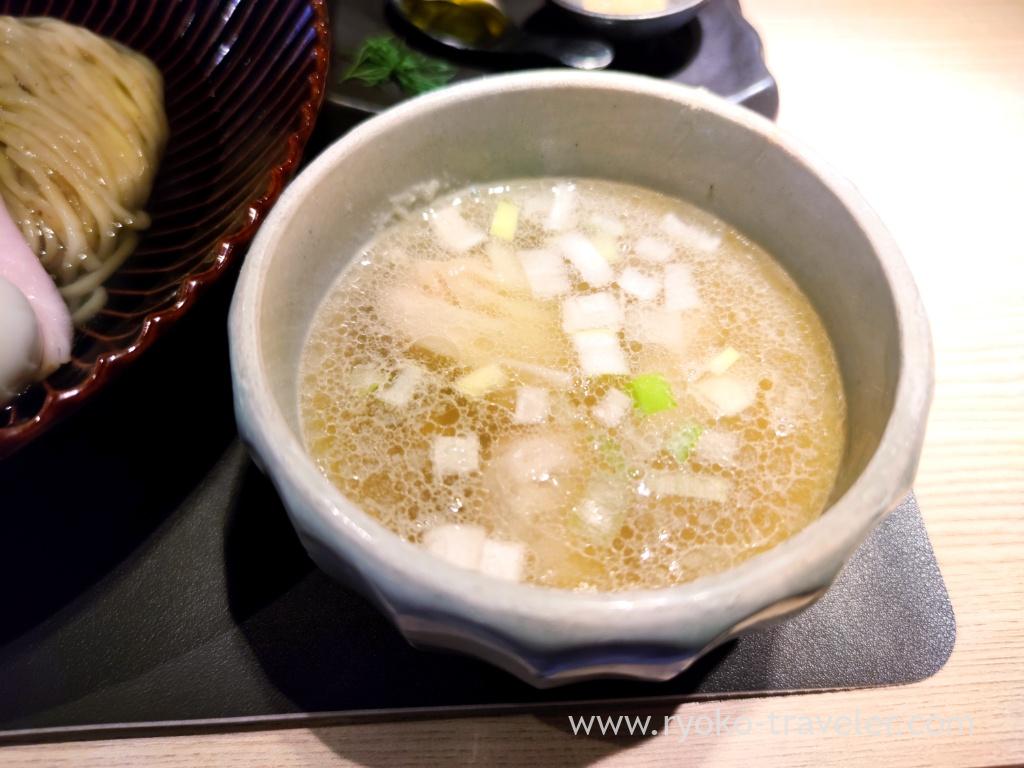 But. They prepare awesome soup stock for soup-wari. They change it each month. That time, it was soup stock made from shijimi clam, oysters and flying fish.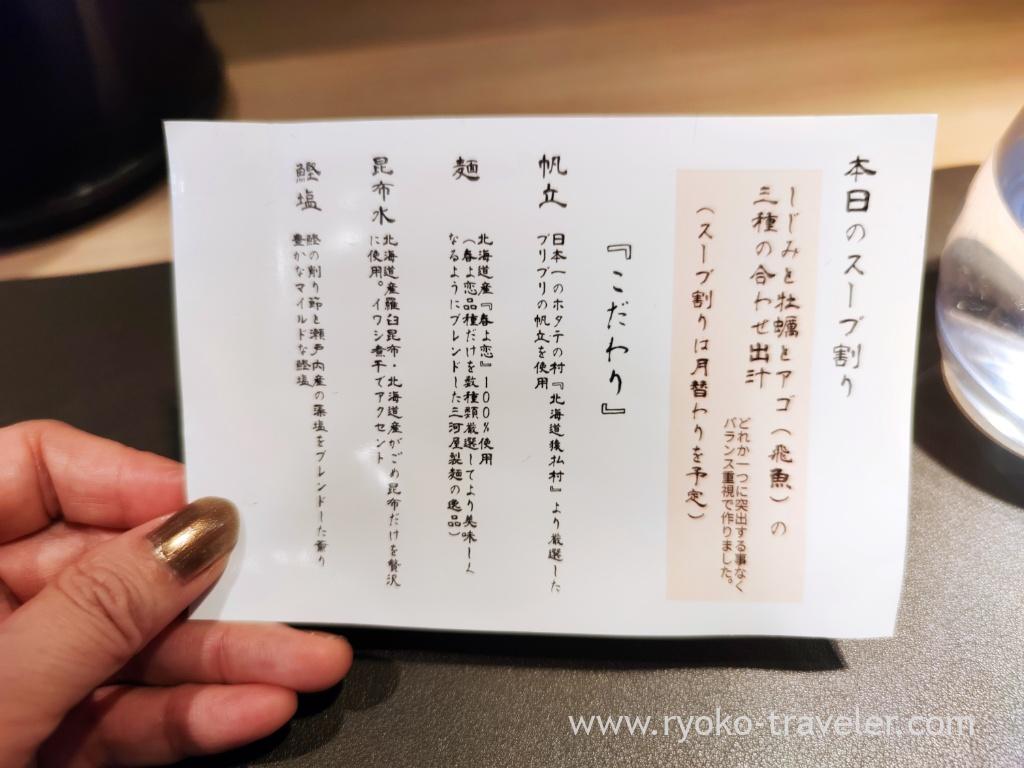 At first, I drunk the soup stock only. Shijimi, oyster and flying fish. Everything was mixed perfectly. And after that I put soup stock into the soup bowl. Woow.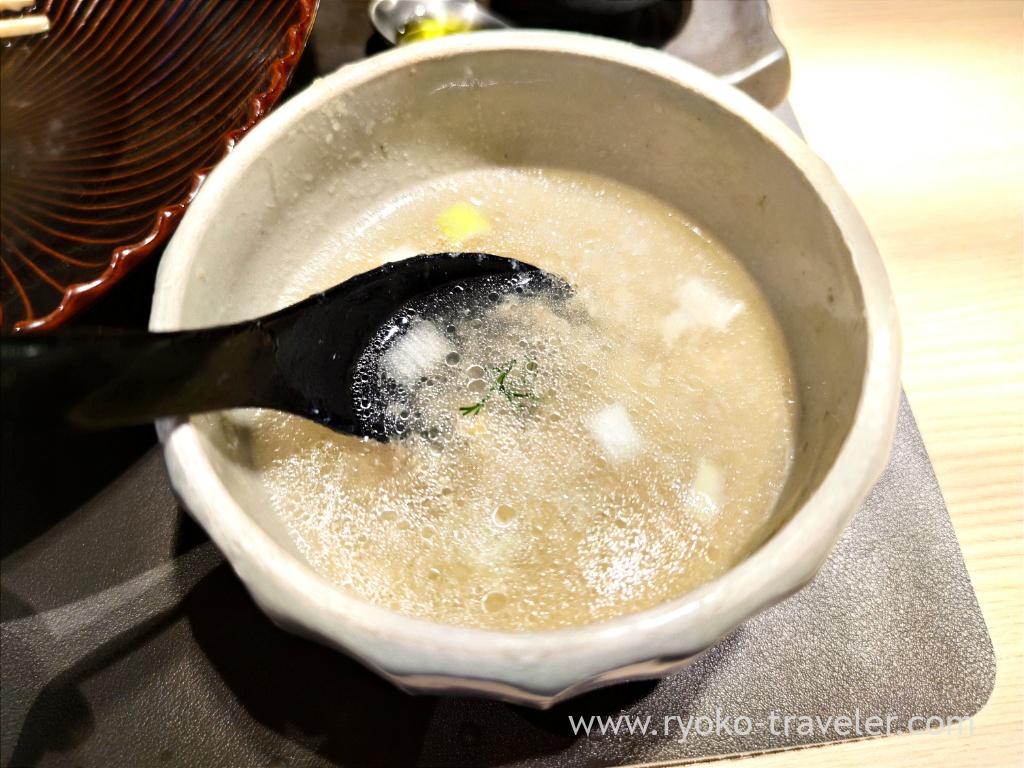 About

Name Hotate Biyori (Tokyo Style Noodles ほたて日和)
Open Lunch, Dinner
Reservation Unavailable
Credit card Unavailable
URL Twitter / Instagram

Google Map