I searched for good cafe that serve Clema Catalana that is one of the traditional Catalonia confectionery in advance before visiting Spain and I found the cafe where I intended to go for having churros serve good Clema Catalana, too. So I visited there for two consecutive days and ate both 🙂 The shop's name is GRANJA LA PALLARESA. GRANJA is Spanish cafe and they mostly serve hot chocolate and churros.
There're samples at the entrance. It's like Japanese cafe !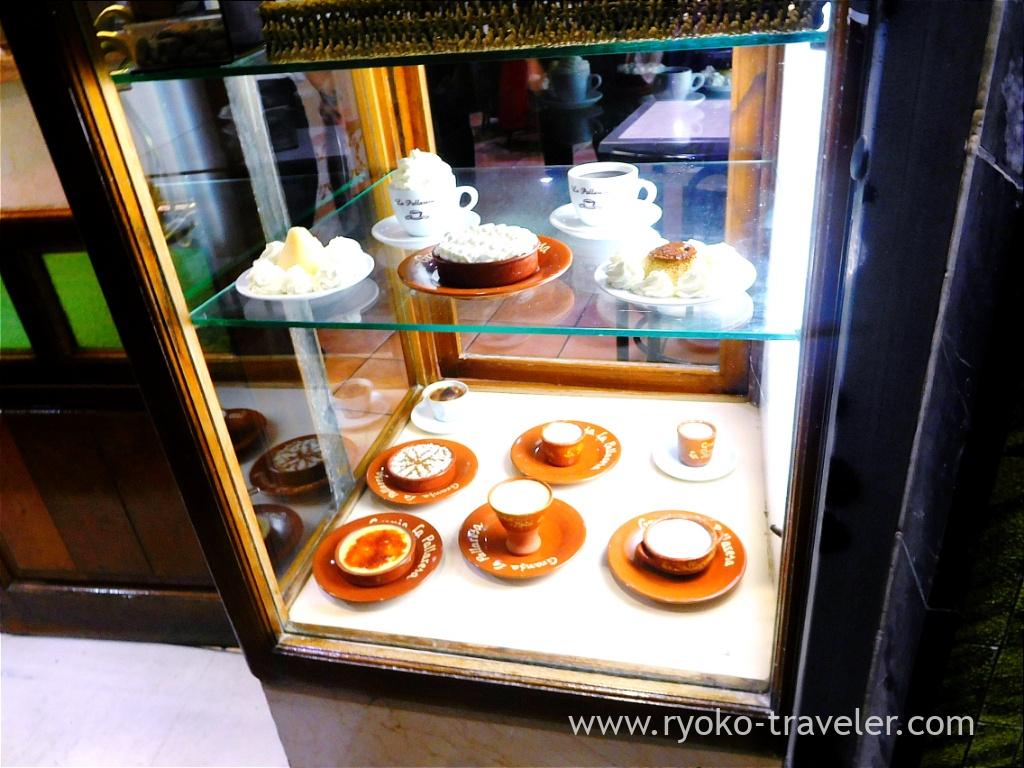 There're many tables and chairs. Small table have 3-4 chairs. The intervals of each seats are narrow.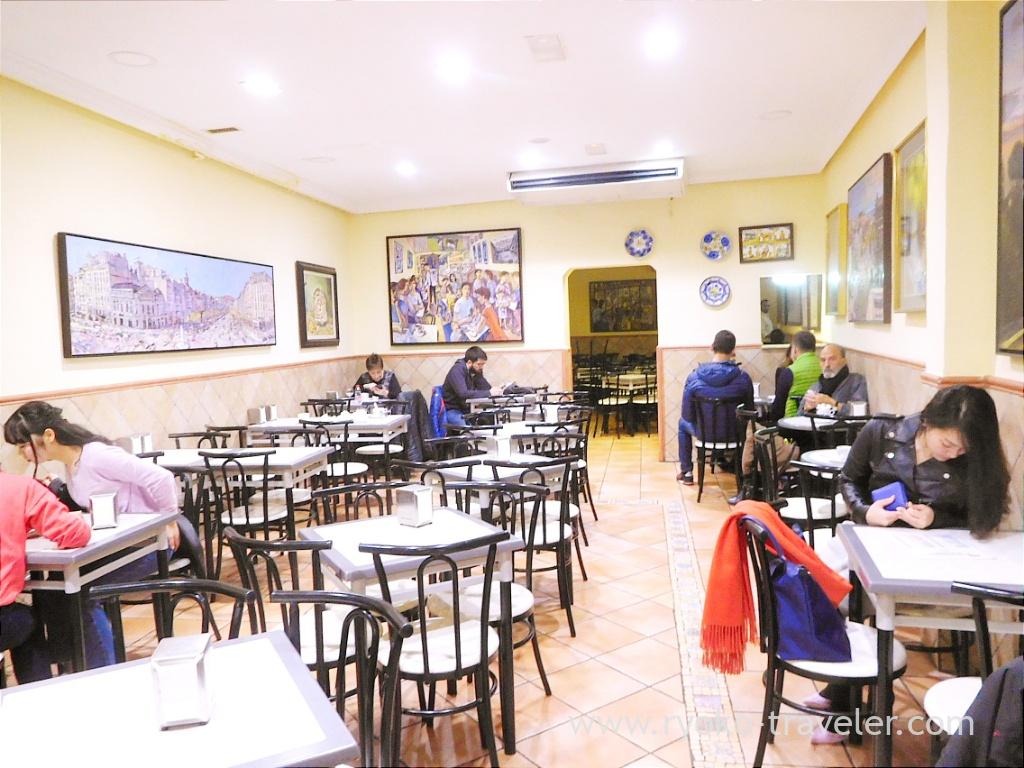 There's a kitchen near the entrance.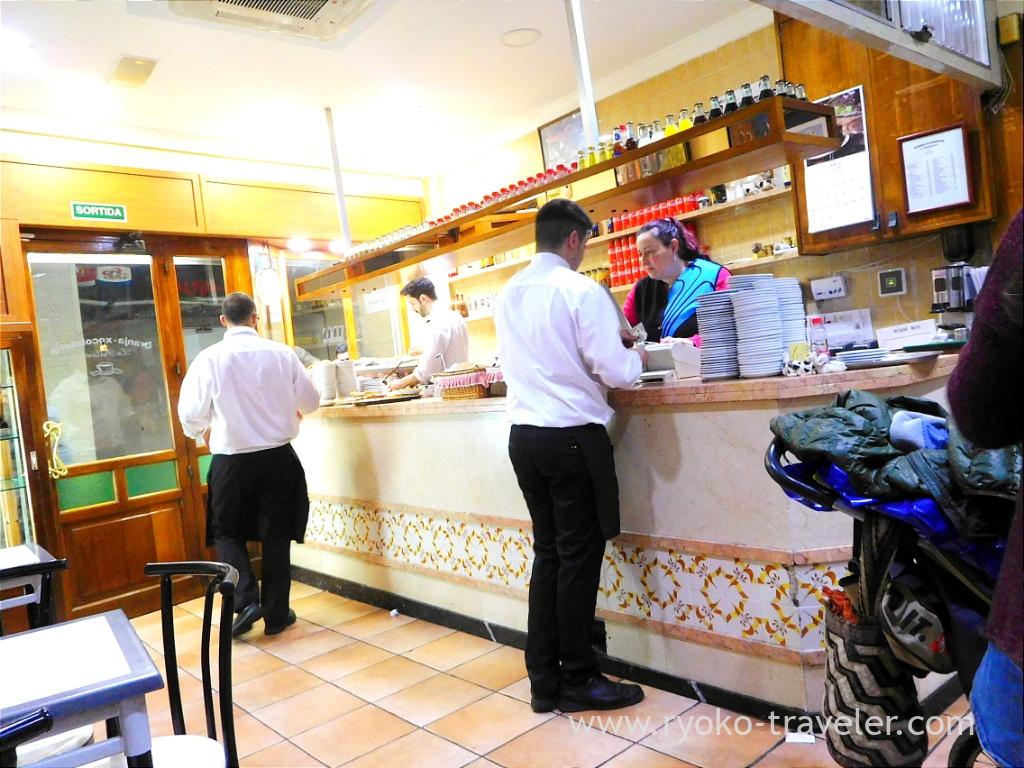 They were so crowded past noon. And it was noisy. So, if you want to eat in calm atmosphere, I recommend you visit there in the morning. They are open from 9 a.m.
This is a menu. This side is in English and another side is in French. When I visited there in the morning, there wasn't this menu on each table because many visitors seemed to be local people. There's no Spanish menu. I think local people don't need menu 🙂 They understand simple English, so if there's not menu on the table, we have only to say "Menu, please.". Umm. But this English menu have some another language. Credit cards are available.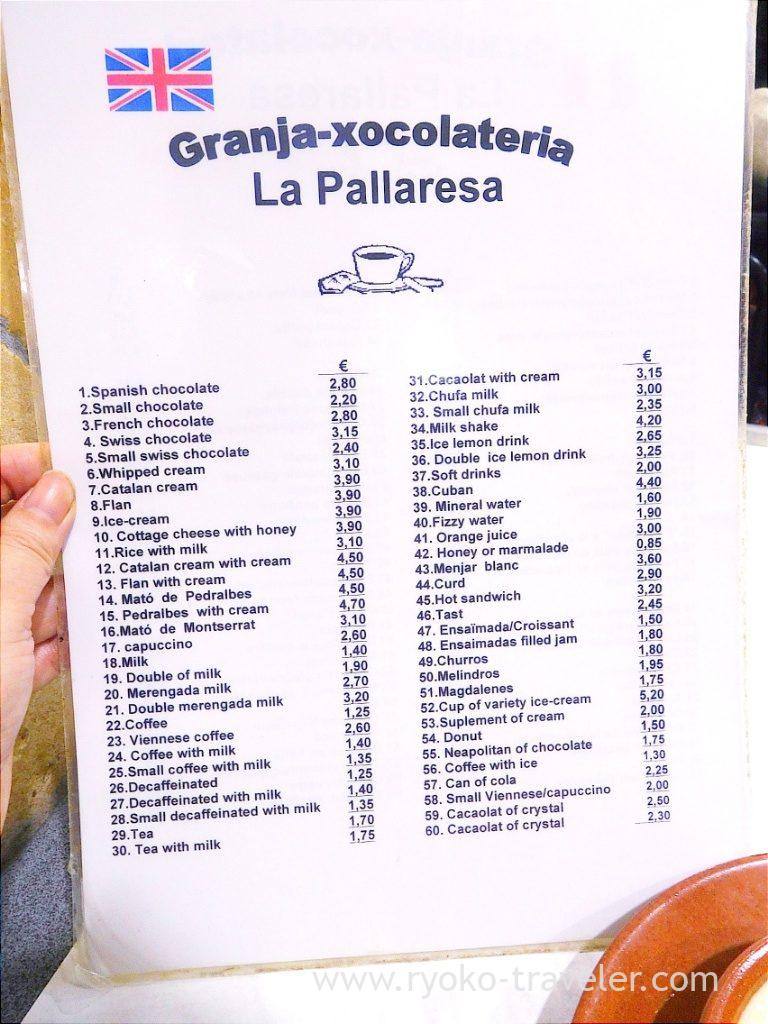 This is Catalan cream.
Catalan cream (Clema Catalana) is a confectionery eaten in Catalunya. It's similar to crème brûlée that is French confectionery. It's also said to be a origin of crème brûlée. But I don't know the facts. Basically, Clema Catalana is traditional confectionery that is eaten in Saint Joseph's Day (March 19th).
Surface of it is baked. So, its surface is hard.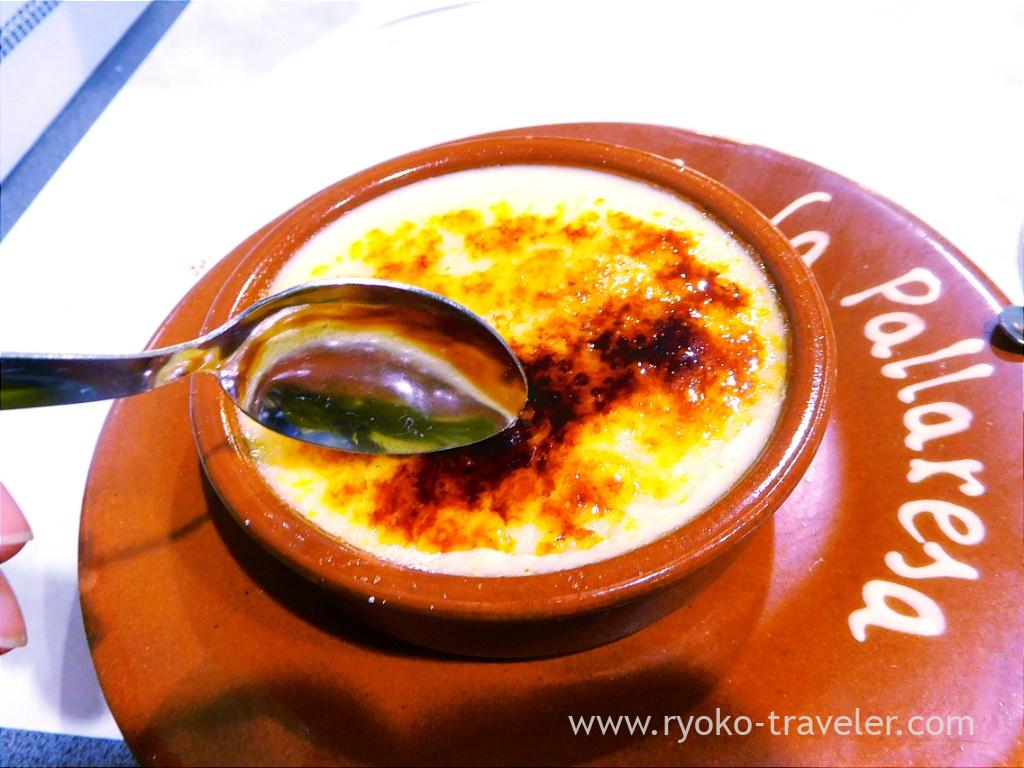 I broke it with spoon and custard cream appeared. Crunchy surface and smooth cream inside. Custard cream had orange flavor. It's simple and tasty. It don't have fresh cream, so it have light tastes.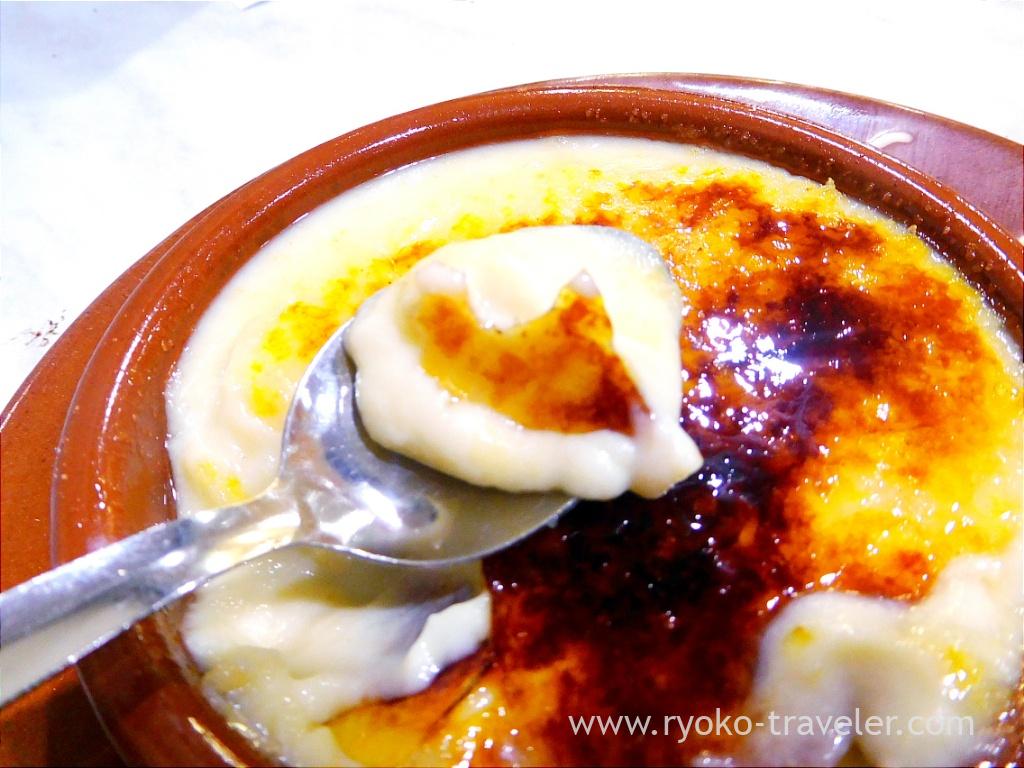 I ordered Coffee with it. Crema Catalana was much. So, I sometimes refreshed in my mouth with coffee while eating.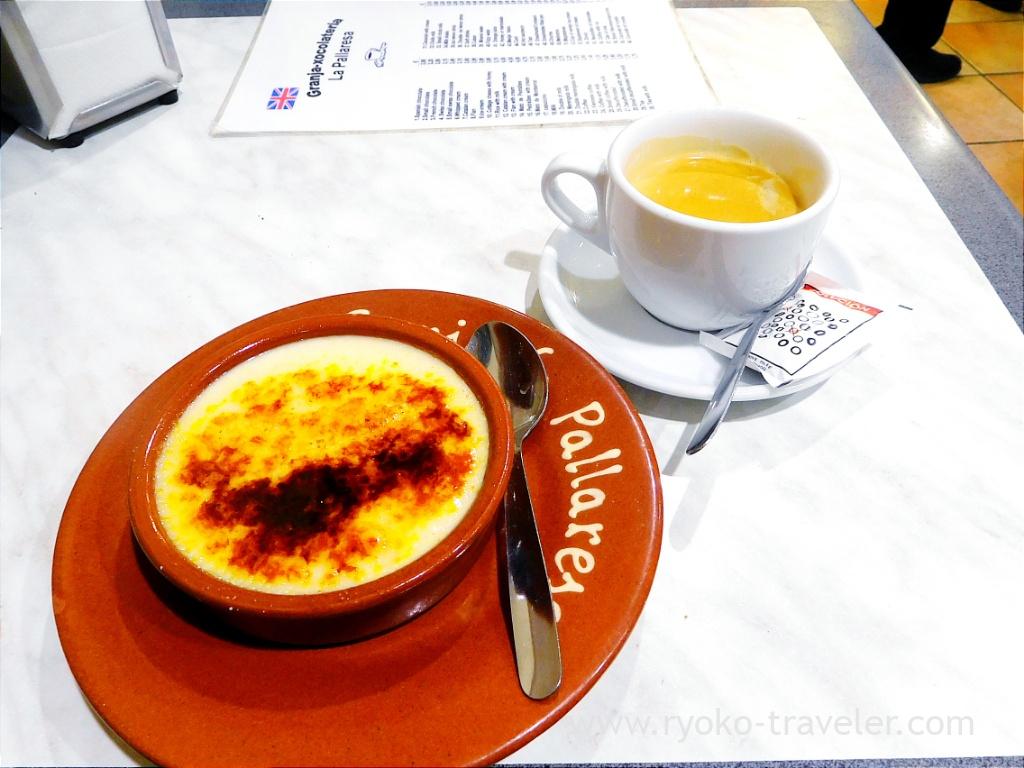 In the morning, many local people visited there for having breakfast. Contrary to in the daytime, it had slow atmosphere.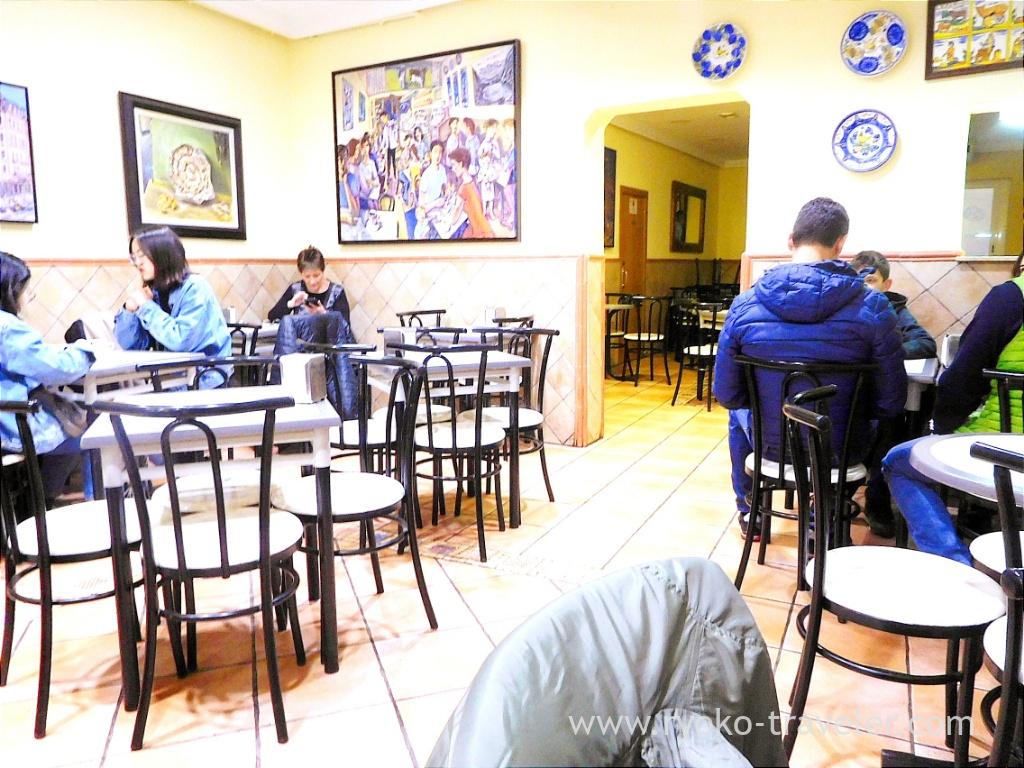 In Japan, churros have much sugar. But In Spain, churros don't have much sugar and it is eaten with hot chocolate. I heard local people dip churros into the hot chocolate and eat. So, I also ordered hot chocolate with churros. But this shop have 3 species of hot chocolate (Spanish chocolate, French chocolate, Swiss Chocolate).
The most standard hot chocolate is Spanish chocolate. Normal hot chocolate. At first, I intended to order it, but I saw a lady next to me was eating hot chocolate having whipped cream on it. So, I asked the lady and she told me it's "Swiss chocolate". So, I ordered it 🙂
Spanish chocolate and Swiss chocolate have small portion and normal portion.
So, I ordered Small Swiss chocolate. Of course, with Churros. Four churros was served with swiss chocolate.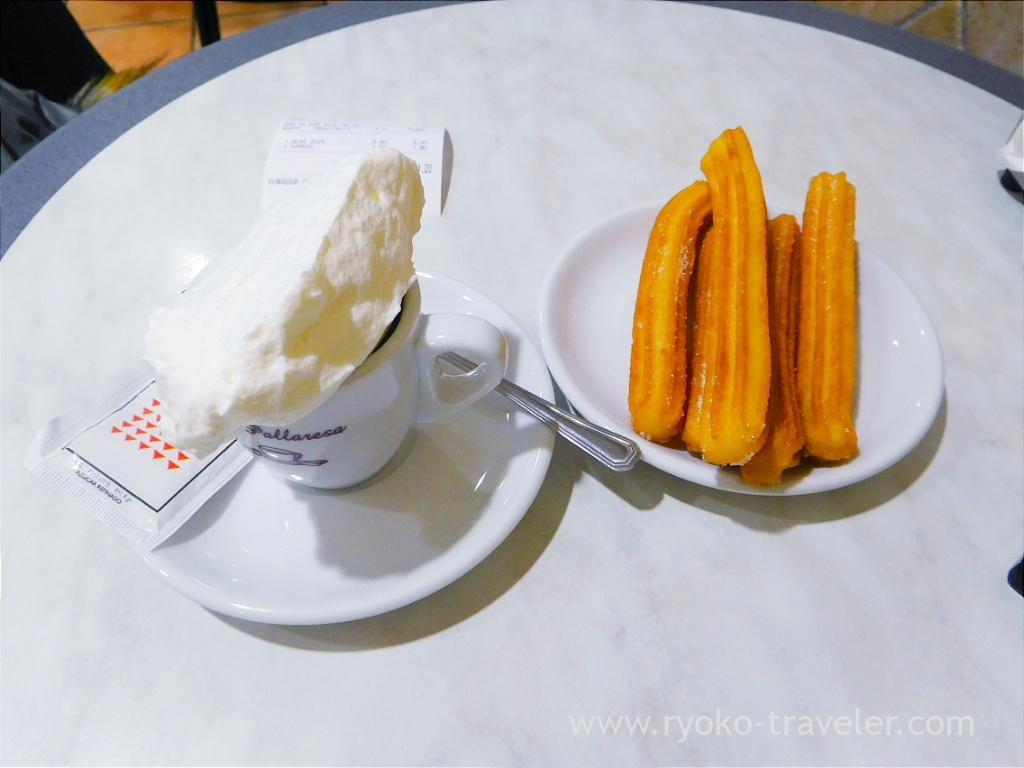 Look at it ! Hearty whipped cream entirely covered the surface of cup !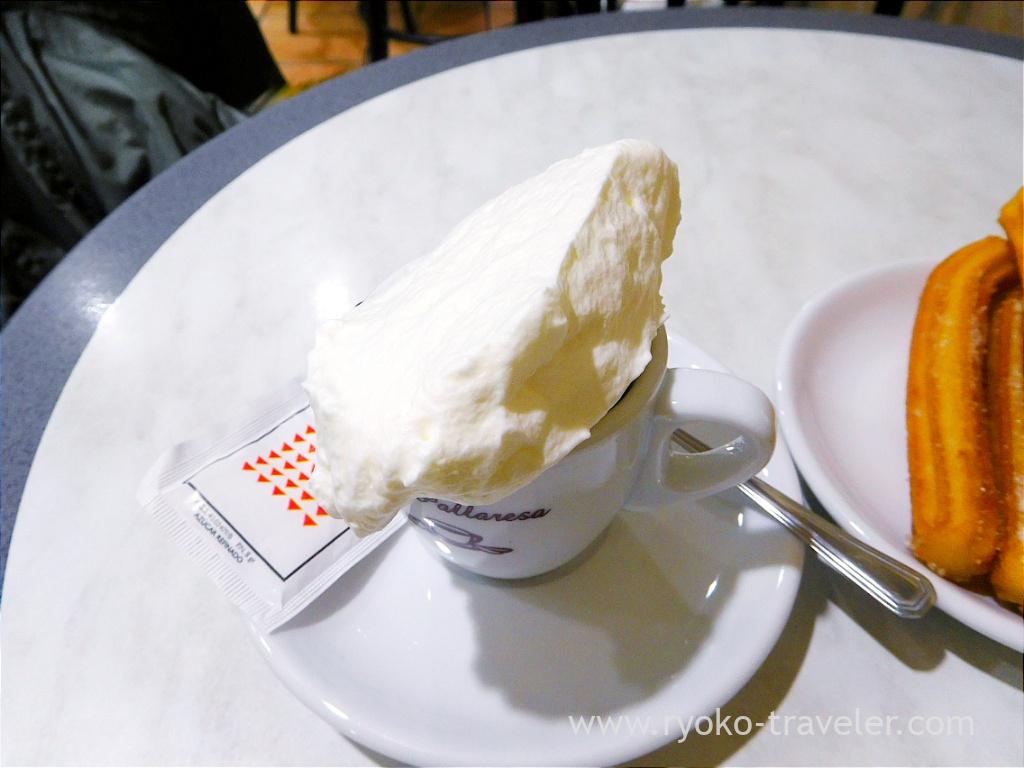 Churros was cold because it took much time to be cooked. But hot chocolate was so tasty, and churros coated with hot chocolate and whipped cream was good.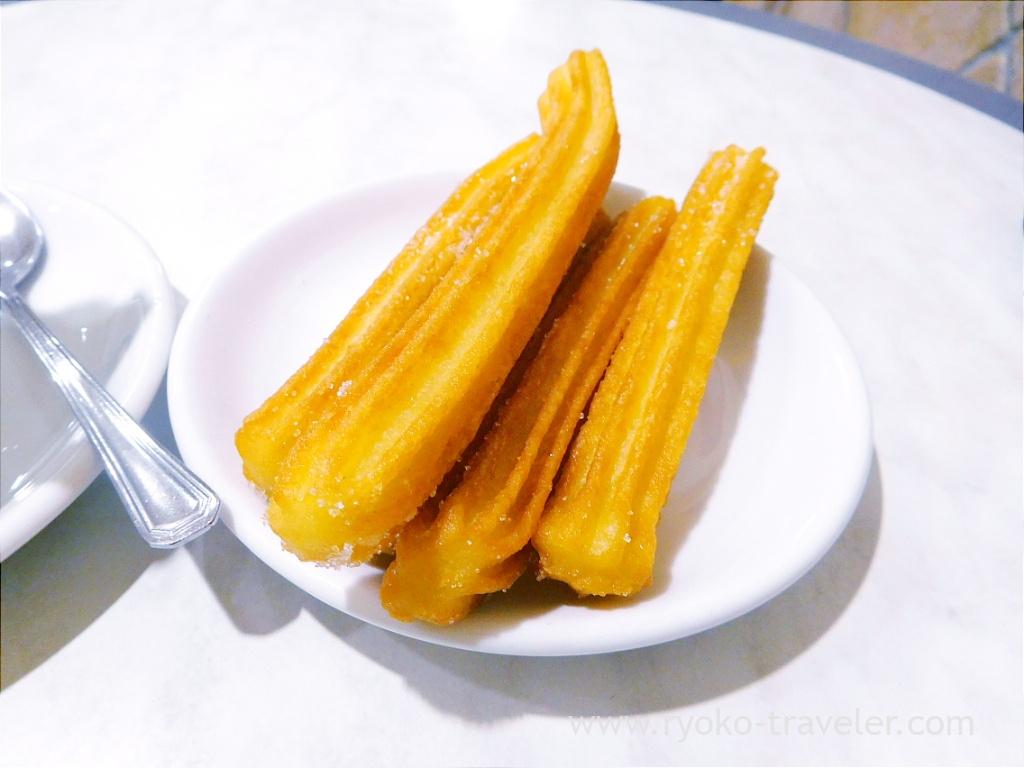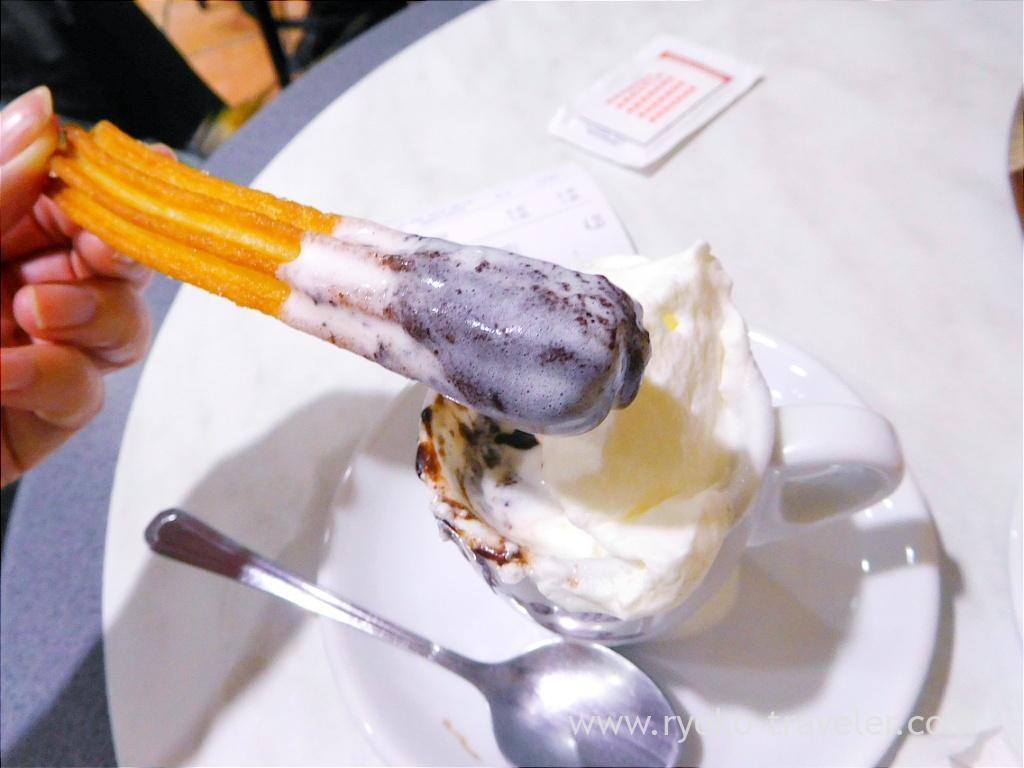 Hot chocolate was not drink. It's like spreads. Though it looked extremely sweet, unexpectedly it wasn't too sweet. Whipped cream wasn't very sweet, too (it's like Starbucks'). I ate it up soon. Delicious. I should have a normal portion. If you like sweet one, they serve it with sugar.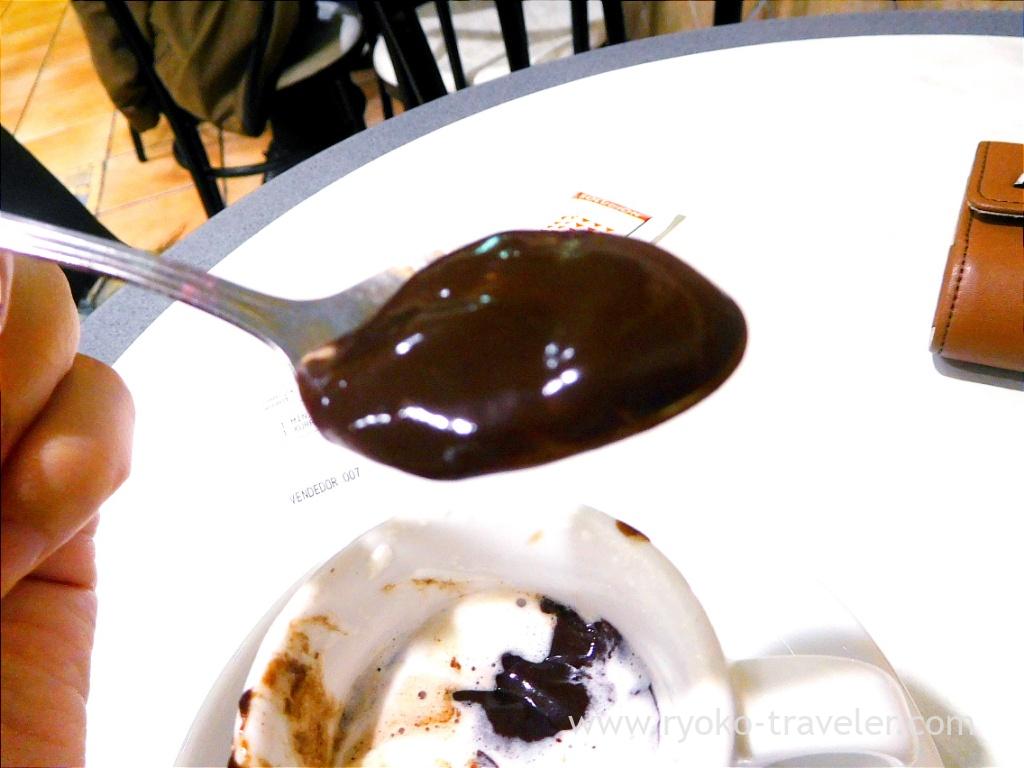 About

Name Granja La Pallaresa
Open Morning, Evening through night
Reservation Unavailable
Credit card Available
URL Website, Instagram

Google Map