I stayed for six nights at Ewa Hotel Waikiki during my trip in Oafu Island. This hotel is very good for money saving travelers who want to stayed in private room but want to stay close to Waikiki beach ! It takes only 5 minutes walk from the hotel to Waikiki beach ! Nevertheless such a good location, we can stay at the hotel at rather inexpensive price because the hotel is old. (about $100 per one single stay)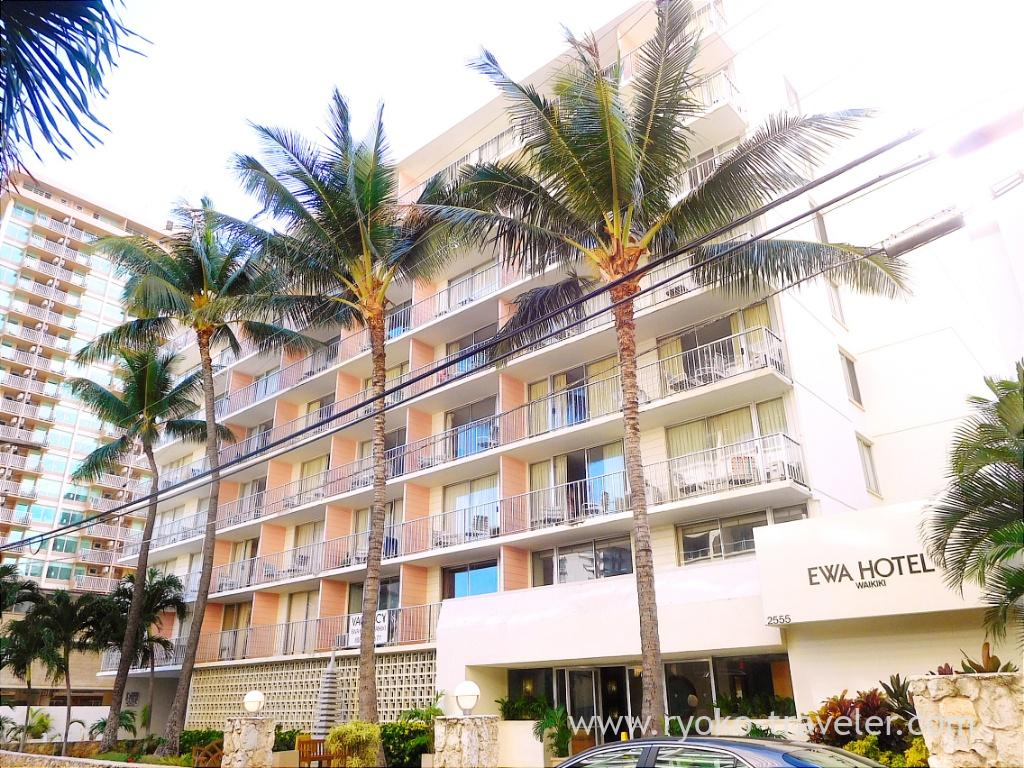 There are many dormitory along the street having EWA HOTEL WAIKIKI.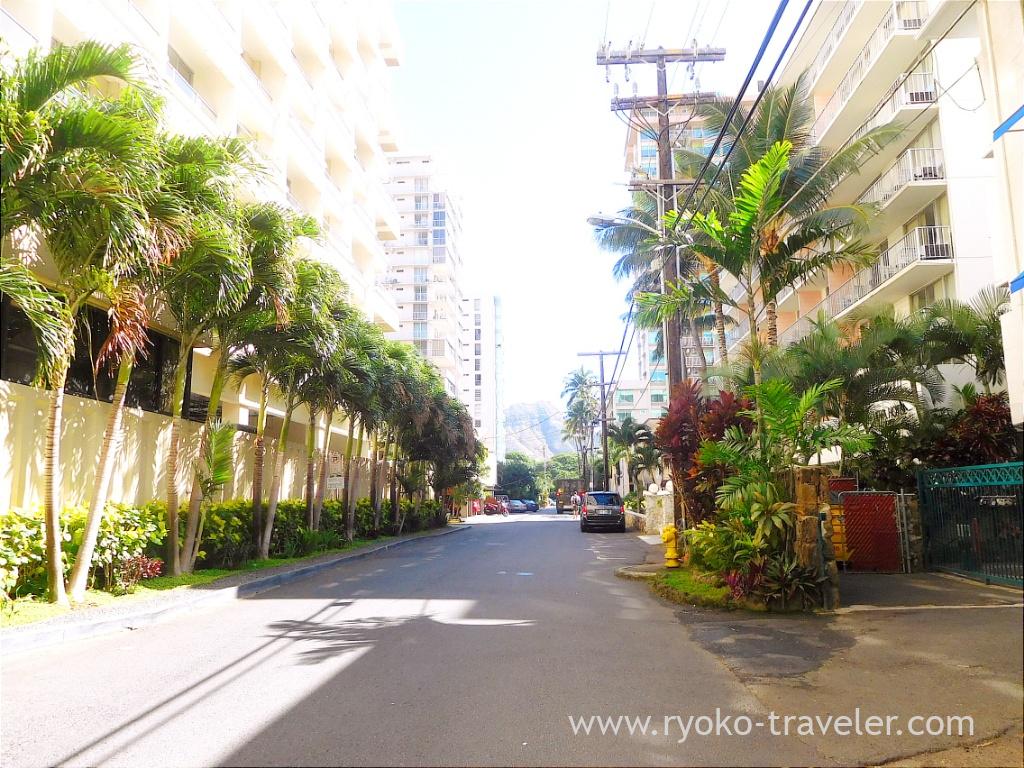 The hotel don't have bicycles to lend, but there's BIKI (Share cycle) stand close to the hotel.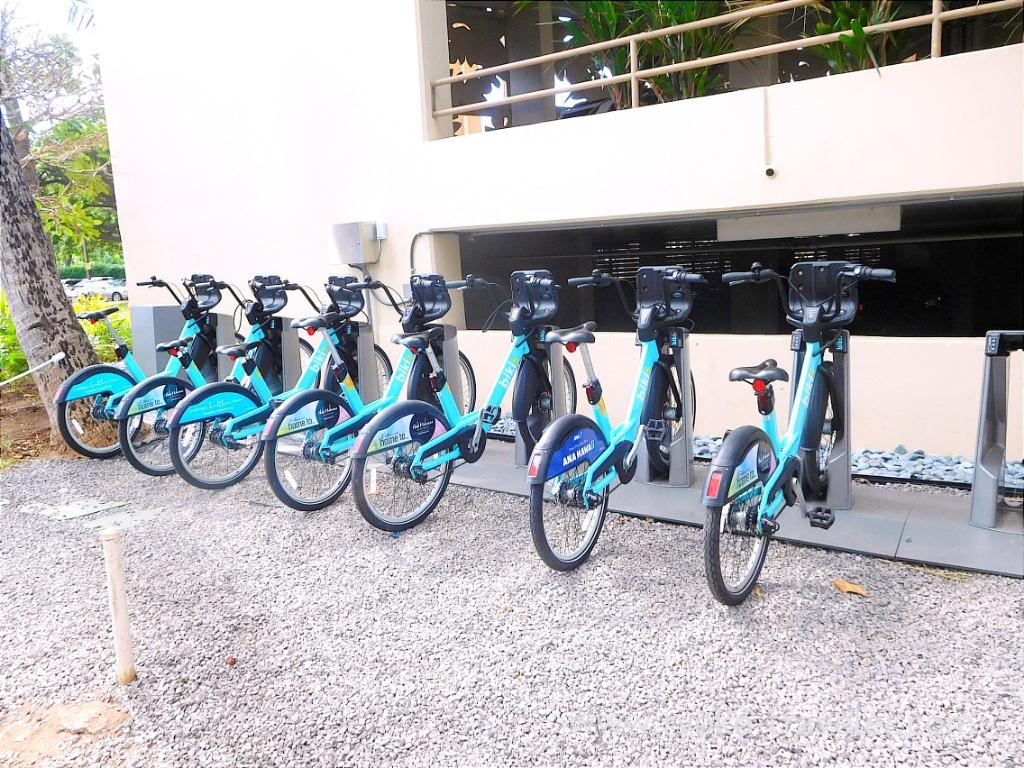 There're benches at the entrance and the road in front of the hotel isn't busy, so it's comfortable. Mostly someone took a rest at there.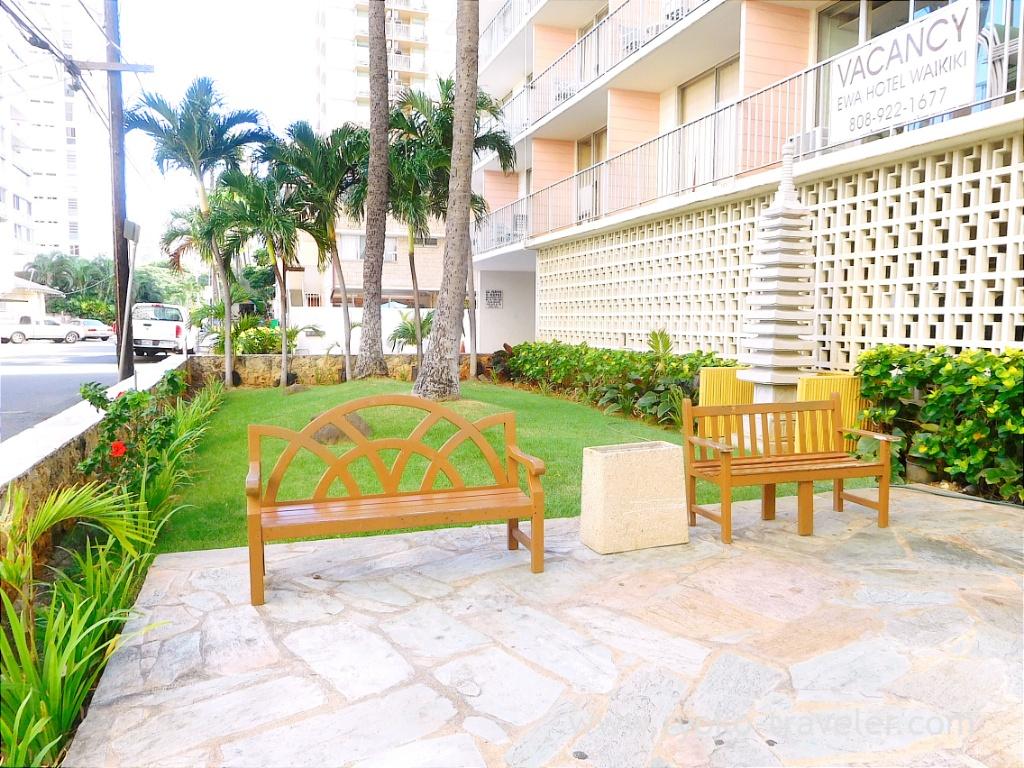 There's a entrance on the ground floor. I had to wait much time to have something to do at the front desk (check-in and so on) because there's always only one person. But they were friendly and the front desk available for 24 hours.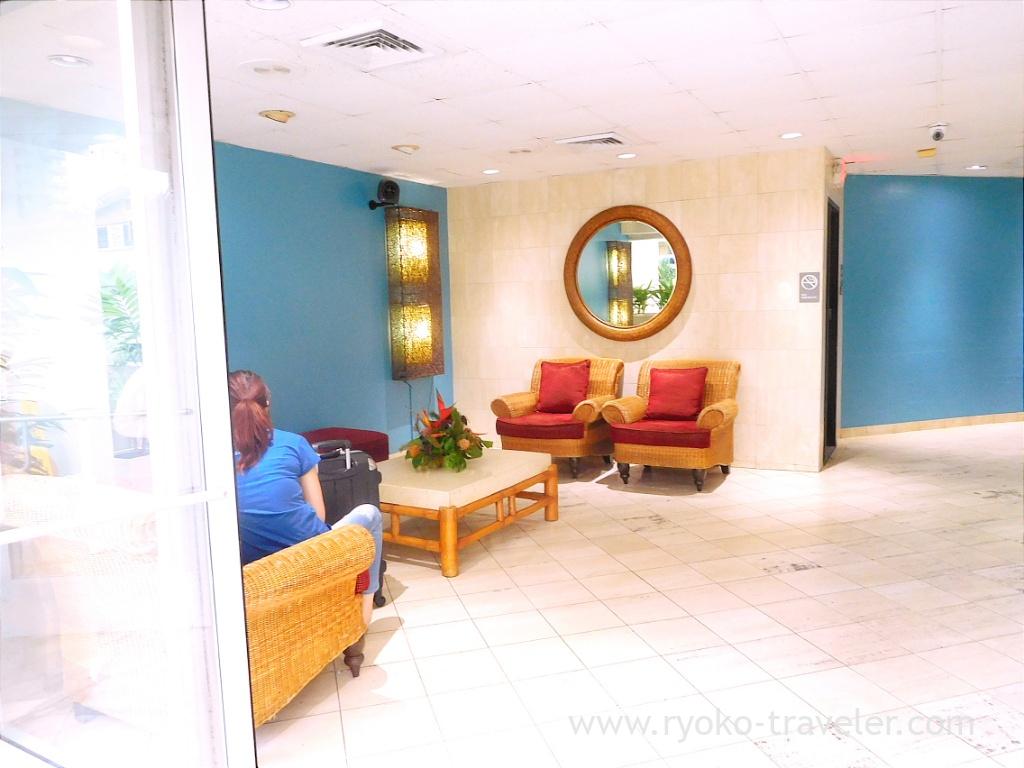 There's a elevator at the back of the floor. Very old…. so it work very slowly.
And though I pushed "Close", far from closing, somehow sometimes it was open. I was annoyed.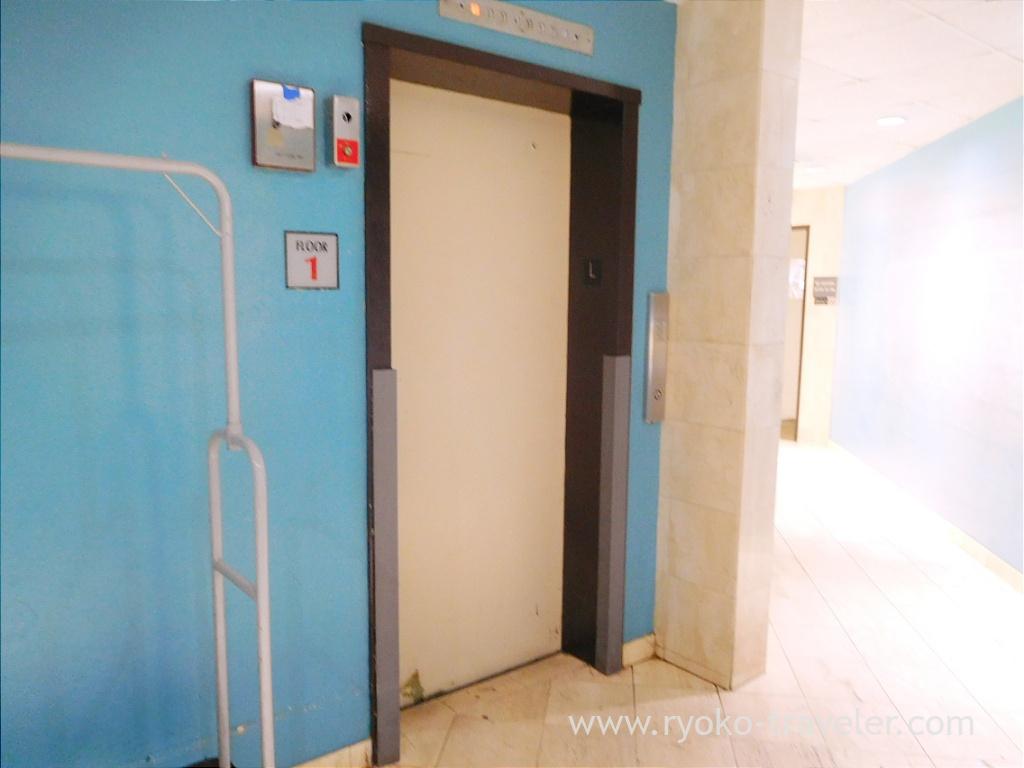 I was wondering why there's a bench in front of the elevator at first. But I realized. It's for waiting for elevator. Mybe we can use the ATM while waiting.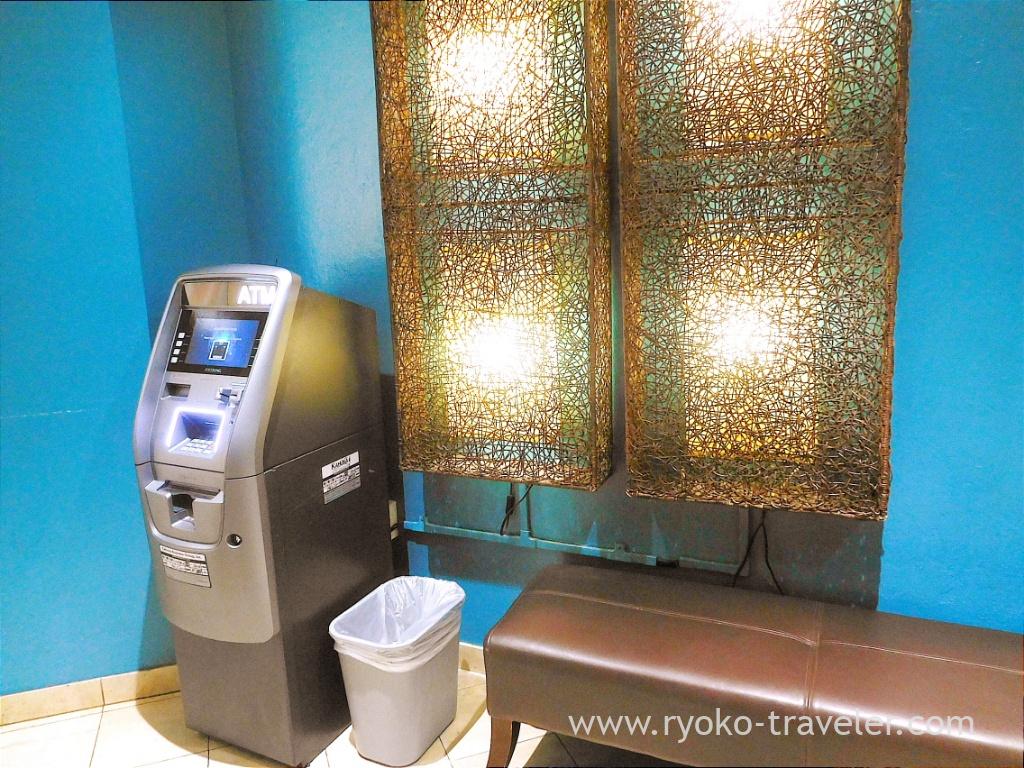 Top floor is 8F. There're rooms and also roof garden. Beach could be seen from there a bit.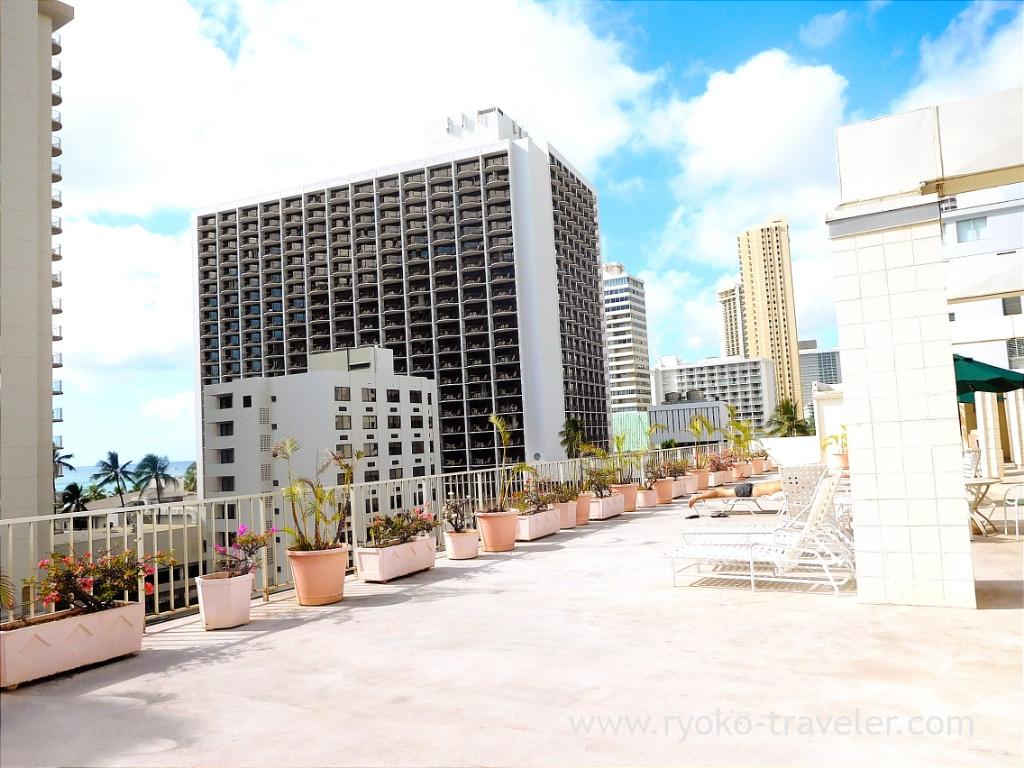 Diamond head, too.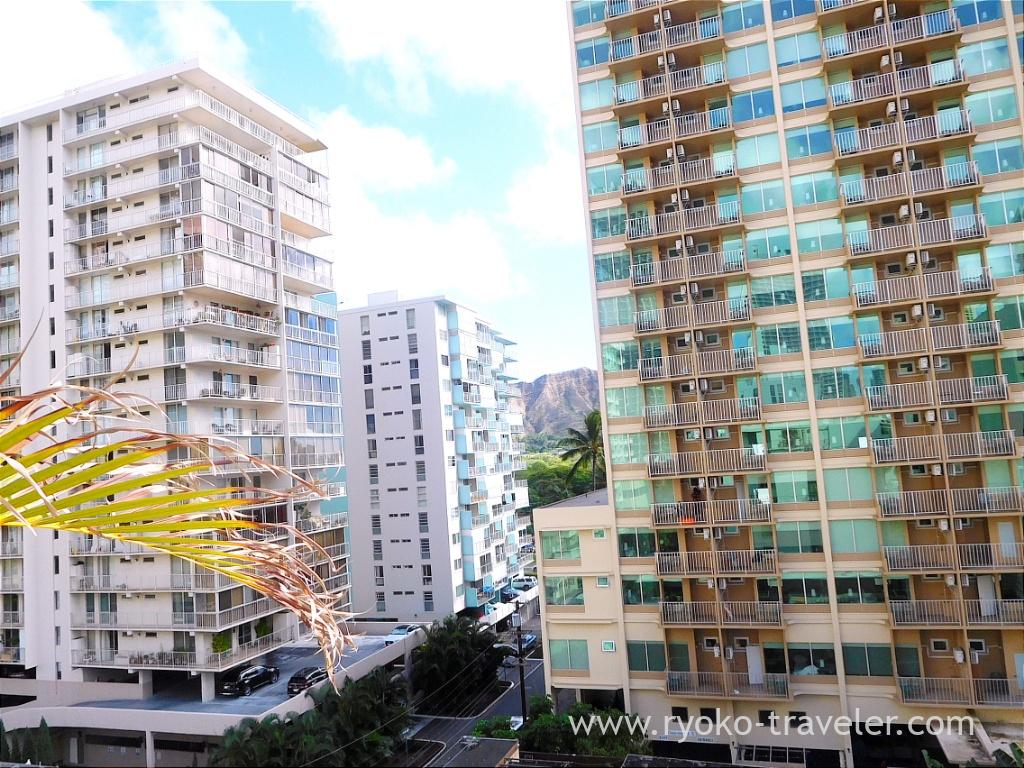 Night view.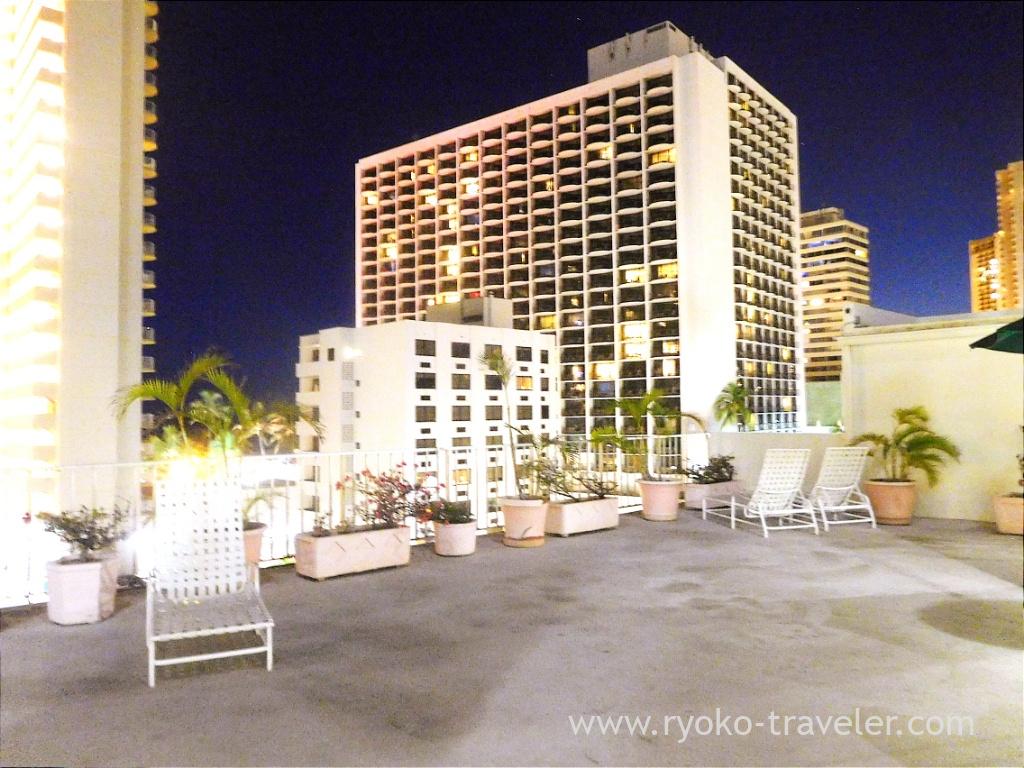 Passage to my room.
I stayed in two beds room. It was large. Break room because of color. This hotel have some rooms having kitchenette. But my room didn't have kitchenette. So, more inexpensive.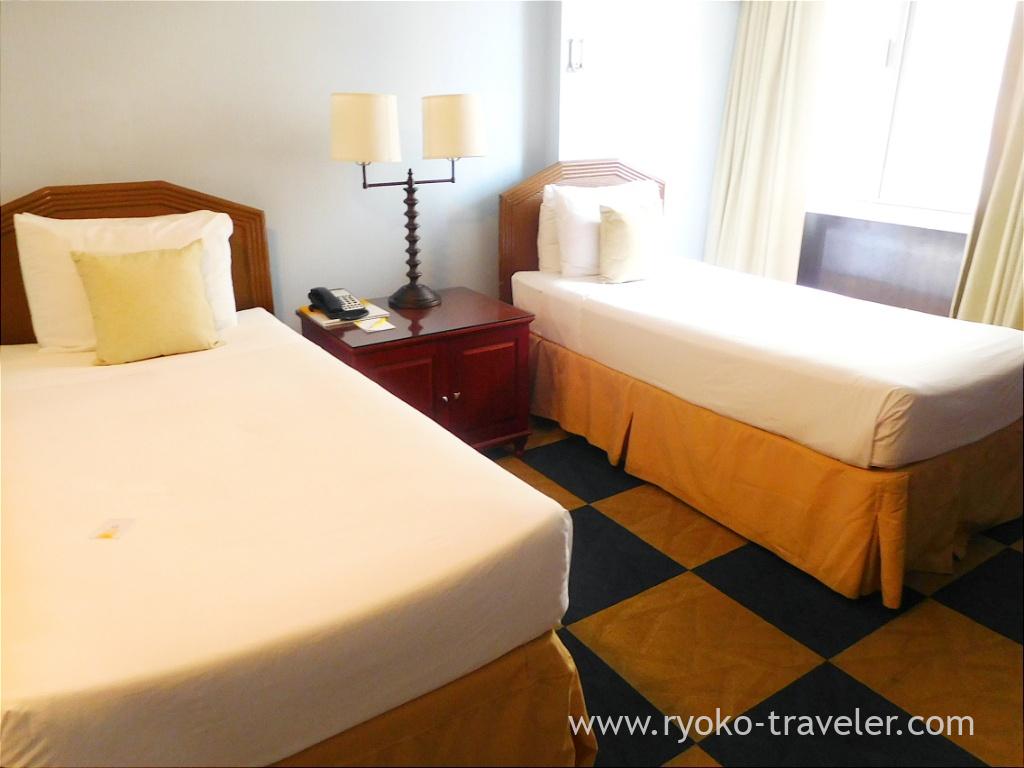 Flat TV. Also they have Wifi. There's a door on the right, so I tried to open. But it was locked. I think it's connected to the neighborhood.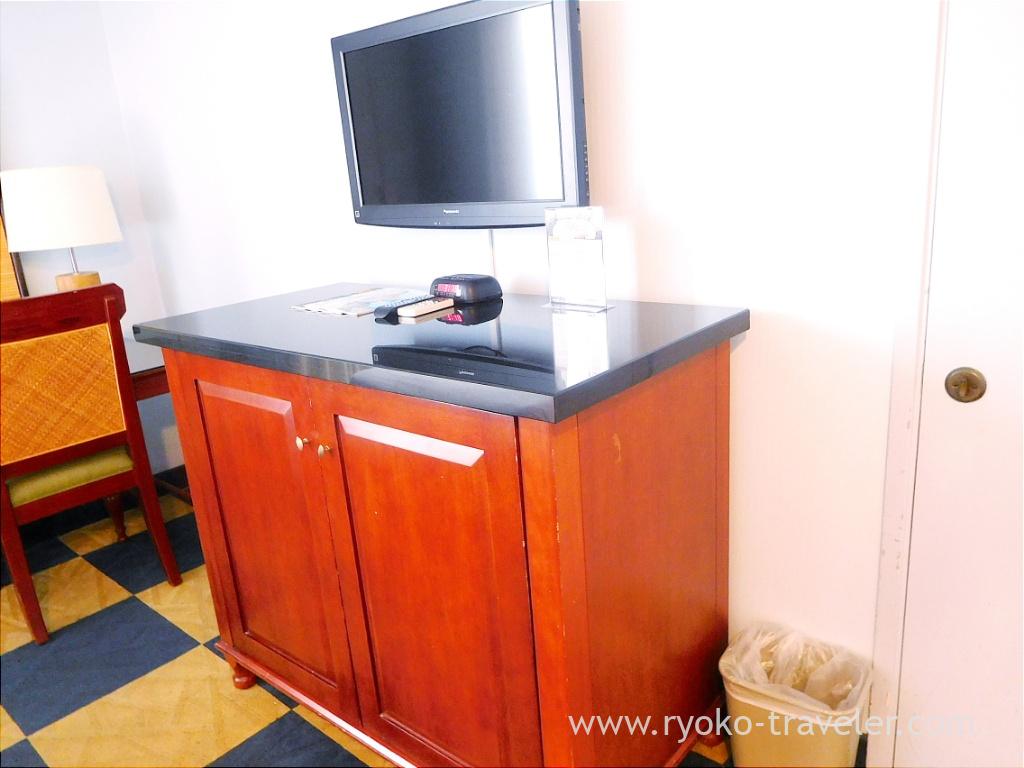 I was glad that my room have refrigerator (small though). By the way, such an old refrigerator can't be seen anymore in Japanese hotel now… SANYO…long time no see…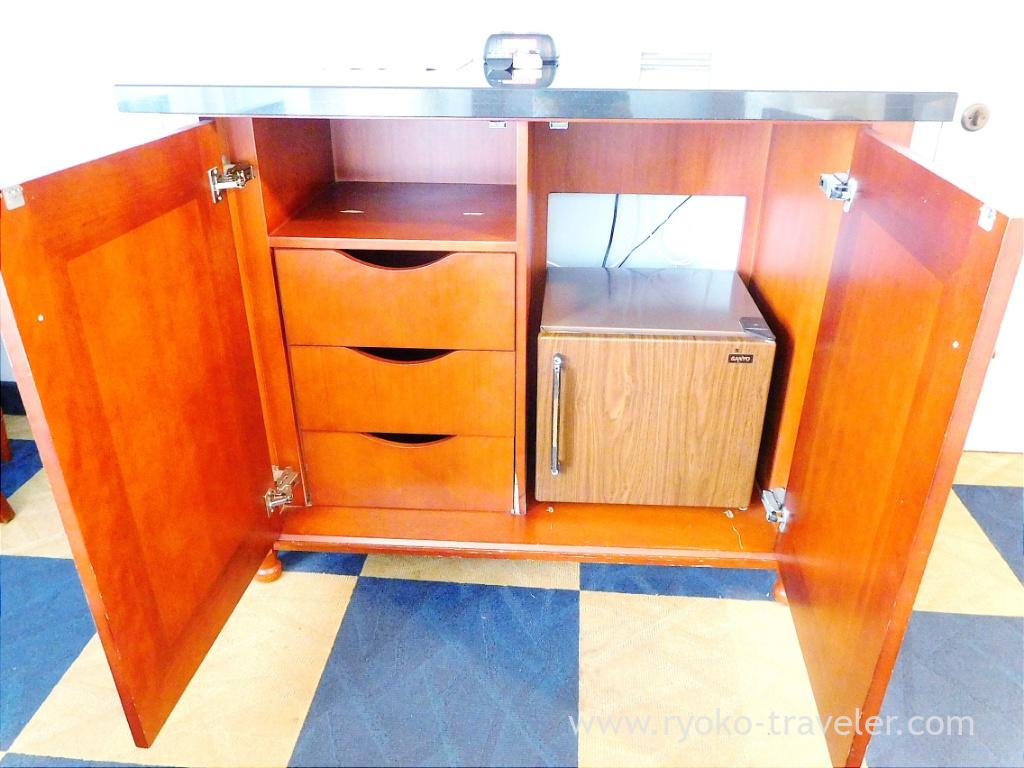 Table. There's a coffee maker, coffee beans and cup.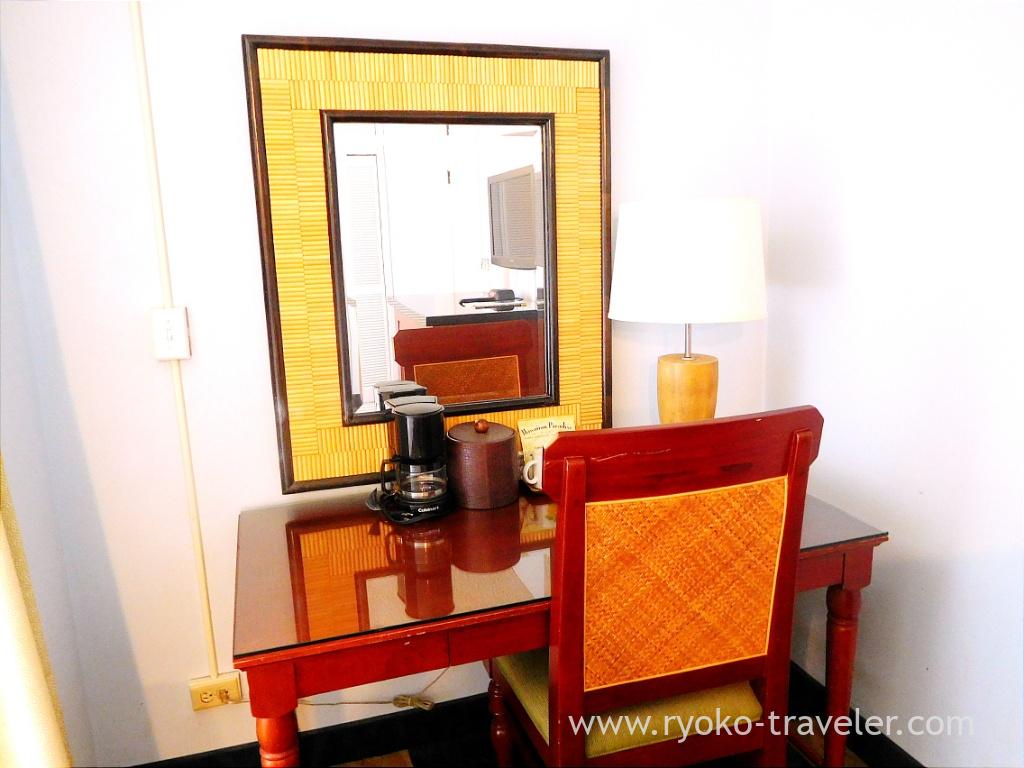 Closet. There's a safety box and clothes iron. There're two luggage racks. Convenient. The room door was old and had some stains. But the key was card.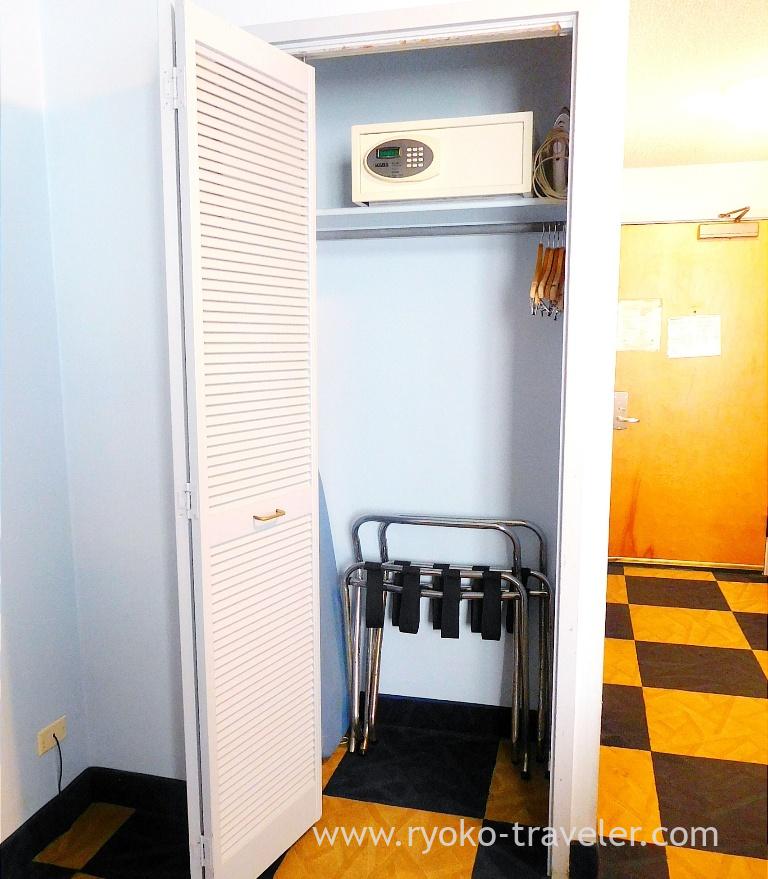 Modular bath. Large. Though there's not toothbrush, shampoo and body soap was preapred. Hot water was available.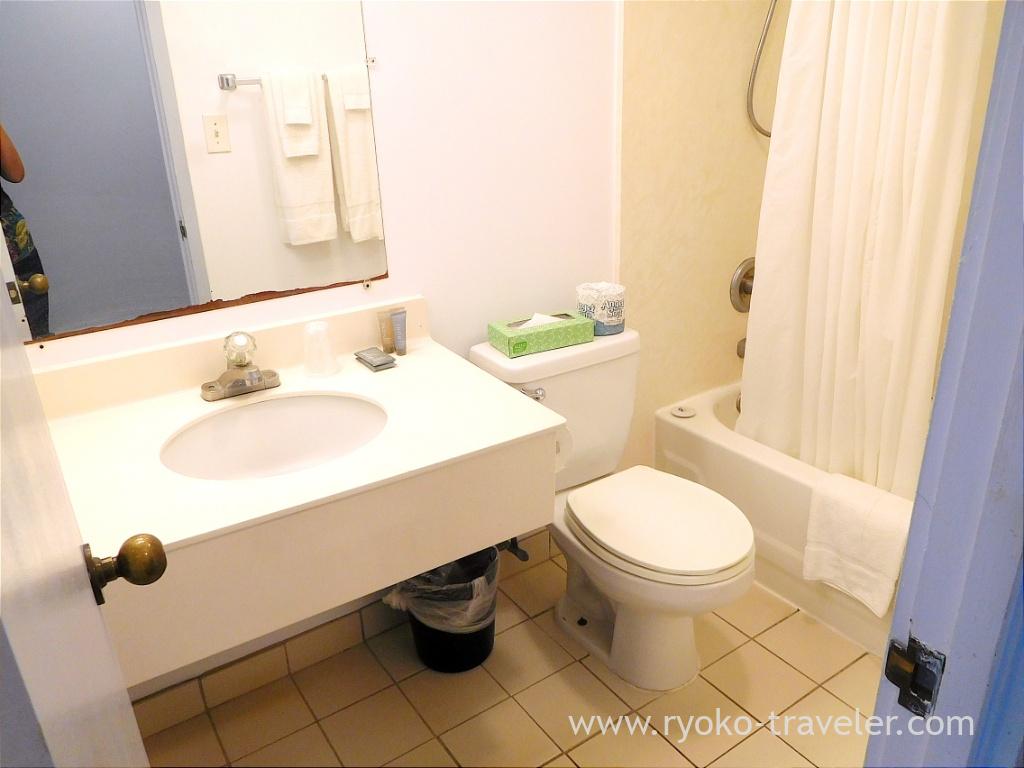 Though the facilities were old, I was satisfied with staying this hotel in that its price and location. But house keepking was not good. They only emptied trash and made my bed. And cleaned bathtub quickly.
First day, I put bottled water on the desk and water dropps left there. But the desk wasn't cleaned up during throughout my staying. And there ware someone's hairs (not mine) left somewhere every day, I thought my room got more dirty by "house keeping", so, made a request for house keeping once every two days.
So if you want your room keep clean, you'd better not stay this hotel.
Hotels in Hawaii requires amenity fee (EWA HOTEL WAIKIKI requires $15 per one night) apart from tip, so, I wanted them to clean up my room properly :(.
I think this EWA HOTEL WAIKIKI will be rebuilt in a few years. Hotels that I stayed in a few years ago (WAIKIKI GATEWAY, HOTEL MAILE SKYCOAT…) were already rebuilt. I heard prices of those hotels updated and refreshed hotels got higher. So, I think we won't be able to stay at hotel at such an inexpensive price in the near future.
About

Name Ewa Hotel Waikiki
Address 2555 Cartwright Road, Waikiki, Honolulu, United States
Reservation
agoda.com, Booking.com

Google Map