Follow the line 30 minutes before the opening time !
I took a day off for just going to Toyotaya the other day 😛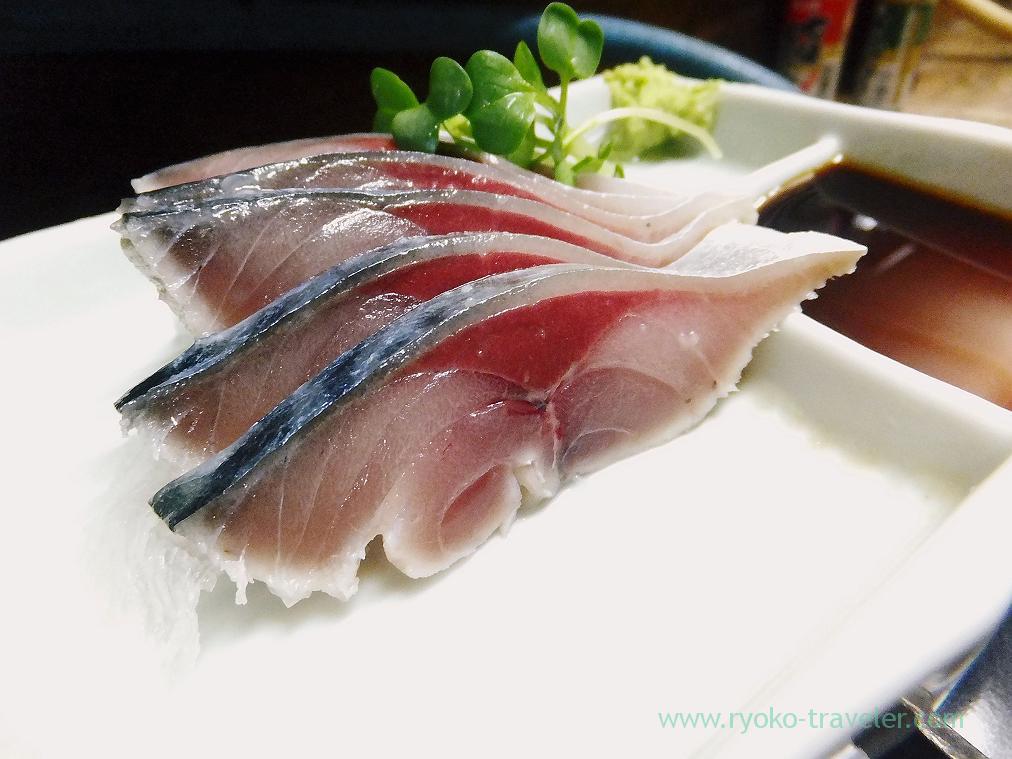 Hirai : Dangerous hotpot eaten in Winter only (豊田屋)

Toyotaya without reservation This post is a sequel of last post "So popular beef cutlet (Shinbashi)" We had tea, w...


But Toyotaya is open nighttime only, so we went to a popular shop in Shinbashi that is open only weekdays lunchtime.
The shop is located in the old building that is named "New Shinbashi Building". So far from "New" !
Beef cutlet Okada
We got to there 30 minutes before the shop's opening time, but there were already some people waiting.
The waiting area is stairs close to the shop, and when the shop was open, the waiting line reached next floor.
The building was too old and the air was not good. I had a fit of coughing while waiting.
I have had a sore throat.
Well, it seems that only I was very sensitive.
Everyone except me seems to be no problem.
I have much allergies 🙁 Though I don't have any allergies about foods 😛
But I put up with waiting for 30 minutes to eat tasty foods.
It seems an old kissaten 🙂
We had to say number beside the food name on the menu to order.
Everyone ordered Third while I was there.
And this ! Third !
The third that everyone want to eat even they wait so much time !
Beef sirloin cutlet (牛ロースランチかつ定食, 1300 yen)
The secret behind the popularity of the food is this section of beef !
It takes only 30 seconds to cook. It looks like raw tuna !
They serve it with soy sauce with wasabi and original sesami sauce. But I like it with soy sauce with wasabi far better than sesami sauce.
Awesome ! I understand why many people wait such a long time to eat it !
Only one disappointing was this coating came off those meats.
The shop is so small. They don't make those seats full at one time because only one chef cook.
From my pictures, you see lots of vacant seats, but so large number of guests were waiting outside.
When we started eating, other seats became full.
After we got out of the shop, we had a coffee within walking distance from Shinbashi to kill time until Toyotaya is open 🙂
Kusamakura
Milk-containing coffee (牛乳珈琲, 700 yen)
About Beef cutlet Okada (牛かつ おか田)
Address / New Shinbashi Bldg B1F, 2-16-1 Shinbashi, Minato-ku, Tokyo
Station / Shinbashi station (JR, Toei subway)
Open / 11:00 – 14:00
Closed / Saturdays, Sundays and another nationalholidays
About Kusamakura (草枕)
Address / 1-10-1 Nishi-Shinbashi, Minato-ku, Tokyo
Station / Toranomon station (Tokyo metro)
Open / 10:00 – 23:00
Saturdays / 10:00 – 18:00
Closed / Sundays and another national holidays
Website / http://kusamakura-coffee.com/(in Japanese only)