When I visited Asia Curry House (アジアカレーハウス) in Kinshicho for the first time, they had strong impact. Poorly lighted and narrow room having 5 counter seats only, and the shelf was packed with Bangladeshi products. And all staff couldn't speak Japanese at all. After I was seated, the staff served water on the table and served foods serially. Though here's Japan, here's not Japan. I loved the atmosphere !

But they were open from 8 p.m., so it was hard to visit. But recently I heard they are open at weekends' lunchtime ! (And national holidays, too) And dinner time is from 7 p.m. now.
Now there are some Bangladeshi foods restaurants in Kinshicho, but the Bangladeshi atmosphere of Asia Curry House is overwhelming. Originally they were open for Bangladeshi people who live around there. So, they couldn't speak Japanese at all, but now they speak some Japanese and there're Japanese menus. It means so much Japanese visit them. Yes, many Japanese like such a local atmosphere and foods of foreign countries. Me, too 🙂
Where?
This shop is located very close to Kinshicho station and Marui building.
Weekends' lunch menu
Lunch time is from 11 a.m. to 3:30 p.m. It have three foods on the menu, they said No.1 and No.2 only. The difference between No.1 and No.2 is only the amount. No.1 is large and No.2 is smaller. Though only No.1 have words "with salad, drink", No.2 have salad and drink, too.
Interior
Uncomfortable chair and narrow room. But it's fun time because I felt I'm in Bangladeshi local shop. Bangladeshi products were piled up on the shelf in front of seats.
Yummy foods that I had
Biryani and curry set
I said they have two sets at lunch time and one is larger and another is small.
This is larger one. Special mutton biryani and egg & chicken roast curry set (スペシャルマトンビリヤニとエッグ&チキンローストカレーのセット, 1200 yen). The curry have one chicken leg. Bangladeshi people eat with hands only, so foods are lukewarm.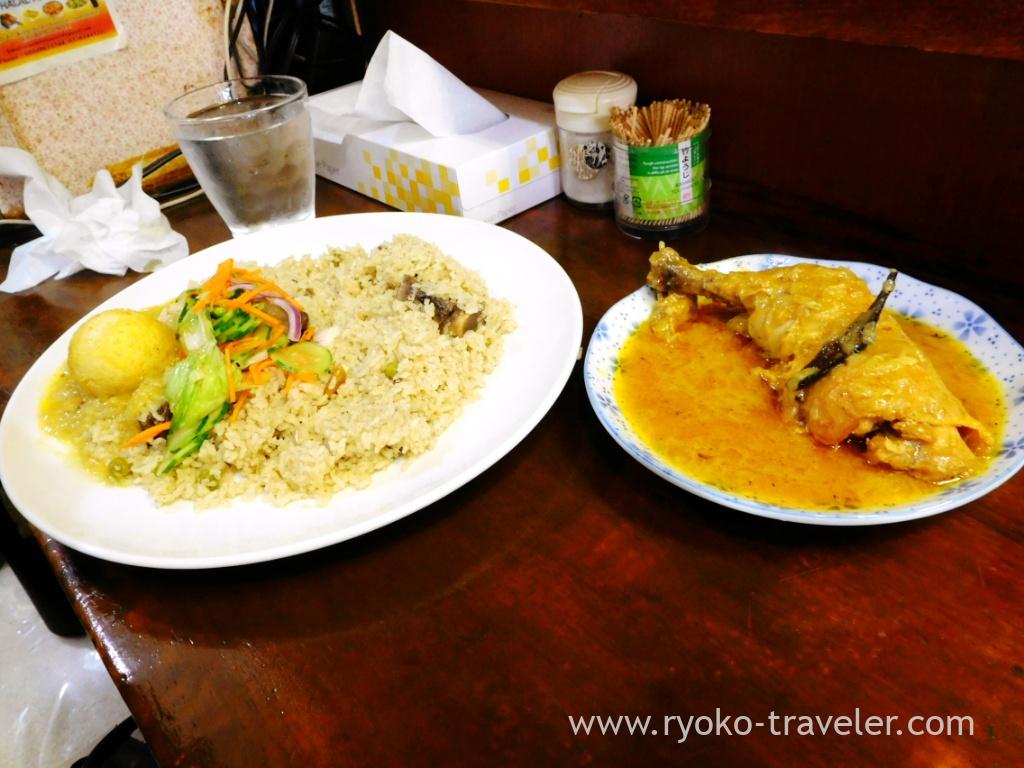 This is smaller one. Mutton biryani and egg & chicken curry (マトンビリヤニとエッグ&チキンカレー, 890 yen). Basically, everything is same. But the chicken is as half as large set. And both curry and biryani is smaller. Though the biryani was seasoned lighter, it was spicy with cardamon and so on. The curry is mild, too.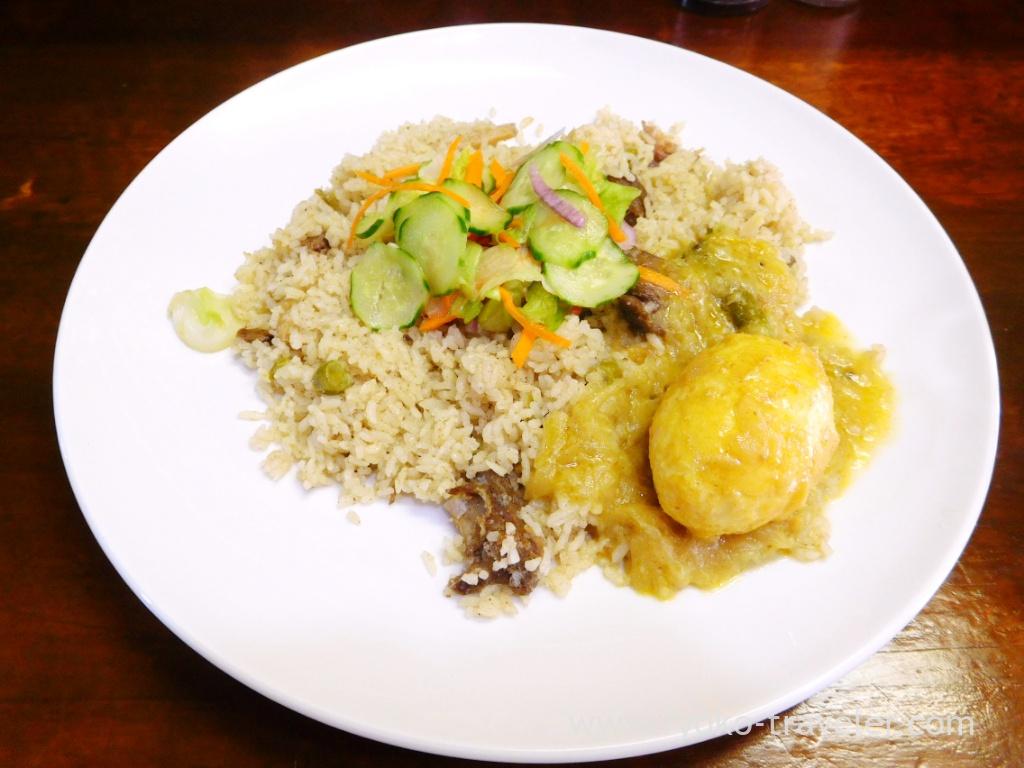 The curry was like soup and served on such a flat plate. So, I put it on the biryani last. The curry was more spicy than egg curry on biryani. But it was mild, too. The simmered chicken was soft and good. It seems the tastes of Bangladeshi home. I want to eat it frequently.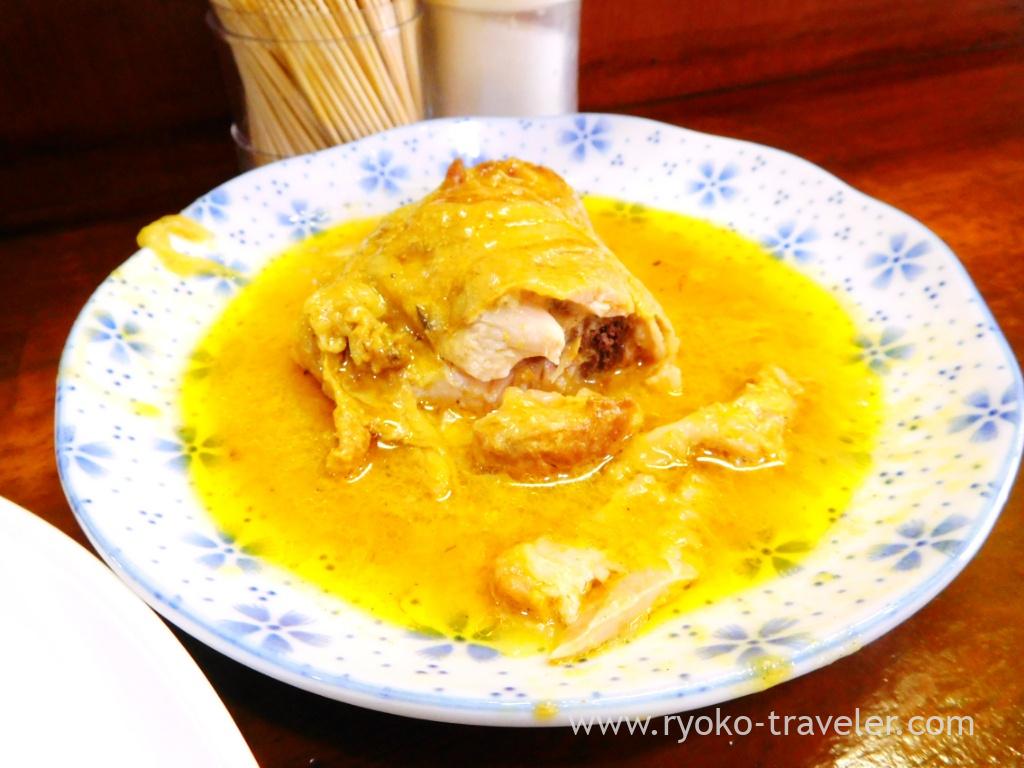 We can have one drink at lunchtime. Orange juice, coke, lassi. I ordered coke. And they served coke at room temperature without ice. If you want cold drink, you might be dissatisfied. But I didn't care about it because my stomach is weak for cold things.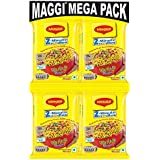 Amazon.com : Maggi Masala 2-Minute Noodles India Snack - 5 Pack : Grocery & Gourmet Food
Amazon.com : Maggi Masala 2-Minute Noodles India Snack - 5 Pack : Grocery & Gourmet Food
About the shop
Name in English / Asia Curry House
Name in Japanese / アジアカレーハウス
Address / 3-9-24 Koto-bashi, Sumida-ku, Tokyo
Phone / 81-(0)3-3634-4522

Open / 8 p.m. – 4 a.m.
Closed / No scheduled

Reservation / Unavailable
Credit card / Unavailable