Lonely trip in Shanghai without large baggage, Chinese language skill,,,
I went to Zangjiajie for sightseeing in October. This was the first time to visit China.
I took China Eastern Airline from Narita to Zangjiajie via Shanghai.
In-flight meals in the airline to Shanghai.
Though it was only about three-hour-flight, in-flight meals were served.
They asked me fish or meat. I chose fish. "Fish" was eel. Unagi.
The eel was good, but the rice was bad. It had sticky texture. I left whole rice…
First of all, I don't like eating hot foods during the flight. Those smell of hot hoods make me feel bad. This also had smell of warm vinegar and sauce.
So, cold soba was delicious for me 😛
I wish they ask me "Cold or warm ?", not "Fish or meat ?".
When I checked in at Narita airport, the staff said to me that they keep my baggage until Zhangjiajie.
But I was really worried about that because my guidebook don't say such a thing. My guidebook say we should get our baggage at Shanghai airport once.
Well, I believed him.
After I got to Shanghai airport and got out of the exit and then went upstairs. There is a departure area.
Left is for international flight and right is for domestic flight.
There are many flights to Zhangjiajie, but I was in cheap tourists group. I had to wait for five hours. My flight was at night.
Shanghai airport was wide and clean.
But once I got out of the airport, I found there was severe polluted air.
"Umm. This is the famous air pollution of China … It is terrible indeed"
So, I gave up going to outside, and stayed inside the airport.
I have light asthma…
At domestic area, there is Starbucks coffee. But I was really surprised at those prices. Too expensive. I couldn't believe that. My delight, cafe latte was near 7 USD ! What happen to Starbucks in China ! 。
I killed time at lounge.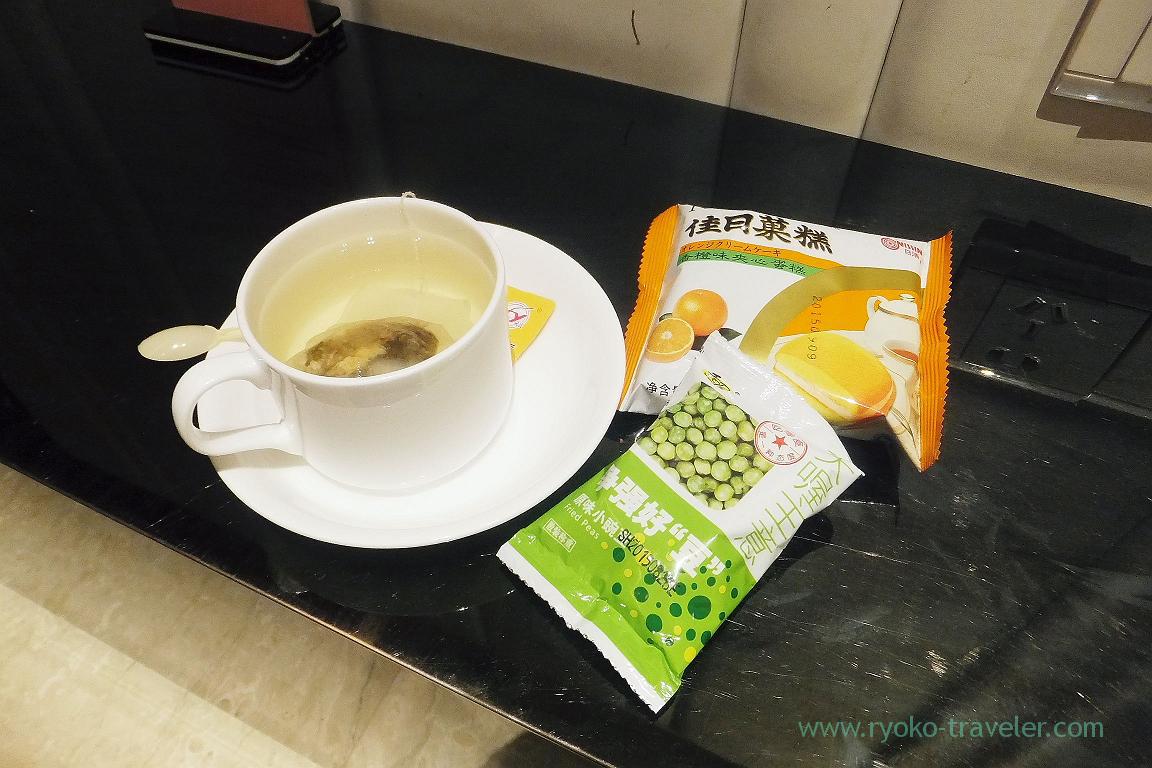 I was really unstable during spending time in Shanghai airport.
I couldn't use Wifi and telephone (I had to procedure in advance !
My baggage wasn't at my hand
Only a few staffs understand English (Much less Japanese !)
There weren't much Japanese than expected
So, I was really relieved when I got  my baggage at .
And then I could meet my guide, another tourists in the group at the airport.
Though it was only two-hour-flight from Zhangjiajie to Shanghai, in-flight meals were served because it was night.
Truthfully speaking, I wanted to take photos of the airport and airlines, but I worried about that I'm caught by suspicion of spy. I hesitated to take camera out from my bag.
shanghai international airport