(notice) Tsukiji Yoshino already quit their business. (July 20th, 2015)
---
Saturday's Tsukiji is enjoyable !
t was really crowded. Well, it was in mid summer vacation.
I tried not going to Monzeki street, that is beyond the Shin-Ohashi street. But I went to there at last.
" I want to eat conger at Yoshino, I want to eat spaghetti and I also want to eat kakigori. 😀 "
I asked my friend who knows Saturdays' Tsukiji well so, and he showed me the way 🙂
First of all, we went to Tsukiji Yoshino. The shop stands a maze of streets, so it is hard to arrive at the shop without asking anybody on the way.
Because it was new shop, so its signboard was glossy and the lights were bright 🙂
This shop was so small. One counter for 3 persons, one table for 4 persons(but it was so small for 4 persons, it was good  for 2 persons).
I sat down at the counter, I saw conger being grilled, grilled conger dipped into sauce close to. It was fun !
This chopstick rest was cute 🙂
Well, I ordered an Anago-no-bakashi (穴子のばかし, 1500 yen).
About this dish :Steamed conger (anago) with soy sauce on a bed of rice in the box.
It looks like unajyu. There were much slices of conger on rice. Its texture was soft 🙂
That's shirayaki (白焼き, 2000 yen). My friend ordered it. shirayaki is way of cooking that grill with salt only.
I ate it a little. Its smell of grilled conger was really good. And it tasted nice, too 🙂
I didn't know how to take the picture! It was too long :O
Next, we went to eat kakigori at Ginza.
It is Chinese tea shop that named Santokudo.
Teahouse is upstairs. They sell Chinese tea on the ground floor.
Kiwi marimitsu Gori (奇異果茉莉蜜氷, 1000 yen)
Slices of kiwi stuck to shaved ice.
Jelly on it is made from ficus pumila var. awkeotsang.
Ficus pumila var. awkeotsang grows wild in Taiwan.
Muscovado syrup was so good 🙂 It was sweet. I hadn't ever eaten shaved ice by muscovado syrup, but I found it goes shaved ice well.
Do-do-pin (豆豆氷, 1000 yen)
It was sweeter. I ate shaved ice with beans. It had jellies, too.
It rained heavily in this day morning, and suddenly it began to clear and raised the temperature.
So, it got steamed. I felt I was in sauna 🙁
But it was good day for eating kakigori 😛
By the end of eating kakigori, I felt a little hungry. I felt like eating spaghetti 🙂
So, we went to Four season.
My longing spaghetti at Four Seasons.
At first, I intended to order Neapolitan, but I tasted curry spaghetti. So, I felt like eating other type of sauce. And I ordered a Wafu spaghetti (和風スパゲティ, 820 yen).
The spaghetti was covered with slices of perilla frutescens.
At first, I thought  it tasted only perilla frutescens, before eating it.
But it didn't. On the contrary, this much perilla frutescens made freshen my oily mouth. Much oils were used in this spaghetti.
Salad.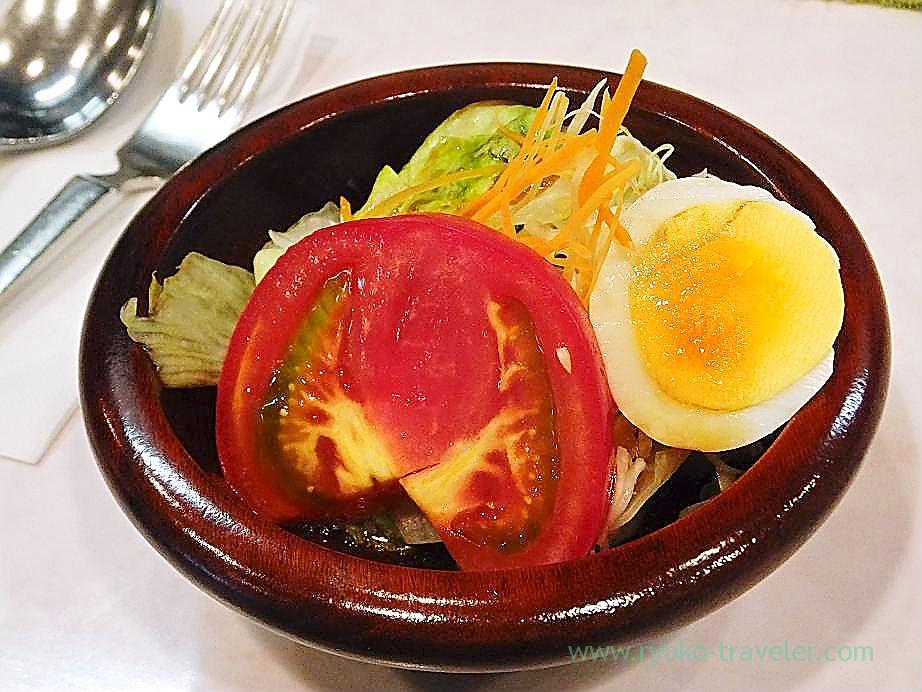 Miso soup.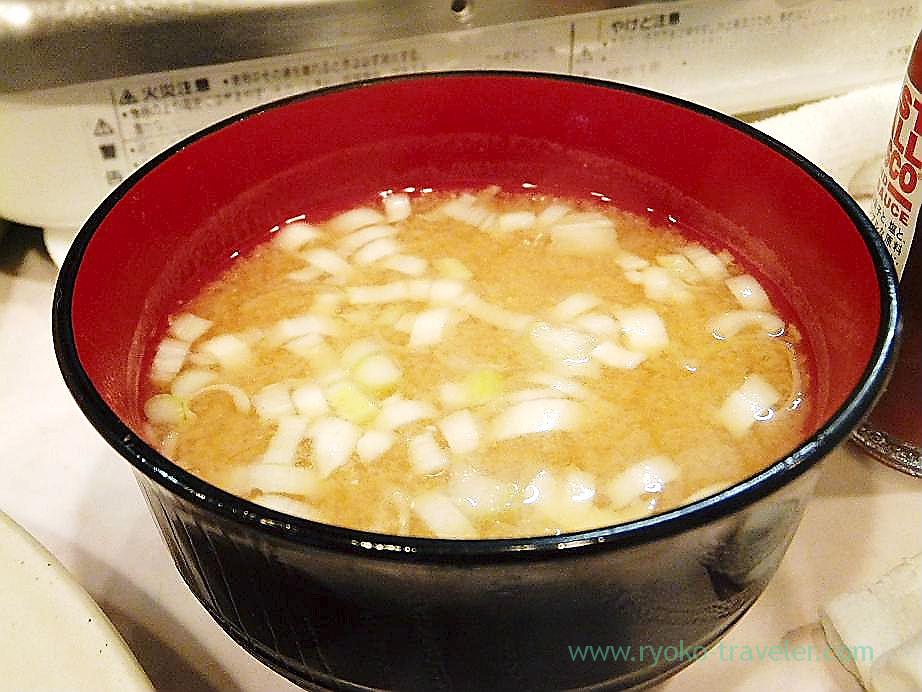 Spaghetti with squid, shrimp and tarako (いかとえびとたらこ, 870 yen). My friend gave me a little, it tasted good, too.
I want to go to each restaurant again 🙂
I saw naporitan after I ordered my wafu spaghetti, I was a little sorry for not ordering naporitan.
It was so good looking.
I want to eat naporitan next time!
About Tsukiji Yoshino (つきじ芳野)
Address / 4-10-8 Tsukiji, Chuo-ku, Tokyo
Station / Tsukijishijo station (Toei subway)
Open / 10:00 until ingredients are out
Closed / Sundays and national holidays
Website / http://www.tsukijiyoshino.com/(in Japanese only)
About Santokudo (三徳堂)
Address / Kita Bldg. 1-2F, 7-8-19 Ginza, Chuo-ku, Tokyo
Station / Ginza station (Tokyo metro)
Open / 12:00 – 22:00
Saturdays, Sundays and national holidays / 12:00 – 19:00
Closed / No scheduled
Website / http://www.santokudo.jp/(in Japanese only)
About Four season (フォーシーズン)
Address / Bldg 2F, 4-14-4 Tsukiji, Chuo-ku, Tokyo
Station / Tsukijishijo station (Toei subway)
Open / 7:30 – 17:00
Closed / Sundays and another national holidays