When I have breakfast at Tsukiji, I visit Yonehana or Odayasu so frequently because they serve various breakfast for us. My friend tweet about chef's choice of Yonehana and whiteboard menu of Odayasu on Twitter everytime. I'm really appreciate him.
I intended to go to Odayasu that day at first, but my friend tweeted about that day's chef's choice of Yonehana (米花) is firefly squid !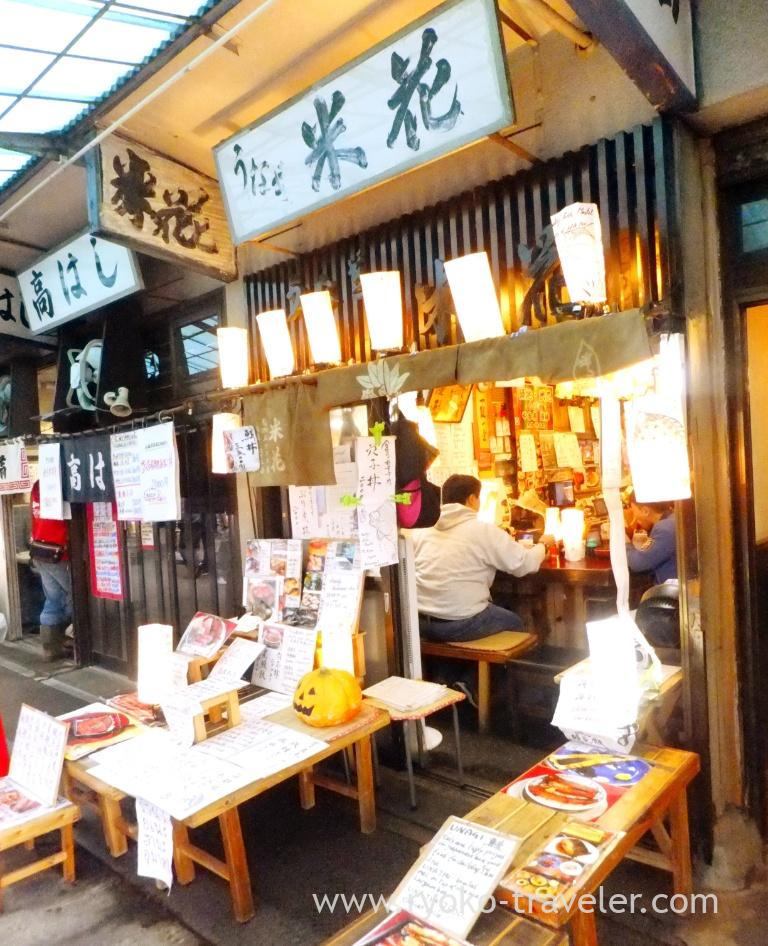 Firefly squid is my delight ! It's named Hotaruika in Japanese. I eat it at home so often. But it takes much time until eating it because we have to remove those beak and eyes. Usually it appear in the market from February to May only. Firefly squids in February are very small. Mostly they become enough large at the end of May.
This is firefly squids with vinegared miso called "Su-miso". The chef dished firefly squid and green onion up and put vinegared miso on it. There were about 15 firefly squids ! Everything is mine ! Great !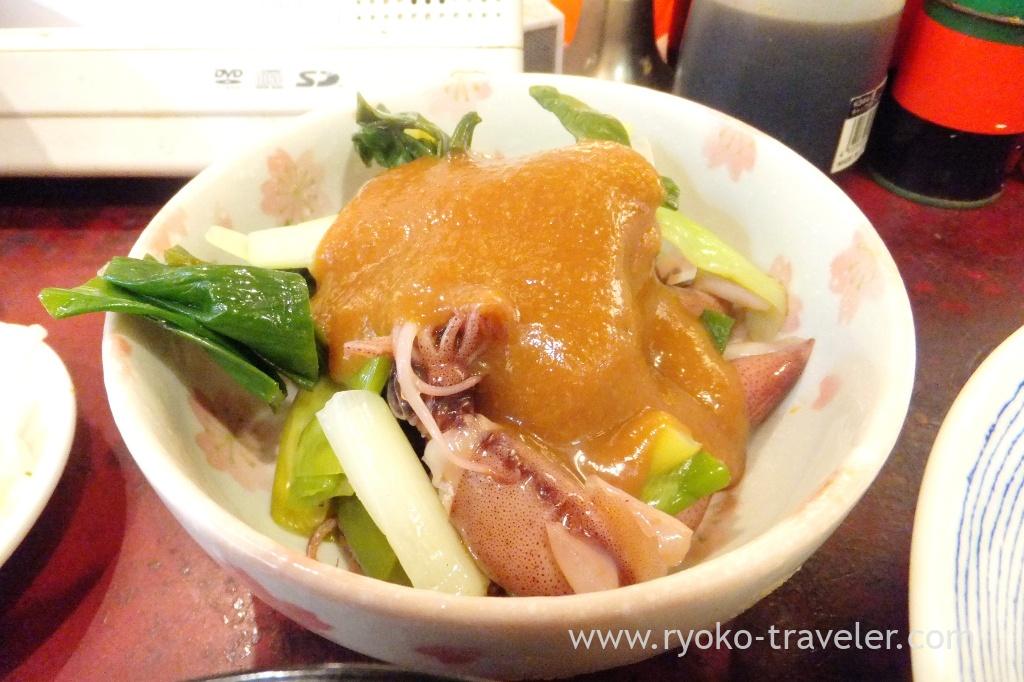 By the way, Yonehana serve firefly squid in a part of chef's choice in Spring, but this was the first time to eat firefly squid at Yonehana ! Finally, I could eat firefly squid at Yonehana at the end of year of Tsukiji Market ! They serve some firefly squids in sashimi bowl if they have in stock.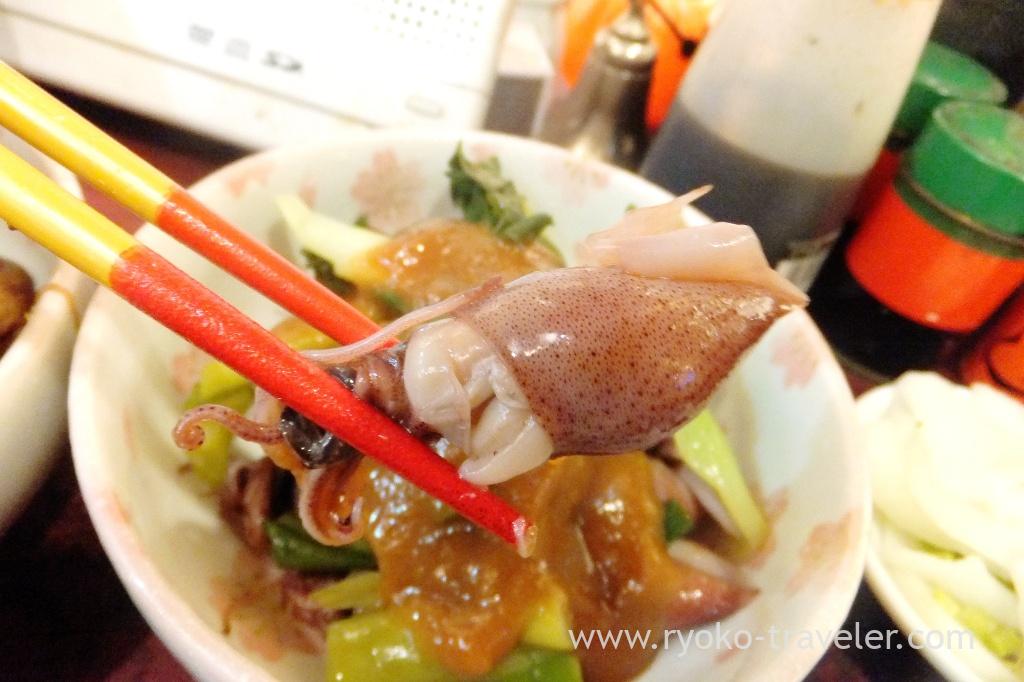 Boiled bamboo shoot and chicken with soy sauce. Yonehana always serve nutritious breakfast ! So much spinach and green onion !
My stomach became full with them only. But entree is it. Grilled Spanish mackerel with salt. The best season of Spanish mackerel is from Winter to Spring. It was fatty and tasty 🙂 But I felt like I'm going to burst !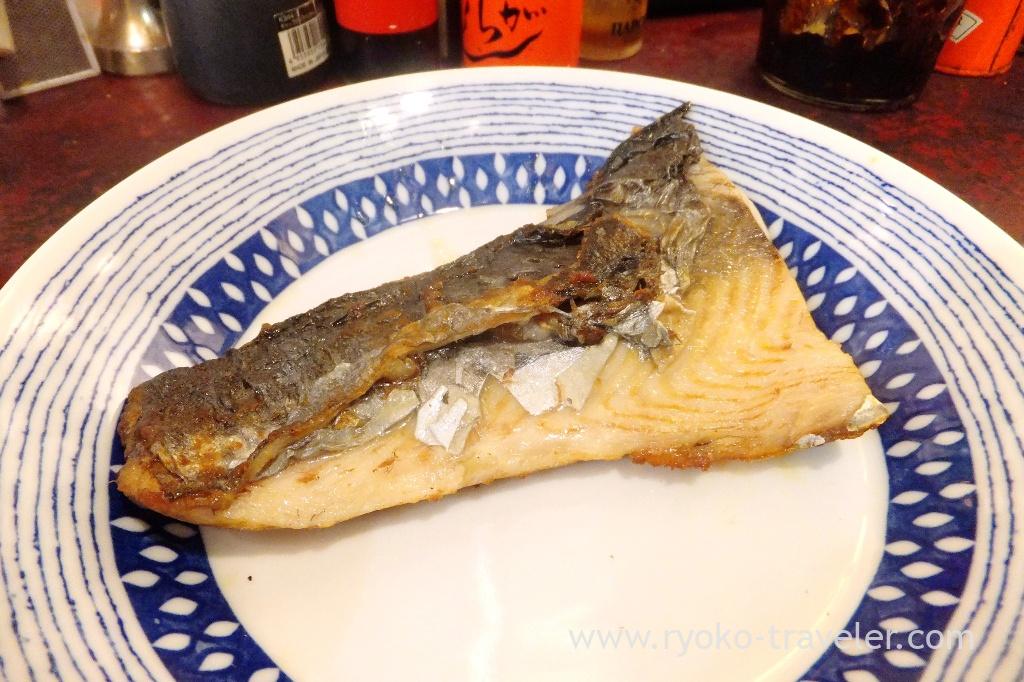 Whole view of my hearty breakfast. I managed to eat them up. I didn't want to leave some because everything was awesome.
Well, you'd be careful with their table because the manager painted the table by himself and it cling to bowl for miso soup :p
About

Name Yonehana (米花)
Open Morning through noon
Reservation Unavailable
Credit card Unavailable

Google Map (Current location in Toyosu Market)