Roses are at their best now !
We went to Yatsu Roses Park (some stations from my station) to see roses the other day.
To my sad, my roses didn't bloom this season … 🙁
Princess Aiko.
Maybe it's Princess of wales.
After we saw roses to be satisfied, we had a break at kissaten near Yatsu station.
It used to be in front of Funabashi station.
When this kissaten was in Funabashi, it was only for women and only men's group couldn't enter the shop. (If men came with women, they couldn't enter the shop)
Midori no Hoshi
The shop's name means "Green star".
Now, they moved to Yatsu and welcome groups that have men's only.
But I guess there are not much men with another men or himself only who enter this kissaten that have such an atomosphere… 😛
Though only one table, there is a table with fish tank. We seated there.
If you order hot tea or coffee, you can choice one cup from these many cups.
I took much time to decide ! Everything looks good !
I chose it ! Gorgeous !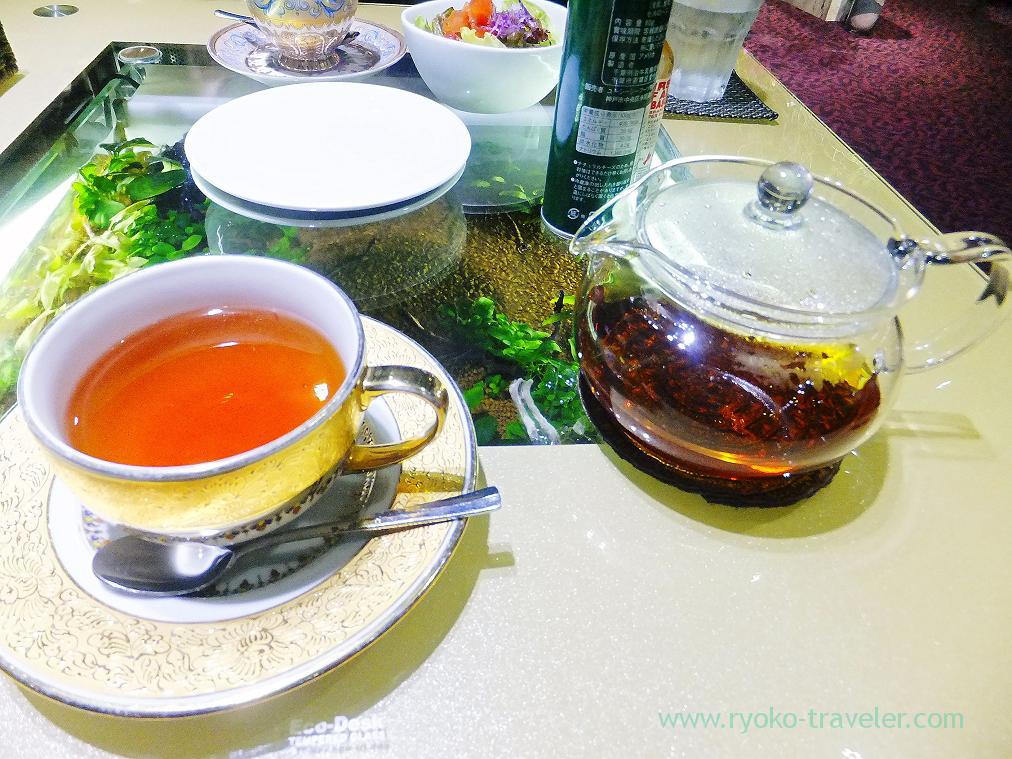 We shared one spaghetti and waffle each.
Spaghetti with sea urchin, scallops and creamy sauce ( うにと帆立のクリームソース生パスタ, 980 yen, with drink 1180 yen)
This spaghetti had springy texture and tasty 🙂
Waffle with mixed berries (ミックスベリーワッフル), 880 yen, with drink 1180 yen)
This waffle was large, too ! Is this for dessert ?
About Yatsu roses park (谷津バラ園)
Address / 3-1-14 Yatsu, Narashino-shi, Chiba
Station / Yatsu station (Keisei main line)
Open :
From May 1st to June 30th / 9:00 – 18:00
From July 1st to September 30th / 9:00 – 17:00
Another / 9:00 – 16:30
Holidays / Mondays (In case it is national holiday, its next day is closed)
of from November 15th to April 30 th, from July 1st to September 30th
Admission fee :
From April 1st to April 30rd / 180 yen
From May 1st to November 15th / 370 yen
Another / 180 yen
Website / http://www.city.narashino.lg.jp/konnamachi/kanko/yaturose/index.html (in japanese only)
About Midori no Hoshi (緑の星)
Address / Hirose pet yatsu branch 2F, 4-8-48 Yatsu, Narashino-shi, Chiba
Station / Yatsu station (Keisei main line)
Open / 12:00 – 18:00 (lunchtime until 15:00)
Closed / Wednesdays, 2nd and 4th Thirsdays
Website / http://www.midorino-hoshi.com/ (in japanese only)