Miso or soy sauce ? or both ?
I went to eat giblet hotpot (motsunabe) again before hotter.
Though it was already enough hot, mornings and evenings are still cool.
Yamasho Ningyocho branch
I went to there last time by two of us, but this time we were seven people. We reserved a private room.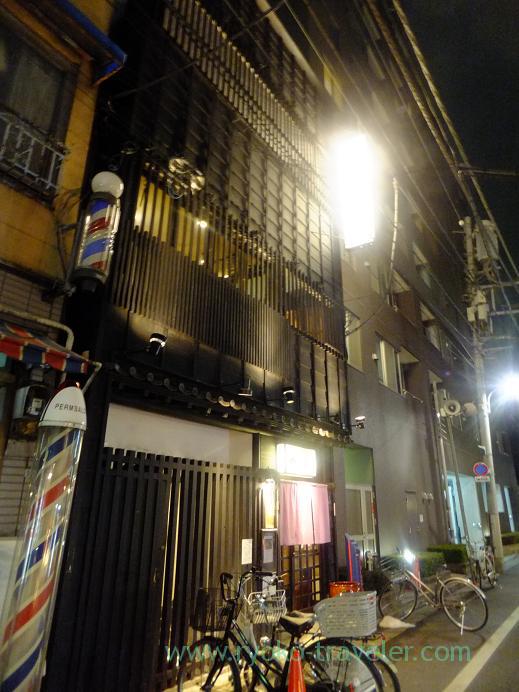 One-pot dish (Ningyocho)

One day cold night, I had dinner at Ningyocyo for getting warm with eating warm foods.Historic architecture :DAppeti...


And we ordered two kinds of hotpot, soy sauce flavor and miso flavor.
Appetizer was uteruses dressed with vinegar.
I like it best in all dishes that I ate this day. I felt crunchy texture and it didn't had any bad smell. I wanted to have second helping 😛
Crunchy burdocks salad (カリカリごぼうサラダ) 600 yen
Horse mackerel dressed with sesami dressing (ゴマアジ) 1200 yen
They serve mackerel last time, but that time, it was horse mackerel. Both was fresh and delicious 🙂
Beef tendon stew (牛すじ煮込み) 650 yen
It was simmered.
Grilled salted pig's feet (豚足塩焼き) 600 yen
This was the first time to eat pig's leg. I don't like it…
Chickens wing tip karaage (手羽先の唐揚げ) 150 yen per one piece. Spicy and delicious.
Yamachan Korokke (山ちゃんコロッケ) 550 yen per two pieces
Though I remember it tasted good, but I can't remember its name 🙁
cartilage karaage … ?
Kikuhime (菊姫にごり酒) 600 yen
Cloudy Japanese sake."kiku" means chrysanthemum & "Hime" means young princess. Nice name 🙂
Giblet hotpot miso flavor (もつ鍋味噌味) 1260 yen
It had so rich flavor 🙂  I was sure that it go with rice.
Giblet hotpot soy sauce flavor (もつ鍋醤油味) 1260 yen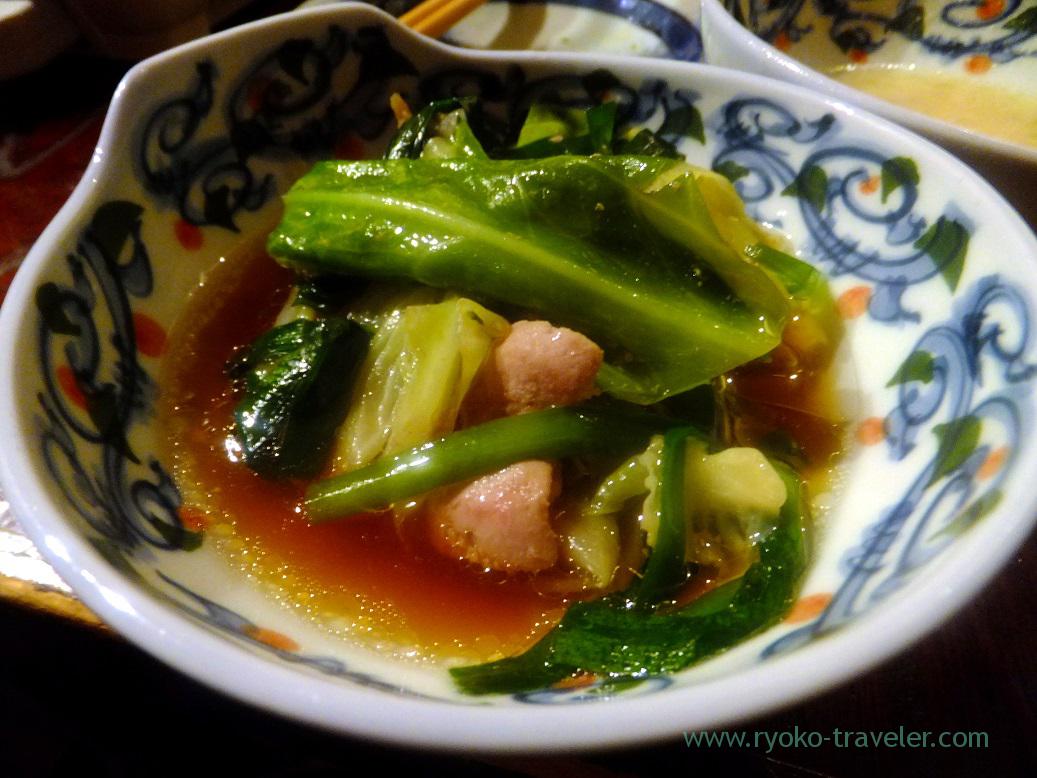 Soy sauce flavor was tasty, but I like miso flavor better than soy sauce.
After eating ingredients in the pot, putting udon and rice into the pot.
Udon into soy sauce soup.
And rice into miso soup. (But I don't upload the picture because it is not good looking)
Dish up. Left is udon in soy sauce and right is rice in miso soup.
As you see, miso is not good looking. It never seems delicious. But ! it was so tasty as I had expected.  Like cheese risotto 🙂
About Yamasho Ningyocho branch (やましょう人形町店)
Address / 2-25-19 Nihonbashi-Ningyocho, Chuo-ku, Tokyo
Station / Ningyocho station (Tokyo metro, Toei subway)
Open / 17:00 – 25:00
Closed / no scheduled