I want to finish posts about dinner at Yamadaya before going to Russia.
http://www.ryoko-traveler.com/yamadaya3-1/
Sashimi. From left to right, sardine, marbled sole and bonito.
I was really surprised at this Sardine from Sanriku area (三陸産のイワシ, 735 yen).
Sardine from Sanriku area. So fatty sardine. Before eating, I was already sure of its great taste.
Chewy Flounder from Akita (秋田の活〆マコガレイ, 1260 yen).Delicious.
Bonito from Katsuura (勝浦産カツオ, 1050 yen). When I saw this transpicuous meat at first, I thought it is tuna.
Scallop cream croquette (手作り帆立貝クリームコロッケ).Just after cooked. Very hot.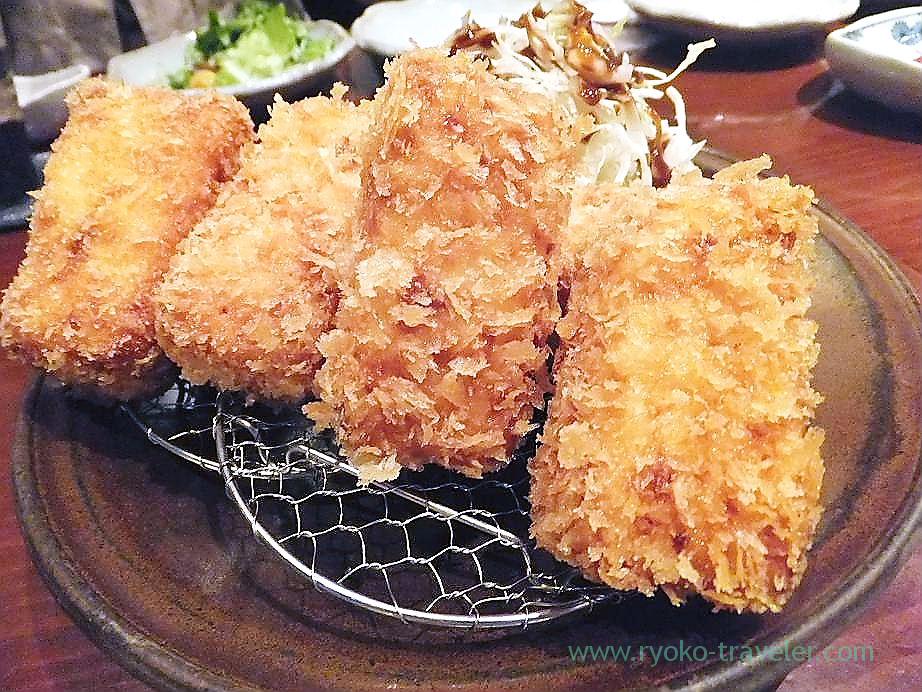 I broke it for taking photo of the section.
Tomato pizza (トマトのピザ, 840 yen). It is not standard dough. It was very soft and a little wetty. It was like bread
Round meat karaage (もも肉唐揚げ). Yamadaya use Iyo Suigun chicken for every chicken dishes. It is a little chewey and tasty.
Fried wild scallop with butter and soy sauce (天然帆立貝バター正油焼, 1155 yen)
I want to eat it up with one bite …. maybe I'll be in heaven.
The smell of mushrooms were great.
I'll post the continue of this post if I have courage left after the exam.
It's time to bed now.
I had a light respiratory disturbance last night.
It was difficult to breathing, so I tried to open the window. But the wind made me harder to breathe.
I thought I would die 🙁
I want to sleep well tonight.
About Yamadaya (やまだや)
Address / Crown Tsukiji Bldg 1F, 7-16-3 Tsukiji, Chuo-ku, Tokyo
Station / Tsukiji station (Toei subway)
Open / 18:00 – 23:00
Closed / Sundays and another national holidays