Bamboo shoot is spring tastes 🙂
Week before last, I went to Yamadaya to join the dinner of eating bamboo shoots.
But I couldn't take good pictures 🙁
I had ached all over for a week, especially my arms.
So, whatever I took, pictures were out of focus :O
I try to upload pictures that can be seen.
Well this is the photo of today's menus.
Baby scallops being cooked by steaming (ベビーホタテの蒸しもの)
I took six pictures of it. Only the picture is not out of order 🙁
Bonito roasted over the straw-fueled fire with salt (わら焼きかつおのたたき)
Fried bamboo shoots and japanese glass shrimp with sweet scent (筍と白エビの香り炒め)
I took the picture, but the picture will make you feel so bad. So I don't upload the image.
The pictuture is desorted by defocus.
I drunk Japanese sake.Oh, I intended not drinking so much 😛
Yamadaya bacon (やまだやベーコン)
Assorted sashimi (刺身盛り合わせ)
Big turban shell from Shimoda, yellowtail amberjack from Boshu, katsujime horse mackerel from Matsuwa.
Each seafoods were fresh 😀
In particular, I love turban shell liver.Tasty.
Bamboo shoot sashimi (筍の刺身)
This was the first time to eat bamboo shoot by raw ! The texture was like slimless yam.
Smoked barracuda (カマスのスモーク)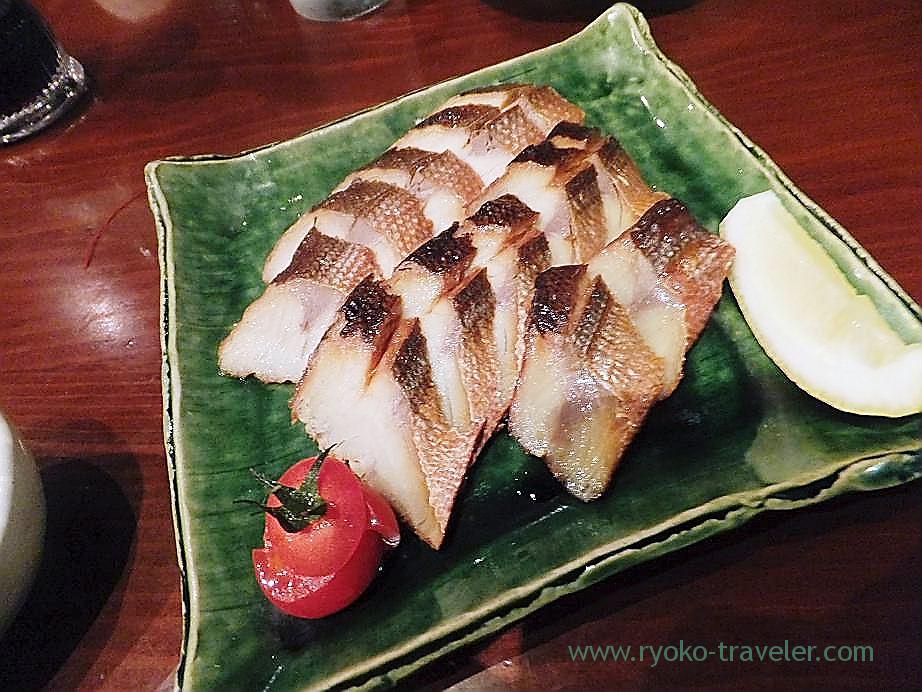 Scallop cream croquette (ほたてクリームコロッケ)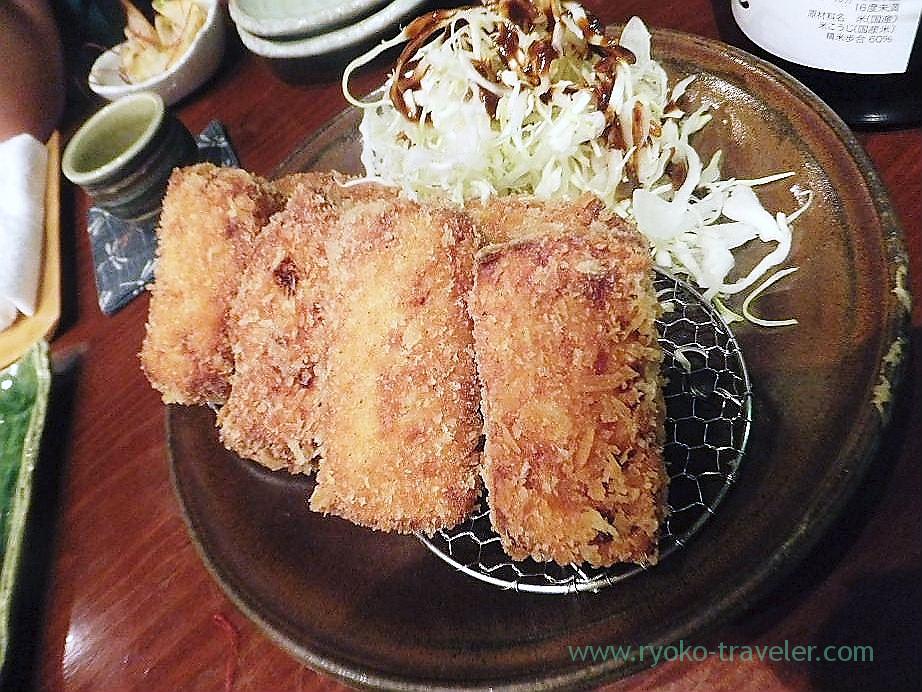 Marinated tofu with miso (豆腐の味噌漬け)
The texture was like cheese. Fantastic.I didn't feel tofu.
Heated vegetables salad (温野菜サラダ)
Turnip steaming-hot.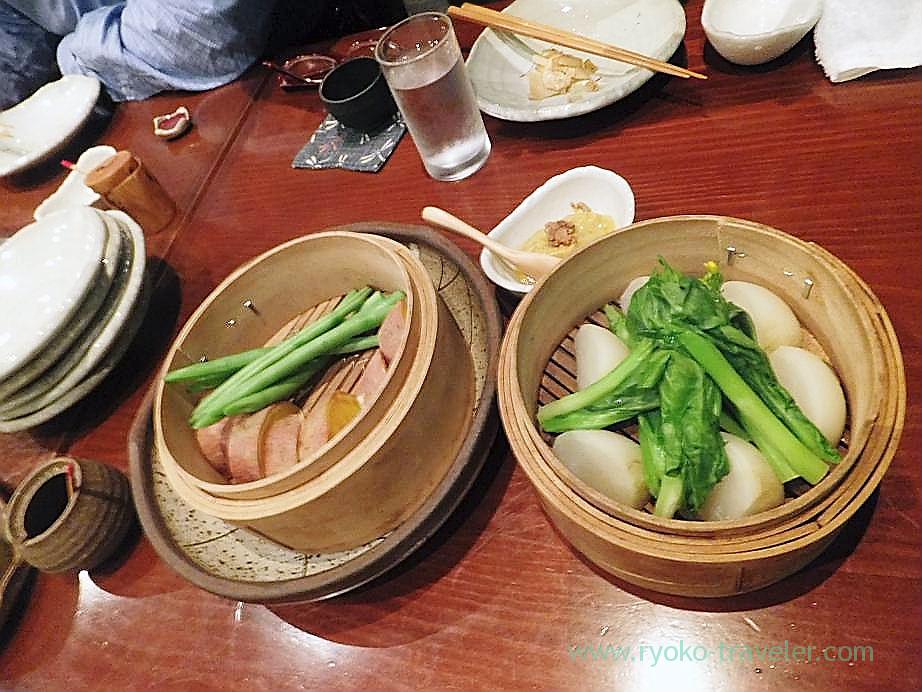 Oysters by steaming (from Toyama Prefecture) (富山産牡蠣の蒸し)
Raw oysters (from Toyama prefecture (富山産生牡蠣)
The restaurant cook serves the oysters cut in half vertically. I'm pleased that any quarrels didn't happen. 😛
I ate a half raw oyster and a half steamed oyster.
I knew oysters become more sweet by steaming.
(It is out of focus, too. But uploading :P)
Dark meat of chickens karaage  (鶏もも肉の唐揚げ)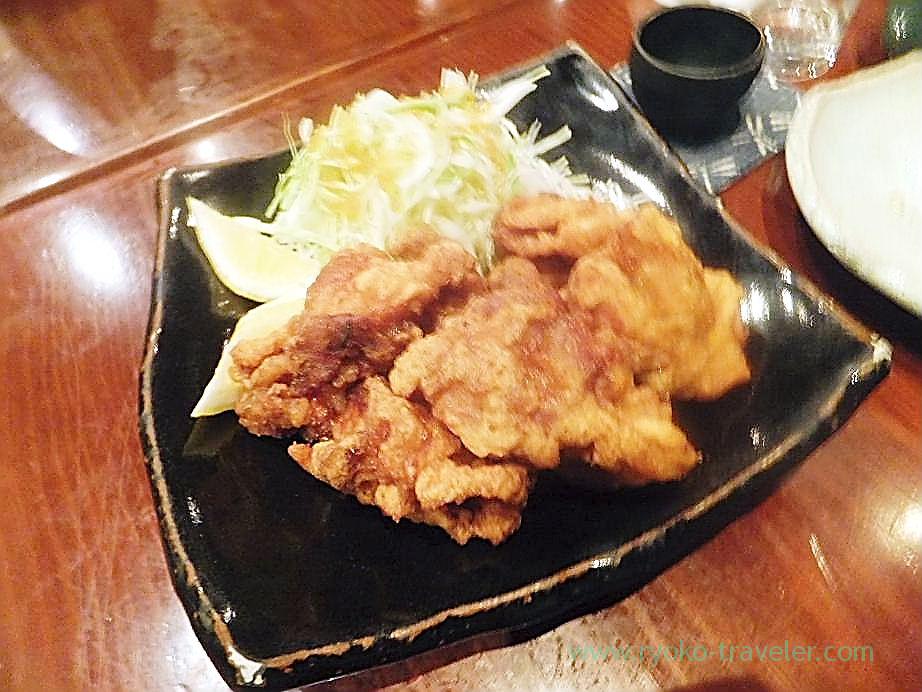 Sea bream shabu-shabu (真鯛のしゃぶしゃぶ)
At first, we boiled bony parts and ate with ponzu 😀
King trumpet mushroom and yuzu pepper … 🙂
Last time my slice of fish wasn't enough boiled, so, I took my sea bream into boiling water more a little longer.
It was just !
Grilled purple puffer soft roe on konbu (真ふぐの白子昆布焼き)
Konbu after finish eating soft roe, grilled again.
Grilled broad beans (焼天豆)
I'm weak in something very hot and I could hardly remove husk of broad beans.
So a person remove husk of my broad beans. Thank you 😀 (Am I child ? :P)
Roasted round greeneyes with sakura shrimp (目光のロースト桜海老風味)
Sakura shrimps were crammed in the round greeneyes' body.
Deep fried river shrimp with cajun spice flavor (フライド川海老ケジャンスパイス風味)
I knew the dish have cajun spice flavor when I saw a picture of menus later.
Because of strong taste of river shrimp, I didn't feel much spice. It was too tasty. I felt the smell of deep fried shrimp in my mouth :D.
At last, I gave up taking good pictures, but then my pictures become good.
I was too nervous about my faint hand shaking, so more shaking 🙁
Rice with bamboo shoots (筍ごはん)
There were much sweet and flavor of sea bream.
Clear coup (お吸い物)
I felt amazing taste :O
Ume liquor named Prucia (プルシア). The liquor have sweet smell and taste :O
I don't know such a ume liquor. It is like western liquor. It is excellent !
Its bottle was stylish.
I wanted to drink CREHA ROYAL, too. So a water brought me both bottles, and let me smell these liquors 😀
CREHA ROYAL have smells of brown tea. It seemed yummy, too.
I found PRUCIA is at the store. So I'm going to buy one :D.
I felt it was inexpensive for eating these dishes 🙂
About Yamadaya (やまだや)
Address / Crown Tsukiji Bldg 1F, 7-16-3 Tsukiji, Chuo-ku, Tokyo
Station / Tsukiji station (Toei subway)
Open / 18:00 – 23:00
Closed / Sundays and another national holidays