Hearty dinner at Tsukiji
The continuation of last post yesterday.
http://www.ryoko-traveler.com/yamadaya1-1/
Heated vegetables (温野菜)
I ate the vegetables with heshiko mayonnaise or salt.
I like eating it with salt :).
I took a dull picture of it, so I don't upload it.
Japanese yam was good :D.
Grilled broad beans (焼き天豆)
I could eat with their jackets ( Inner jackets 🙂 Not outer jackets)
Grilled chicken (チキンのグリル). Grilled chickens ? I don't remember the name of dish clearly.
The red miso thing is very hot. But it's good.
Scallop cream croquette (ほたてクリームコロッケ). It looks like atsuage (thick fried tofu).
It has smooth cream sauce in it. This cream sauce is excellent!
Next sake. Kaze no mori (風の森) (forest of wind).
We drunk is "Manaka Shibori" (middle squeeze) at right
Likes sour.
Splendid alfosino shabushabu (金目鯛のしゃぶしゃぶ) 😀
Very very fatty !
I'm afraid of its eye :(.
At first, we ate these bony parts with ponzu.
And, we ate meat with boiling water, shabu shabu.
There were already much fat of bony parts in boiling water.
Too rare but it's good :P.
Mizuna was tasty.
I forget the name of dish, this is an omlet.
It's taste sour by tomatos. It's good.
There were potatos and bacons in it.
Broiled mackerel (焼きサバ)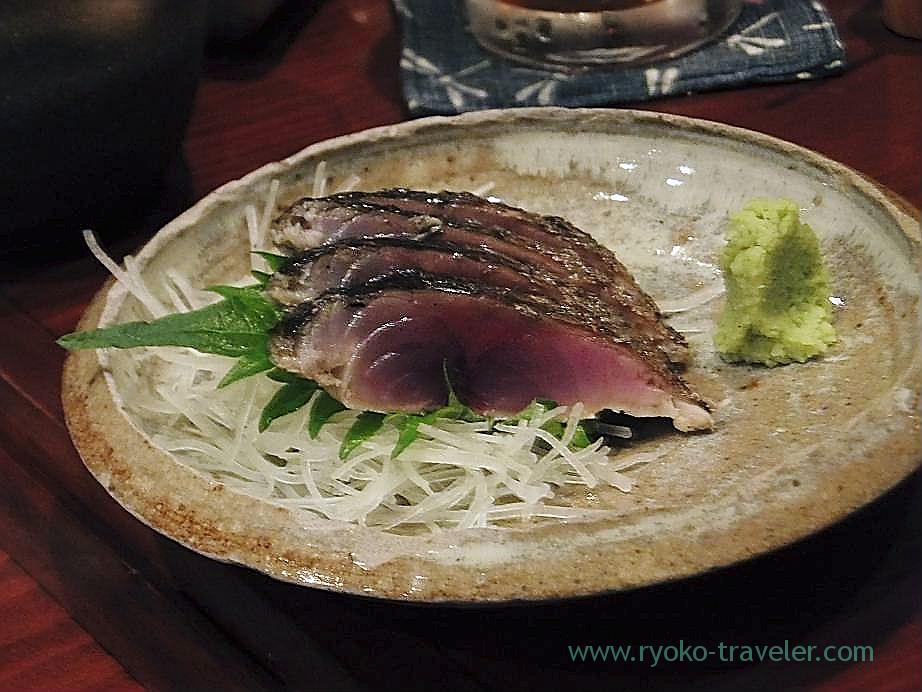 It's soup made from boiling water in pot left.
There are much taste of splendid alfonsino.
Rice with scallop and beans in an earthenware pot (ほたてと豆の土鍋ご飯).
Strong taste of scallop.
Dessert. Gateau au chocolat (ガトーショコラ).
It was not too sweet than I had expected.
Ice cream (アイスクリーム).
Stopped raining when we left the izakaya.
If it isn't rain tomorrow morning, I'm going to say goodbye to oysters at Tsukiji.
This will be last time in this season for me to eat oysters.
About Yamadaya (やまだや)
Address / Crown Tsukiji Bldg 1F, 7-16-3 Tsukiji, Chuo-ku, Tokyo
Station / Tsukiji station (Toei subway)
Open / 18:00 – 23:00
Closed / Sundays and another national holidays