Hidden great izakaya in Tsukiji
Last friday, I went to eat at Yamadaya that is located between Tsukiji and Kachidoki.
I heard the Izakaya is very good, but I hadn't been to there. So I felt happy when my friend asked me to go there with them 😀
I didn't know well where is the front of main gate of Tsukijihonganji that is our meeting place.
I thought I walk in and around the temple until I meet someone.
I heard the shop is izakaya, but the shop is so cool appearance and interior that I couldn't understand the shop is izakaya.
Probably it differs from order of serving.
Boiled shintorina and young sardines (しんとり菜とじゃこのおひたし).
I felt strong taste of young sardines.
Firefly squid (ほたるいか).Flesh of freshly.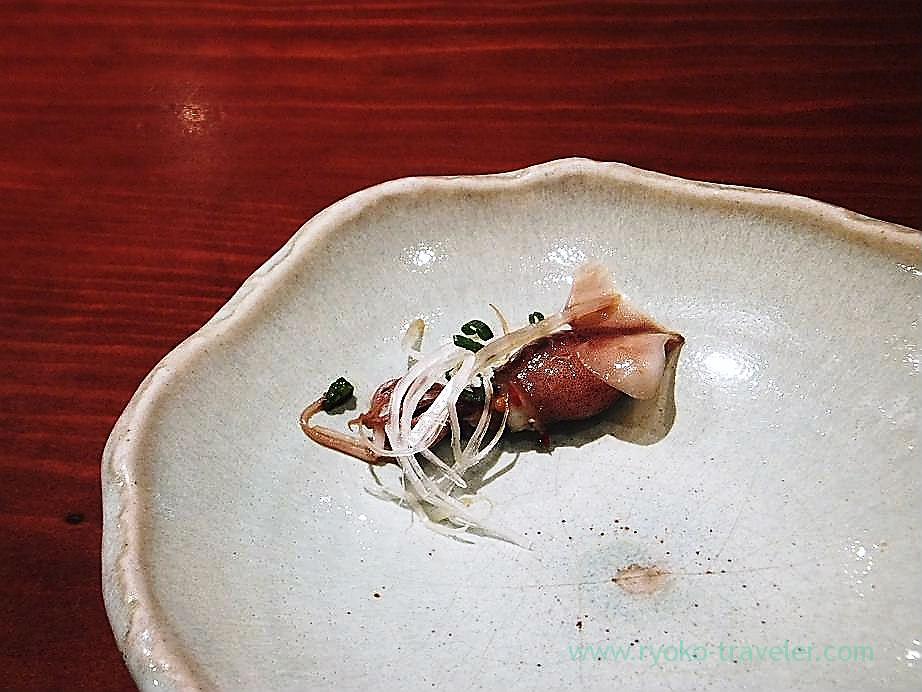 Smoked spanish mackerel (さわらのスモーク).
It had a little smack of wood smoking chips in my mouth :D.
And spanish mackerel is very fresh in spite of being smoked.
Come to think of it, smoked sweetfish have good tastes.
Assorted sashimi (刺し身盛り合わせ). From left to right, golden cuttlefish, gurnard, bonito.
Umm, careless picture 🙁
Being blurred, and strange directions 🙁
Well, "Spring of age 35" – Japanese sake.
Selecting sake cup :D.
I could select from many cups. 😀
I selected two cups, shallow one and deep one.
I heard it is not same taste with each cup :).
Well, I couldn't understand the difference.
I tried to drink a cup of sake with shallow one.
Then, I drunk with deep one. Because I felt I'm going to spill.
Yamadaya bacon (やまだやベーコン)
It have smell of wood smoking chip, too :D.
Grilled Soft roe on the Konbu (白子の昆布焼き)
I ate it with a little of left ponzu.
Sweet , soft and soft.
Later, leftover konbu was grilled crispy.
I'lll take up where I left off tomorrow.
I have to make box lunch for tomorrow :(
About Yamadaya (やまだや)
Address / Crown Tsukiji Bldg 1F, 7-16-3 Tsukiji, Chuo-ku, Tokyo
Station / Tsukiji station (Toei subway)
Open / 18:00 – 23:00
Closed / Sundays and another national holidays