Yakitori Miyagawa honten (やきとり宮川) is my best lunch spot to eat yakitori ! They are long-established yakitori restaurant in Kayabacho. They are open on weekdays only. Many people wait before the opening time. When I visited there last time 10 minutes before the opening time, there were already 20 people there.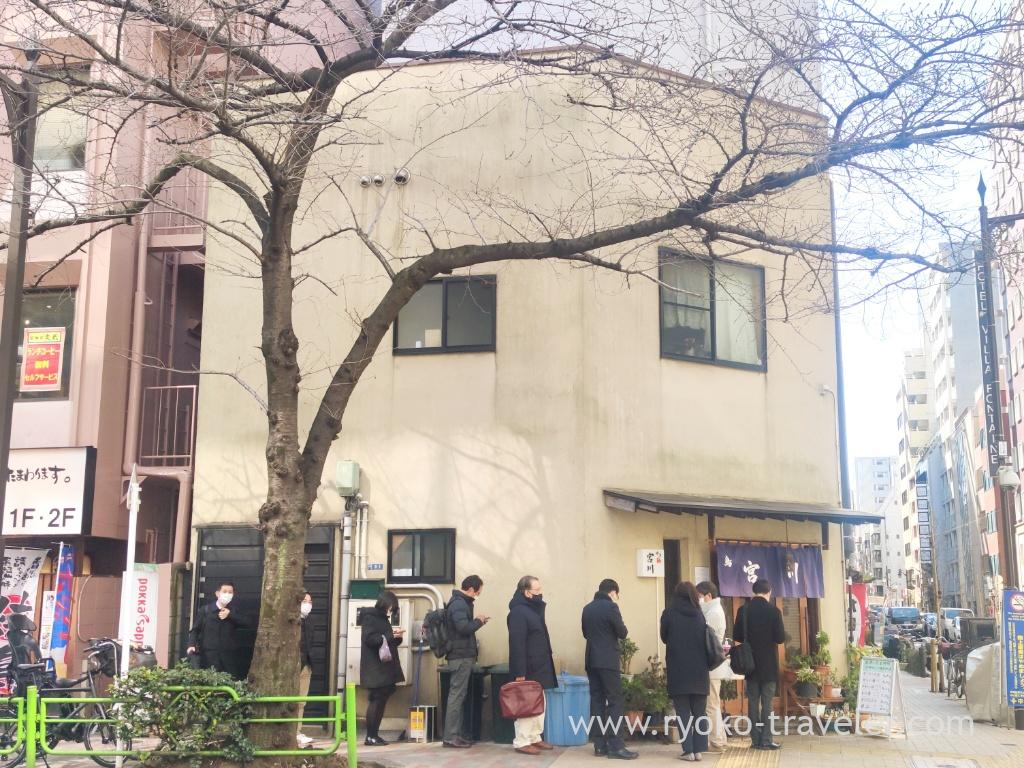 I visit the branch in Toyosu Foresia. But they are quite differ from each other in menu, price and atmosphere. They looks small restaurant, but actually they have many seats. They have about 10 counter seats and another tables.
Lunch menu. Written in vertical. It quite differ from Toyosu branch. Toyosu branch have karaage, too. But their karaage don't have bone. This honten (head shop)'s karaage have bone. Also Toyosu branch don't have yakitori bowl. Umm. Everything is very inexpensive. Here's Tokyo.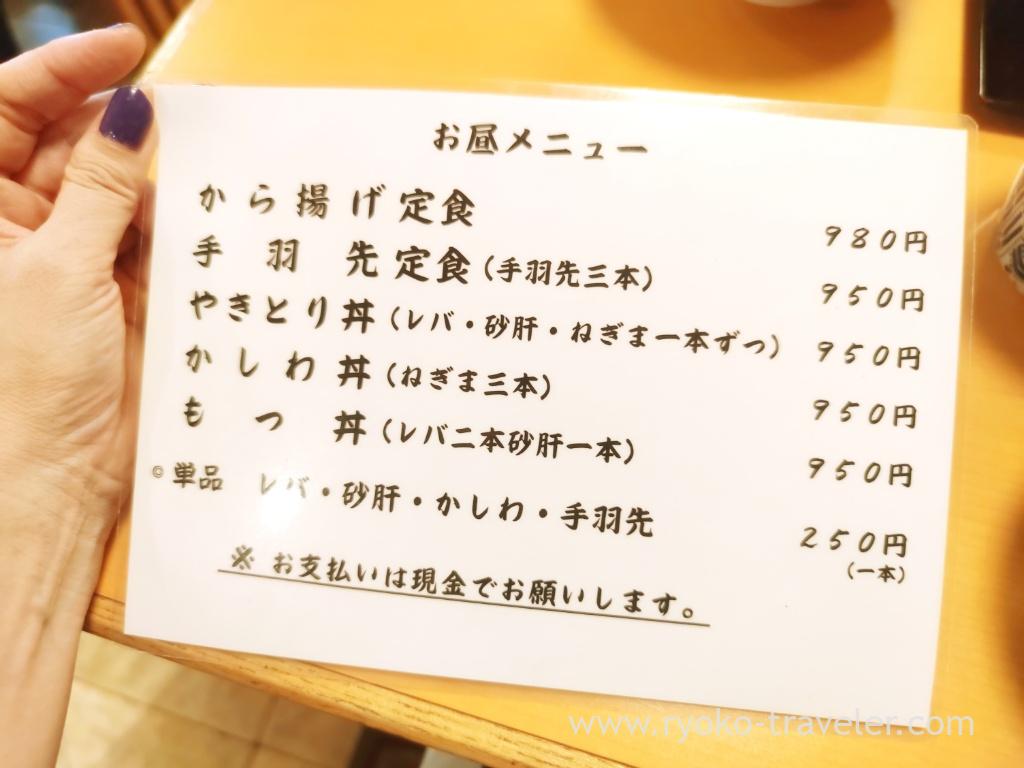 Karaage (から揚げ定食)
Chicken wings yakitori (手羽先定食)
Yakitori bowl – liver, gizzard, and negima (やきとり丼)
Kashiwa bowl – 3 negima (かしわ丼)
Motsu bowl – 2 liver and 1 gizzard (もつ丼)

Negima is yakitori having chicken's leg and breast meat and green onion.
So many people order karaage. So, they put sauce for karaage on each tables in advance. They leave it after we order another foods. And chicken soup and tea remain.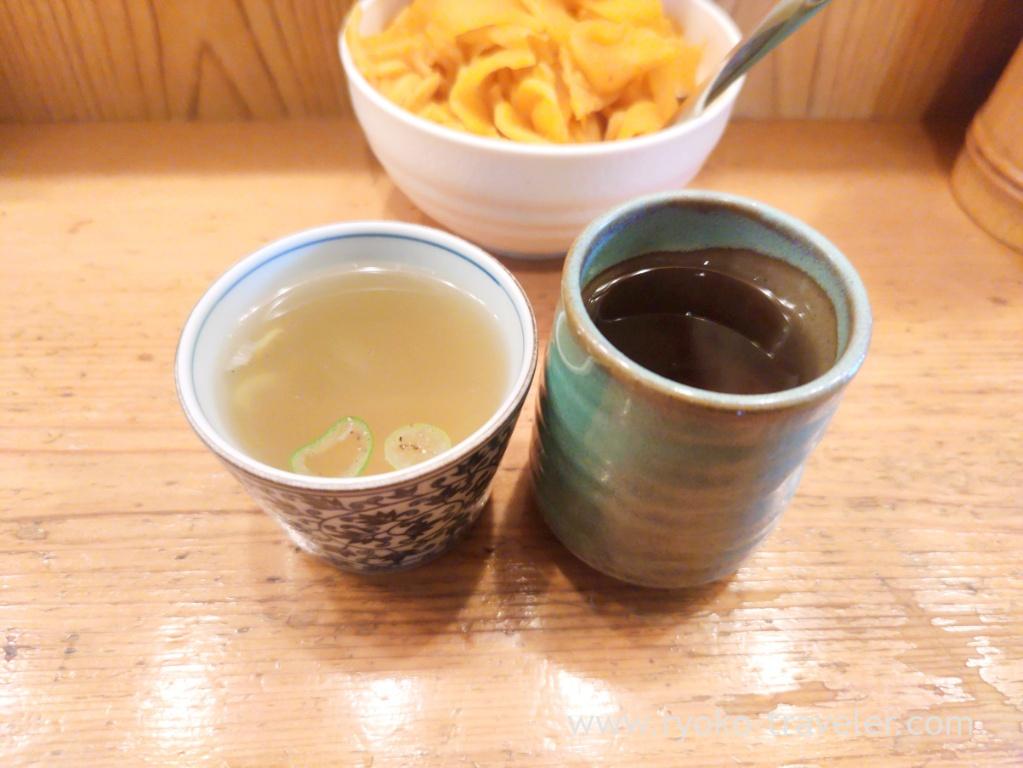 This is yakitori bowl. From left, liver, kashiwa (negima), and gizzard. You might think 3 yakitori is only a few. But not. Those yakitori is very large. And it's cooked at best condition.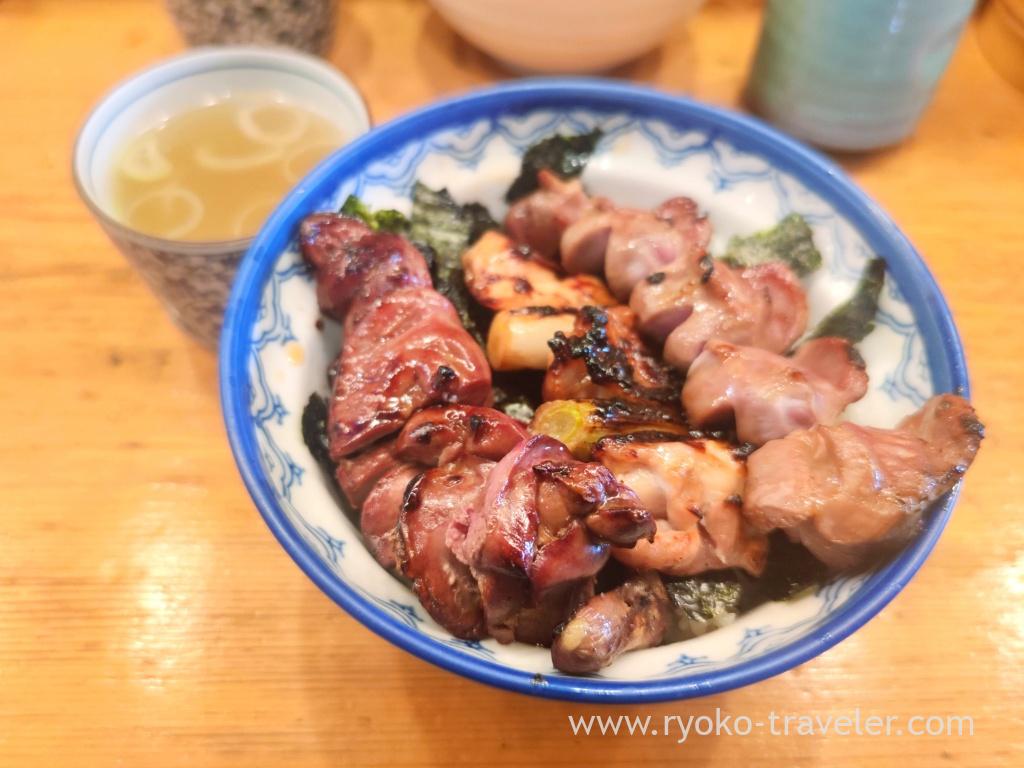 The liver had sticky texture, breast and leg meat had springy texture, and gizzard was crisp. Everything is great. Those sauce isn't sweet. It's just for me. By the way, the chicken soup on the left is not the one that was served at first. It's second helping. They serve the second helping of chicken soup with foods 🙂 Great.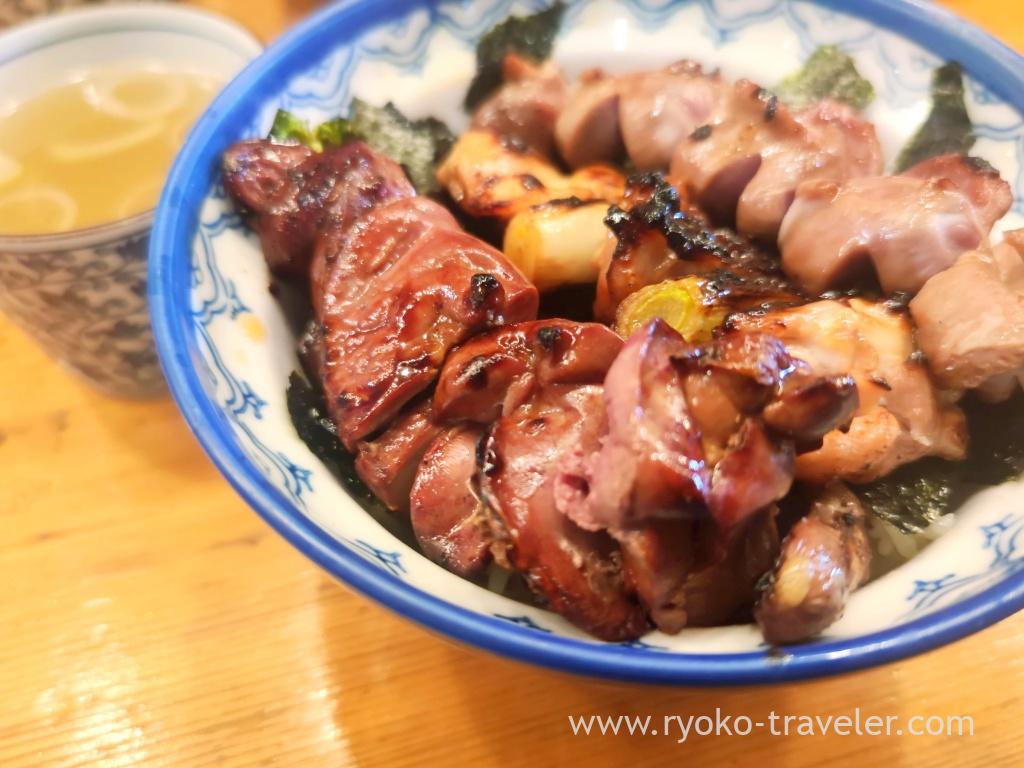 And this is their specialty. Karaage ! Their karaage is white because of its coating made of corn starch and potato starch. It have four pieces of karaage on the dish. Two pieces have bone. It's so juicy. I agree that this karaage have such a tremendous popularity !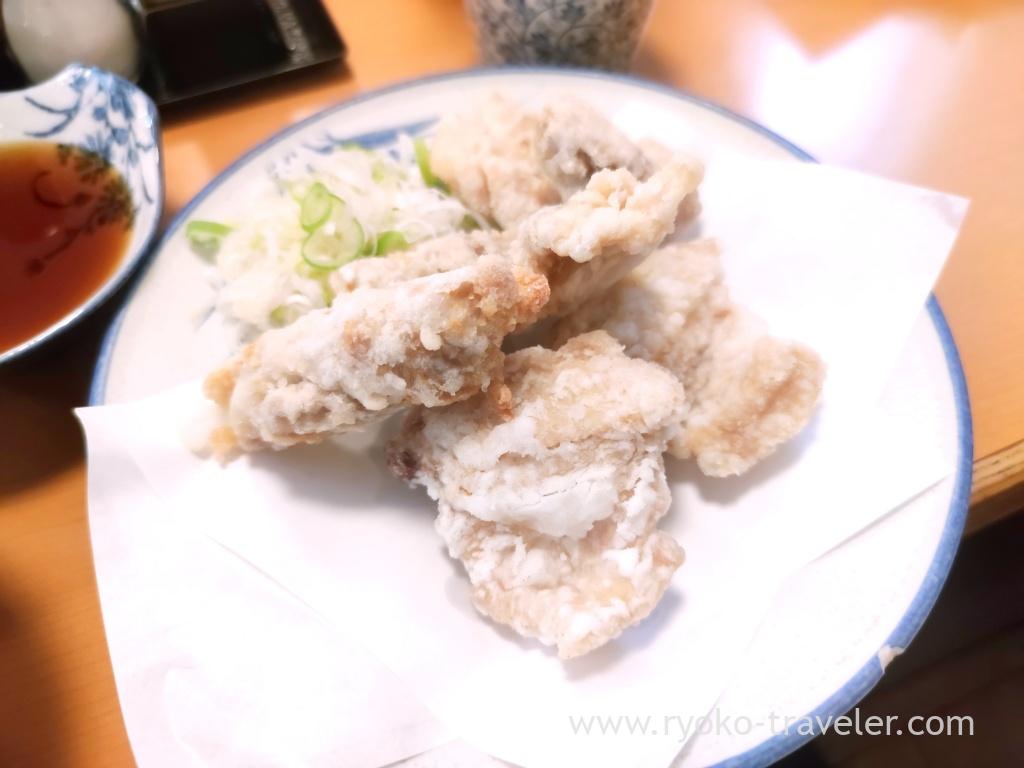 The sauce is very sour like ponzu. I was surprised when I ate for the first time because sauce was mild at Toyosu branch. But now I like it. I put karaage into the sauce deeply 🙂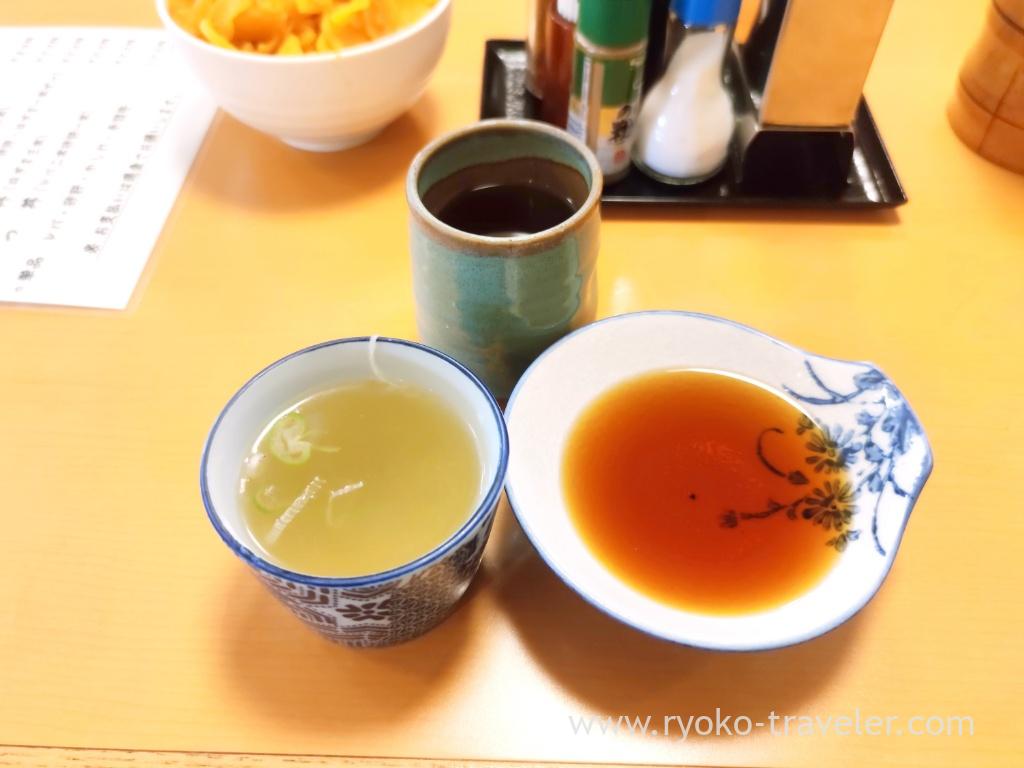 Though I order karaage, I never give up eating yakitori 🙂 I always order two yakitori with karaage set. Mostly I order gizzard and liver.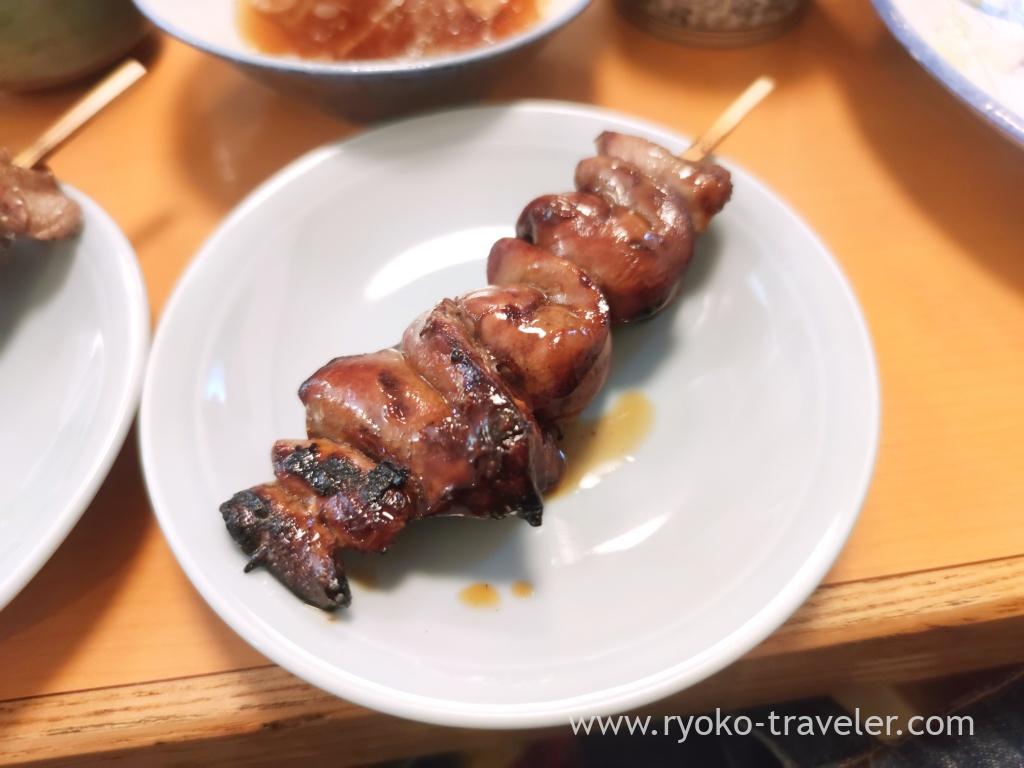 About

Name Yakitori Miyagawa (やきとり宮川)
Open Lunch, Dinner
Reservation Available for dinner time only
Credit card Unavailable

Google Map