I had something to do at Shimbashi in the morning on Saturday. And then, I wanted to have alcoholic drinks at izakaya, but unfortunately, Shimbashi don't have some izakaya that is open in the morning on Saturdays (many shops are open weekdays' morning though)
I had no idea…but I heard Yakiniku Like Shimbashi Honten (焼肉ライク 新橋本店) that is yakiniku restaurant for solo visitors is open in the morning and serve valuable breakfast. I knew their existence. But I didn't know their head shop is located in this Shimbashi.

They serve yakiniku breakfast only for 500 yen ! Not only weekdays but also weekends and national holidays from 7 to 11 a.m. (Weekends from 8 a.m.) Ochazuke set is only 240 yen ! Not only breakfast menu but also normal menu is available.
Where?
They are located just close to JR Shimbashi station.
Interior
Almost all seats are counter seats for one person and each seats are separated. And there're tables for two – four person close to the entrance.
Each seats have touch screen and the staff welcomed me with minimum words. So, I ordered with the screen and had to light the roaster by myself. It's suitable system for now, but this was the first time to visit there and I was at a loss. So, the staff noticed me and she lighted my roaster.
Delicious things that I had
Morning yakiniku set
Morning yakiniku set is 500 yen (plus tax). And we can add meat with extra fee. I thought the photo of morning yakiniku set on the menu don't have much meat (4 slices ?), so I ordered extra meat (50g +100 yen). It was just for me. And another, the set have sausage, raw egg or natto, soup, seasoned laver, and rice. Many men added extra meat all the same.
The roaster is small. But it's enough for one person.

Though those slices of meats were thin, it was delicious. "On the rice" is splendid, morning, day and night.
They prepare some sauce for yakiniku. I tried some. Garlic is MUST!
Highballs
Of course, they take alcoholic order from the morning 🙂 Because it was Saturday, many people order alcoholic drinks. Me, too. I had highball (ハイボール, 350 yen). Needless to say, highballs go with yakiniku very well 🙂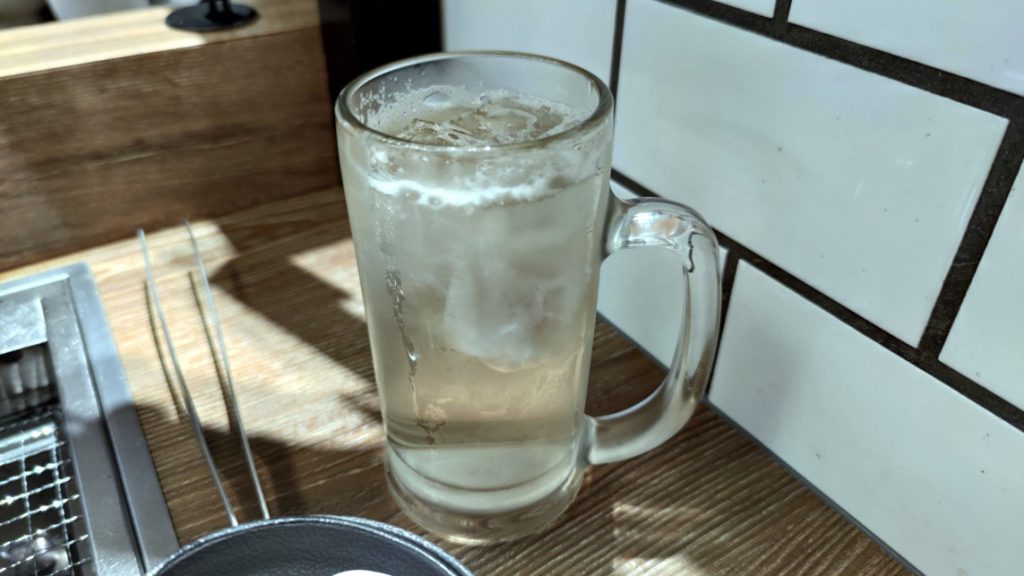 About the restaurant
Name in English / Yakiniku Like Shimbashi Honten
Name in Japanese / 焼肉ライク 新橋本店

Open / 7 a.m.- 9 p.m. (Saturdays, Sundays and another national holidays from 8 a.m.)
Closed / No scheduled

Reservation / Unavailable
Credit card / Available