When it comes to meat in Osaka, yakiniku in Tsuruhashi area occur us at first. But I don't post about it this time. There's a pig's offal shop located about 5 minutes walk from Nishi-Nakajima Minamikata station. The shop's name is Wafu Motsu-ryori Arata (和風もつ料理 あらた). "Motsu" means (pig's) offal and "ryori" means dishes.

They don't accept reservation. So, people start to gather around 1 hour before the opening time.
There's a only L-shaped counter table. 12 seats or so. They have cozy atmosphere and they looks long-established shop.
Where ?
The closest station is Metro Nishi-Nakajima Minamikata station. Also Minamikata station (Hankyu line) is close, too. And it takes about 10 minutes walk from JR Shin-Osaka station.
Yummy foods that I had
Though they have menu on the wall, they accept "chef's choice" (Omakase in Japanese) around 3000 yen. So, if you visit there for the first time, chef's choice is better. Actually many of visitors order chef's choice. So, we ordered chef's choice, too.
Original highball
They don't have a variety of drinks. Beer, Japanese sake, and original highball only. Original highball (特製ハイボール, 250 yen) is their specialty. They pour shochu into the glass and then pour ginger ale (WILKINSON). I think 90 % of container is shochu. Because of ginger ale, it's sweet and easy to drink. But I said. 90% is shochu ! Strong !
Chef's choice set
After we toasted, dishes were served one after another. Almost all dishes were listed on the menu. If you order them separately, almost all dishes are around 400 yen each.
At first nikomi (煮込み, simmered pork offal) was served. It was seasoned with salt lightly. Plenty of shredded green onions were served separately. We put much of it onto the nikomi and ate. Delicious. As you see, it was simmered until soft. So soft. Melted in my mouth.
Spleen sashimi (チレ刺身). quail's yolk was at the center. The spleen had sticky texture and was good. It's like liver sashimi.
Pork tongue stew (タンシチュー). It's not like normal stew. I think it's like simmered pork tongue with miso. It went with mustard well.
Boiled rumen (ミノ湯引き). It had crunchy texture. As you see, it was so fresh.
Neck smoke (ネックスモーク). Smoked neck. It was smoked lightly. It was chewy. And good.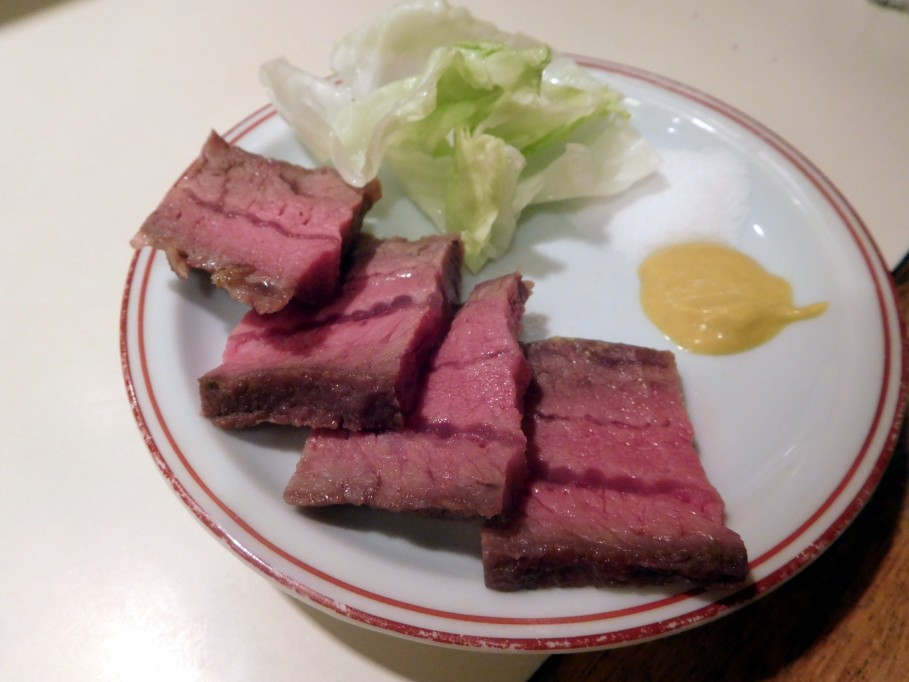 Omasum (生せんまい). With sesame oil. Its texture was good. I love it.
Kushiyaki (串焼き). Both was well-cooked. Flavorful.
Cold tongue(コールタン). As its name, it was served cold. We ate it with salt and mustard. We could feel the texture and tastes of it to the full.
Heart tataki (心のたたき). This pink color means its freshness. It had refreshing tastes and had good texture. Delicious.
Pig's tail stew (テールシチュー). It was simmered until soft. It tasted similar to tongue stew.
After that, lung teriyaki (フク照り焼き) was served. But I deleted the photo by mistake. Pig's lung had no tastes and it was soft like sponge. The shopkeeper said to us that the lung is for enjoying its texture more than its tastes. I agree.
Tail porridge
Last, we ordered tail porridge (テール雑炊, 450 yen) after finishing chef's choice. We were two and shared this one porridge. The amount was just for us. Though it was seasoned lightly, it had much extracts of pig's tail.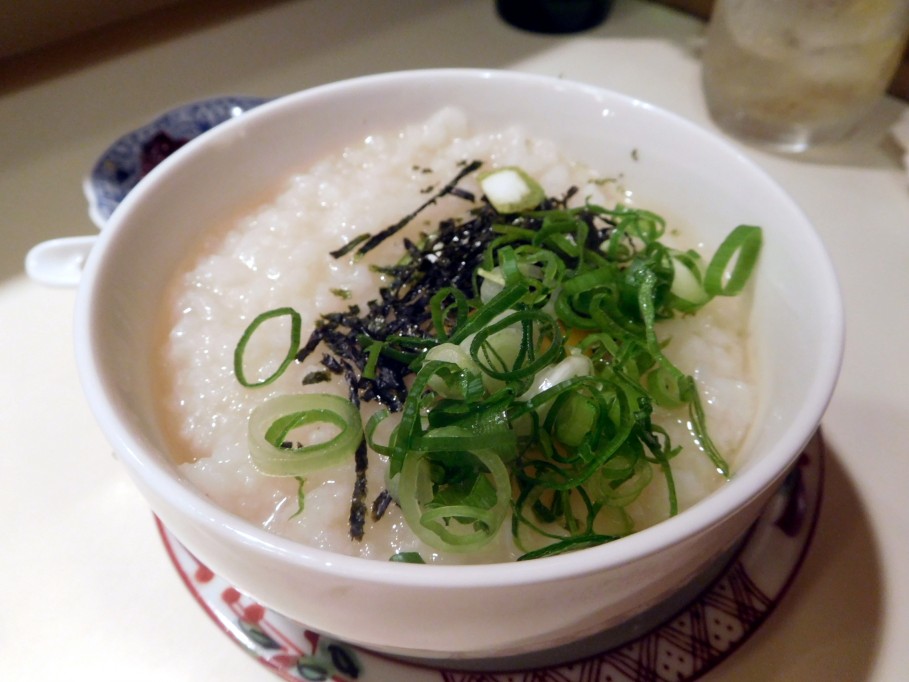 Pickles. Shiba-duke. It is sour deprived from plum.
They don't accept reservation. It means we don't have to reserve in advance. When you can't reserve somewhere or you don't have any plan to eat, Arata is one of the good choice !
Lonely Planet Pocket Kyoto & Osaka (Travel Guide): Lonely Planet, Morgan, Kate: 9781786578525: Amazon.com: Books
Lonely Planet Pocket Kyoto & Osaka (Travel Guide) on Amazon.com. *FREE* shipping on qualifying offers. Lonely Planet Pocket Kyoto & Osaka (Travel Guide)
About the restaurant
Name in English / Wafu Motsu-ryori Arata (Arata Motsu Restaurant)
Name in Japanese / 和風もつ料理あらた
Address / 4-2-8 Nishi-Nakajima, Yodogawa-ku, Osaka-shi, Osaka
Phone / 06-6304-5250

Open / 6 p.m. – 11 p.m.
Closed / Mondays, Sundays and another national holidays

Reservation / Unavailable
Credit card / Unavailable
URL / Twitter