About my weekend.
I went to Ueno last Sunday, three-day weekend.
I walked in Ueno Onshi park.
I thought this architecture is Ueno Toshogu Shrines(上野東照宮). But I knew it is Kanei-ji Temple(寛永寺) later 🙁
I'm embarrassed that I visited the temple with not knowing whether it is temples or shrines 🙁
A lotus flower cheered me up.
Well, I happened to find Ueno Parak and I walked in the park with ease. My aim was this place.
Tokyo Metropolitan Kyu Iwasaki-tei Gardens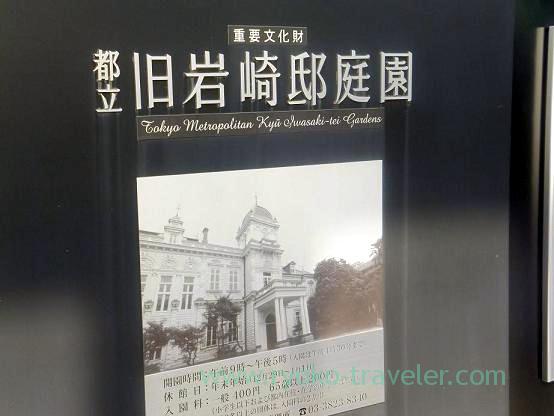 You cannot take pictures in the house. Also, never touch everything in the house for preserving this architecture.
It have a little style of Muslim architecture.It is very nice 😀
The pool hall looks like cottage.
When I passed the joint between Japanese-style house and European-style house, I was excited just a little 🙂
But I want to see its first floor and underground,too.
Ticket.
Then, I went to Sichuan Dandan noodles AUN to eat dandan noodles.
It had much sichuan peppers.
Sichuan peppers were strong, but this tantanmen was not very hot. I wanted to eat more more hot one. But it was good 🙂
Tsuyunashi-Tantanmen spice grade 4  (つゆ無し担担麺4辣, 800 Yen).
About Ueno Onshi Park (上野恩賜公園)
Address / 3 Ikenohata, Taito-ku, Tokyo
Station / Ueno station (JR)
Open / 5:00 – 23:00
Closed / no scheduled
Admission fee / free
About Tokyo Metropolitan Kyu Iwasaki-tei Gardens (都立旧岩崎邸庭園)
Address / Ikenohata, Taito-ku, Tokyo
Station / Ueno station (JR)
Open / 9:00 – 17:00
Closed / new year holidays
Admission fee / 400 yen
About Sichuan Dandan noodles AUN (四川担担麺 阿吽)
Address / 3-25-11 Yushima, Bunkyo-ku, Tokyo
Station / Yushima station (Tokyo metro)
Open / 11:00 – 14:00, 17:30 – 22:00
Saturdays / 11:00 – 15:00, 17:30 – 22:00
Sundays and another national holidays / 11:00 – 15:00, 17:30 – 21:00
Tuesdays (national holiday) / 11:00 – 18:00
Closed / Tuesdays (In case of national holiday it is open and the next day is closed)
Website / http://szechuan-aun.com/(in Japanese only)