Delicious pork giblet at lower price in Keisei Tateishi
I left work on time and went to Keisei Tateishi station with my light heart.
Long time no see since I had been Ransyu last time.
Keisei Tateishi have much inexpensive and delicious shop.
But this town reaches its peak with before evening. Not night time like this.
So, the shopping street was already almost empty. Of course, some shops is open until late night and there were much people inside the shops.
Here's my target shop. Uchida. But much foods were already sold out all the same.
But don't worry. Major foods were still there 🙂
About 50 people wait in front of the shop in the daytime.
But at this time (around 6:30 p.m.), you can enter the shop without waiting. But we had to wait for 15 minutes.
Because we (were three) wanted to be seated together. at this narrow shop, this is selfish wish.
So, some single guests following us entered before us.
If you are one, you don't have to wait. I'll go there by myself next time 🙂
But, if you visit there for the first time, you should go there with someone who visited there several times.
If strangers go there by theirselves, they have no idea what to do.
As for me, too, this was the second time to visit there, so, I left everything to my friend who is regular customer of there.
Very small drink menus are on the wall. But there are no menus concerning foods.
Perhaps if you say "chef's choice!", they might serve something… (I want someone try :P)
I left everything concerning foods to my friend and ordered Umewari (梅割り, 200 yen).
Umewari is almost shocyu with slight plum syrup for adding color.
With nikomi (煮込み) 🙂
When I had it last time around 3:00 p.m., I didn't feel it was tasty, but this time, it was delicious. Every meats were simmered.

Keisei-Tateishi Tour (1/3) : Uchida (宇ち多)

Keisei-Tateishi is so nostalgic place. Keisei-Tateishi is located near Oshiage. Speaking Oshiage, it is the town of Tok...


I know the reason. This shop keep simmering nikomi in a huge pot from morning. So, nikomi reaches its peak at night.
I wanted to put this leftover sauce on the rice ! But the shop don't prepare rice ! X(
And we ordered some yakiton.
You can order various ways of cooking yakiton. This is one thing that makes very difficult to beginners.
* Meats
Shiro (guts), liver, kashira (head), nankotsu, hatsu (heart), gatsu (gut), abura (fat)
* Flavor
tare (sauce) , shio (salt), suyaki (soy sauce), miso (nikomi's sauce)
* Degree of grilling
yokuyaki (well-done) , futsu (medium-rare) wakayaki (rare)
Not only it. Another way of cooking can be chosen. with vinegare, boil, and so on.
180 yen per one dish. And they calculate with counting dishes like sushi-go-around, so they don't put our dishes away.
Every following those photos have two portions each 🙂
Shiro – Tare – Yokuyaki (シロタレよく焼き)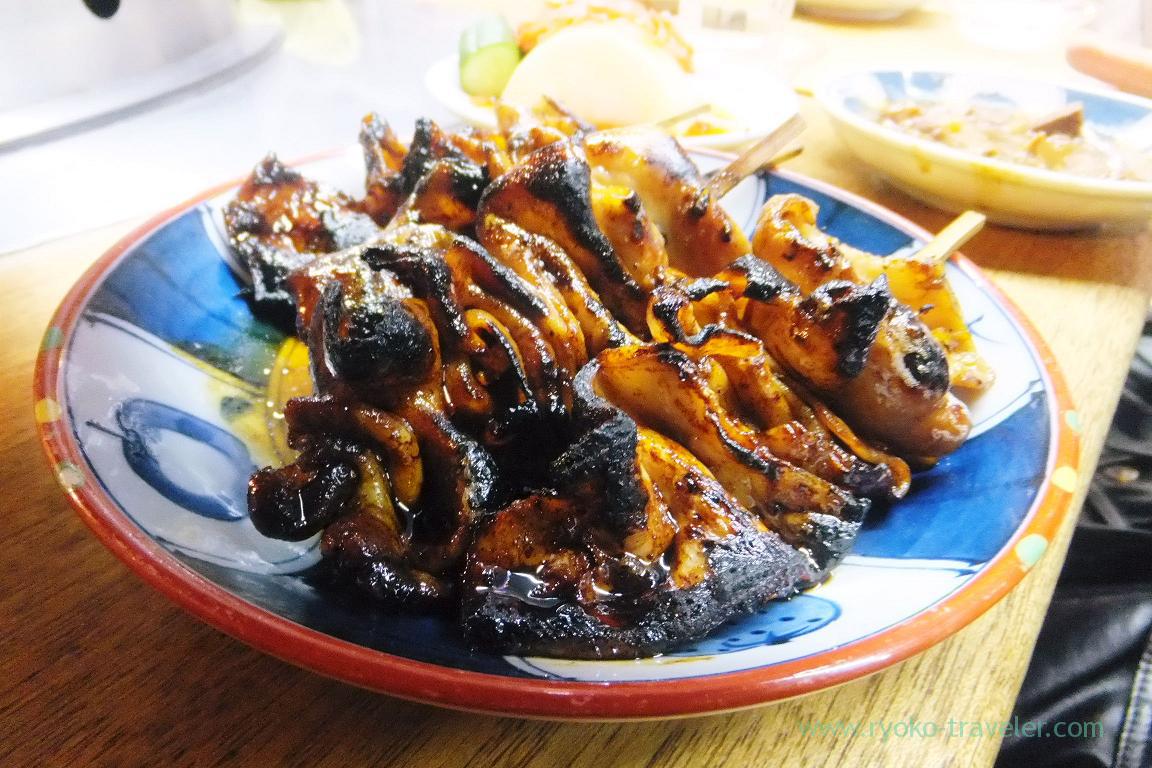 Liver – Tare – Yokuyaki (レバタレよく焼き)
Abura – Tare – Yokuyaki (アブラ油少ないとこタレよく焼き)
My friend ordered not fatty part of meat. But it was fatty enough.
Pickled vegetables (おしんこ)
Also some ways of cooking pickled vegetables can be chosen. He said "with red ginger and vinegare"
We didn't eat much because we wanted to go to eat gyoza at Ransyu. But to my great regret, Ransyu was closed ! Oh, my !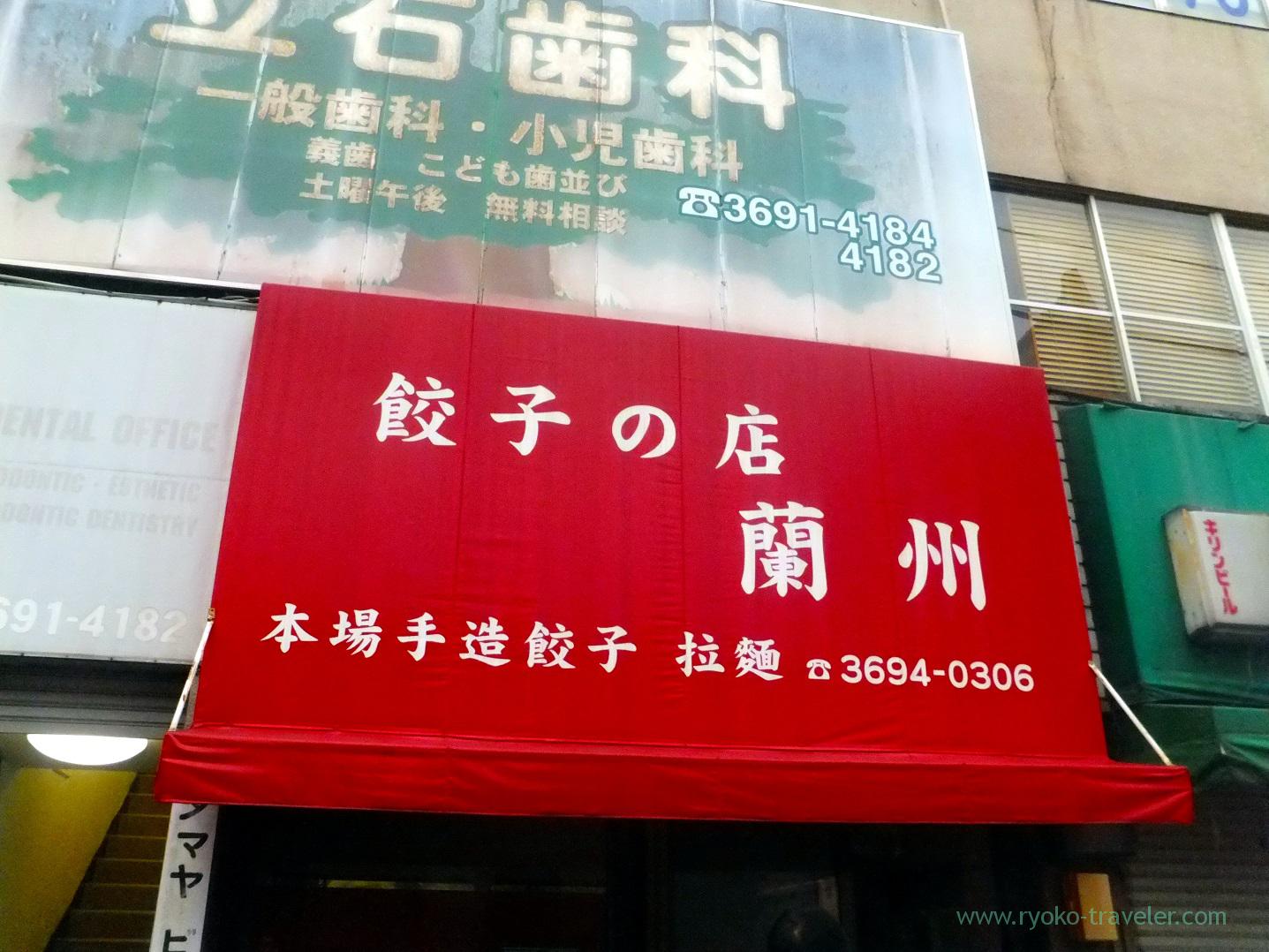 Keisei-tateishi tour 2/2 : Funawa and Ranshu (舟和, 蘭州)

After getting out of Torifusa, we had to wait somewhere until Ranshu that is so popular as Chinese dumplings was open. ...


But we didn't give up eating at another shop.
We went toward Edokko that is also a motsuyaki shop !
About Uchida (宇ち多)
Address / 1-18-8 Tateishi, Katsushika-ku, Tokyo
Station / Keisei-Tateishi station (Keisei main line)
Open / 14:00 – 19:30
Saturdays / 12:00 – 14:00
Closed / Sundays, another national holidays