Keisei-Tateishi is so nostalgic place.
Keisei-Tateishi is located near Oshiage. Speaking Oshiage, it is the town of Tokyo Skytree.So Oshiage is attracting the most attention now.
Keisei-Tateishi is about three stations distant from Oshiage.
There is not a custom of drinking alcohol in the daytime in Japan, so such pelple feel ashamed or someone look at them frowning.
Before this, there are not many restaurants that serves alcohol in the daytime. Especially, workdays.
There is the town that is gathered by many drinkers in the weekdays daytime.
It is the Keisei-Tateishi.
There are much older men who can't be called clean‐looking, by any standard.
The old shopping street looks like drinking area in Showa Era.
Especially, the large number of people come to this izakaya, Uchida.
It opens from 15 pm, and it is inexpensive. So inexpensive. 180 yen per one dish. Glass of shochu is 180 yen. Beer is higher.
And the dishes are good. Those dishes are cheap looking, but those are tasty.
But the trouble is that people who come to Uchida for the first time can't order correctly.
There are some rules for ordering dishes, and there is no explanation about that.
Of course, I had never been to there and I had thought I have no chance to go there (I had thought it is the izakaya for older drinkers).
But my friend invited me to his Keisei-Tateishi Tour.
If I missed the chance, I would have never get the chance to go there again.
So, I took a paid leave and went to there with them.
I ordered a oolong tea. Eh ? Why didn't I drinking alcohol ? Because we had plans to go to next shop 😛
I didn't know at all , so I left everything about our order to my friend.
Salted cartilage (軟骨・塩)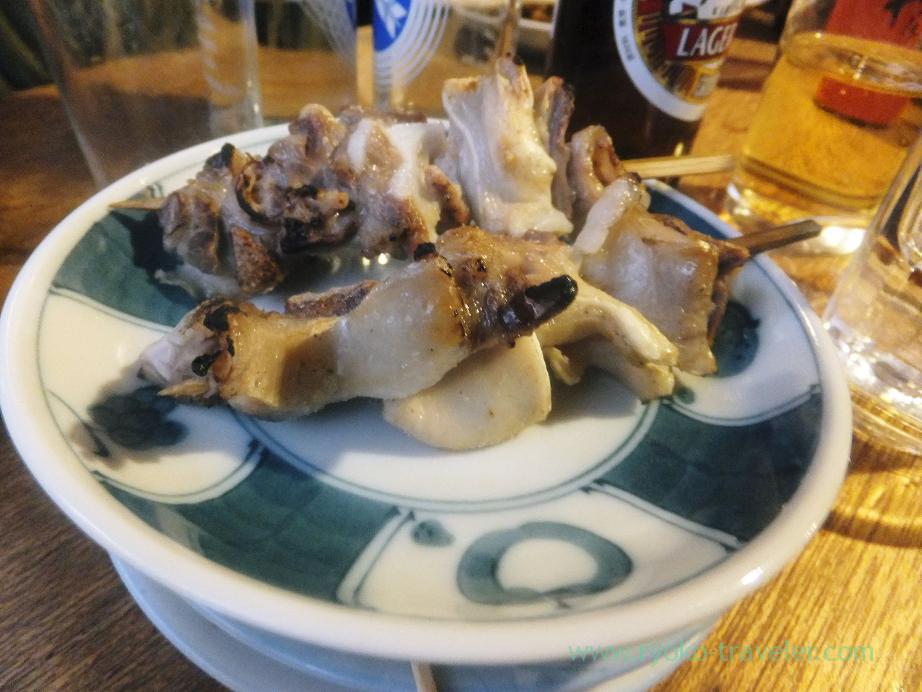 Boiled beef tongue with vinegar (たん生・酢)
Giblet stews (牛煮込み)
Pickled vegetables (おしんこ)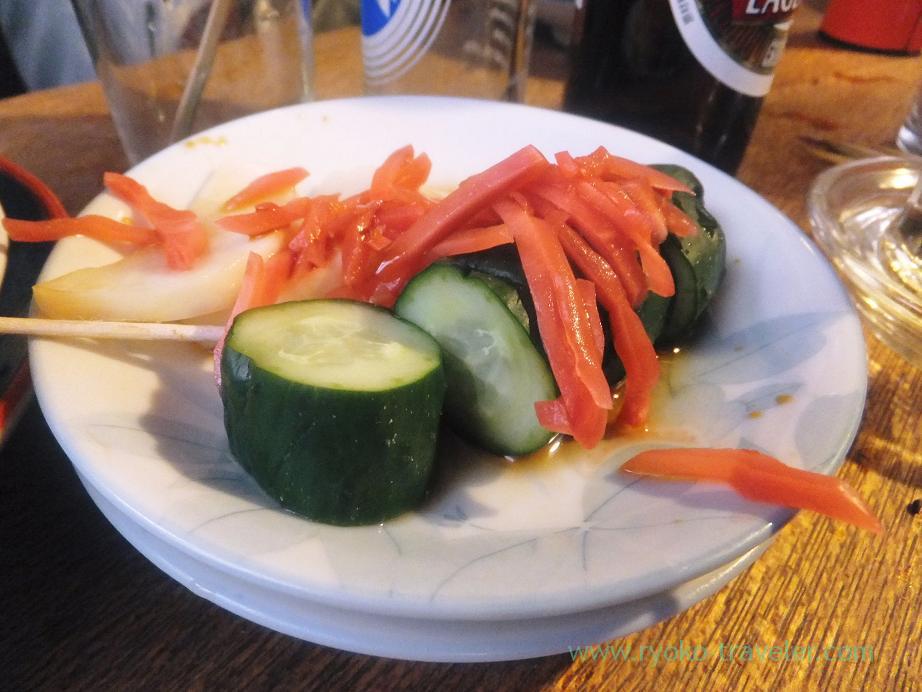 Liver with sauce (レバー・たれ)
Salted heart (ハツ・塩)
I said before, I didn't know the way of order in the izakaya, so I left everything to my friend. So I don't remember those dishes' name exactly.
But I like it best in all dishes I had at Uchida. My friend said this dish sell out soon after opening.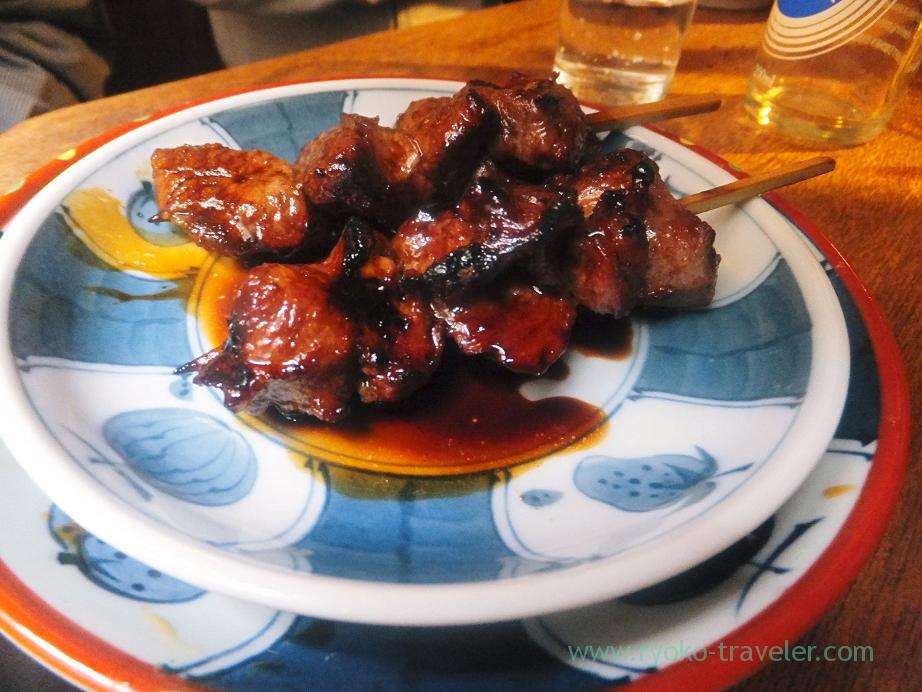 Ume-wari (Shochu with a shot of ume liquor)
The amber color is nice !
The bill is counted by the number of the dishes and glasses. It is like conveyor belt sushi 🙂
It cost me about 1000 yen. Inexpensive !
About Uchida (宇ち多)
Address / 1-18-8 Tateishi, Katsushika-ku, Tokyo
Station / Keisei-Tateishi station (Keisei main line)
Open / 14:00 – 19:30
Saturdays / 12:00 – 14:00
Closed / Sundays, another national holidays