Toyotaya without reservation
This post is a sequel of last post "So popular beef cutlet (Shinbashi)"
http://www.ryoko-traveler.com/beef-cutlet-okada1_kusamakura-uchisaiwaicho1/
We had tea, walked around Shinbashi and manga cafe for killing time until the opening time of Toyotaya.
JR Hirai station.
Without this izakaya, I would not have got off the station forever.
Toyotaya !
This was the second time to visit there this year !
http://www.ryoko-traveler.com/toyotaya2/
We got to there before 4 p.m, the opening time. Though it was raining heavily, there were already some people waiting in front of the shop in the rain.
We didn't take the reservation this time. But we could enter the shop because the shop don't accept reservations of the long counter table. So if you come to the shop before the opening time, you may enter the shop just after the opening.
Every tables were reserved.
Those yellow boards are signs of reservation.
Reservation signs were pieces of corrugated cardboard before 😛
The long counter table was nearly full just after its opening time.
My drink was whisky highball (ウィスキーハイボール, 300 yen).
Toyotaya is so popular as hotpot that is called "gout hotpot" containing soft roe, monkfish liver, oysters and so on. But the also serve tasty sashimi, too.
Vinegared mackerel (シメサバ, 580 yen)
Horse mackerel from Bungo (豊後のアジ刺し, 700 yen)
After a while, our hotpot came.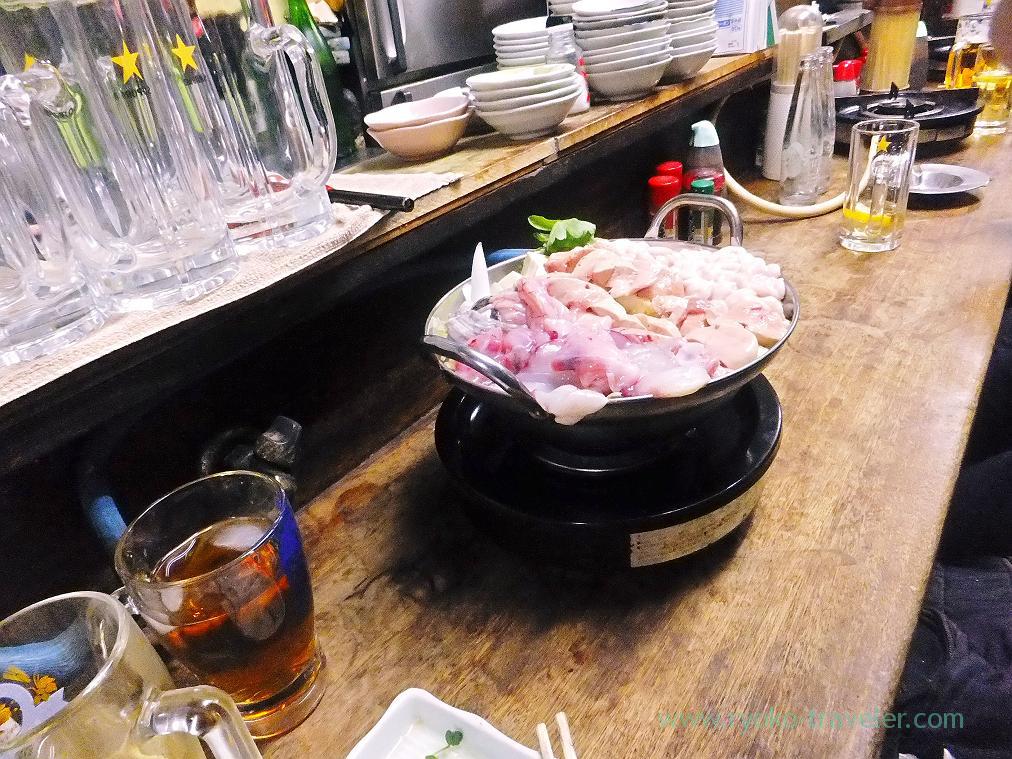 We were two but decided to eat three portions of hotpot and we ordered one portion of soft roe, one portion of monk fish and one portion of monk fish liver.
Not only seafood but also plenty of vegetables !
Soft roe 1900 yen, Monk fish 1800 yen and Monk fish liver 1900 yen.
While waiting our hotpot cooked, we ate conger eels tempura (アナゴ天ぷら, 500 yen).
Its coating was not seems tempura. But those conger eels were soft and tasty.
After a while, the chef said that our hotpot is completed.
Look ! This fine soft roe !
By the way, now I am scared of getting gout 😛
I know women are less prone to gout. But I am eating such foods too much. I often eat mentaiko, too. I'll take care.
Toyotaya (豊田屋)
Address / 6-15-23 Hirai, Edogawa-ku, Tokyo
Station / Hirai station (JR)
Open / 16:30 – 23:30
Closed / Sundays