TOYOCHAN already quit their business in 2017.
(April 27th, 2018)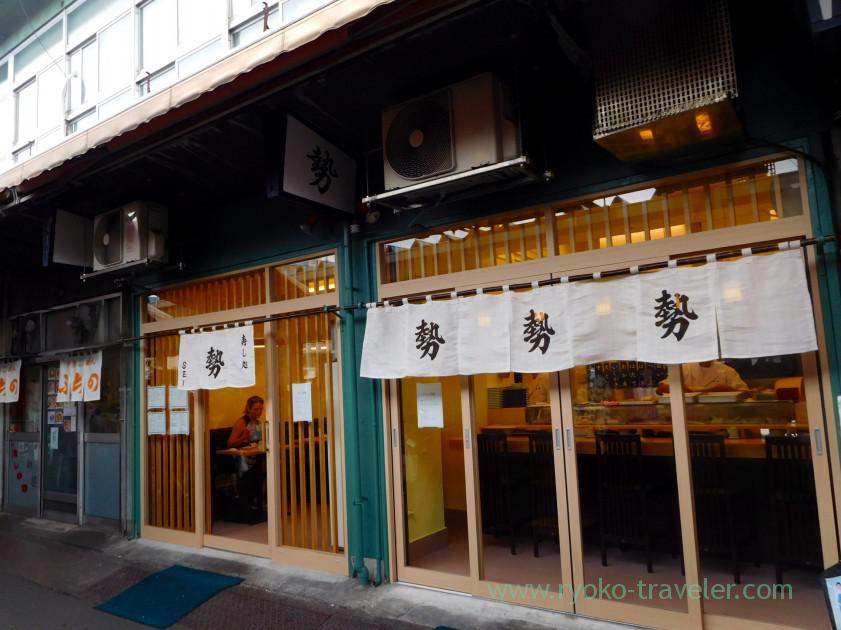 (Moved) From Toyochan to Sushidokoro SEI (寿し処 勢)
New sushi shop is open. At first, I have to inform you that Toyochan (豊ちゃん) already quit their business as Japanese-We...
---
I challenged Toyochan's deep fried oysters !
I thought about my first deep fried oysters on this season. Where should I eat ?
Of course, somewhere in Tsukiji.
Speaking of deep fried oysters in Tsukiji, I remember ODAYASU's oyster fry and fried oyster with butter set ("KAKI MIX") first.
But, my first deep fried oysters on last season was at ODAYASU. And the year before last, too !
http://www.ryoko-traveler.com/yonehana33_odayasu5/
So, I wanted to go somewhere I hadn't eaten deep fried oyster yet.
TOYOCHAN, KATO, ISONOYA…. KATO don't serve deep fried foods early in the morning and I didn't know whether ISONOYA serve oyster fry or not (ISONOYA don't show their menus outside).
But TOYOCHAN has started serving oysters, too. They show their menu outside.
"カキフライ" is deep fried oysters ! Yay !
So, I decided going to TOYOCHAN.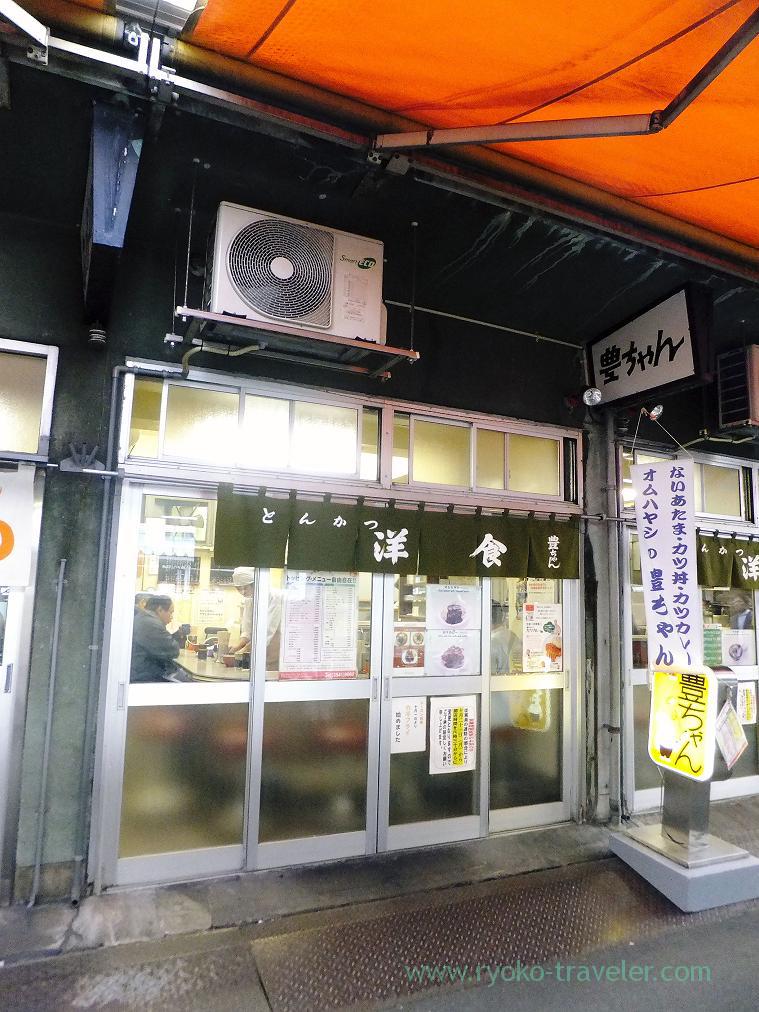 Of course, I ordered oyster fry and rice set (カキフライライス, 1300 yen).
I ordered my rice small, so the price was discounted by 40 yen.
I forgot that oyster fry and rice set don't have miso soup.
5 big barrel-shaped oyster fries was appeared ! Those were well-fried deeply.
One oyster fry had two oysters in it. Recently I meet such a oyster fry so frequently.
My first oyster fry on this season was juicy and tasty. The size was not bad.
But, TOYOCHAN don't serve tartar sauce !
I usually eat deep fried foods with tartar sauce, mayonnaise and mustard, so it was pity for me that I couldn't eat those oyster fries with tartar sauce (T_T)
I tried to eat it with worcester sauce from long long years absence, but I didn't like it all the same. After all, I ate almost all those oyster fries with mustard. With mustard was good.
My friend ordered it. It is named Oysters, half and Half (カキのハーフ&ハーフ, with rice and pickled vegetables 1400 yen).
He ordered it without rice, so the price was lower. (I didn't remember the exact price…)
Egg scramble on oyster fries and boiled oysters. It tasted strong soy sauce, so it go with rice well.
So,,, my friend who had no rice craved a little of my rice. I spared a little bit 🙂
Oyster fry itself was very good. I want to eat conger eel fry next time !
After eating at TOYOCHAN, we went to YONEMOTO COFFEE SHINTEN to have coffee. Cafe with chocolate (カフェチョコラータ).
So much chocolate flavor !!! 😀 Tasty and sweet.
About TOYOCHAN (豊ちゃん)
Address / Tsukiji Market Bldg No.1, 5-2-1 Tsukiji, Chuo-ku, Tokyo
Station / Tsukijishijo station (Toei subway)
Open / 7:00 – 14:00
Closed / Market's holidays
About YONEMOTO COFFEE SHINTEN (米本珈琲新店)
Address / 4-13-4 Tsukiji, Chuo-ku, Tokyo
Station / Tsukiji station (Tokyo metro), Tsukijshijo station (Toei subway)
Open / 6:00 – 15:30
Closed / Sundays and national holidays
Website / http://www.yonemoto-coffee.com/(in Japanese only)