All 280 yen izakaya
Finally, I went to Torikizoku that is izakaya expanding now dramatically !
Torikizoku serve yakitori mainly and all foods and drinks are 280 yen each (tax excluded, 280 yen = 2.5 USD).
Basically, they don't accept reservation. Most of branches are open around 7 p.m. and fully packed around 6 p.m.
They have wait-system on the web. So, we put ourselves on it in advance and went to there.
There're now many branches of Torikizoku around Kanto, Kansai and Nagoya area (Shinjuku, Yurakucho, Ueno, Shibuya, Ikebukuro, Asakusa, Kanda, Namba, Kyoto and so on). And finally, new branch is open close to my home 🙂
Every seats and tables are narrow and small.
Because it's "yakitori" izakaya, so they don't serve seafood. Only chicken meat ! (and vegetables)
Wafu (Japanese) daikon radish salads (和風大根さらだ)
Shredded dried bonito, carrots, daikon radish and salted kelp seasoned with creamy sauce based on mayonnaise.
This might be a seasonal food.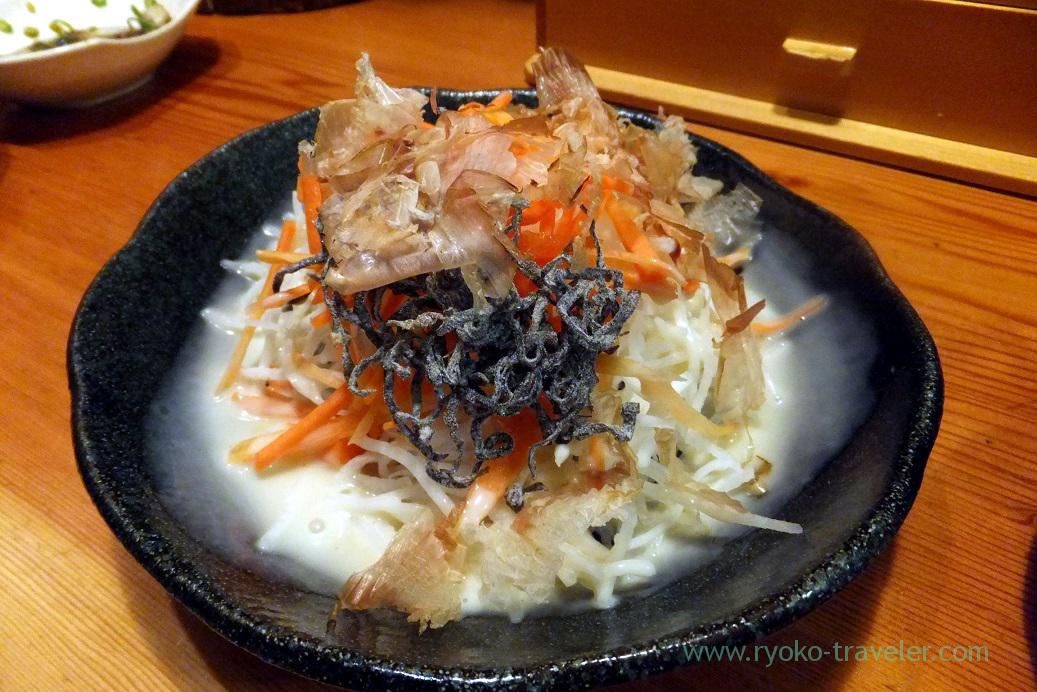 Chickens innards with ponzu and greeen onion (ホルモンネギ入りぽん酢)
The meat is joint between liver and heart. It had crunchy texture and delicious.
Salted leg meat of Kizoku-yaki (貴族焼もも塩)
This long yakitori is No.1 food at Torikizoku 🙂 Not only inexpensive, but also it's juicy.
All yakitori can be chosen from salted flavor and sauce (tare) flavor.
Salted Tsukune (つくね塩)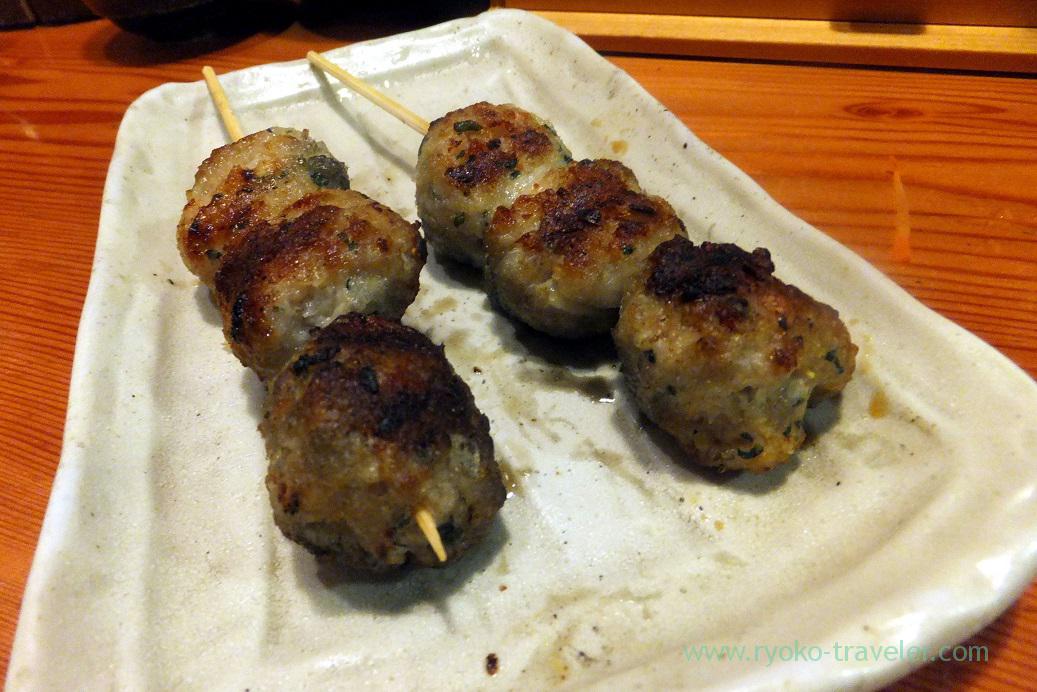 Liver with sauce (レバーたれ)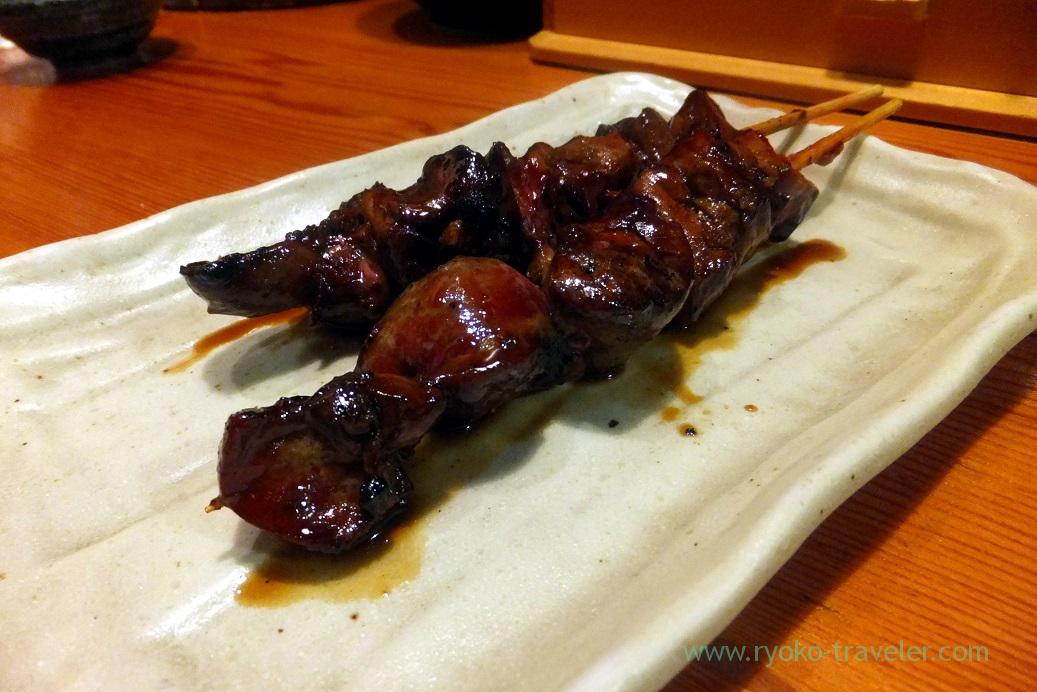 Salted Neck meat (せせり塩)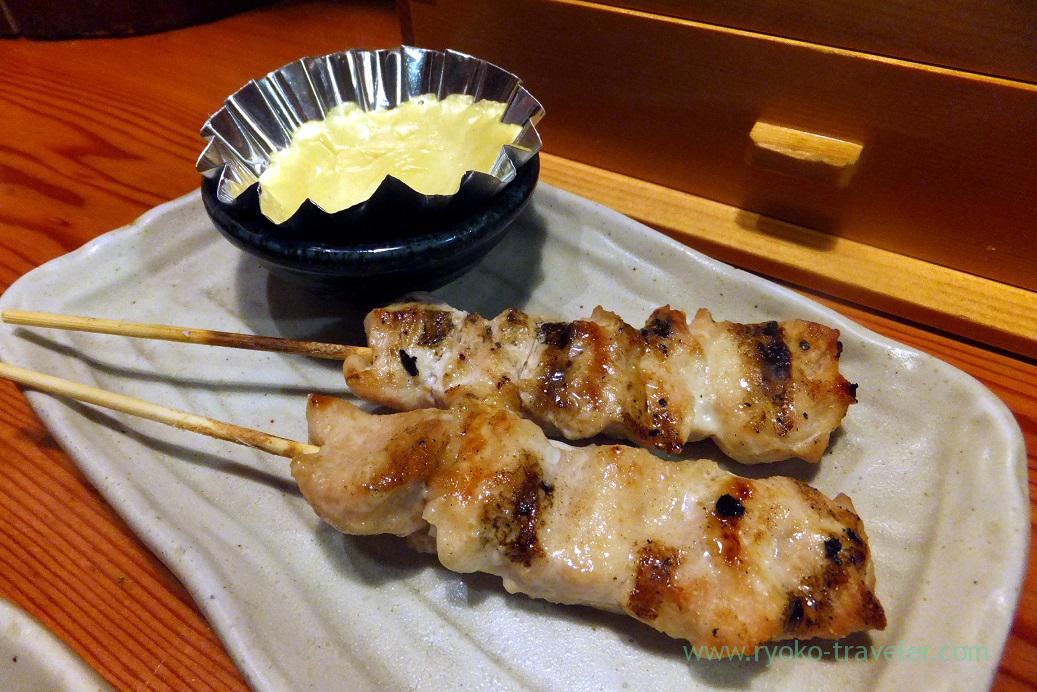 Salted skin (とり皮塩)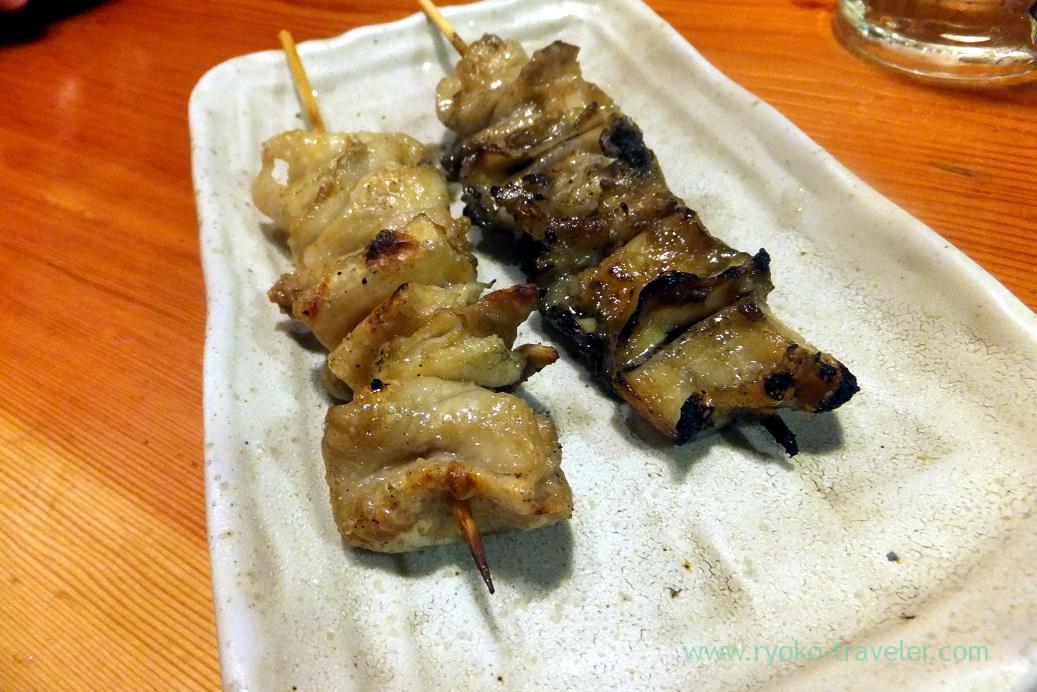 Last, we ordered rice and ramen.
Chicken kamameshi (とり釜飯)
They served it as uncooked. They lighted fire and we waited for 15 minutes or so.
And then, we removed the cover. Chickens meat, carrots, burdock, kamaboko (fish cake) and so on ! It's good amount for two person after eating yakitori 🙂 Of course, it's 280 yen only.
Thick seafood and tonkotsu ramen (濃厚魚介とんこつラーメン)
There are many foods outside of this 🙂
Maybe they prepare English menus.
About Torikizoku Shin-Tsudanuma branch (鳥貴族 新津田沼店)
Address / Jyusan bldg 5F, 1-2-1 Tsudanuma, Narashino-shi, Chiba
Station / Tsudanuma station (JR)
Open / 17:00 – 29:00 (4:00 a.m.)
Closed / no scheduled