Notice : Marutaka closed Tokushima Awaodori airport branch (17th, October, 2015)
---
I should have had lunch earlier…
After I enjoyed Tamamo garden, I walked to the shopping street to have late lunch.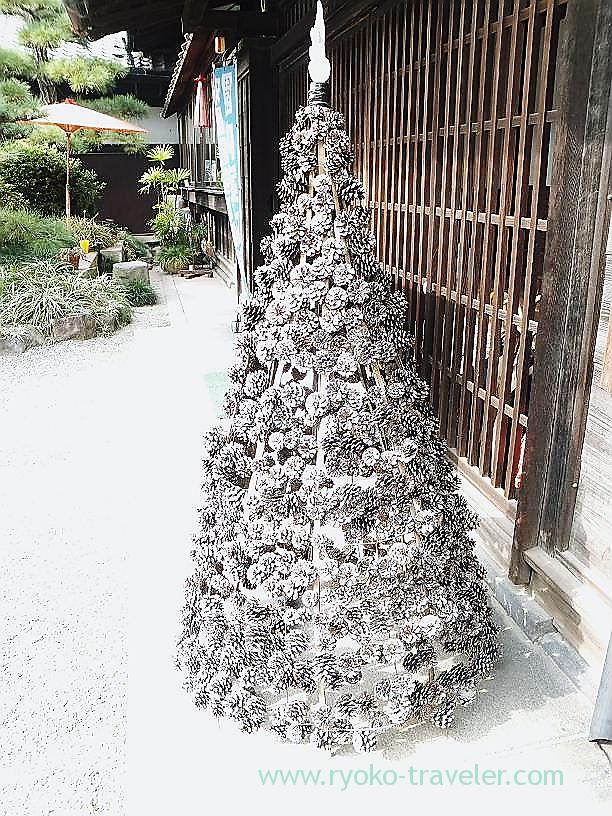 Tokushima and Kagawa 2011 (11) Tamamo Garden

After I left the hotel, I had to go Takamatsu station or Kawaramachi station for leave my baggage to the locker. I deci...


I wanted to eat udon, but it was too late. Almost all udon shops were already closed.
There were few restaurants that was open.
This restaurant looked good and the price on the menus were inexpensive. So, I decided to enter the shop.
Tsuyu
Tsukimi Udon (月見うどん)
An egg and grated diakon radish was at the center.
The soup was… well. it tasted as you see.
So weak !

This was the weakest foods that I ate in recent ten years.
I said good-by to this Hage-san in the park and went to Tokushima airport via Tokushima station.
When I got to Tokushima airport, there left much time and I felt hungry (The amount of udon that I ate at Takamatsu was too small !)
So I ate Tokushima ramen (徳島ラーメン). Tokushima ramen is sukiyaki-like ramen.
Do you know Tokushima ramen is not local foods of Tokushima ? 😛
Though I brought my suitcase to the seats in the plane to Tokushima, I bought Japanese sake and seasonings. Now bringing liquid into the seats are prohibited.
So I left it to check-in counter. I rolled Japanese sake with towel carefully 🙁
I searched airport lounge, but I couldn't find it. Where ? I had no choice but to wait at packed lobby.
The plane took us to Haneda airport about one hour.
My Japanese sake in the suitcase was in safe 🙂
If it was in Hawaii, everything must be broken ! They throw our baggages in our eyes !!
About Tsuyu (都由)
Address / 9-1 Kataharamachi, Takamatsu-shi, Kagawa
Open / 11:30 – 14:00, 17:00 – 19:30
Close / Thursdays
Website / http://www.tsuyu.ne.jp/(in Japanese only)
About Marutaka Tokushima Awaodori Airport branch (まるたか 徳島阿波おどり空港店)
Address / Tokushima Awaodori Airport 16-2, Aza-Asahino, Toyohisa, Matsushigecho, Itano-gun, Tokushima
Open / 11:00 – 19:15
Close / No scheduled