After I left the hotel, I had to go Takamatsu station or Kawaramachi station for leave my baggage to the locker.
I decided to go to Takamatsu station because around Kawaramachi station seemed complicate and the road to Takamatsu station is wider.
My hotel gave me a breakfast ticket of Yoshinoya near the hotel (Included in the fee). So, I dropped in at the Yoshinoya branch and ate grilled salmon set at Yoshinoya on my way to Takamatsu station 🙂
After 20 minutes walk, I got to Takamatsu station and left my baggage into the locker in the station. And then I headed to Tamamo garden.
Tamamo garden in front of Takamatsu station.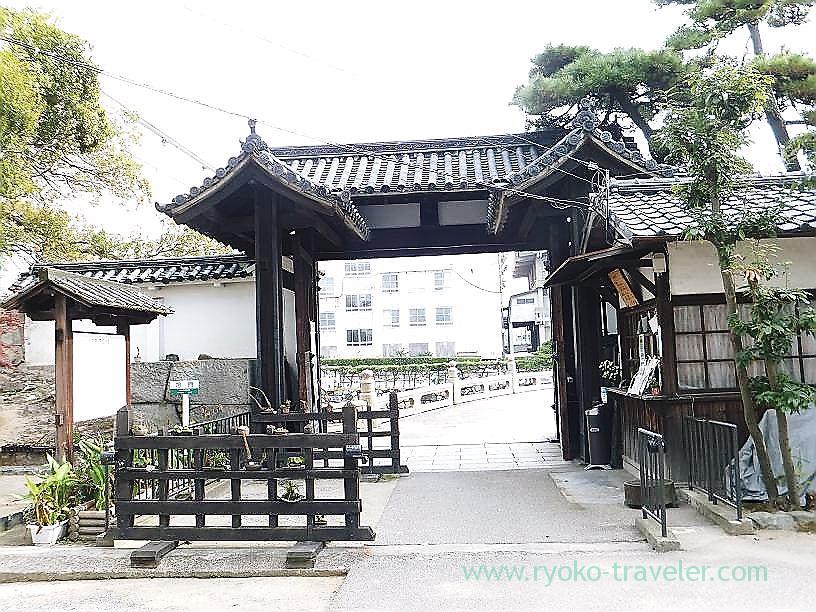 Tamamo Castle (Takamatsu Castle)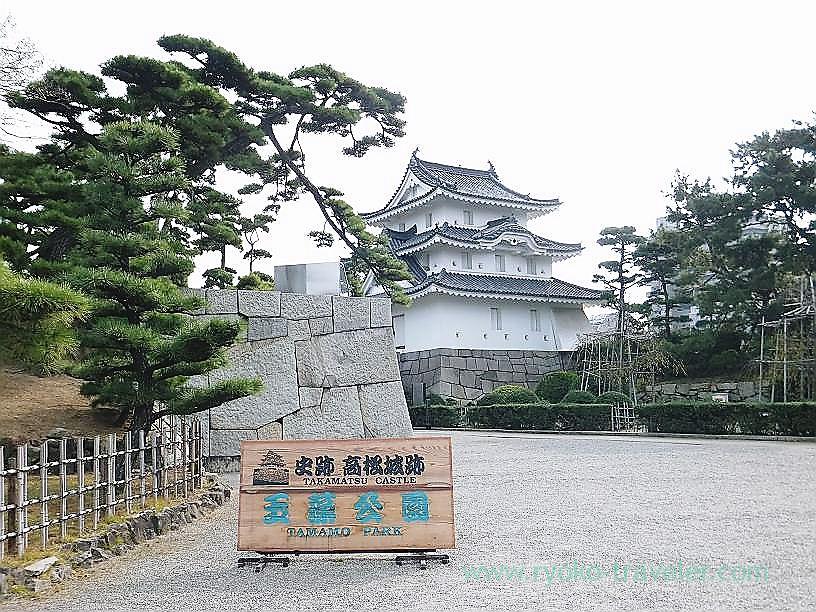 Though its official name is Takamatsu castle, it is also called Tamamo castle.
It is because around sea of this area used to be called "Tamamo no ura" in ancient times.
by digging ditches double and triple
The castle used to be surrounded by triple moats. The castle wall was faced with Setonaikai (Seto Inland sea) directly and outer, middle and inner moat have sea water drawn from the sea.
This is the first sea castle in Japan.
It is said that feeding those carps make your wishes come true.
Sea bream there
What happened to this tree ?
Are you OK ?
sayabashi (Saya bridge) between Honmaru and Ninomaru was under construction.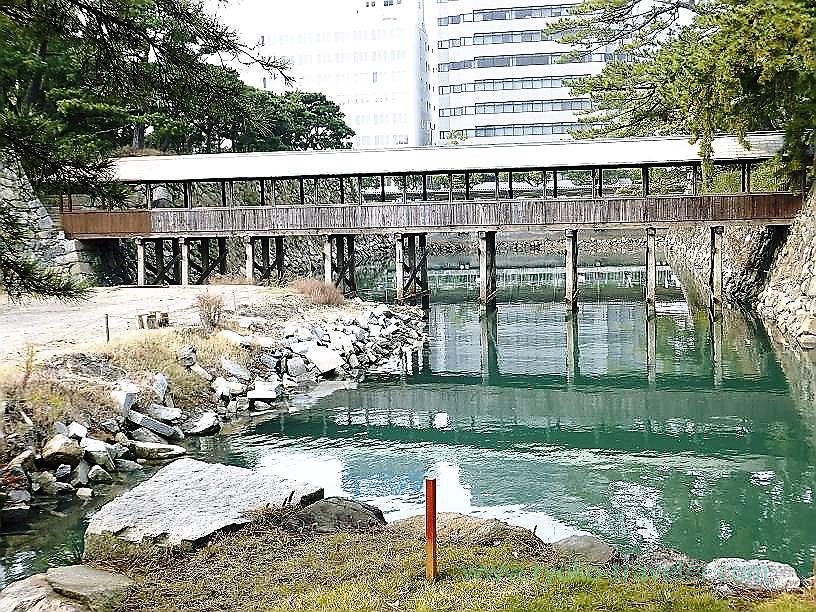 Successive lords of Takamatsu castle
The garden is beautiful. As same as Ritsurin Garden, this garden have lots of pine trees, too. Naien Oniwa.
There's weeping cherry tree. It must be beautiful in Spring.
Pine cones collection box.
Gathered pine cones are materials for artificial tree and used for drying mushrooms.
I tried go to the top of the castle. But because of the steep staircase, I couldn't go up to the third floor.
I felt I was climbing.
The trouble occured when I went down to the ground floor. I got a crick in the leg…
I took more time than expected at this park and had not much time to go another place. After all I decided to have lunch somewhere and go to Tokushima airport.
I should have taken flight from Takamatsu airport.
But I changed my schedule just before the trip.
I didn't intended to go Takamatsu at first. I planned to stay at Iya Onsen at the second night. But I knew Kazura-bashi bridge had been under repair just before the trip. So, I changed my mind and decided to go Takamatsu.
Umm. I had no luck with Iya onsen from the beginning 🙁
About Tamamo Garden (玉藻公園)
Address / 2-1, Tamamocho, Takamatsu-shi, Kagawa
Station / Takamatsu station (JR), Takamatsu Tikkou station (Kotohira Dentetsu)
Open / See website for the detail (around 6:00 – 17:00)
Close / December 29 – 31
Website / http://www.takamatsujyo.com/(in Japanese only)