Dinner course having top quality ingredients.
My friend asked me to join dinner at Tokichi 🙂
Of course, I joined the dinner !
Tokichi stand close to Tokyo Skytree and it is cozy Japanese restaurant.
This was second time to visit there. We ate wild eel last time 🙂
Kinshicho : Wild eel's hitsumabushi at Tokichi (藤吉)
Great hitsumabushi close to Tokyo skytree My friend asked me to go to eat wild eel's hitsumabushi at Oshiage with their...
Though they serve soft-shelled turtle mainly, they also serve various dishes that have great ingredients if you reserve in advance. Only 10 seats there. The chef and his wife manage the restaurant.
We reserved red sea bream-centric dinner course hat day.
At first, small bites were served.
Nikogori having skin of red sea bream (真鯛の皮の煮凝り)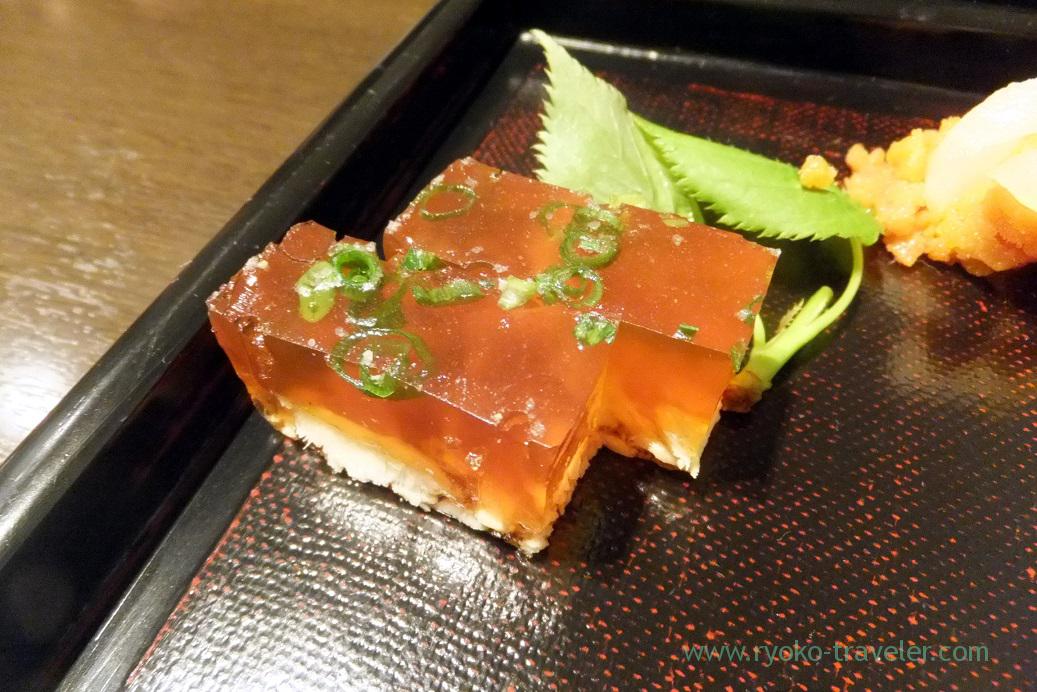 Firefly squid okizuke (蛍烏賊の沖漬け)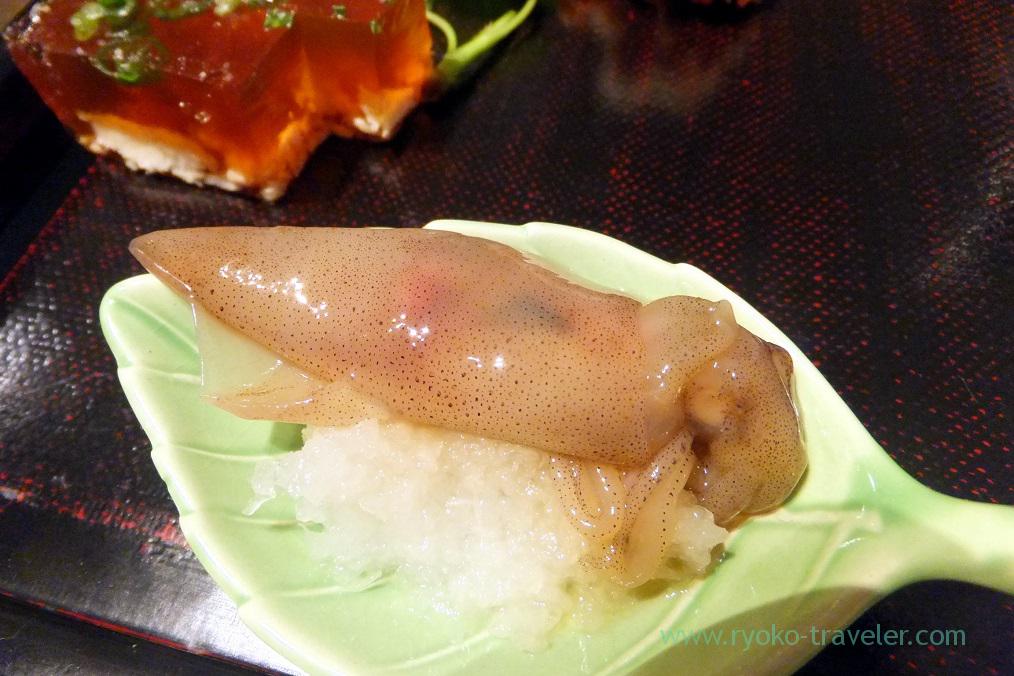 Red sea bream dressed with mullet roe (真鯛のからすみ和え)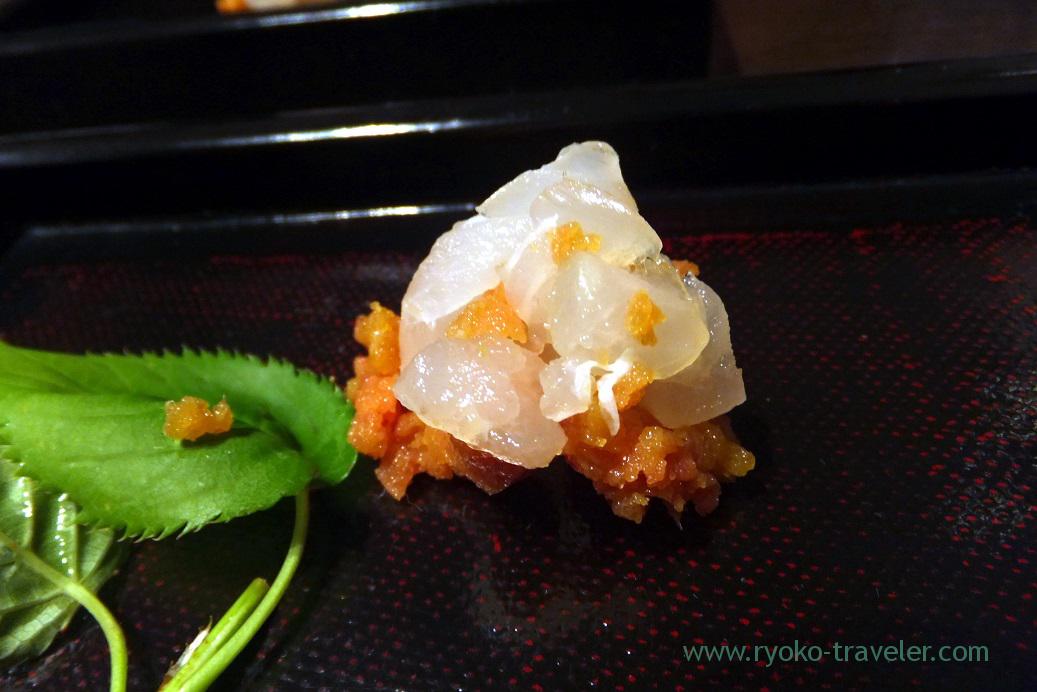 Kuruma prawn, bonito, sea urchin and red sea bream (車海老・かつお・うに・真鯛)
The Kuruma prawn was still moving ! Though it already dead, its sell was still moving.
It was moving harder than expected, so I couldn't eat well :p
Because I couldn't eat the brown meat of the kuruma prawn, the chef grilled it for me !
Boiled head of red sea bream (真鯛のかぶと煮)
Steamed head of red sea bream with Japanese sake (真鯛かぶとの酒蒸し)
I have to learn how to eat head meat of fishes well… The lady said to me I left much meat.
Last, gorgeous hotpot was served on our table !
Red sea bream shabu-shabu (真鯛のしゃぶしゃぶ)
Did shabu-shabu ! Those slices of red sea bream had springy texture and fresh. Delicious ! Also vegetables having extracts of red sea bream was awesome !
The chef served red sea bream meat around bones. So we put them into the hotpot.
We ate them with ponzu.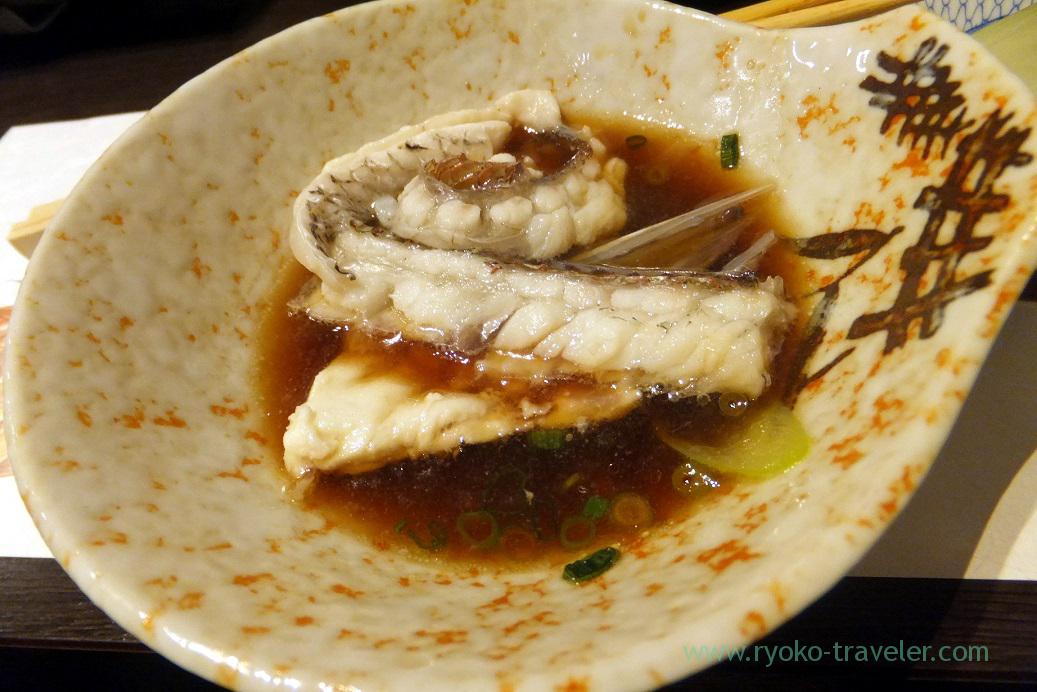 After finished eating ingredients of the hotpot, the lady cooked rice porridge made from the soup in the hotpot in front of us.
Needless to say, it had moving tastes. The soup had much extracts of red sea bream and vegetables.
With pickled vegetables.
About Banjiya Tokichi (万事屋 藤吉)
Address / 2-19-2 Taihei, Sumida-ku, Tokyo
Station / Kinshicho station (Tokyo metro, JR)
Open from Mondays to Saturdays / 17:00 – 22:30
Lunchtime from Tuesdays to Fridays / 11:30 – 13:00
Closed / Sundays and another national holidays
Website / http://www.toukichi-taishou.com/