Young sweetfish in tendon bowl.
Young sweetfish is precious fish and eaten only this season.
I didn't know the existence of "young" sweetfish until I visited Tsukiji.
Though I feel like waiting those sweetfish getting bigger, I want to eat once a year.
Where comes to mind when I hear young sweetfish in Tsukiji is Tenfusa all the same.
Tenfusa has changed before a bit.
What has changed ?
Tenfusa learned to show the ingredients of Tempura bowl on the menu. We didn't know what were topping on the rice until our tempura bowl came before, or we needed to ask the cook what are topping on. Mostly he couldn't answer soon because what the ingredients changed depending on what he had in stock at that time.
So, he couldn't answer quickly.
This was ingredients of that day's tempura bowl….
Young sweetfish !!!
I took it without hesitation !!!
Tempura bowl don't have miso soup because it's not set menu but a la carte.
Because that day was so muggy since the morning, I didn't need hot miso soup.
Rice refill used to be free at Tenfusa, but recently one refill bacame 100 yen.
(Maybe because there were some people who had third or fourth helping … :P)
We added tidepool gunnel on it. We shared one portion of tidepool gunnel 🙂
Tidepool gunnel is known to be caught in Spring, but actually, it is caught all year around.
Tenfusa also serve tidepool gunnel until early autumn.
Tempura bowl (天丼) 1200 yen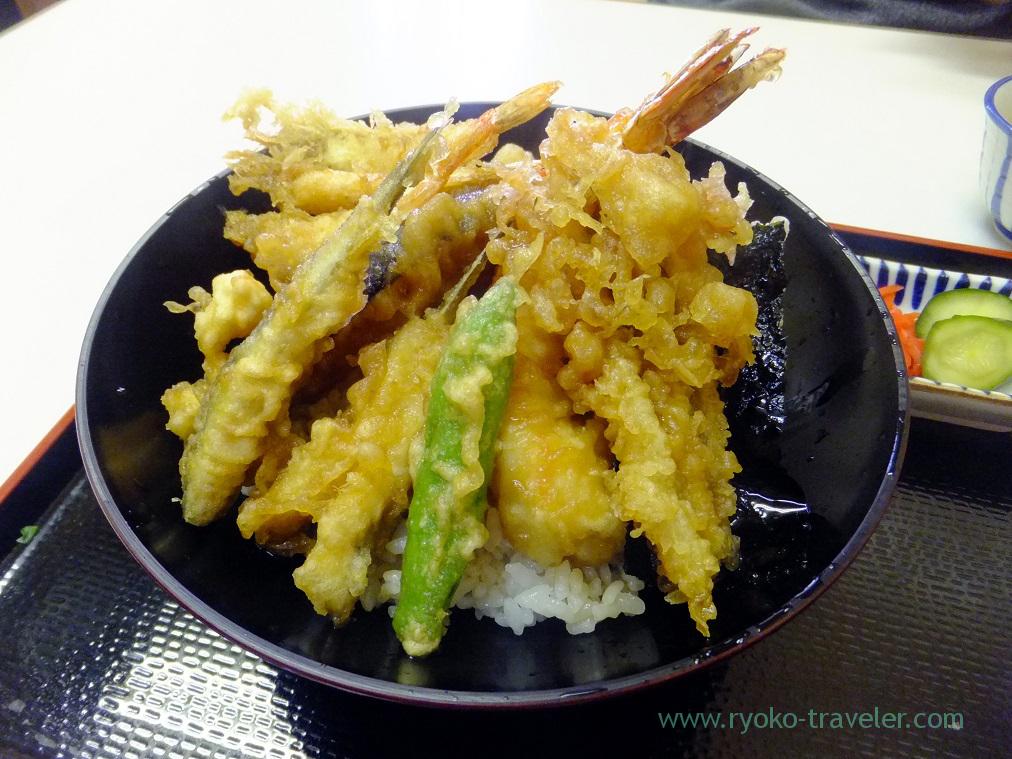 Young sweetfish !!!
This young sweetfish had bitter innards and its meat was sweet as its name and soft.
And shiba shrimp, shrimp, conger eel, sweet green pepper, seaweed and big-eyed flathead. Every ingredients were good 🙂
After got out of Tenfusa, we had a coffee at Turret coffee.
I rarely drink cold things, but that day was muggy since the morning, so choiced a cold vanilla soy latte (バニラソイラテ, 490 yen) 🙂
About Tenfusa (天房)
Address / Tsukiji Market Bldg No.6, 5-2-1 Tsukiji, Chuo-ku, Tokyo
Station / Tsukijishijo station (Toei subway)
Open / 7:00 – 14:00
Closed / Market's holidays
About Turret coffee (ターレットコーヒー)
Address / SK Higashi-Ginza Bldg 1F, 2-12-6 Tsukiji, Chuo-ku, Tokyo
Station / Tsukiji sation (Tokyo metro)
Open / 7:00 – 18:00
Saturdays – 10:00 – 18:00
Closed / No scheduled