You can eat Thai foods at Tsukiji, too !
There are many attracting lunch spots a little some distance from the center of Tsukiji. Walking around there is really fun !
This is one of the restaurant that attracted me. The appearance is nice 🙂
Tarad Nut
This restaurant is further from Hajime Sengyo-ten that is my favorite lunch spot. But I tried Tarad Nut.
There is long counter table surrounding the kitchen and there is a window for accepting orders of bento besides the door.
They sell bento for 600 yen and it is more inexpensive than eating in the restaurant. So, there are more people buying bento than eating inside the restaurant.
I agree. If I work near the restaurant, I would often buy bento at there 🙂
They serve six kinds of foods at lunchtime. Every foods are 900 yen. If you buy it as bento, those are 600 yen 🙂
I chose Gapao Gai (ガパオ・ガイ, 900 yen). Fried chickens with basil.
The set have salad and soup because I ordered it inside the shop.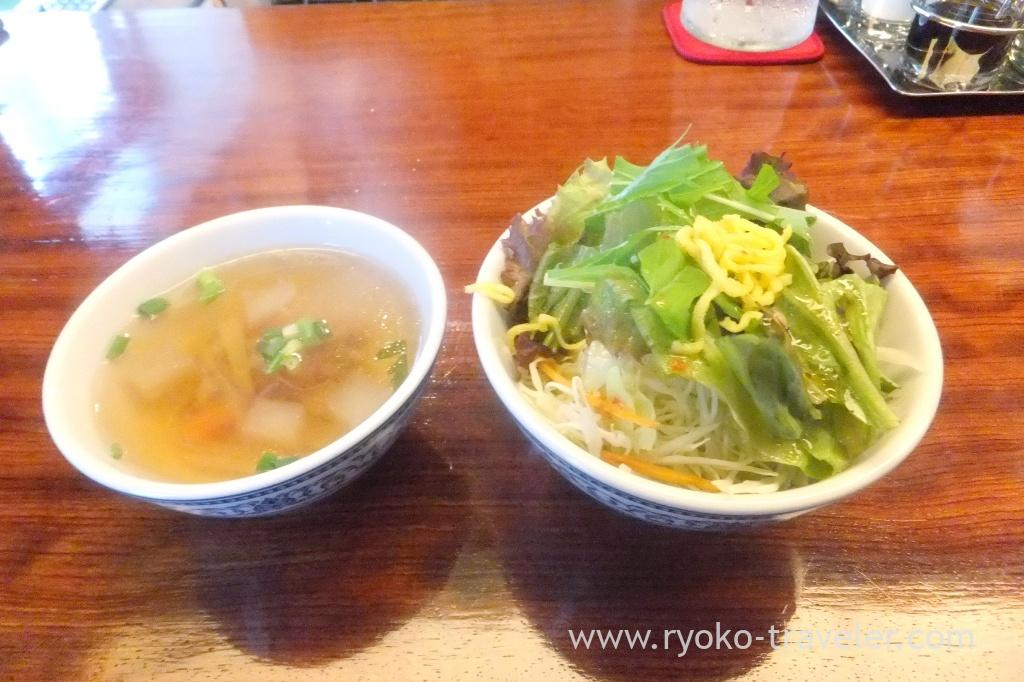 While eating the salad and the soup, my gapao was served soon.
It looked cute, but the amount of rice was large… The fried foods, too.
The rice was Jasmine rice 🙂 The sauce soaked into the rice well ! The texture of the rice was good. But it was rather Japanese tastes.
It was seasoned with Japanese soy sauce, not nam pla (Thai fish sauce).
And also it didn't have much coriander. I wanted more coriander … 😛
Anyway, it was large ! I managed to eat it up !
Not only simple lunch sets, but also there are many options, for example, small curry and rice,
There is a sushi restaurant next to Tarad Nut and I also want to visit there !
Recently I'm very far from my office at lunchtime 😛
I can't come back to my office withing 60 minutes !
About Tarad Nut (タラーナット)
Address / 7-14-13 Tsukiji, Chuo-ku, Tokyo
Station / Tsukiji station (Tokyo metro)
Open / 11:30 – 14:30, 17:30 – 23:00
Closed / Sundays and another national holidays