Onsen meguri and dinner at Tamagoyu 🙂
There are several accommodations in Takayu Onsen area. Each accommodations have good Sulfur spring.
But Tamagoyu have one big bathroom that is named Taki-no-yu(滝の湯) and small bathroom that is named Senke-no-yu(仙気の湯) in the building. And there is a bath hut above and one open-air bath outside.
The alley is dotted with Open-air bath and bath hut.
Open-air bath.
This day, left was for men and right was for women. It changes every day.
They never heat those onsen water and also never add pure water in those bathtubs. So, sometimes the onsen water is not hot enough.
Once you put your body into the bathtub, it is hard to get out of the bathtub. The air is so cold 😛
And there is another open-air bath for women.
The bathtub is half covered with the roof. It is not quite an open-air bath.
So, you can spend time comfortably in the bathtub even in the heavy snowfalls.
Certainly, it is pleasant to take open-air bath feeling cool air. But it is said that indoor bath is far more better than open-air bath in terms of those freshness.
Because onsen water deteriorate by being exposed by cold air outside.
They say this onsen water is act on articular rheumatism, diabetic, hemorrhoids,high blood pressure, stroke, burning, broken bone, female disorders, and so on…
I like their baths best in all of onsen baths that I had visited.
Well, there is no doubt that its onsen is wonderful, but dishes are….
Those are good looking, but those taste is not good. Not bad, and not good. But, it's OK. Tamagoyu have good spring. So I don't mind at all.
Boiled fish.
Tempura. It was cold… 🙁
One-pot dish.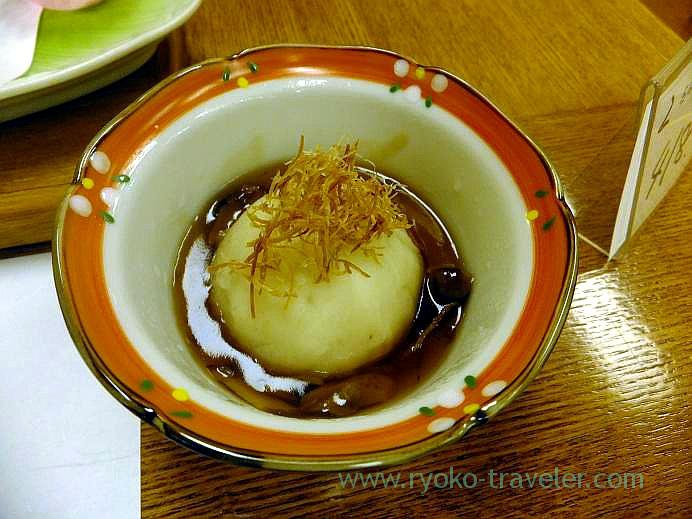 Clear soup.
Apple sorbet.
Tamagoyu Original Beer. Local brew. Red ale.My mom drunk. I don't like drink while eating.
She said it was good. It is sold at the souvenir shop in the ryokan.
After the dinner, I went to the big bathroom next to our room and I took the onsen bath again.
Then, I fell asleep before 9 p.m.
About Ryokan Tamagoyu (旅館 玉子湯)
Address / 7 Niwasaka-Aza-Takayu, Fukushima-shi, Fukushima
Station / Fukushima station (JR)
Price / 10000 yen (dinner and breakfast included)
Website / http://www.tamagoyu.net/(in Japanese only)