Hidden cozy restaurant in the temple town.
I visited Tamacyano in Monzen-nakacho area again.
Tama is Italian food restaurant and they have only 10 counter seats. So, we must reserve in advance.
We occupied six seats that time.
We toasted with sparkling wine and assorted antipasto (前菜盛り合わせ).
Raw oysters with basil pesto (生がきのジェノベーゼソース)
My delight ! lightly seasoned basil pesto was good 🙂
Herb-crusted grilled sardines (いわしの香草パン粉焼き)
These sardines were so fatty. Though the crust was crisp, both its meat and skin was soft.
Peach and yogurt soup (桃とヨーグルトのスープ)
It didn't have sourness of yogurt. It had good smell of sweet peach !
Mussels steamed with white wine (ムール貝の白ワイン蒸し)
Mussels was from South spring field of Canada.
Grilled fillet of marlin, Sicilia-style (カジキマグロのフィレ肉ソテー シチリア風)
Grilled fillet of marlin, Sicilia-style (えひめのはものフリット カレー風味)
We were surprised at this food. Though it is Italian foods restaurant, they serve foods seasoned with curry ! Spicy ! The sourness of the squeezed lemon was good !
Summer sweet corn jelly (夏のスイートコーンのジェリー)
It was really sweet corn as its name.
Minced meat creamy croquette (牛挽肉のクリームコロッケ)
Deep fried minced meat ball. It had creamy sauce was in it. Sour and sweet tomato sauce and shredded cheese on it.
Yamagata roast beef (山形牛のローストビーフ)
The longer I chewed it, the more flavorsome it became.
And we ordered bread for soaking the sauce into it.
Mozzarella with tomato and almond sauce (モッツァレラのトマトアーモンドソース)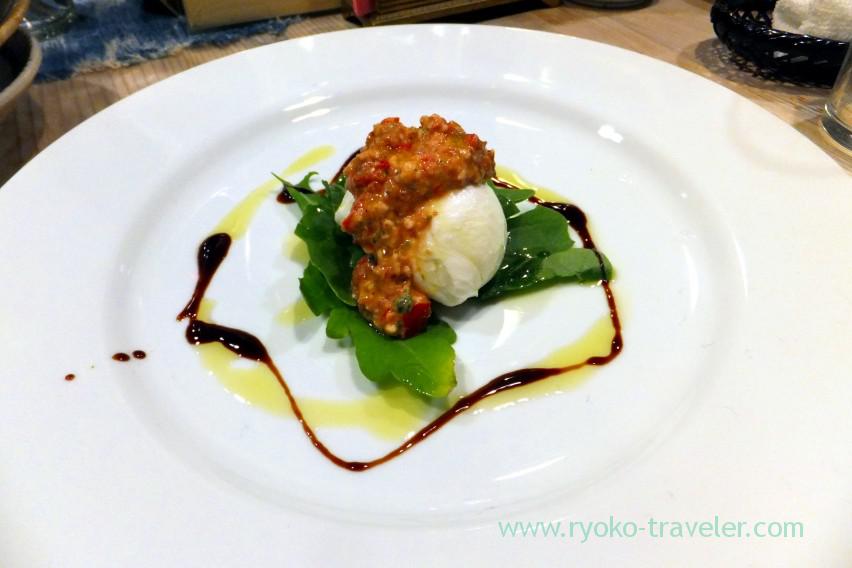 Spaghetti with squid and zucchini (白いかとズッキーニのパスタ)
The squid had springy texture and was delicious !
Spaghetti with basil pesto, almond and caper, Sicilia-style (シチリア風ジェノベーゼとアーモンドとケイパーのパスタ)
It had good smell of basil pesto and caper. Delicious.
Last, of course, we had dessert.Peach Compote (桃のコンポート)
Both the jelly and the compote was delicious !
My best food in this dinner ?
It's difficult question.. Umm.
suffice it to say that, mussels was the best 🙂
About TamaCyano
Address / 2-18-12 Fukagawa, Koto-ku, Tokyo
Station / Monzen-nakacho station (Toei subway, Tokyo metro)
Open / 18:00 – 23:00
Closed / Mondays, Sundays and another national holidays