Speaking of takoyaki, I remember "GINDAKO" that is expensive and they wait their guests more than necessary.
And food stands at festivals.
And food court in Ito Yokado ….
I was giving up eating tasty takoyaki at lower price in Kanto area.
But there is a nice takoyaki shop in Kounodai !
Kounodai  is very local place and I visit the place for taking examination one or two times a year 😛
The shop's name is  Takorin !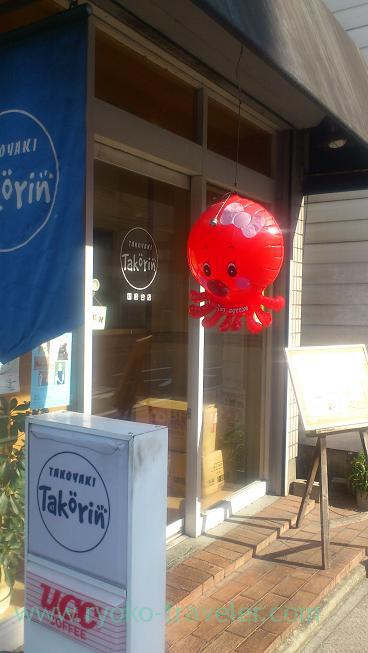 Cute octopus welcomed us 🙂
It takes about 20 minutes to cook the takoyaki because the takoyaki was so big and they start to cook after ordering.
We can carry-out the takoyaki, but it is better to order on the phone in advance.
Water is free (self-service), so we didn't have to order any drinks, but, we thought it takes much time because it was so crowded.
So, we ordered drinks. My drink was hot tea. My tea came in the pot and I could drink three cup of tea. It cost me 220 yen. Inexpensive.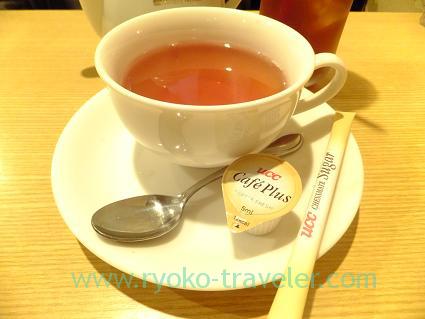 And beer is on menus. Some people ate takoyaki with a beer on their hands.
4 takoyaki 220 yen
6 takoyaki 310 yen
8 takoyaki 400 yen
The flavors are worcester sauce or soup stock and soy sauce. I ordered six takoyaki. 3 takoyaki was worcester sauce and another was soup stock and soy sauce flavor.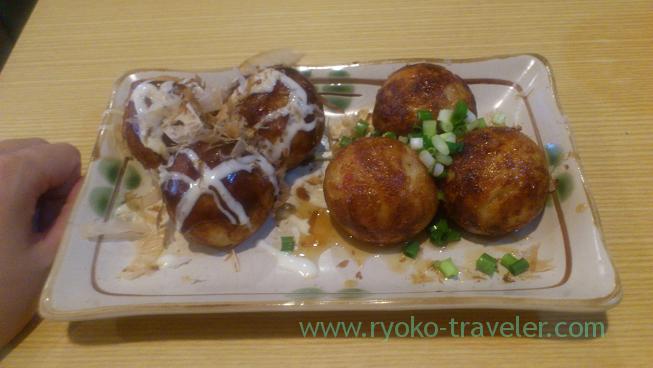 This takoyaki was so good. The inside was creamy and the outside was crisp. A, its inside was so hot !
I like my takoyaki with worcester sauce, mayonnaise and dried bonito all the same 🙂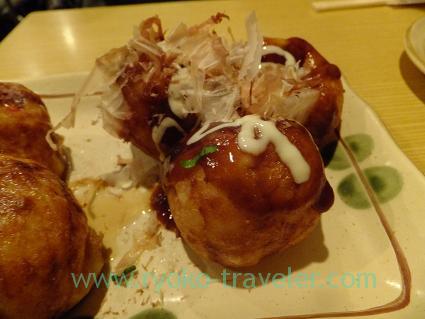 たこりん (Takorin)
4-6-10 Ichikawa, Ichikawa-shi, Chiba
Open – from 11:00 to 23:30
Holiday – 1st and 3rd Wednesday