Well-known shop, but hard to visit for tourists
Recently Tsukiji on Saturdays is packed with so much people and I have no idea where to go. Almost all shops have long line !
The best choice to solve the problem is following specialist of enjoying Tsukiji ! So, we asked him to take us to shop that he recommends 🙂
He chose this shop that is named Takeno.
Takeno is one of the most difficult shop for strangers in Tsukiji ! Takeno stands along such a narrow alley !
I went to there once at lunchtime. It was lunchtime that time, too. But two people drunk alcoholic drinks and ordered many foods 😛
Mukantei (無冠帝), a kind of Japanese sake
So someone who can drink alcoholic drinks drunk.
I had a dental treatment after the feast, so I didn't drink it. The bottle was beautiful ….
Two person drunk it up 🙂
At first otoshi was served. Fava bean (空豆)
The reason why Takeno is difficult for tourists is it.
Menu have too much food. And prices of foods containing seafood is current price. (But it is not expensive like sushi shop around Ginza :P)
(And staffs are unfriendly. I heard they (are family) have quarrel so frequently.
But their foods are delicious !
Sea urchin (生うに)
Whelk and greenlin (ツブ貝とあいなめ)
The welk is, as you see, fresh and its texture was good !
Boiled butterbur and bamboo shoot (ふきと新筍の煮つけ)
Now is middle of Spring !
Simmered spear squid wth soy sauce (やりいか煮)
It contained its foot inside and simmered.
Its section is like this.
Takeno's deep fried oysters is too popular among people who love Tsukiji because of its appearance.
Like straw bag !
Deep fried oysters (カキフライ)
One deep fried oysters had two oysters that day.
I thought deep fried oysters season was already finished, but fortunately they still served. But it'll be end soon.
Sardine (いわし)
So fatty sardines contrary to our expectations ! Though it was not sardines' best season !
And we ordered some tempura.
Sillago and big-eyed flathead tempura (キスとめごちの天ぷら)
Those tempura was so crisp 🙂
*Deried sardine (めざし)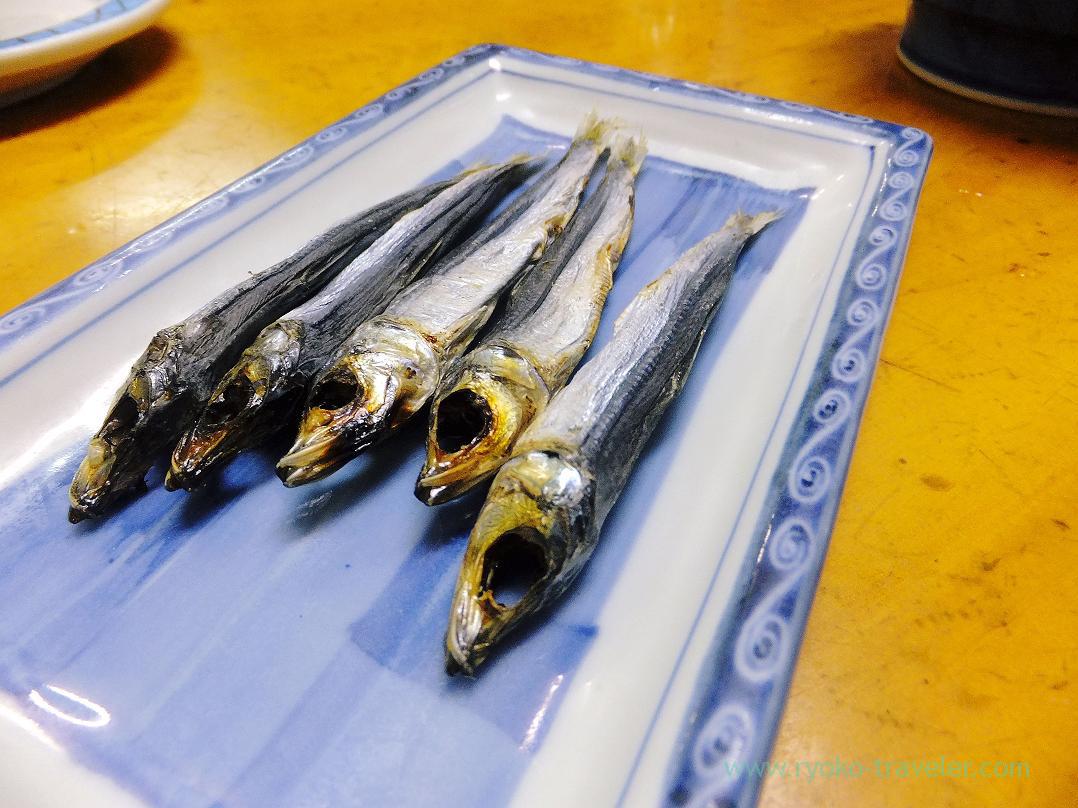 I like this bitterness. It is often my breakfast 😛
We ordered it on the way. But I don't remember. Maybe dried cod ?

Fried spinach and eggs (ほうれん草と玉子の炒め物)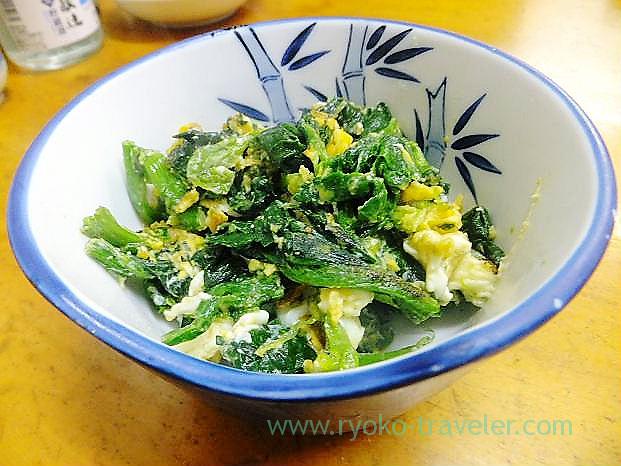 It was good. This is made from something in the ordinary supermarket. So, I want to try cooking it.
Those were really tasty. I searched my blog and I found I post about Takeno last time three years ago. And same day ! Oh my !
Truthfully speaking, I want to go there more often than now…
http://www.ryoko-traveler.com/takeno1/
About Takeno (多け乃)
Address / 6-21-2 Tsukiji, Chuo-ku, Tokyo
Station / Tsukiji station (Tokyo metro)
Open / 11:00 – 21:00
Saturdays / 11:00 – 20:00
Closed / Sundays and another national holidays