About 10000 plum trees there
Though I already posted about cherry blossoms, let me post about plum blossoms 😛
Ordinary cherry blossoms are in full bloom after plum blossoms season is over. But this year, cherry blossoms were beginning to bloom while plum blossoms were in full bloom because of extremely warm weather. So you could see both cherry blossoms and plum blossoms at many place 🙂

Great gift from the earth. Finally, I went to Chidorigafuchi moat to see cherry blossoms this morning. Though it was still 7 a.m., there were lots of people to see cherry blossoms. Most of peopl...
 Beautiful cherry blossoms in the dark I posted about my visiting Chidorigafuchi in the morning the other day. And more ! I visited Chidorigafuchi moat again after working late to see cherry blossom...
It was about half a month ago, I went to
Takao plum grove
and saw much plum blossoms to the full.
Takao Plum Grove is near Takao station that is known as the closest station to Mt.Takao.
There are about 10000 plum trees along old Koshu Kaido street and Kobotoke river.
I intended to post about it earlier, but cherry blossoms bloomed and fell earlier than expected 🙁
Takao Plum Grove is divided five sections like parks.
It took about 5 hours from the station.
From 15 minutes walk from Takao station, I got to Komakino park (駒木野庭園).
Such vivid blossoms attracted me.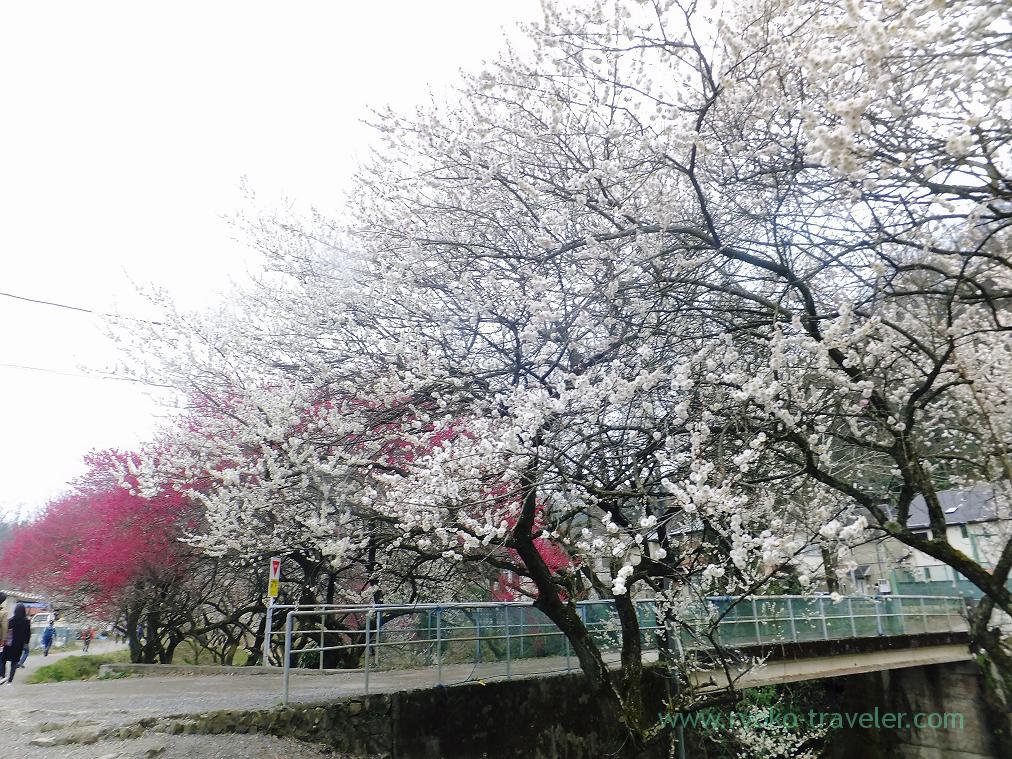 Tenjin plum grove (天神梅林)
It was like short hill. Small shrine that is named Takao Tenmangu Shrine was top of the park.
Yunohana plum grove (湯の花梅林)
Entering the park is restricted now.
Kobotoke plum grove (小仏梅林)
Strictly speaking, "Kobotoke plum grove" don't exist now.
When "Kobotoke plum grove" is used, it means some plum trees near Kobotoke bus stop now.
There's railway and tunnel.It's very fun to take photos of blossoms and them together.
After that I went to the biggest park in Takao grove district.
Kogesawa plum grove (木下沢梅林)
It is open during the plum blossoms festival only.
There were so many plum trees. So if I go visit Takao plum grove district again, I'll be satisfied with entering the park only.
Arai plum grove (荒井梅林)
Tiny park. I took much time to find the park. And entering the park was restricted.
I took the picture from out of the fence.
Sekisho plum grove (関所梅林)
Also it was hard for me to find it. And I was about to go past 😛
It was like children's play ground.
Few plum trees…
This year, I saw much plum blossoms to my heart's content. Also I saw beautiful cherry blossoms !
I want to enjoy Spring season with Spring foods like firefly squid and bonito.
But to my sad, winter have come back. it has been cold these days. Where do Spring go ? Come back !
About Takao plum grove, Takao baigo grove (高尾梅郷)
Station / Takao station (JR, Keio)
Website / http://www.mustlovejapan.com/subject/takao_baigo/ (English, Unofficial)