Tsukiji on Saturdays after a long absence.
I went to Tsukiji on Saturday after a long long long interval.
For visiting Takahashi after years absence !
Takahashi is open from 8 a.m., so I can't go there on work days.
I took first train and got to there around 6:30 a.m. !
But there were already about 8 people in front of the closed door.
(This photo was taken after the opening time)
We had to wait one and half hour, but I had pleasant chat with my friends, so the time flew by quickly.
As soon as we were seated, we saw the menu in front of the table.
But I had no idea what to eat, and I heard my friends' order. Many people ordered wild-grown red sea bream sashimi (天然鯛の刺身, 2500 yen), so, I decided to eat it.
Takahashi serves fresh seafood at higher price compared with another eateries in Tsukiji Market. But it's worth paying 🙂
And I ordered it, too. Conger eel jelly (穴子の煮凝り, 600 yen).
I knew it is delicious because I had eaten it before. The salted jelly is delicious 🙂
Thanks to my friend, I could enjoy Saturdays' Tsukiji and Takahashi 🙂
Then we moved to Four season. Also long time has passed since I visited Four season last.
They seems so busy as usual. I was glad that I could say "hello" to them 🙂
We enjoyed talking with coffee for a while.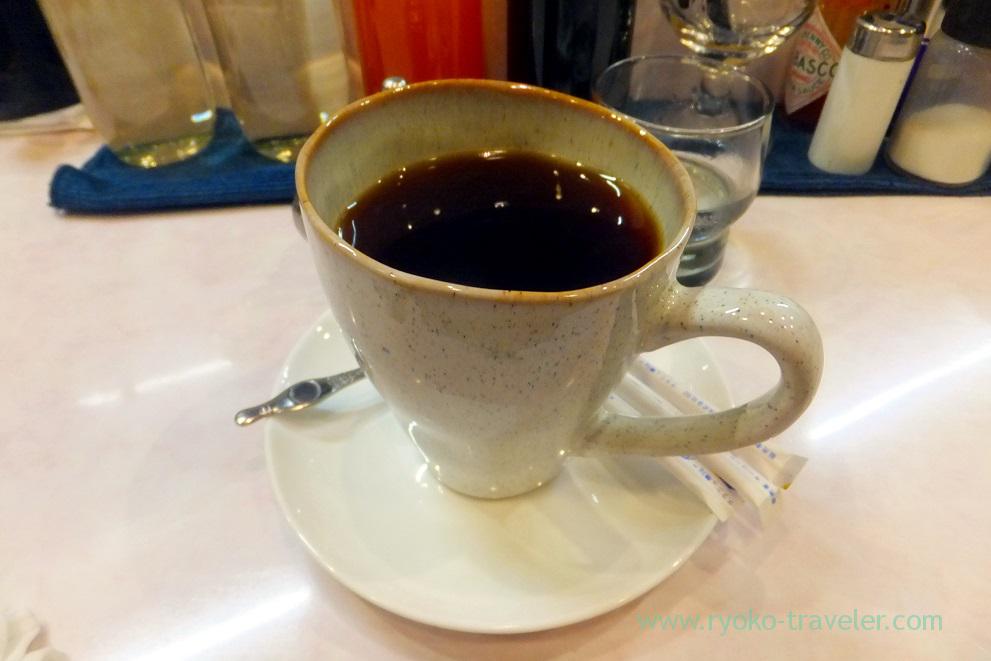 And then, we had another cup of coffee at Turret coffee :p
This is Tsukiji Latte that I had wanted to drink for along time. It had matcha latte and espresso. And azuki beans at the bottom of it.
I enjoyed a lot, but I felt sleepy. So I said good-bye to my friends and went back to home at noon.
It was still noon ! It was a long day !
I want to visit Tsukiji on Saturday again before moving to Toyosu.
About Takahashi (高はし)
Address / Tsukiji Market Bldg No.8, 5-2-1 Tsukiji, Chuo-ku, Tokyo
Station / Tsukijishijo station (Toei subway)
Open / 8:00 – 13:00
Closed / Market's holidays
About Four season (フォーシーズン)
Address / Bldg 2F, 4-14-4 Tsukiji, Chuo-ku, Tokyo
Station / Tsukijishijo station (Toei subway)
Open / 7:30 – 17:00
Closed / Sundays and another national holidays
About Turret coffee (ターレットコーヒー)
Address / SK Higashi-Ginza Bldg 1F, 2-12-6 Tsukiji, Chuo-ku, Tokyo
Station / Tsukiji sation (Tokyo metro)
Open / 7:00 – 18:00
Saturdays – 10:00 – 18:00
Closed / No scheduled