I took a day off only for Takahashi
There are some eateries that I can't go on weekdays' morning because these eateries opens late.
Takahashi (高はし) is one of those eateries that I had wanted to visit once.
The shop opens from 8 a.m. I can't arrive at office on time.
There is no choice but to go on my holidays.
This, I took a day off for eating at Takahashi, Tsukiji (near my office :P)
Takahashi
I saw an waiter drawing double crossed line on the sashimi of billfish close to.
But that didn't matter for us.
We were happy that we could eat both dishes that we had wanted to.
Anglerfish meat in a pot (あんこう煮, 3370 yen)
Tofu and vegetables were in it, too.
It had many parts of angerfish in it. Especially, I like liver of angerfish.
Boiled slime flounder with soy sauce (なめたかれい煮, 3000 yen)
Transpicuous fish stocks was a enormously flavorful.
This seems strong taste, but it didn't.
We ordered a bottom part of a slime flounder.
A slime flounder is divided by three part of it. Top, middle and bottom part of it.
Guests can order which part of the fish.
Its eggs had popping sounds 🙂
Scallops sashimi (ほたて刺身, 600 yen)
Look at it! This scallops are glossy. It were perfect scallops !
Then, we moved to Soramachi close to Tokyo Sky Tree.
Lemson's in Soramachi is soft ice cream shop.
Guests dish up their cup by theirselves.
There are many kinds of soft ice cream machines, fruits, toppings and so on.
Of course I tried it.
Watermelon flavored and strawberry yogurt flavored soft ice cream. It is difficult to understand from this picture, but those soft ice creams were light pink. And I tried to put some slices of fruits on it, but I remembered that the price depends on its weight.
So, I stopped putting fruits any more and I put chocolate-tips on it. 😛 After all, mine was near 700 yen.
The watermelon soft ice cream was so tasty. It had a real watermelon's taste. Naturally, and clearly. I do want to try again. I think I can dish up more good next time 😐
We also visited Sumida Aquarium. It is not large aquarium.
But there are many kinds of fishes in the tanks.
Fantastic.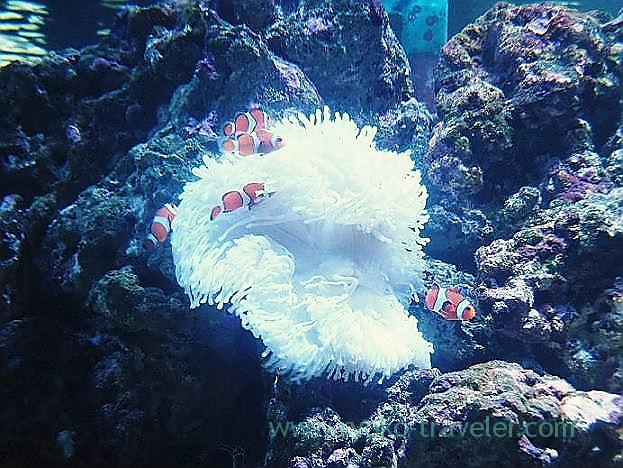 Too many penguins.
Rilakkuma store. How cute!
Those products are in this shop only.
Rilakkuma, Korilakkuma and Kiiroitori capture Tokyo Sky Tree :).
Even with that, Tokyo Sky Tree is small or Rilakkuma is big … 😛
About Takahashi (高はし)
Address / Tsukiji Market Bldg No.8, 5-2-1 Tsukiji, Chuo-ku, Tokyo
Station / Tsukijishijo station (Toei subway)
Open / 8:00 – 13:00
Closed / Market's
holidays
About Lemson's Tokyo Skytree Town, Soramachi branch (レムソンズ とうきょうスカイツリータウン・ソラマチ店)
Address / Tokyo Skytree Town from 2F, 1-1-2 Oshiage, Sumida-ku, Tokyo
Station / Oshiage station (Toei subway, Tokyo metro)
Open / 10:00 – 21:00
Closed / No scheduled
Website / http://www.lemsons.jp/(in Japanese only)
About Sumida Aquarium (すみだ水族館)
Address / Tokyo Skytree Town 5-6F, 1-1-2 Oshiage, Sumida-ku, Tokyo
Station / Oshiage station (Tokyo metro, Toei subway)
Open / 9:00 – 21:00
Closed / No scheduled
Website / http://www.sumida-aquarium.com/(English)
About Rilakkuma store (リラックマストア)
Address / Tokyo Skytree Town 3F, 1-1-2 Oshiage, Sumida-ku, Tokyo
Station / Oshiage station (Tokyo metro, Toei subway)
Open / 10:00 – 21:00
Closed / No scheduled