Sadly speaking, one of the good restaurant in Tsukiji area is going to be closed the end of this month.
Originally, the chef rent the restaurant in the daytime limited.
So, the chef said he will seek another place.
The restaurant is open to only for members at nights.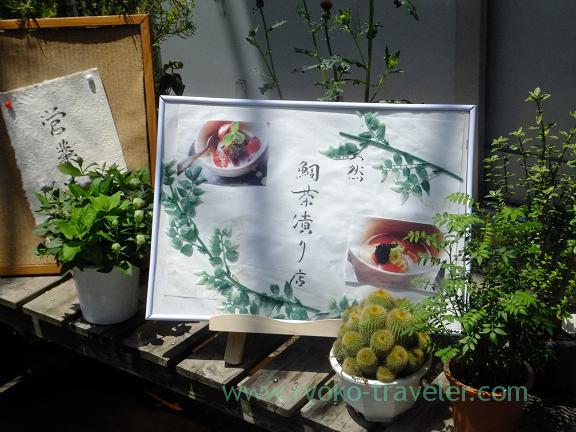 There were two kinds of sets.
One had one appetizer and tai-chazuke, and another had three appetizers and tai-chazuke.
The later is, though the chef said he would serve three appetizers, we obtained the information that he might serve five appetizers.
So, we ordered the later set.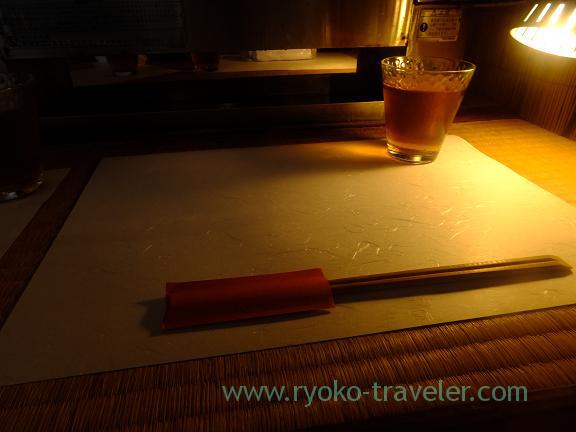 First appetizer.
*Aigamo-duck chawanmushi (合鴨の茶わん蒸し)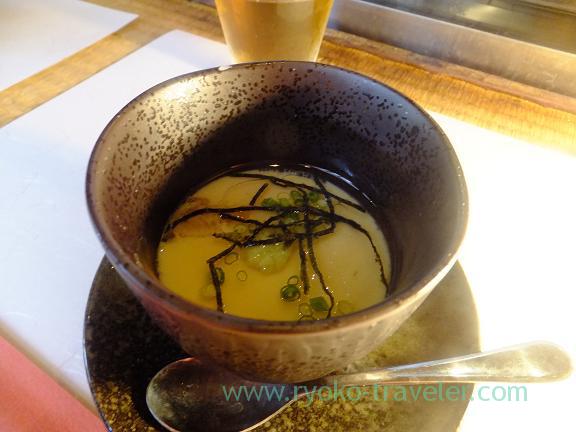 It's texture was smooth and it was so tasty 🙂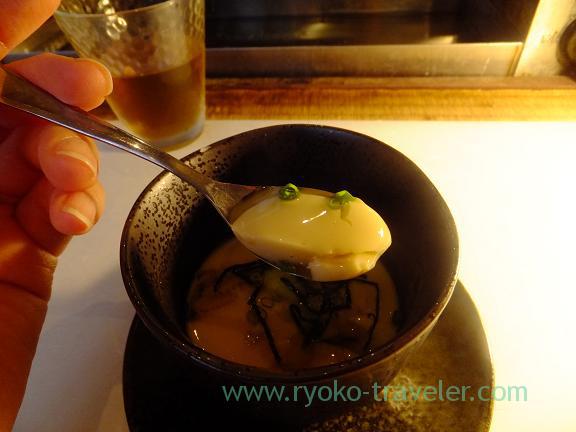 Second.
*Pike conger from Amakusa with vinegared miso (天草のハモの酢味噌がけ)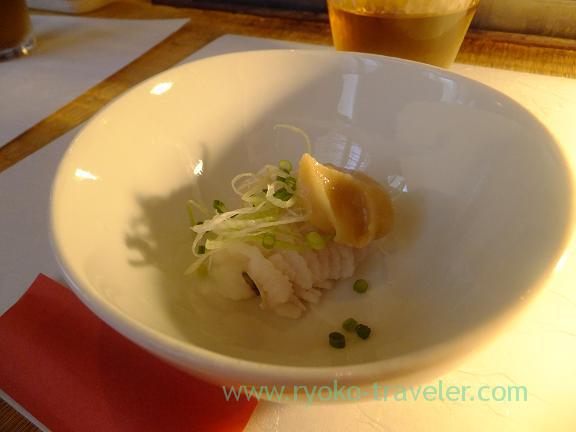 The vinegared miso was from Kyoto.
Third.
*Grilled salted sillago from Futtsu (富津のキスの塩焼き)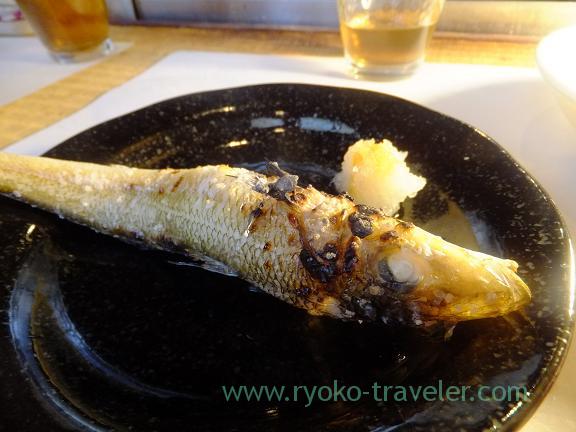 I had never eaten sillago by grilling ! Sillago season is now. The meat was soft, but it had much hard bones. I think tasty foods are hard to eat 😛
Fourth.
*Boiled sea bream from Awaji with soy sauce (淡路の鯛の煮つけ)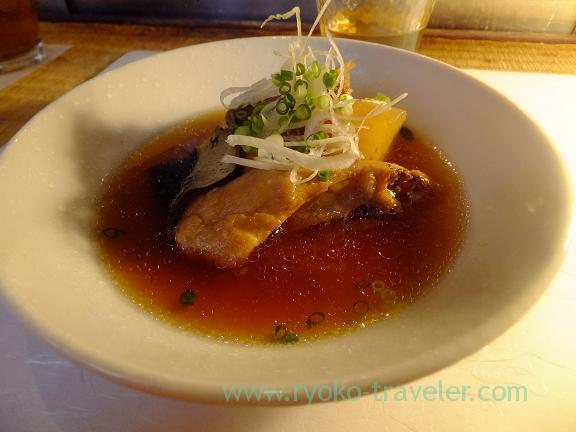 Everyone except me drunk up the soup. But I felt it was very thick for my drinking up.
Last appetizer.
*Boiled blue crab (ワタリガニ)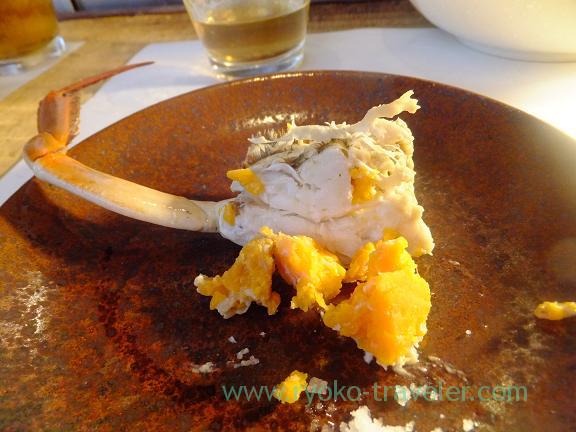 It was really tasty, but there was only a little meat, so I took those meat and ate for real.Well, tasty crab is hard to eat …. !
After that some spices and seasonings for taichazuke came.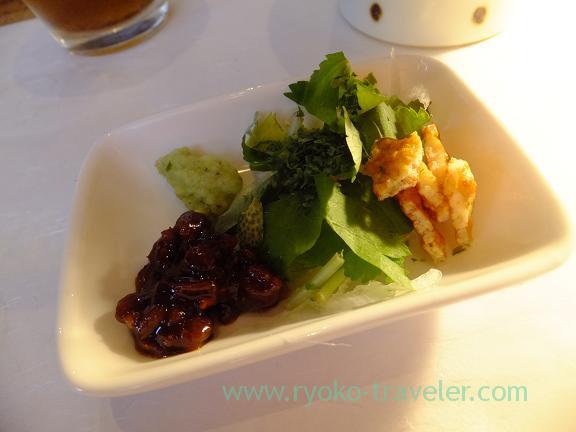 The chef said, "Please eat it like pickled foods."
The black thing is moromi from Kyoto. Black moromi. Moromi is unrefined sake.
Well
Tai-chazuke came.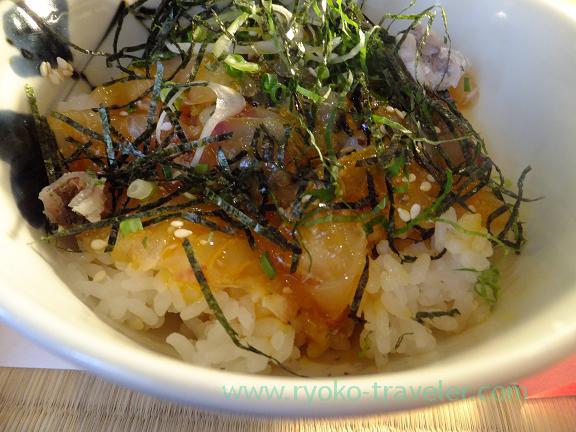 The way to eating taichazuke…
1. At first ,eating as it is.
2. Pour hot tea and then eat
I know this is Uwajima-style Taimeshi. I like it very much.
I took the tai-chazuke after pouring hot tea, but the picture was not good. I should have eaten with more care…
Last, dessert came.
Cold zenzai (冷やしぜんざい)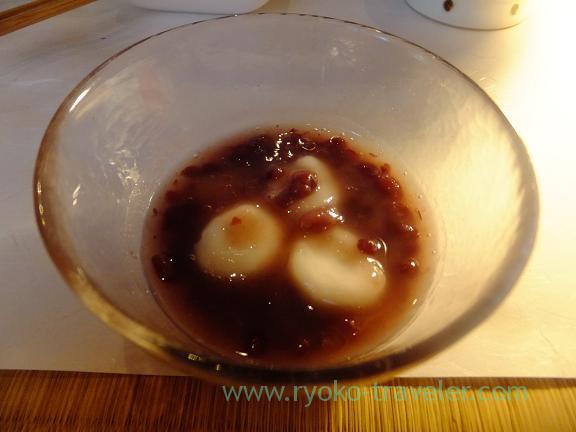 That's all. It cost me 2000 yen. So inexpensive.
The chef said that his new restaurant will open at nighttime mainly and tai-chazuke will not be advertising menu.
I was glad to visit there before closing present restaurant.