「 Sea urchin 」一覧
" Sushisho(すし匠)" It is an exclusive sushi restaurant near Yotsuya-sanchome subway station. It cost over 20000 yen at night. My friend said that this restaurant serves Barachirashi by 1500 yen at lu...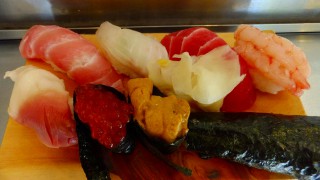 Delicious sushi set at inexpensive price. I had wanted to eat at Kikkou near JR Funabashi station.I lived near the sushi shop 7 years ago. This is stand-up sushi shop. I thought stand-up sus...
Upstairs of Hajime Sengyo-ten Before going to Russia, I was invited to eat at Hajime Sengyo-ten at Tsukiji at night. Hajime Sengyo-ten, I had been to there just once at lunch. This was the first ti...