「 Okonomiyaki 」一覧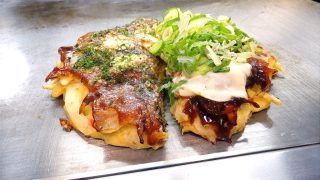 I rarely go there except taking Shinkansen.When in the world will they finish construction aruond Tokyo station ? I think it's been over 15 years ! I wonder if I could see completed Tokyo station are...
Matsunami-style Okonomiyaki in Historic architecture Ningyocyo still have many old good restaurants and I had wanted to go to one of the restaurant that is named "Matsunami". It's an okonomiyaki ...
When you are in Osaka, you have no choice but eat okonomiyaki ! After enjoying USJ to our hearts' content, we went back to Namba that have our hotel. We took a night meal here. It is a restauran...