「 Makuhari / 幕張 」一覧
Popular Indian restaurant far from the station. There's Dewan's branch in Ichihara that is my hometown and it is rather popular restaurant in Ichihara district, but they quit their business last year...
Interesting Chinese foods restaurant My friend said to me, "There's interesting Chinese foods restaurant in Makuhari area". So, I decided to follow him :) Here. Chinese foods Yoshiba. I h...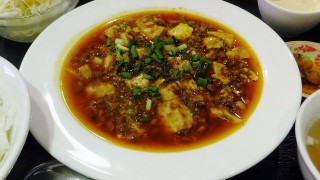 Whenever I feel like eating hot foods,,, I wanted to eat spicy mapo doufu, so I went to Chinese cuisine restaurant that named Manzan near Makuhari-hongou station for lunch. It is a Szechuan cuisi...