「 Ice cream 」一覧
New conger eels specialty restaurant opened. Recently new eateries, restaurants and cafes opened at Tsukiji Outer Market. One of those shops, Kichiya is conger eels specialty restaurant. Kichiya i...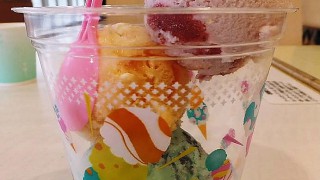 Though I don't feel good, I couldn't help joining "Challenge the triple" I can't upload an article because I'm not in good condition physically :( Still I had had stomachache, I ate such a thing a...
Brilliant blue soda and popping shower ! I had a Popping soda (ポッピングソーダ, 400 yen) at Thirty one ice cream (31) that I had wanted to drink. Clear light blue :) There are star-shaped nata d...