「 日式蘸面 」一覧
Best tsukemen ever. I rarely eat tsukemen, but I had wanted to eat tsukemen of Ginza Oborozuki once. Oborozuki is very popular among people as tsukemen. Of course, they serve ramen, but their tsukeme...
We went to the ramen shop named Menya Itto that serve one of the most popular tsukemen in Tokyo. Maybe everyone who like yummy ramen in Tokyo must have known their name ! We got to the shop just ...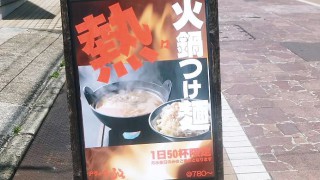 Notice : "Butatsuke soba & abura soba typhoon" already quit their business. (Feb 23rd, 2015) Little before, typhoon coming Not, I jumped into the eye of a typhoon. "Butatsuke soba &am...