「 午餐 」一覧
The nostalgic izakaya is good lunch spot. I went to Takeno, outside Tsukiji Market after a long absence. Probably this is the second time to go to Takeno at lunch. Perhaps last time I had been to t...
Though we were full, we couldn't stop eating. Next, we went to the restaurant named Yumisai to eat dim sum. The person we took me there hadn't gone there, but his friend recommended the restauran...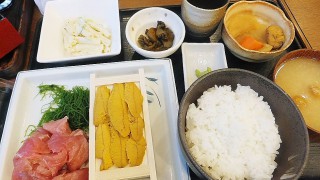 The place taht we can eat box of sea urchin at lunch for around 1000 yen I use a 50 yen discount vouchers that I got early in the new year at Ikenoya, near Kachidoki subway station. Sea urchin an...