Gorgeous night view of Victoria Harbor.
Just after back from Mong Kok to Tsim Sha Tsui, I went straight to Tsim Sha Tsui promnade for viewing Symphony of Lights.
When I got to there 20 minutes before the time, there were already so much people waiting.
Tsim Sha Tsui promnade fronts on Victoria Harbor.
You might not understand from this photo, but the air was not clear. The weather wasn't good from the morning.
It was good decision not to go to Peak. Maybe the view was not good.
Sympony of lights started. It start from 8:000 p.m. every day. Maybe my position was not good :p
But the light and sounds were brilliant. I knew later that the best position for viewing Symphony of Lights is on the stairs at the right side.
The night view after the Sympony of lights. It's enough beautiful. Just this view made me satisfied.
I enjoyed the splendid night view for a while, and I tried going back to my hotel. But another show had started. I didn't know the show and many people at there seemed not to know about the show, too. Many people was surprised.
It seemed the Chinese New Year special.
Hong Kong pulse 3D light show.
It is 3D light show with audiovisual effects at Hong Kong Cultural Centre and the Clock Tower. And it is held at fixed interval.
It's a year of monkeys 🙂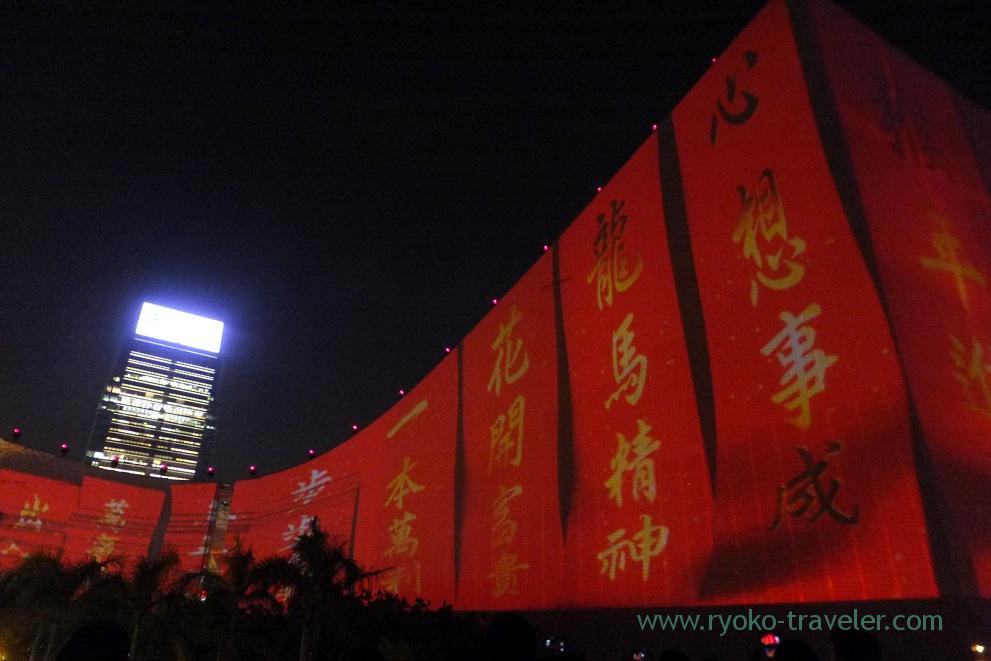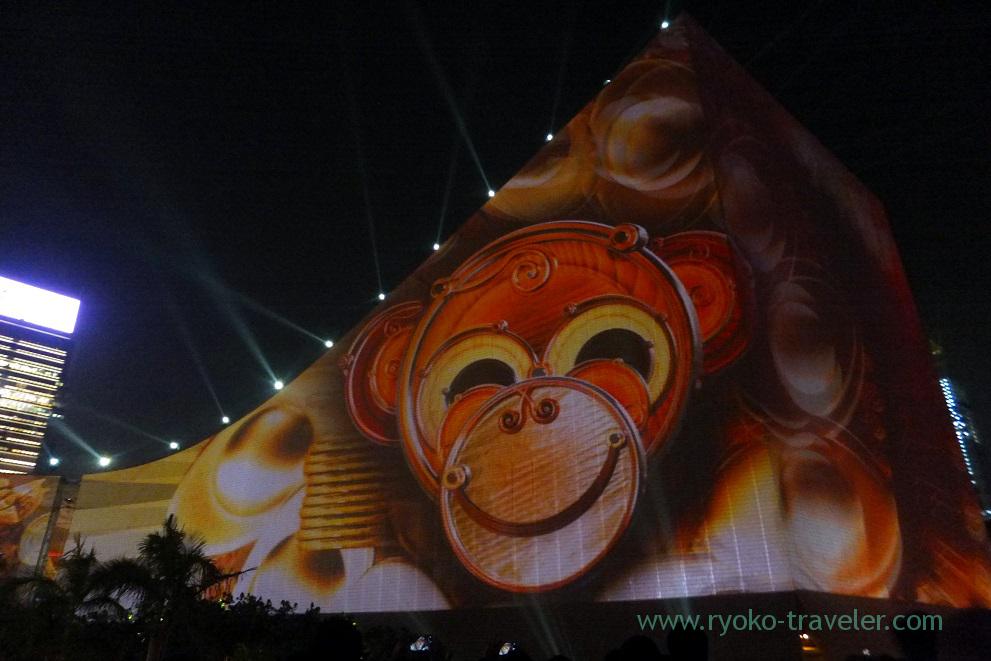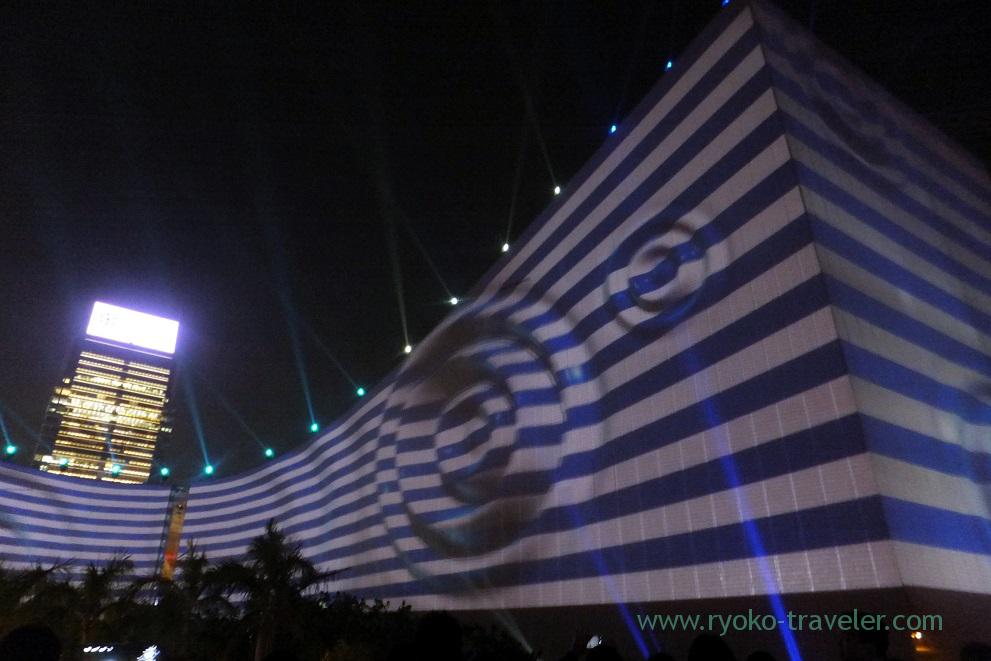 Clock tower was decorated with 3D lights, too.
Next, it will be held from August 5th to 28th (during Hong Kong Summer Fun)
http://www.discoverhongkong.com/us/see-do/highlight-attractions/harbour-view/hk-pulse.jsp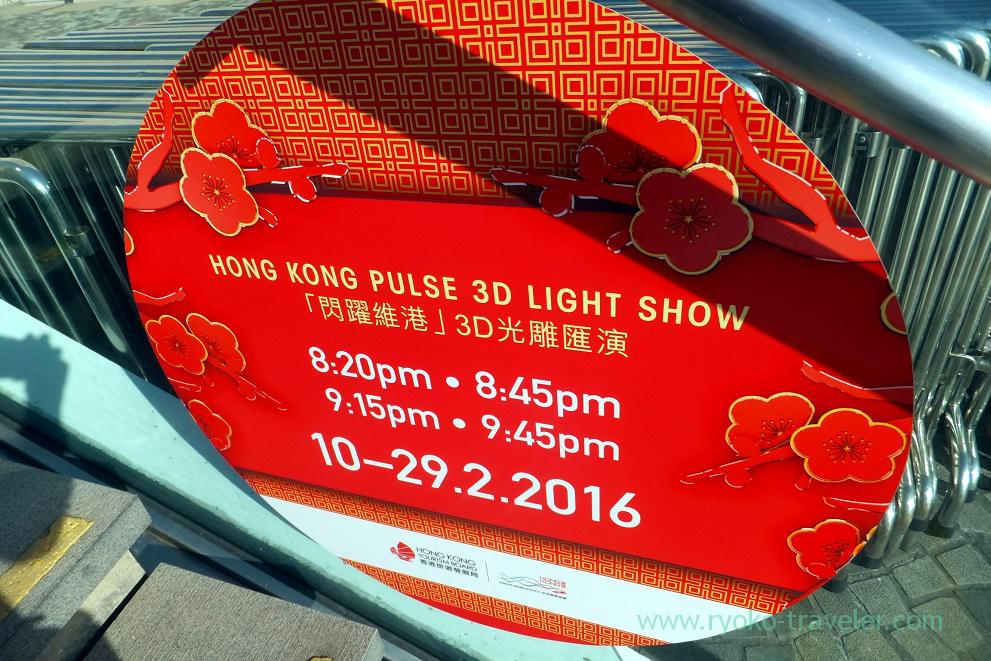 After that I went back to my hotel. I dropped in at on my way to the hotel. There's Indian curry shop and it attracted me. But I couldn't eat so much.
About Tsim Sha Tsui promnade
Address / 2-1-10 Tsudanuma, Narashino-shi, Chiba
Station / East Tsim Sha Tsui station (JR)
Open / 24 hours