Luxury sushi week !
We had sushi party at Hashimoto the other day.
Because I visited Sugita a few days before this sushi party, Hashimoto served similar course of Sugita that I had.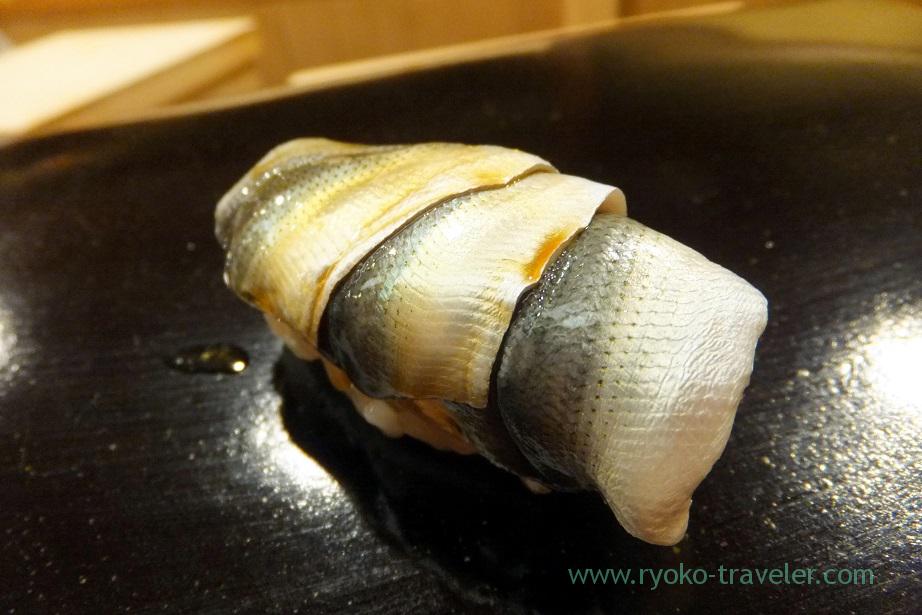 Suitengu-mae : Small and large gizzard shad at Sugita (日本橋蛎殻町すぎた)

Luxury fish "Shinko" at Sugita. We visited Sugita (fomer Miyakozushi in Bakuroyokoyama) for enjoying summer tastes 🙂 ...


So, I set similar title on this post :p
At first, I ordered Japanese sake that is their recommendation as usual.
Edamame was more salty than Sugita's. But I liked it 🙂 Salty edamame went with Japanese well.
They chose it for me. Yamakawa Mitsuo (山川光男).  Cute picture 🙂
At first sashimi was served as usual.
Flatfish and whelk (ひらめ, つぶ貝)
The flatfish was from Samani of Hokkaido.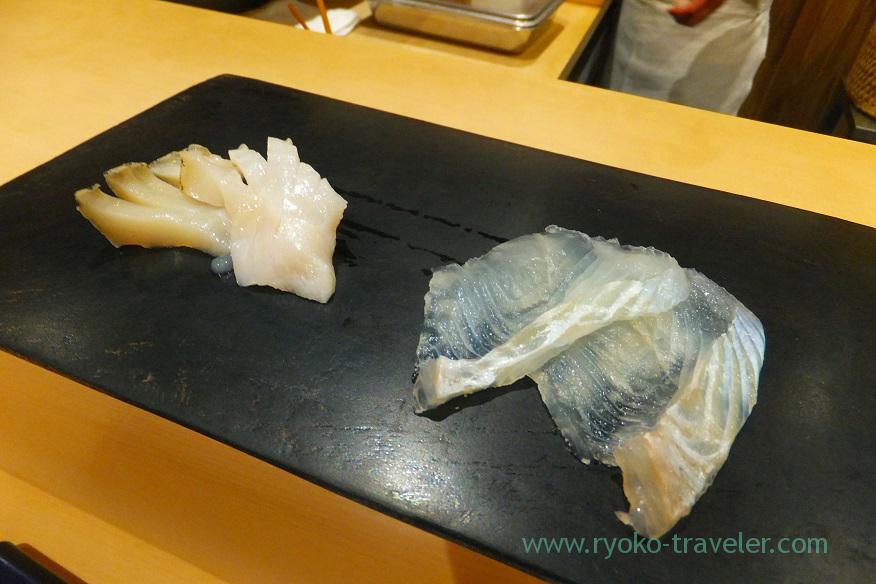 Abalone (あわび) was served with its innards sauce. This abalone was great. It had crunchy texture, but soft. And sweet. But its innards sauce was bitter. Those made a good contrast.
And after finished eating abalone, the chef collected our dishes that have the innards sauce. And he put squid and vinegared rice on it. And he returned it to us.
I couldn't help but having second helping of Japanese sake.
Sardine roll (いわし巻き). Sardine was rolled with laver, chive, takuan (yellow pickled radish) and ginger. Yes. Sardines' season will be end before long. But still it was fatty and delicious.
Minced sweetfish (鮎のミンチ)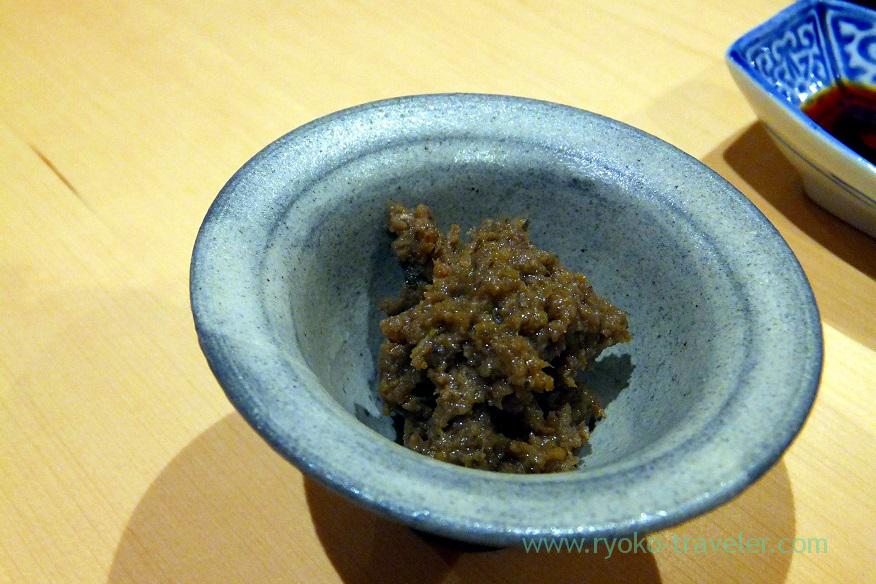 Chawanmushi (茶碗蒸し)
It had corn and sea urchin. I enjoy their chawanmushi every time 🙂
Last of tsumami was grilled fish. Butterfish (マナガツオの塩焼き)  as well as Sugita.
When we visit luxury sushi restaurant in Summer, we look forward to having it.
Small gizzard shad (Shinko, 新子). It can be eaten from July – early August only 🙂
And Large gizzard shad (Kohada, 小肌). I was really impressed by the awesome tastes of this gizzard shad.
Young Spanish mackerel (Sagochi, サゴチ)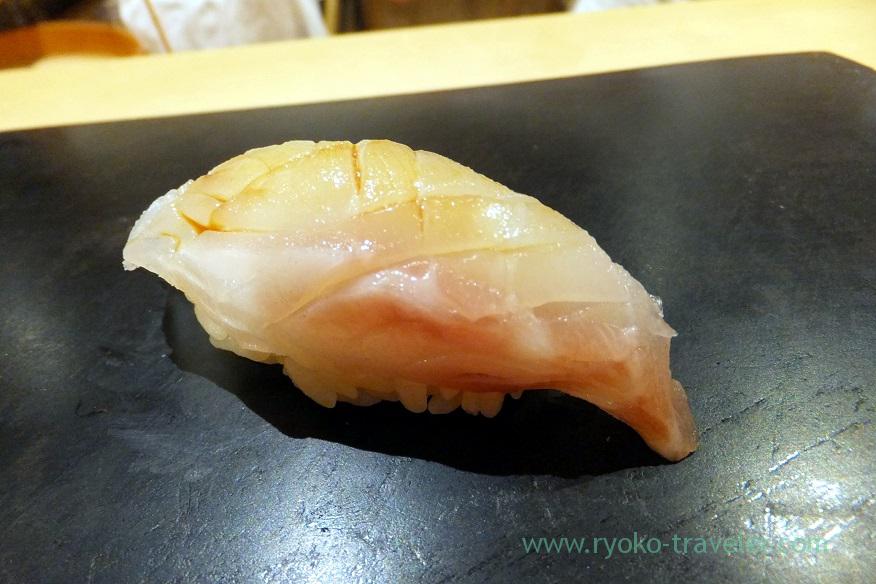 Grunt (Isaki, いさき)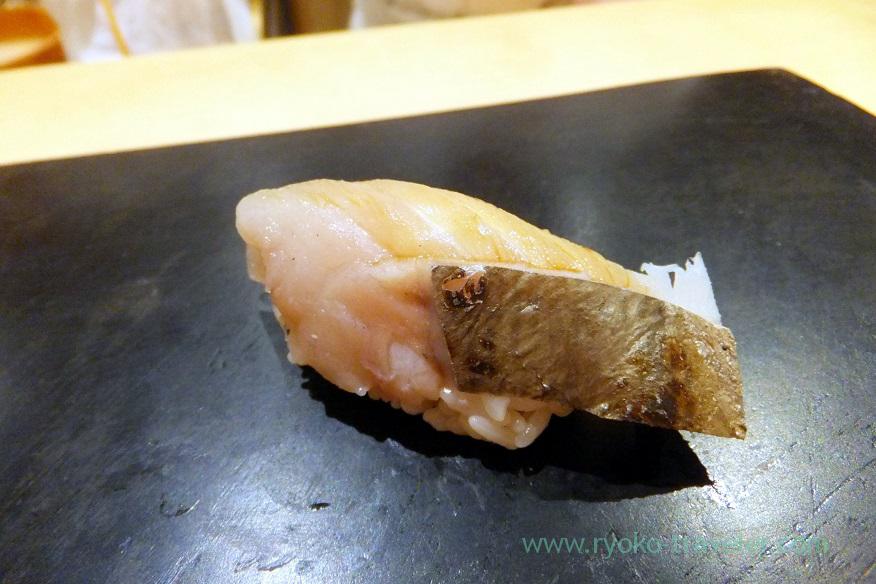 Marinated tuna (ヅケ)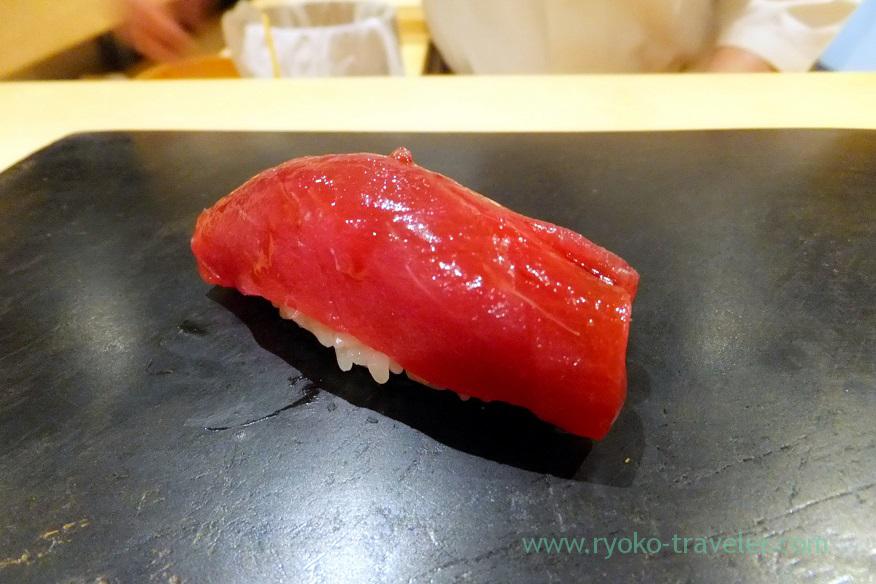 Toro part of tuna (トロ)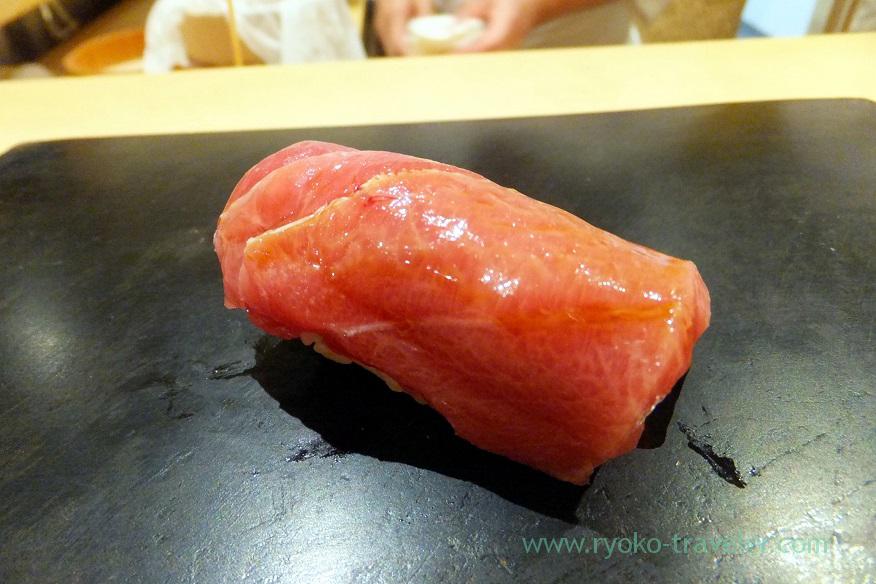 Horse mackerel (鯵)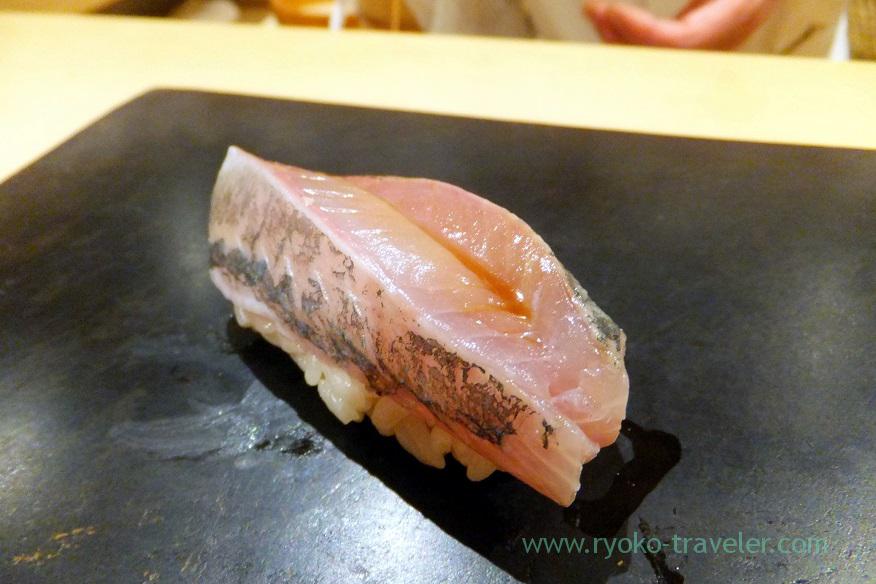 Kuruma prawn (車海老)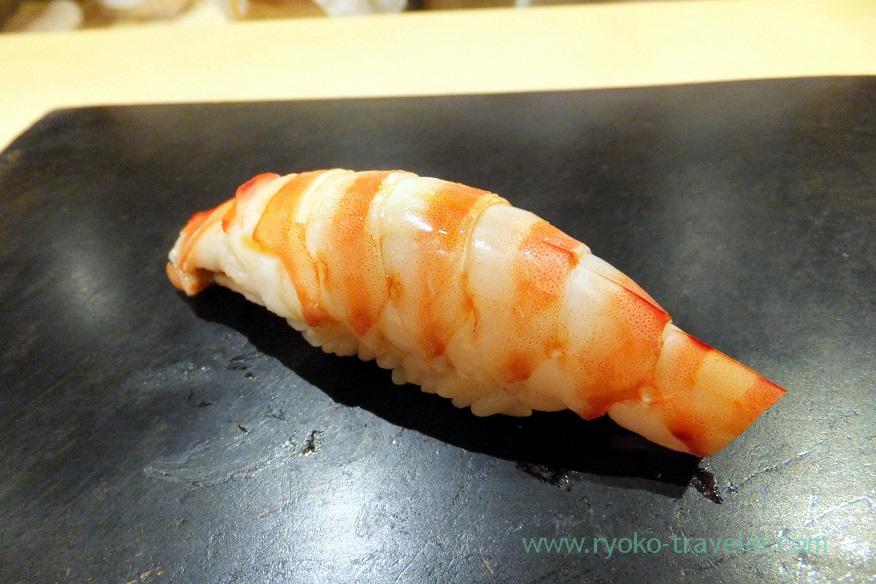 Sea urchin (うに)
Sea urchin was served in a bowl after a long interval 😉
I ordered Squid and scallop.
Squid (いか)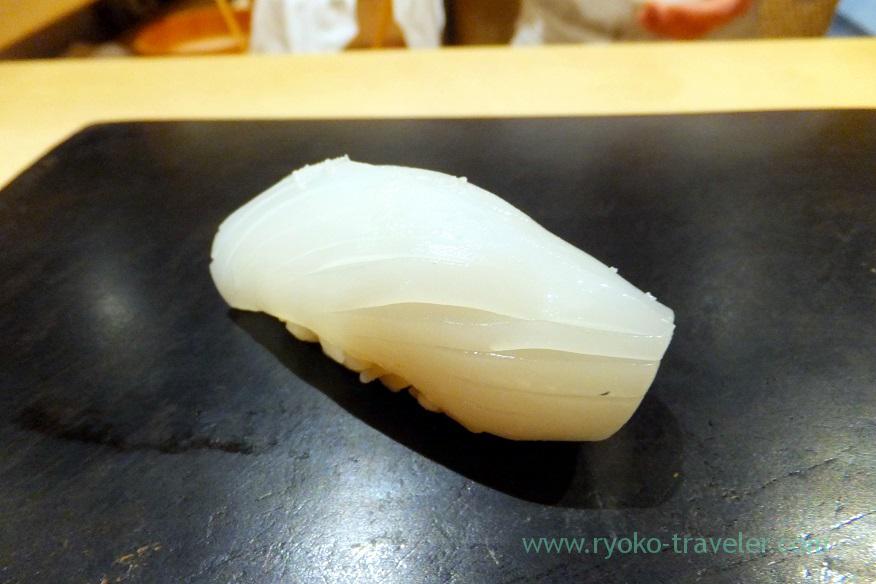 Scallop (ほたて)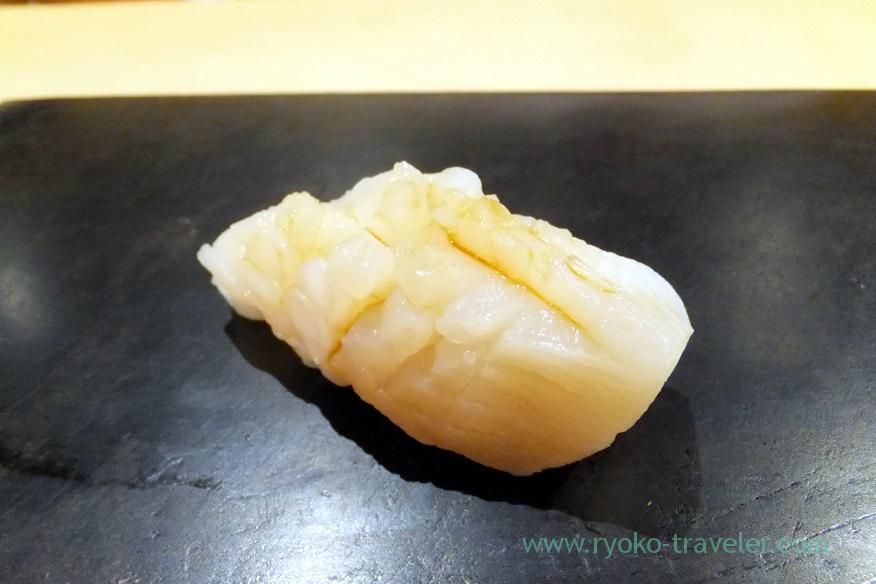 Conger eel (穴子)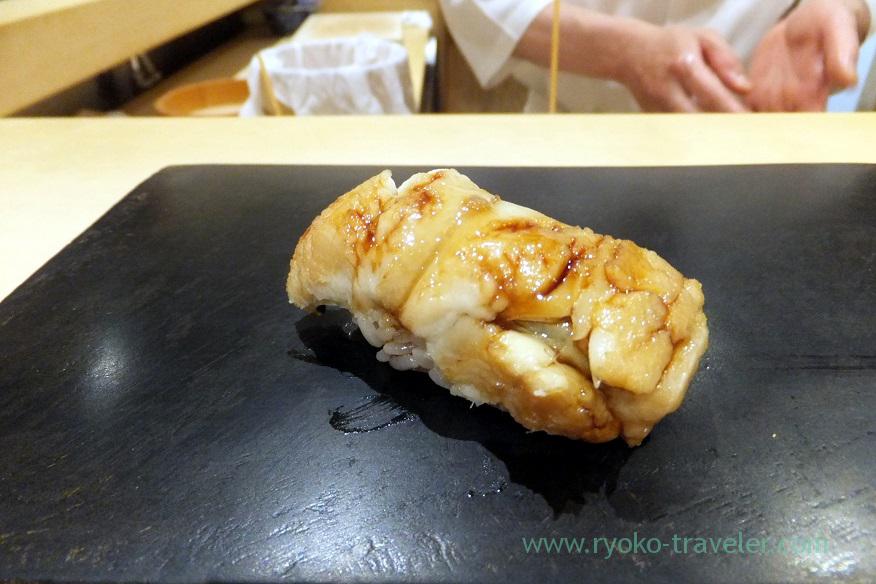 Tamagoyaki (卵焼き) as dessert after the dinner.
Shijimi clam soup (あさり汁) informed us of our dinner time was finished.
I'm looking forward to visit there next time 🙂
By the way, I found Hashimoto's sushi is smaller than Sugita. I think it's because of the difference of the size of their hands.
About Sushi Hashimoto (鮨はしもと)
Address / Maki Plaza Bldg 1F, 1-15-11, Shintomi, Chuo-ku, Tokyo
Station / Shintomicho station (Tokyo metro)
Open / 18:00 – 23:00
Closed / Mondays