Sushi dinner at 9 p.m.
Our monthly visits to Sushi Hashimoto 🙂
We reserved from 9 p.m. that time (four people) because another time was already full with reservation.
My Japanese sake and Hosta montana ohitashi (うるいのお浸し)
Fresh color !
My sake was named "Kasumi".
Mako garei (マコガレイ)
A kind of flatfish. It had springy texture and was delicious !
Aoyagi and torigai (青柳と鳥貝)
Both is kind of clams. Trough shell and cockle..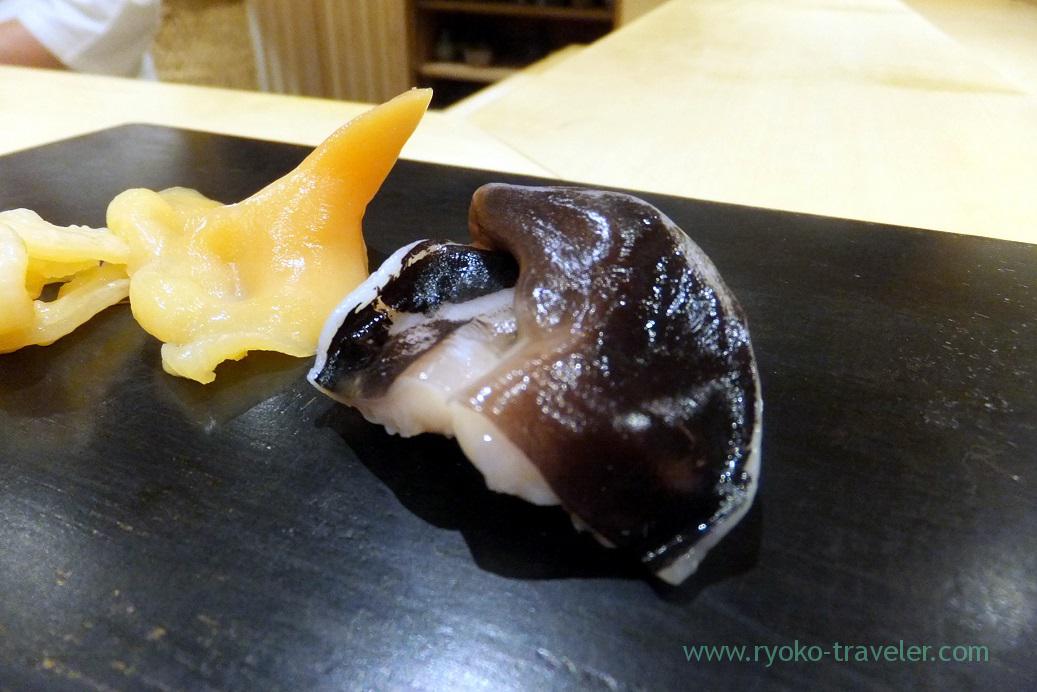 Octopus ocellatus (イイダコ)
It had sticky texture and delicious.
Mullet roe and marinated firefly squid with miso (からすみとほたるいかの味噌漬け)
Chawanmushi (茶わん蒸し) that day had asari clam. It was delicious, too 🙂
Grilled salted blackthroat seaperch (アカムツの塩焼き)
Our sushi time started from Kohada (小肌).
Medium-sized gizzard shad. Delicious as usual. But truthfully speaking, I felt sleepy… :p
Hirame (ヒラメ)
Another kind of flatfish.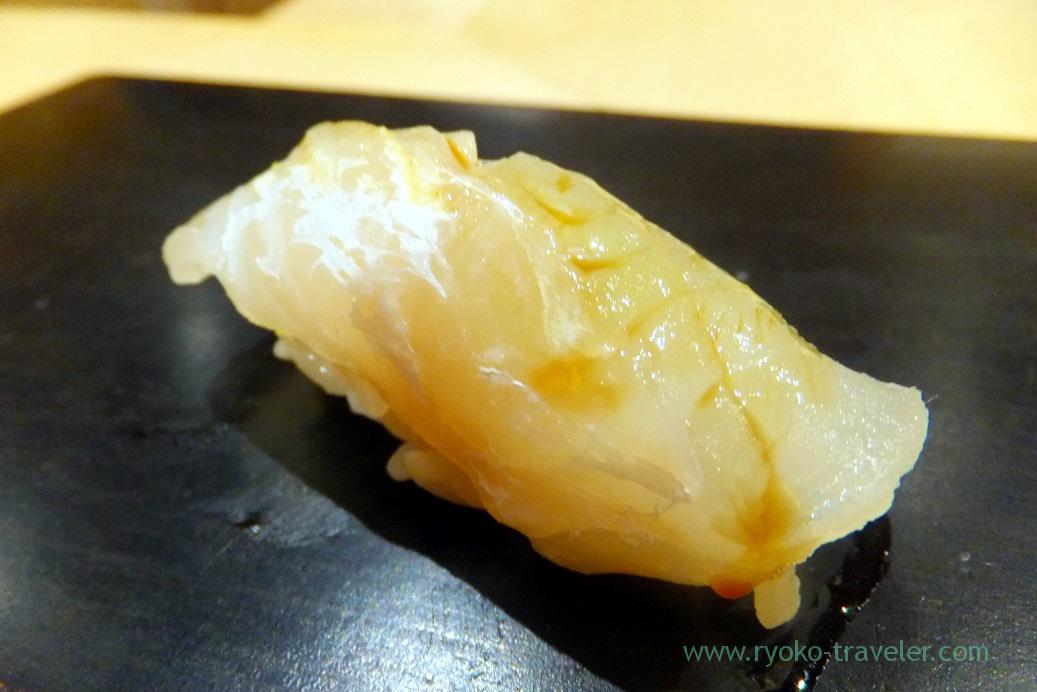 Marinated tuna with soy sauce (まぐろのヅケ)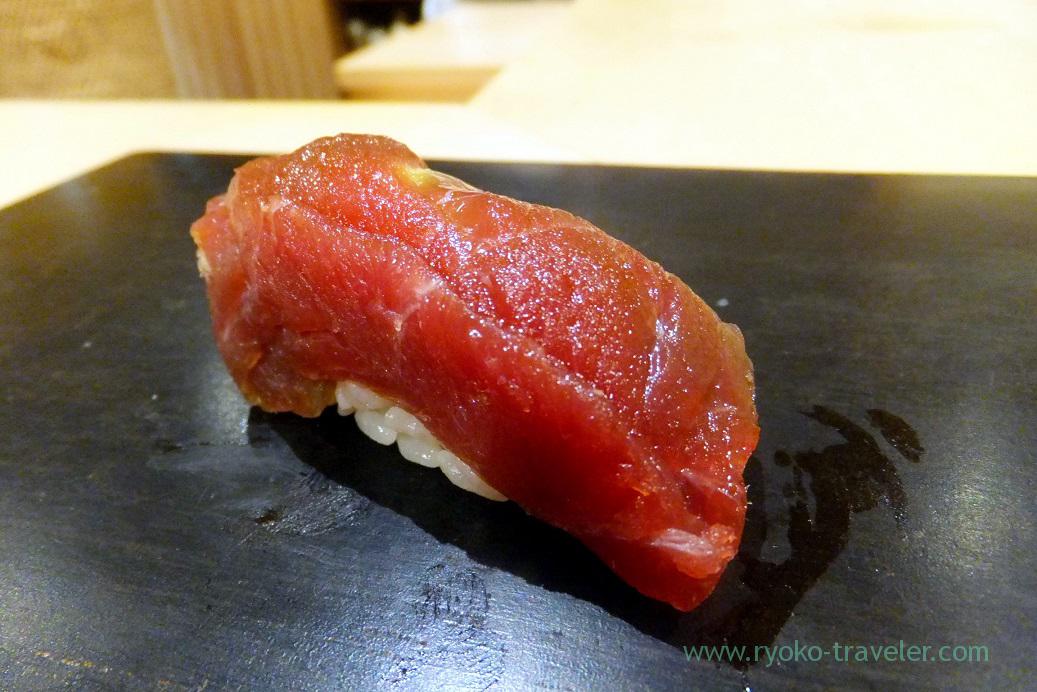 Spanish mackerel (鰆)
Kobashira (小柱)
Muscle of clams.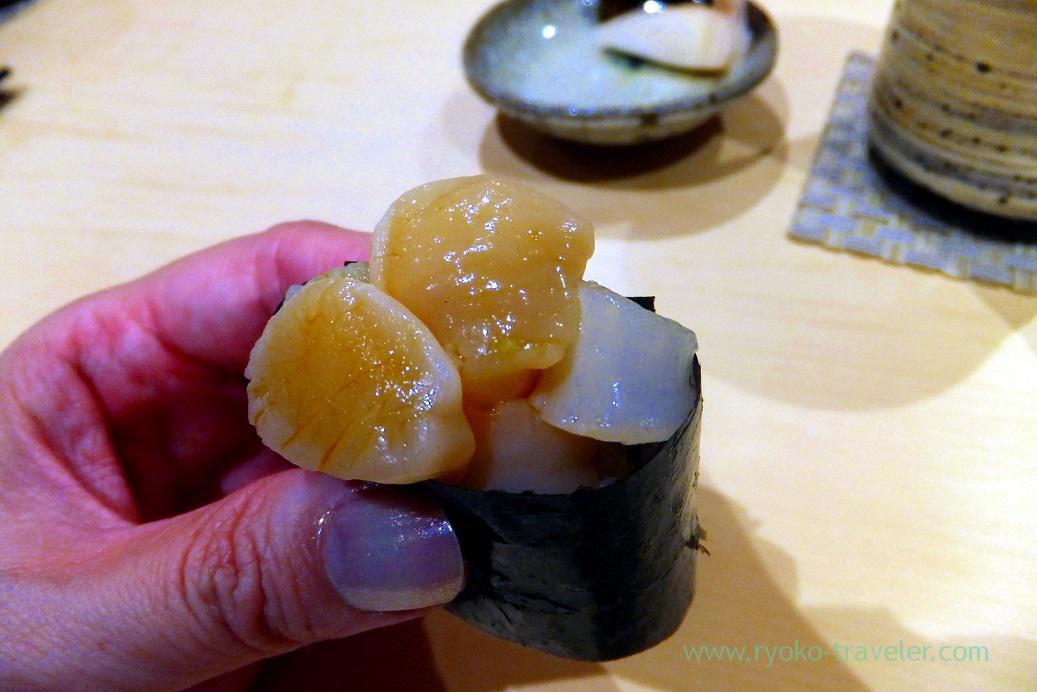 Toro (トロ)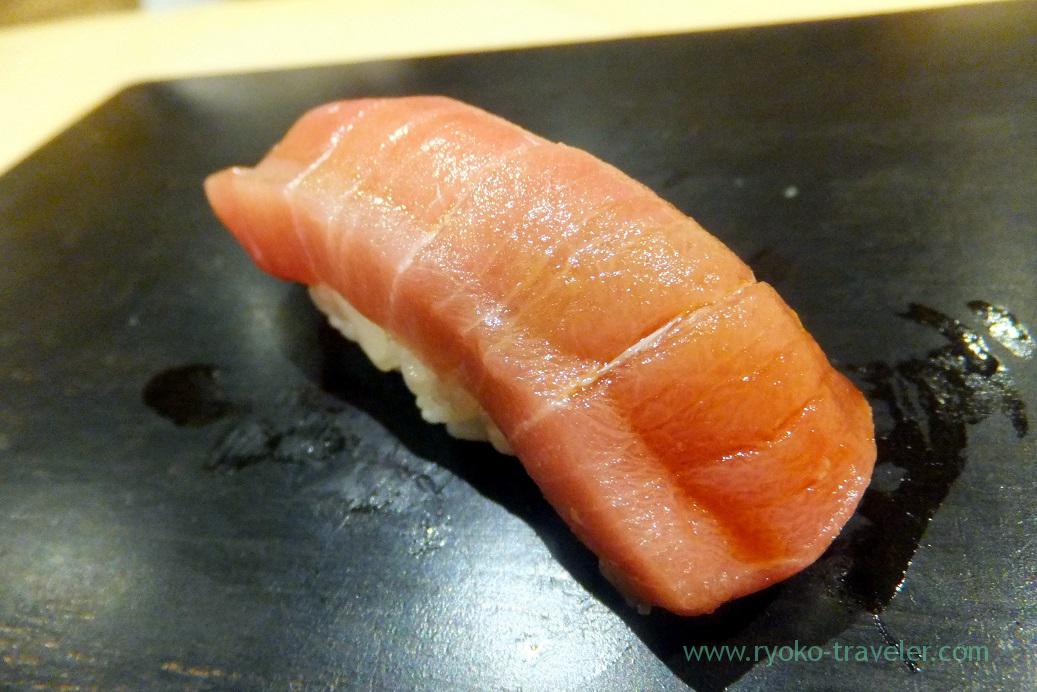 Horse mackerel (鯵)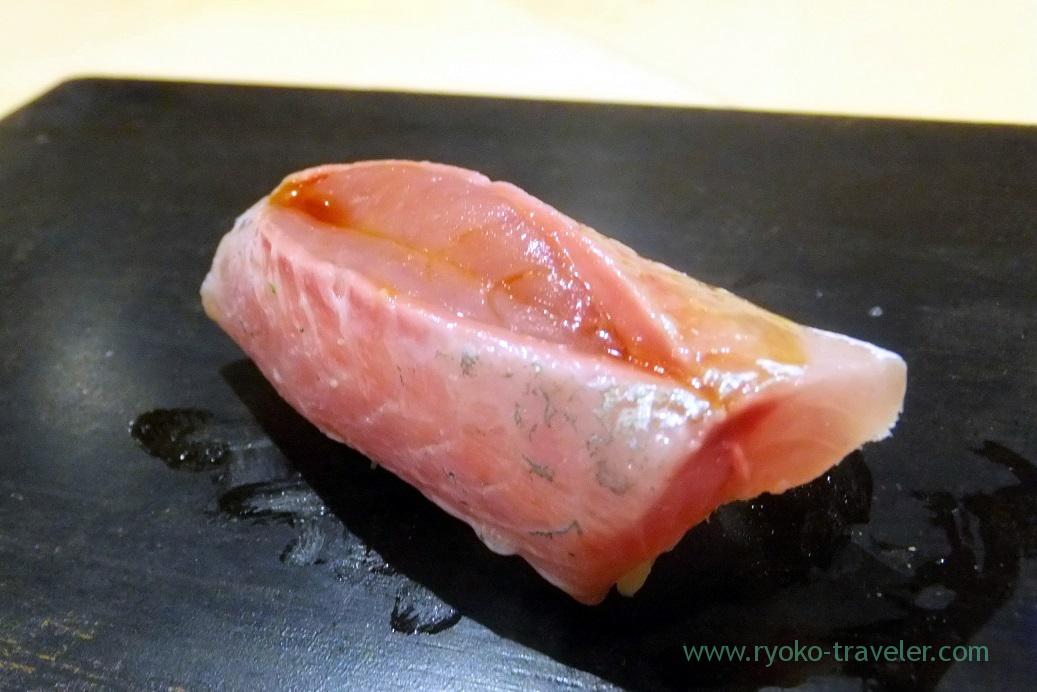 Kuruma prawn (車エビ)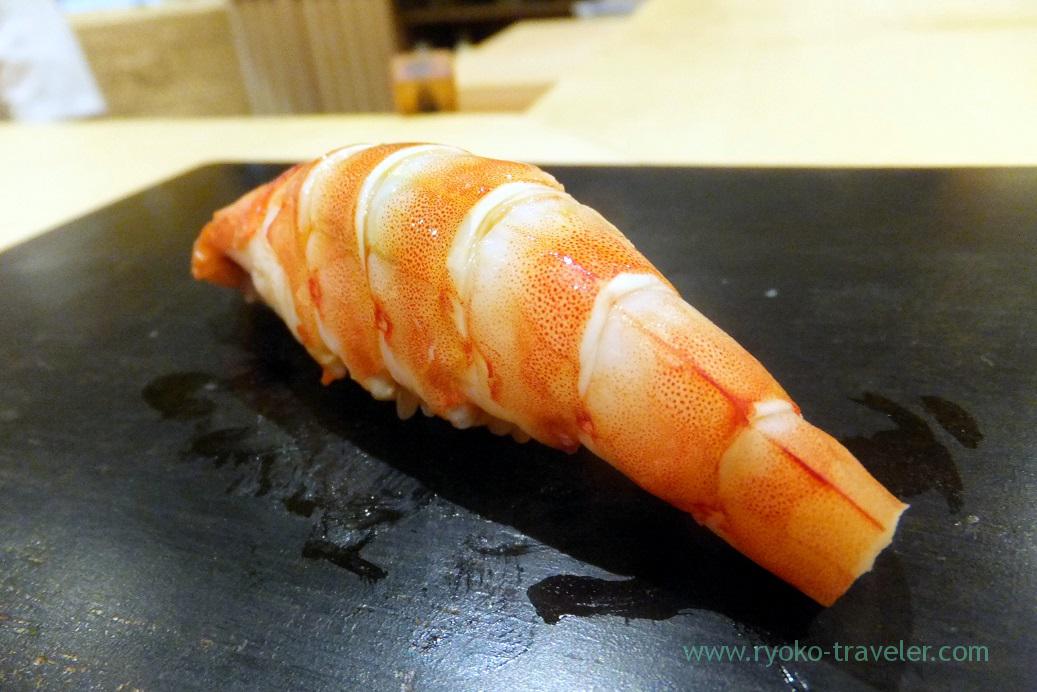 Sea urchin (うに)
The chef served two kinds of sea urchin. Both was great, but I liked later one.
The chef said to us that our course have conger eel, soup and tamagoyaki left. So, we asked the chef about his recommendation of another seafood. And I ordered one of his recommendation.
Hokkigai (北寄貝).Surf clam.
As he said to us "Today's Hokkigai is great !", it was thick and sweet. Splendid one !
Conger eel(穴子)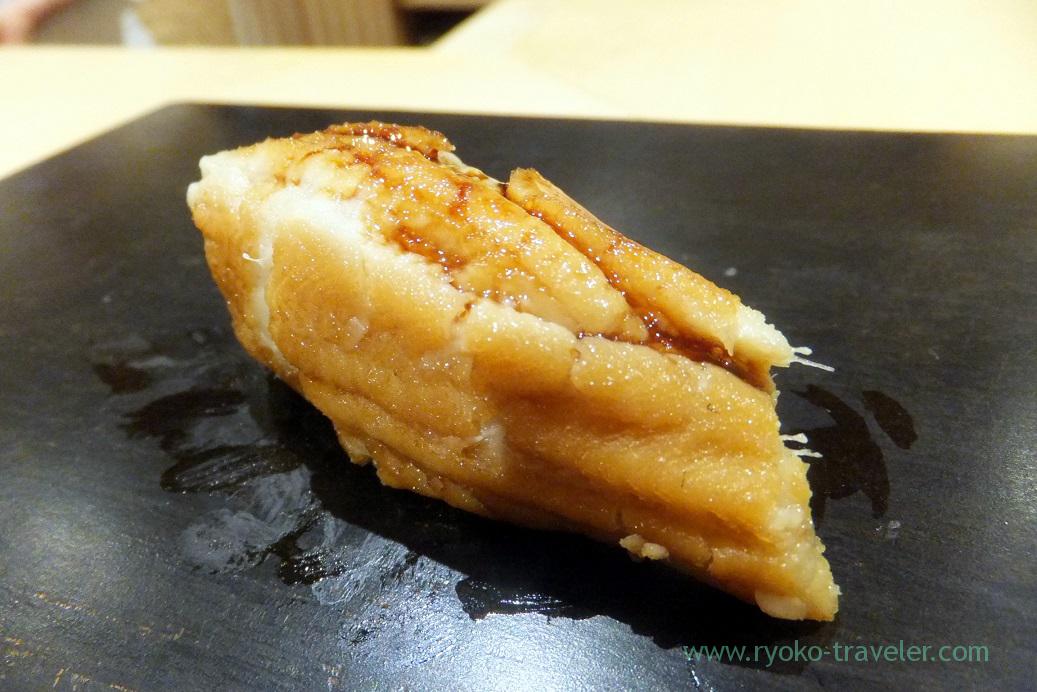 Shijimi clam soup (しじみ汁)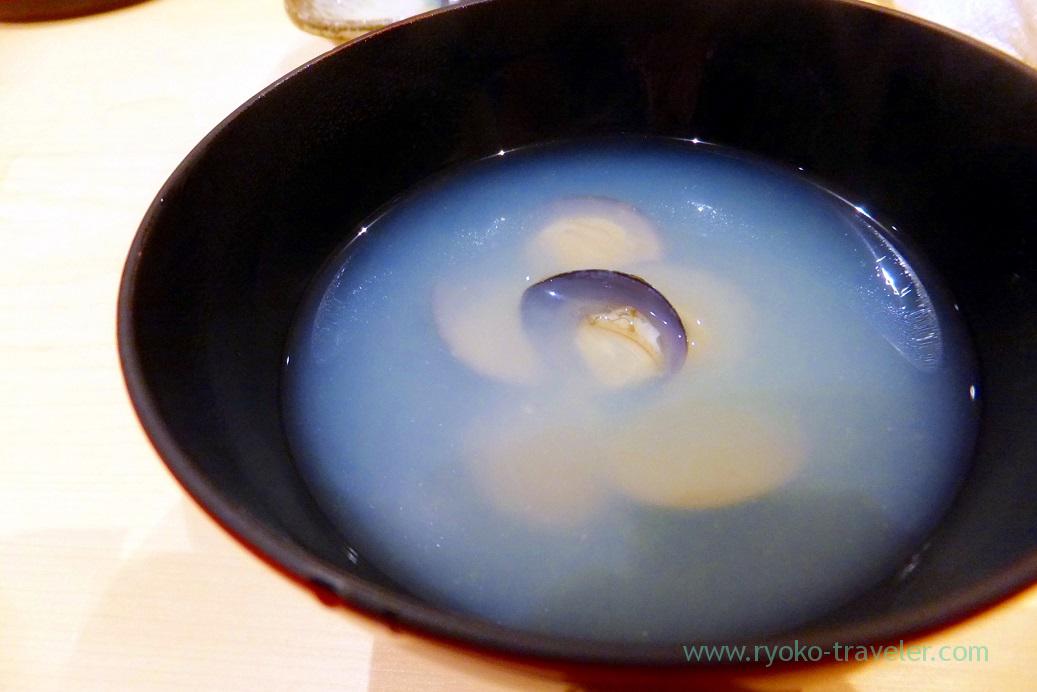 We finished our dinner time with Tamagoyaki (卵焼き).
We were satisfied with his treats that time, too. But I want to visit there earlier time all the same :p
And we don't go to Sushi Hashimoto this month. Instead of that, we'll go to Sugita (Renewal Miyakosushi).


Last Miyakozushi. But very yound punctatus wasn't in stock ! We went to Miyakozushi the other day. This was the last time for us to visit Miyakozushi. Because Miyakozushi quit their business...
About Sushi Hashimoto (鮨はしもと)
Address / Maki Plaza Bldg 1F, 1-15-11, Shintomi, Chuo-ku, Tokyo
Station / Shintomicho station (Tokyo metro)
Open / 18:00 – 23:00
Closed / Mondays